The official list of public holiday for 2023 has been released. It's excellent news for us all: six of the eleven holidays provide us with three or four-day weekends. Employee management is crucial at those times, but a cloud-based HRM software will effortlessly help in the process. As foreign borders begin to reopen for tourism, 2023 appears to be the ideal year for employees to continue their travels. It is safe to assume that employees will have ample possibilities to take their long-awaited international vacations. When that happens, the best HRM system greatly benefits staff management.
As we approach 2023, employees may wish to start clearing their annual leave in combination with each Singapore Public Holiday before the year-end. Inevitably, HRD needs an integrated HRM software to help them do the leave management easily. With some imaginative leave planning, employees may even prepare for lengthier breaks in 2023. Therefore, employee and task management require special attention and assistance from a web-based HRM system. However, if you are an employee, here are some tips to maximize your annual leave and public holidays.
1. Take Note of the Dates for Each Singapore Public Holiday
If you don't know where to start, we have the official Singapore public holidays table in 2023 for you. Simply add this page to your bookmarks and begin taking notes. We recommend you plan thoughtfully as soon as possible to book your desired annual leaves.
Table of official Singapore public holiday in 2023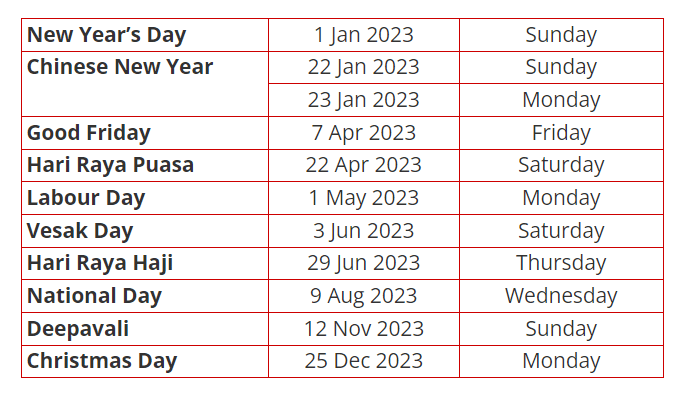 2. Keep Track of Your Off-in-Lieu Entitlements for Each Singapore Public Holiday
If you work a 5-day work week (Monday through Friday), you are entitled to 1 day of compensatory time off for any public holiday that falls on a Saturday or Sunday. According to the Employment Act, if a public holiday comes on a Sunday, your employer must provide you with at least one additional day off in lieu. Depending on your company's policy, you may utilize the time off-in-lieu immediately following the Public Holiday or store it for a later date. 
Also read: 6 Tips to Recover Your Productivity After a Long Holiday
3. Plan Your Holidays for the Long Weekends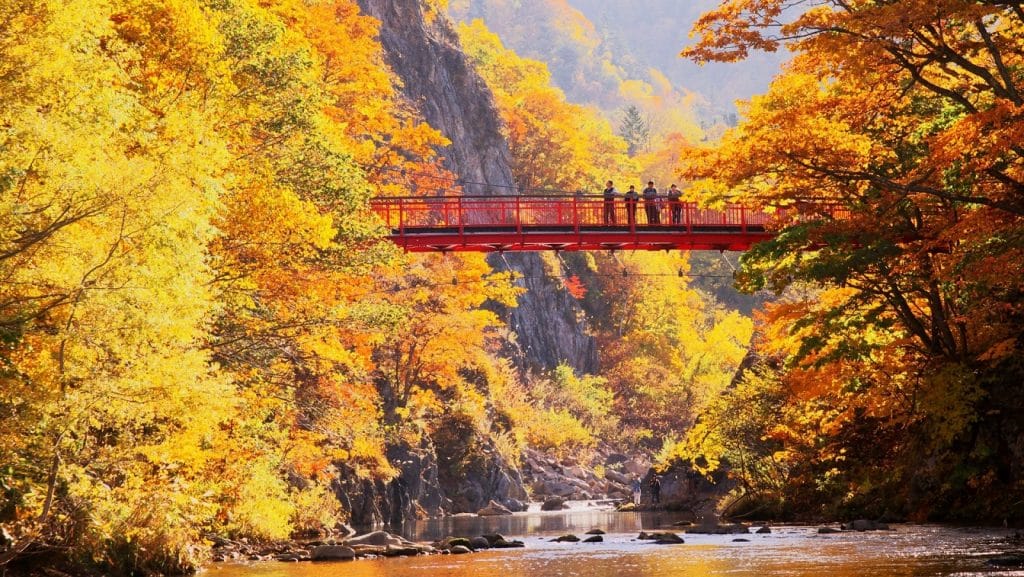 Certainly, one of the greatest ways to maximize the benefits of these long weekends would be to add some of your yearly leave days to these current breaks to have an extra-long vacation. This wonderful opportunity for a longer journey will occur twice in 2023.
Apr 21 to May 1, 2023
Due to the lengthy Hari Raya Puasa weekend in the latter week of April and the long Labor Day weekend in the first week of May, you only need to take five days off to enjoy 11 days of uninterrupted vacation. This is the ideal time to go to Hokkaido or Seoul, or even outside Asia, for more extensive trips. Additionally, the spring months of late April and early May provide ideal weather for sightseeing.
Dec 25, 2022 to Jan 2, 2023
The end-of-year Holiday season is another fantastic opportunity for a lengthy vacation; by taking only four days off between Christmas and New Year's, you might have a 10-day break between Christmas and New Year's. However, airfare and hotel rates tend to increase around the Christmas season, so planning is essential if you're interested in an end-of-year getaway.
Air miles credit cards that reward you with miles for your regular shopping might be a simple way to save on holiday expenses. If you begin using one of these cards for your everyday expenditures now, you may receive a substantial discount on your airfare for your vacation next year.
Also read: 5 Ways to Boost Sales and Profits During Christmas & New Year Holidays
4. Staycations and Self-care Days
If you strategically manage your annual vacation days by tying them to long weekends, you may even have days left. When should the remaining days be used? Unfortunately, 2023 will bring us two lengthy public holiday droughts:
Jan 24 through Apr 7 (no PH in between)

From Jun 29 to Nov 12 (with one PH between)
Using part of your yearly leave days for a day of self-care during these two periods would be an excellent way to hold you over until your much-deserved holiday. And if you want to stay in Singapore during one of these extended holidays but still want to experience something new, staycations are always a viable alternative for a vacation.
Conclusion 
The management of employees and tasks require special attention when public holidays approach. HashMicro's robust HRM software is an AI-powered software that helps HRD do their job reliably. The features such as leave management, employee management, and attendance are integrated into one package. Therefore, our software can easily cover the whole human resources process in your business. Fill out the available form now and take your company to the highest level of efficiency.