In terms of production methods, we are witnessing a new industrial revolution. This is due not only to mechanization, but also to control and information systems. It can handles complex processes and machines much more efficiently and cost-effectively than humans. This system is industrial automation 4.0. 4.0 Automation industry technologies connect, operate, and monitor networks of gadgets, devices, machines, robots, and cloud information in real time (through 'Cloud Monitoring') via IIoT ('Industrial Internet of Things'). You can use the best Cloud ERP system from HashMicro to help you create comprehensive reports about your business performance anytime and anywhere in real time. You can also get a price calculation for HashMicro software based on your business requirements by downloading this pricing scheme here. 
4.0 Automation industry technologies also allows them to learn, operate, and function automatically, reducing human intervention and increasing output. Learn more about it in this article!
Related Article : Industrial Revolution: Getting to Know Development of the 1.0 to 4.0 Revolution
What is Industrial Automation?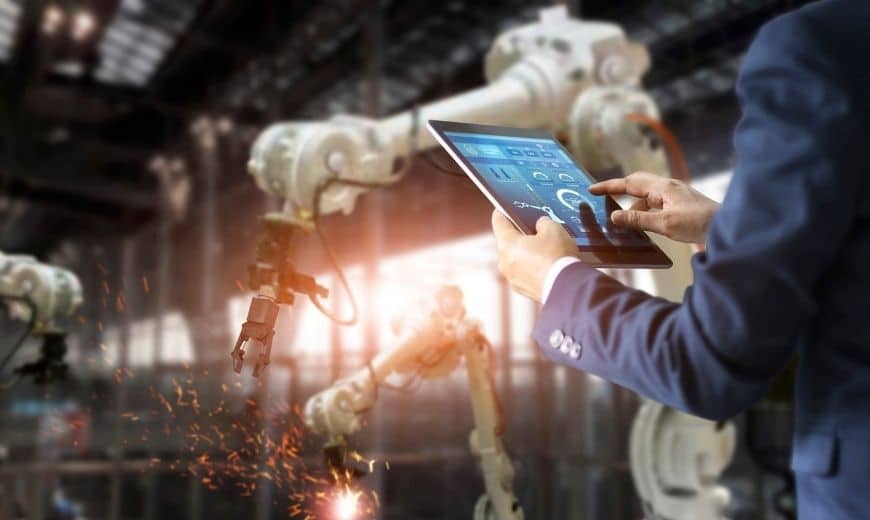 Industrial Automation is the use of computers and machinery to replace human thinking. The term Automation implies "self-dictating" or "a mechanism that moves by itself," and it derives from the Greek terms Auto and Matos, where auto means "self" and Matos means "moving". Industrial automation is the use of autonomous systems to control machines and processes in many sectors. By using new, creative, and integrated technologies and services, industrial automation makes it possible to improve product while lowering manufacturing and design costs. You can get complete control in every production process with Hash Manufacturing Automation. 
3 Reasons Why Automation Industrial Important 
It is important to recognize the concerns that industrial automation and ideas like Artificial Intelligence (AI) and the Internet of Things (IoT) can have for workers who are not trained in these areas. It can also affect poor economies who do not have the resources needed to increase their workforce. As the COVID-19 outbreak results in disruption to supply and production chains, it's worth pondering why the implementation of automation is more critial rather than feared. Here are three reasons why the automation industry is important:
1. Automation in industry lifts productivity
Automation of a factory, manufacturing, or process plant increases production rate by improving production control. The efficiency of jobs, processes, and companies in factories and on the shop floor is greatly increased through industrial automation. A process that once required a large number of personnel now only requires a small portion of that manpower. It's not simply about lowering labor costs and getting more done in less time. The digitalization of production, particularly the introduction of the Industrial Internet of Things (IIoT), also means improved throughput and reduced downtime as machinery is used and maintained more efficiently.
2. Industrial automation arms the industrial workforce
Companies that were slow to adopt industrial automation technology prior to COVID-19 are now being forced to reevaluate their strategies. Workers were frequently unable to physically access industrial locations, warehouses, and logistics centers due to lockdowns and social-distancing techniques. This has underlined the need for tools and technology that enable personnel to safely and remotely access, monitor, operate, and many more.
3. Industrial automation can lower industry's impact on the environment
To reduce greenhouse gas emissions, energy and carbon-intensive companies need tighter control over operational indicators as well as efficiency levers. Digital automation solutions can help with this. This is demonstrated by a remarkable effect in a new generation of industrial plants that manage production, resources and business processes in an environmentally friendly manner. In addition, Automation eliminates the requirement for manual verification of numerous process parameters. 
Benefits of Automation in Industry 4.0
The main benefits of automation in Industry 4.0 are the following :
Cost efficiency
Reduces labor costs by automating aspects of procedures that do not require human judgment, allowing leveraged human ingenuity in acquiring new skills and activities as needed. Furthermore, virtual and augmented reality technologies increase learning processes and productive organizational models.
Competitive advantages
Standardization and redesign of procedures can automatically result in consistency and accuracy, as well as the ability to work 24 hours a day (seven days a week). As a result, productivity, capacity, and process quality have increased, while errors and downtime costs have decreased.
Scalability and flexibility
Human operators may be able to add or change jobs, but robots and gadgets can be reconfigured. It can also be programmed accurately in no time, lowering process execution and response times.
Time reduction
Automation industry 4.0 can reduce processing times for information. In addition, the systems used for automation have a considerable capacity for storing and managing data obtained from processes.
Utmost safety
The manufacturing line can allocate machines and/or robots to dangerous jobs that endanger workers. Furthermore, advanced comprehensive security measures for equipment, components, people, and systems can be incorporated. Cybersecurity is one of the most important technologies for protecting a company's privacy.
Improved control
These operations are observed and recorded, resulting in 'Big Data,' which is significant information for identifying patterns, improving processes, and implementing changes to prevent future catastrophes. Furthermore, process optimization provides the door to 'insourcing.' This centralization of infrastructure enhances data quality and consistency, which leads to analytical advancements.
The Challenges That the Automotive Industry 4.0 Must Face
Although automation 4.0 has great promise for businesses, it is important to be aware of the obstacles that this new business model poses:
Investment and infrastructure
Adapting the current infrastructure to the new infrastructure can be a significant problem for businesses. In fact, this requires investing large sums of money and in many cases, obtaining financing to purchase the necessary infrastructure and determine which solution is the most profitable.
Strategic Plan
Change doesn't just require investment in equipment and hardware. It also affects timing, mindset changes, intelligent analysis, and the right strategy that maximizes execution.
Human factor
Smart gadgets are no longer just tools. This is evolving into a smart workforce, meaning millions of jobs are expected to be lost as a result of automated procedures. As a result, society and large companies should encourage ongoing training for people. It aims to acquire the necessary digital skills that complement this new type of industry.
Conclusion
It is critical that you learn about the benefits and challenges of adopting Automation Industry 4.0 in order to participate in the flow of the industrial revolution. Therefore, your organization must consider the effects of employing the Automation Industry on its operations. In order to Increase the productivity and profitability of your manufacturing business, you can implement  HashMicro Manufacturing Automation System. Get a free HashMicro software demo and pricing scheme calculations with our business experts right at this moment, click here now and don't miss it!