The food business is becoming increasingly popular today, particularly in Singapore, a food paradise. Singapore's food production has grown so popular that it is now exported internationally. The role of technology in ensuring the success of the food production industry is not far away. Various procedures are used in the operational process, beginning with cleaning and progressing to packaging, sorting, separating, cooking, serving, and selling. This lengthy process controls everything in one integrated technology such as food manufacturing ERP software that would be preferable for easy production.
The advancement of software technology that aids food production will ease the operation process with centralized control. With integrated ERP Software, you can automate your food business. With the help of intelligent technology, automating your food business allows you to manage all elements efficiently. You begin with complete operations management, product quality control, finance, and human resources. ERP software will enable you to control food safety while adapting to customer trends and improving supply chain operations. As a result, it would be wise for you to invest in ERP software from HashMicro to help your food production business succeed.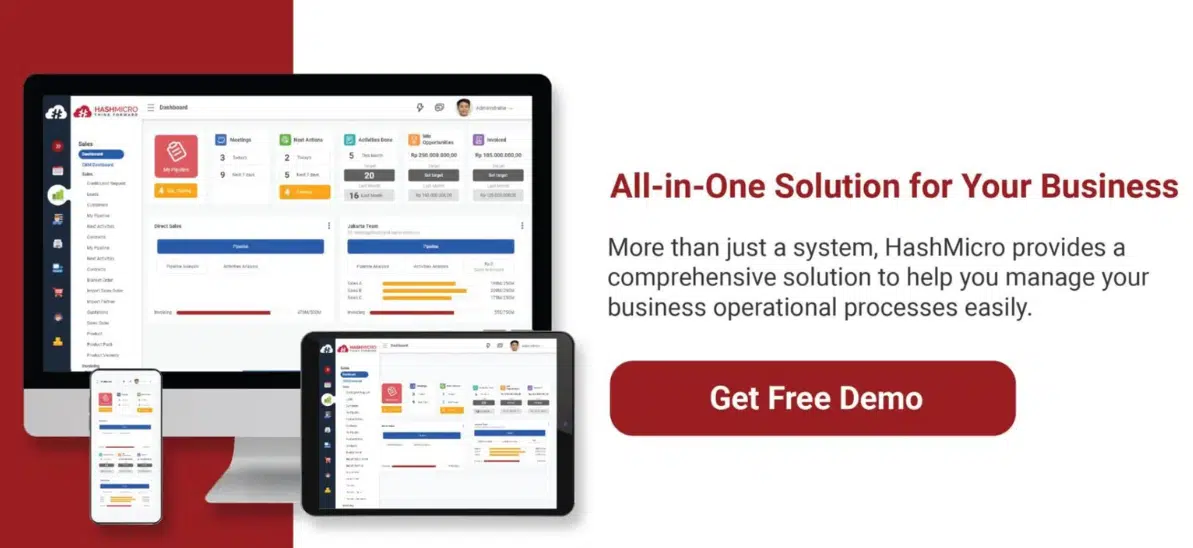 Why Food Manufacturing Needs ERP Software?
Food manufacturers frequently face a challenge that forces them to produce high-quality products and provides excellent service to increase customer value. As your manufacturing company expands, so should its operating system. You can increase customer satisfaction by processing orders quickly and efficiently with the best method. Furthermore, with an integrated approach, customers can track the status of their orders through traceability and data transparency.
Today, there is a real need for technology to help factories run more smoothly and intelligently. In addition, given the dominance of digitalization in today's business.  The food manufacturing industry should consider switching to automation of production processes and the advantages of using an integrated ERP system. For company growth, you must understand why companies should invest in ERP Systems designed with efficiency, security, accountability, and food manufacturing in mind. ERP system modernization is intended to improve the company's specific business. The ERP system will automate the company's core functions, resulting in greater efficiency and accuracy in every job.
Also Read: The Ways Improving your Food Production Business with Application
What are the Major Benefits of Investing in Food-specific ERP Software?
Food manufacturing ERP Software has numerous advantages for your company, including improved business performance, increased company growth, and reduced working capital. You have compelling reasons to invest in food manufacturing ERP software to ensure your company's long-term success. Take a closer look at some key advantages of incorporating a food-specific ERP system. The following are the primary advantages of purchasing food manufacturing ERP software:
1. Reduce cost 
Implementing an ERP system in the food manufacturing industry can significantly reduce operating costs. The company can know every cost it has incurred thanks to responsible control and software integration into its systems to cut down on the money wasted while incurring the costs. Consequently, you can accurately identify and cut operational costs if you use ERP software.
2. Optimize company operations
Food manufacturing can cut costs and discover additional ways to boost the company's overall efficiency if you use ERP software tailored to the food industry. Implementing ERP software can also shorten the time needed for processing, make collaboration more effective, and give the entire organization real-time access to data, all of which will optimize performance. ERP software will ensure that all processes run as they should and help identify problems before they spiral out of control. ERP software will also help ensure that all processes run as expected.
3. Increase flexibility 
Increasing the company's operational flexibility can be accomplished through investment in an ERP system. Food companies can benefit from a customized enterprise resource planning system that caters to their unique requirements, products, and objectives. When it comes to the optimal development of the company, the ERP system will significantly assist as the business expands. ERP software for the food manufacturing industry is a solution that can better optimize business management. The implementation of an ERP system offers long-term benefits that are beneficial to the expansion of a business.
What Makes Great Food-specific ERP Software?
The implementation of effective enterprise resource planning (ERP) software is essential to the prosperity and productivity of a food manufacturing company; however, what characteristics set one ERP system apart from another? Let's look at some of the essential attributes of the best food-manufacturing ERP Software:
1. End-to-end management
ERP Software hosted in the cloud simplifies managing the various moving parts of food manufacturing. Because the software is integrated into a single centralized system, it can move data and workflows from various independent platforms effortlessly. You will have simple access to the integrity of the data and the ability to manage production, control quality, estimate, and perform many other tasks. ERP software lets users view all operations at once and quickly pull reports, find lot numbers, and recognize potential issues.
2. Real-time reporting capabilities and centralized database
Competing in today's modern food manufacturing industry necessitates having timely access to accurate data. With a fully integrated software solution, cloud-based ERP software allows users to run reports automatically and accurately, update numbers in real time, and access data anytime and anywhere. Furthermore, food-specific ERP can keep food manufacturing business data organized and secure so that employees have access to all employees' knowledge bases in a centralized ERP software.
3. Simplified safety measures
Each ERP software implements a unique set of safety precautions; they are all different. Pick a solution that can provide direct authorization and user permissions on all supported platforms. Because of this, the likelihood of a breach or unauthorized access is decreased.
4. Intuitive user experience
Implementing a new system can be daunting for executives and floor workers. However, the right ERP system should be simple and intuitive for all employees, reducing friction and shortening the learning curve. Employees are more likely to stick to protocols outlined in the system rather than take shortcuts or revert to outdated processes if the system is easy to learn and use.
Also Read: Best ERP Solutions Software in Singapore You Should Know
Conclusion
ERP software is critical for a company's progress in today's digital era, where efficiency is one of the essential factors in the company's success. Utilizing ERP Software benefits food manufacturing companies' automation from the planning stage to the final sales stage. To reap these advantages, you must use the best ERP software for automating food manufacturing production processes. HashMicro's ERP software offers automation solutions for your business. You can request a free demo of our best ERP software.

Also Read: ERP Software Application to Increase Business Performance