ERP Software Development Service is software that provides services to help enterprises develop and improve their business operation, such as accounting, HRM, CRM-Sales, Supply Chain, Procurement, Inventory, Asset management, and many more. As a result, you can manage all of those business operations effectively within a single app, which is the most comprehensive ERP Software in Singapore, that allows you to make excellent strategic decisions for your business. 
Furthermore, this article will give you an in-depth explanation of the ERP software development service. Also, if you are considering buying ERP software, here we have already narrowed down a list of Singapore's best five software development services. You can choose the right software for your company at a favorable price.
Also read: 5 Best Asset Software to Maximize Auditing Process.
What is ERP Software Development Service?
An ERP Software Development Service might be what you need to make your business run more smoothly and efficiently. Because it will not only make your business more profitable, productive, and efficient, but it will also lower your operating costs. Hence, without an ERP system, it's hard for your business to compete in today's business world. To take your business to the next level, you should consider getting an ERP software development service.
Thus, here are the benefits and features of an integrated ERP software development service and what it can do for you.
Benefits of Using ERP Software Development Service

The CORE HashMicro Cloud ERP apps offer a variety of advantages to business owners, such as increasing productivity, streamlining workflows in business processes, and many more. Furthermore, here are some of the main features of ERP Software Development Service by Hash Core ERP, which brings more advantages, as well as an explanation of its benefits.
Main features of ERP Software
1. HR management
This feature is to simplify the management of thousands of employees. For example, it'll be easier to automate the calculation of salaries, taxes, absences, and leave management on your company branches centrally. Also, manage the candidate selection process on screening CVs or scheduling interviews. And last, track the performance of your employee performance with a KPI evaluation dashboard and create training programs.
2. Finance and accounting control
Reduce expenses and maximize your business income is possible using this feature. This feature offers; simplifying tax management, streamlining the income tax calculation process in one dashboard equipped with an automatic payment feature, tracking and verifying different types of transactions faster and more effectively by integrating ERP systems with bank accounts, and get the convenience of creating many complex financial reports at once in a couple of minutes.
3. Inventory management
To easily manage thousands of SKUs, track your product locations with 3D stock location visualization, and get information about the location and position of the products, with FIFO and FEFO features will simplify tracking stock movements, delivery of products, and stock-taking on one centralized system, and many more. 
4. Sales and marketing team performance
For automatic upselling, it'll help you simplify upselling to loyal consumers using purchase history data, such as frequently bought products, facilitating customer communication via WhatsApp channels, and using mass mailing marketing to promote products online, manage discounts, pricing, and margins for multiple branches at once with a flexible approval matrix support.
5. Purchase request control
To manage procurement and increase business profitability by easily integrating purchase management, such as purchase requests, purchase orders, blanket orders, and other processes from various branches. Manage tender efficiently by integrating with E-Procurement to easily manage online tenders and RFQs equipped with the E-catalogue PR portal. And last, handle the performance of different suppliers and easily monitor bid pricing, stock completeness, and delivery accuracy.
Also Read 5 Challenges and Trends in the Warehousing Industry and How to Overcome Them. 
Core ERP HashMicro Workflow
1. E-Procurement
It lets you control every purchase, automatically place orders for items in each warehouse location, and reduce unnecessary purchases.
2. Purchase order
It assists you in managing the ordering process, selecting vendors, defining purchase terms, collecting payments, and optimizing stock purchases.
3. Purchase request
Using one platform, employees can make it simple for management to create purchase requests. In addition, management can establish the approval matrix in order to exercise spending control.
4. Tender
This feature helps you select the best offer, send a purchase list easily, and compare and analyze the item quality provided by each vendor.
5. Vendor management
With the help of this feature, you'll be able to manage vendor information and transaction history, and you'll also be able to evaluate vendor performance using a centralized platform.
6. Vendor bill
You can input invoices from vendors into the system using the Vendor Bill feature, and then you can process payments based on the price and due date that you specify.
7. E-Invoicing
This feature enables you to manage invoices, automates the sending of electronic invoices to customers via email or a portal, and simplifies the billing process.
8. PEPPOL
HashCore ERP trading wholesale is PEPPOL network ready. With the help of the HashMicro ERP software, you and your suppliers can standardize the process of sending and receiving invoices.
9. Payment
Offer various payment options for each transaction, making it more convenient for your customers, and ensure that you can easily manage the income from each payment choice.
10. Mobile apps With GPS
When a salesperson leaves the office to meet clients at a designated meeting place, it is much simpler for sales managers to track the location of that salesperson, thanks to this feature.
11. Inventory management
Real-time tracking and monitoring of all your incoming orders into the store, inventory levels across all warehouses, and item delivery.
12. Build apps
Using an application that can connect automatically to your trading wholesale software, you can easily streamline processes like inventory management, scanning barcodes and QR codes, and internal transfers.
13. Target and commission management
This feature enables you to determine the commission amount received by salespeople, set sales targets, monitor the number of successful deals won, monitor the sales team's performance, and monitor the overall sales activity.
14. Promotion management
Not only can you improve the percentage of customers who stick with you by using automation, but you can also use personalized methods to manage different kinds of customer loyalty programs and promotions.
15. Sales order management
You can automatically convert offers into sales orders to avoid data duplication. This function simplifies the work of the sales team and increases customer satisfaction through rapid responses.
16. Multi-pricelist payment
You can maximize your profit with this feature. Determine the price list according to location, time, currency, margin, or promotion, and then automatically include it in every offer or sales order you create.
17. Leads management
It enables you to track all prospects through sales pipelines that is customized to your business processes, and it helps you determine which leads are most likely to result in a profitable sale.
18. Quotation management
You can automate the process of generating, sending, and tracking offers. The system can store quotation templates, integrate with Inventory Software, and generate reports in real-time.
19. Customer credit limit
It allows you to keep track of your clients' receivables, perform automatic follow-ups, and stop customers from receiving invoices before previous purchases are paid.
20. Meeting management
If you use the Meeting Management feature, you won't need to worry about making a mistake by entering data twice. Because of this feature, it allows you to arrange appointments with clients and assign salespeople. When sales team members are appointed as company representatives, they will also receive notification of this.
Also read: API Plays a Role in Digital Business Development| Functions & Examples. 
Top 5 ERP Software Development Service in Singapore
Considering using a customizable and the best ERP development service should be something you do if you want to take your company to the next level. But here lies the challenge, there are many different ERP systems, but which one should you choose? To answer your question, here we have already narrowed down the best ERP software list in Singapore, which you can choose based on your needs.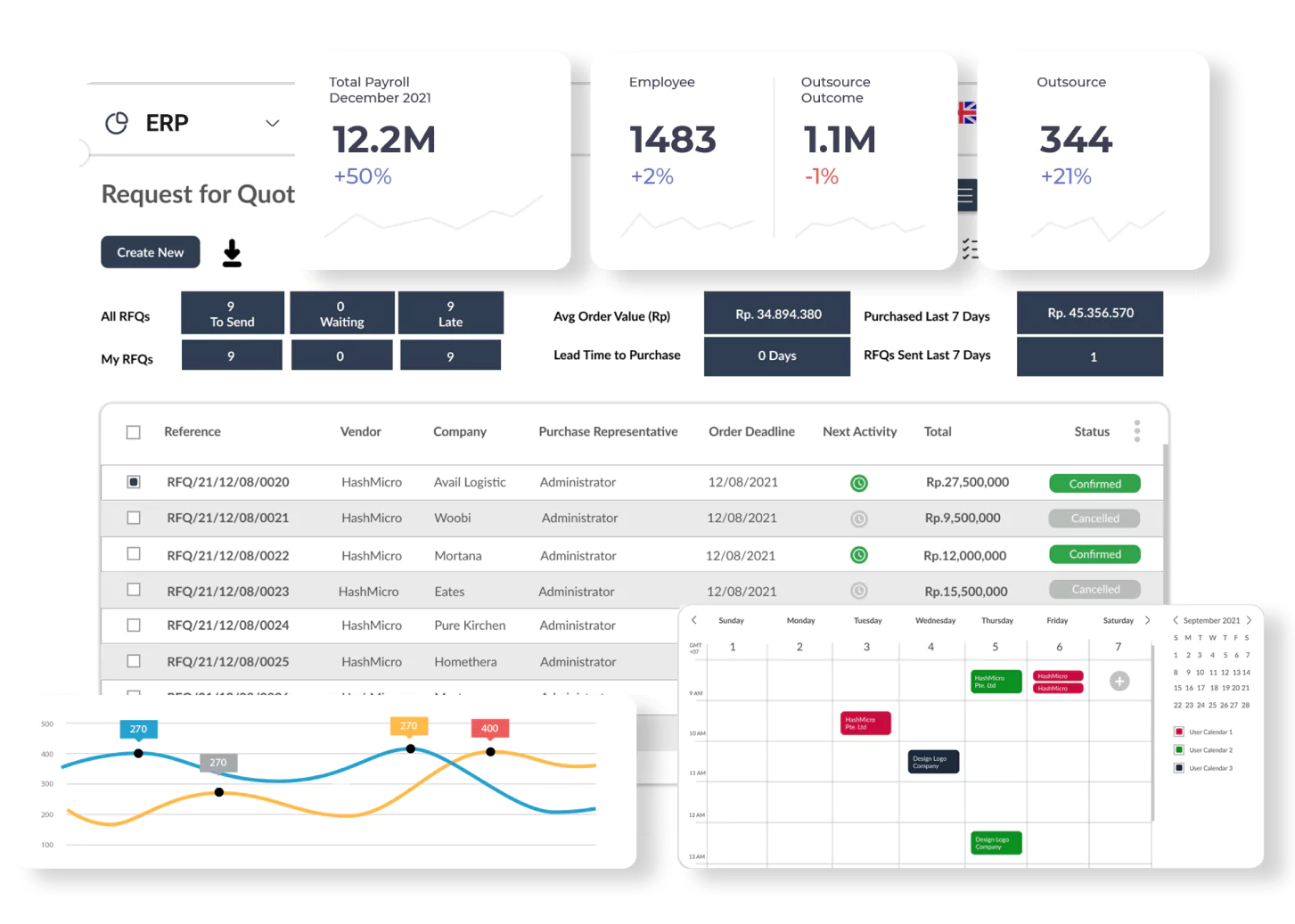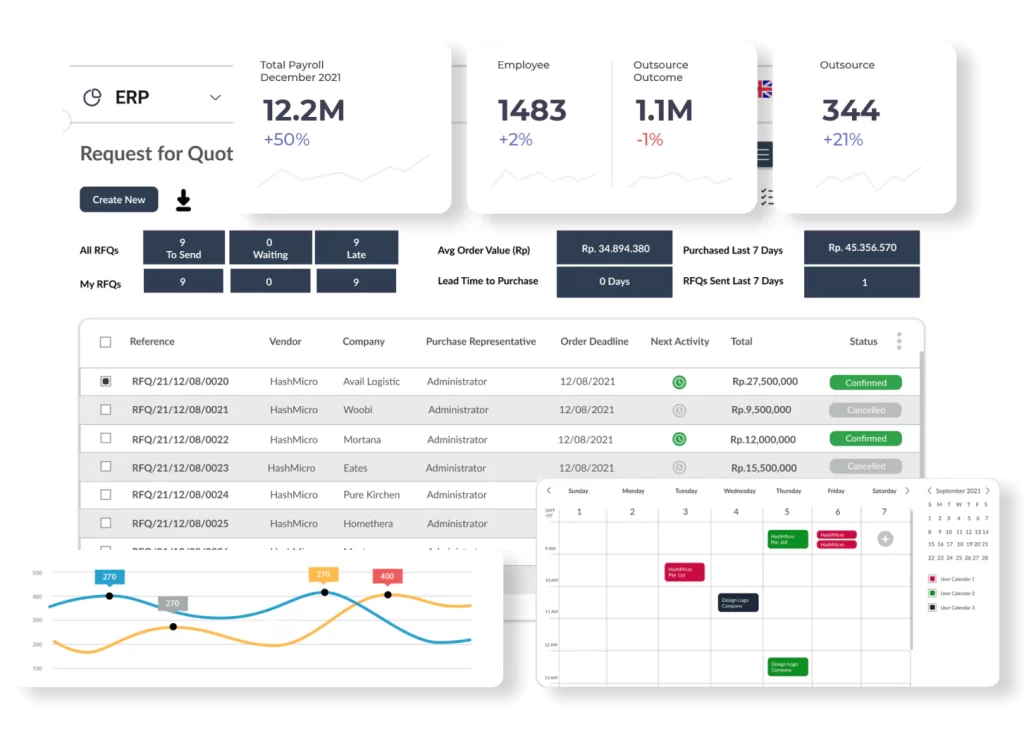 1. HashMicro (Hash Core ERP)
Hash CORE ERP is the best solution for integrating and optimizing all your business processes. As the most comprehensive cloud-based, Hash Core can assist your business with every operational task, such as HRM (Human Resource Management), Tax Payments, Accounting, Bookkeeping, Inventory Management, Procurement Systems, CRM-Sales Management to maximize sales and customer satisfaction, and Supply Chain Management in one platform. This makes HashMicro trusted and used by thousands of companies and organizations of all sizes. Hash CORE ERP has various features that that is customizable to fulfil and suit your requirements of businesses. It's suitable for any business from all sizes because it is easily integrated with other software.
In other words, as the best ERP Software in Singapore that is centralized in one platform, Hash CORE ERP, with its features, offers numerous benefits, for example, increasing efficiency, streamlining business process workflows, and many others. There are many strengths, benefits and advantages of HashCore ERP, to mention one; the software enables full integration across the organization, which helps maintain high quality for clients, expanding business and emerging markets.
Unlike other ERP software, HashMicro provides the unlimited licensing per organization with no limitation of users. This means no additional cost is involved; regardless of how many users are, they can use the software. If you consider getting it, the good news is that HashMicro provides advice, assistance, and consultation regarding ERP software's grant application process for you. Download the pricing scheme now!
2. ScienceSoft
ScienceSoft provides ERP development and support that facilitates you in gaining deeper visibility, streamlining the flow of information, and optimizing costs. Also, it can be automated, so it would be easier to cover the cost of developing those ERP modules. Additionally, it is available in a multi-platform, such as a web, desktop, or mobile app.
3. OodlesERP
Oodles ERP is an end-to-end ERP software development company that empowers startups and established businesses. With experienced developers, Oodles will assist your businesses in improving your business performance. ERP modules and services of this software are; End-to-End Integrations, Custom ERP Development Services, and Expert Consulting.
4. Synergixtech
Not only does the system simplify access, maintenance, and operation on both cloud and on-premise servers, but it also offers a web-based solution in which you can access the system through a browser on any device. Because of this, they can access their database at any time and from any location. With more than 32 years of expertise, Synergix ensures that its customizable ERP system can fulfill your business's unique requirements.
In addition, another one of Synergix's strengths is that its AM & Helpdesk team can provide support throughout the entire process and establish a lasting connection with customers.
5. Tigernix
Tigernix's software solutions are tailored by technology experts to streamline any business's operations. Their products help businesses achieve market leadership through efficiency, productivity, and control. In addition, Tigernix is also known for its state-of-the-art software solutions and comprehensive services.
Also read: All You Need to Know About the Enterprise Development Grant.
Conclusion
In conclusion, developing ERP modules to their maximum potential might provide you with various advantages. With the support of an ERP software development service system, you are able to manage the day-to-day business operations. Therefore, the top ERP Software Development Service is a necessity that you should consider getting. You can customize it based on your business needs, which will help you to make a better business strategy. Which one is the best ERP you should choose? Based on the features, pricing, strength, and advantages of HashMicro offers, we put HashCore ERP is the number one software.
That being said, it's not doubt if it's being said that the HashCore tools and features will make your day-to-day business easy to manage in an efficient and effective way. This makes HashMicro is trusted by enterprises and organizations, either small or large sizes. To name a few, there is the Ministry of Education in Singapore, Changi of Singapore, the Bank of China, and many more. If you consider getting it, the good news is that HashMicro provides advice, assistance, and consultation regarding ERP software's grant application process for you. Consult with us to find out more information regarding the HashMicro ERP development service and the modules it offers. You may try our free demo.