With the sophistication of digital technology in this modern era, the term "hard to find a job" seems to no longer happen. The reason is that the opportunity to be able to work online from home is also getting easier.
Especially during the COVID-19 pandemic, online working or from home, using virtual office addresses and virtual mail setups is very common. Even though many companies have implemented the WFH system long before the pandemic, those of you who are new to this system may find it challenging to stay productive while working from home.
For more advanced features and easiness, your company can implement HashMicro's ERP system that will help to manage multi-companies with different operational management in one centralized ERP system.
So, if the industry where you work is possible to work online from home, especially for freelancers, you can read this article to find out the various advantages of working from home.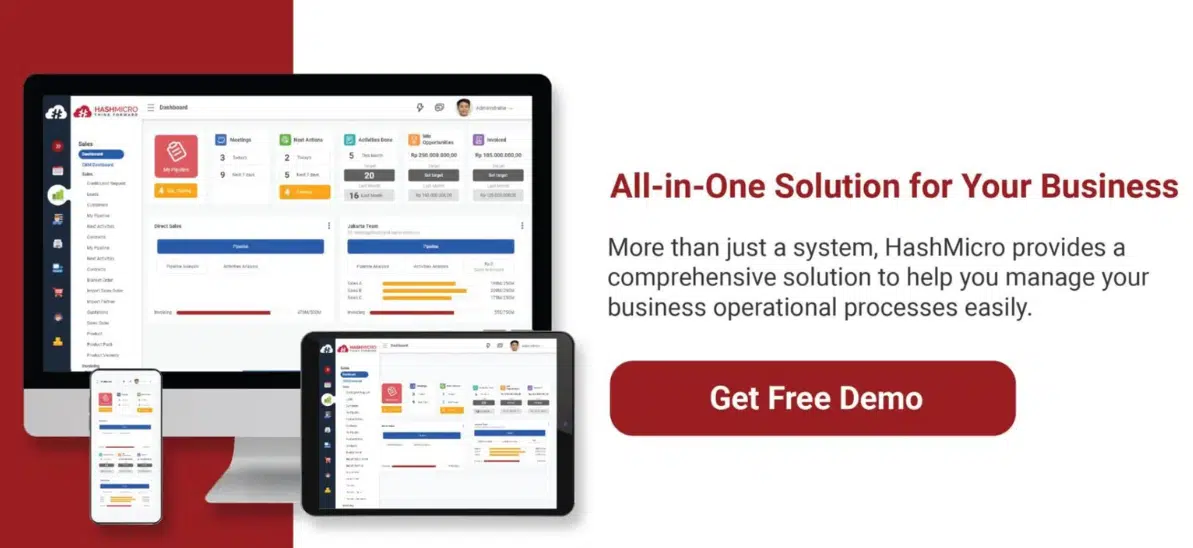 Table of Contents
Understanding Work from Home (WFH)
This concept is a modern work approach that maximizes the use of the internet and technology to support employee activities—for example, using online meeting applications, such as Zoom, Google Meet, etc.
Usually, office employees have to go to the office to work. However, when the COVID-19 pandemic strikes, the WFH system becomes the right solution. Why? Because that productivity is maintained as well as to maintain the health of workers. 
As mentioned earlier, online working is an alternative for those who want to earn an income. Because it is more flexible. Working online can be done anywhere and anytime. But even if you work from home, you will still have rules according to each company where you work.
For example, you can still be contacted during business hours or have hours meeting fixed every day. Each company has different rules regarding this WFH. For example, some companies set a limit on how many days an employee can take WFH.
Read more: How to Manage Your Time During Work From Home
Benefits of Working Online
As we know, applying for a job conventionally is often tricky because it has many requirements and specific qualifications. Of course, this is the opposite when you are trying to get a job offer online. But do not take it lightly, online working actually allows you to have a salary and productivity that is not inferior to those who are still working offline.
Working from home can also help employees balance the world of work and daily life. Moreover, with skills unique and qualified, online working from home is very profitable in income, flexibility, and productivity. Online jobs provide the flexibility to work from anywhere in the world and manage your own schedule, making it an ideal option for those seeking a better work-life balance.
As reported by Bloomberg, a new study shows that remote work, aka Work from Home (WFH), does make us more productive. This study surveyed more than 30,000 workers in the United States (US) to measure the productivity of WFH.
It was imposed in various sectors in the US last year to date due to the COVID-19 pandemic. The result is surprising, there is an increase in the productivity of the United States economy by 5%. This situation shows how information and communication technology has become a very efficient means for various jobs in this modern world.
Advantages of Working Online
1. Still having an income even though working online from home
Working without having to leave the house and still earning, may become the dream of many people. Where you can easily use a laptop, PC, or gadget that connects to the WOW Internet.
For those of you workers online who are running WFH, you don't have to worry about being stuck in traffic, raining, or overheating due to bad weather and feeling afraid when taking public transportation. This saves time and operational costs that you have to spend to work. Moreover, by working from home, you can minimize the stress level experienced.
The method of working from home also makes your work more flexible, especially when you are bored at work. With a communication tool that lets you switch devices, you can move from your desk to the living room, terrace, garden, bedroom, or other room in the house that is comfortable for you to work and attend meetings online. If you're still looking for the right communication software to use, check out the differences between RingCentral vs Zoom or explore other options in the market.
In addition to being flexible in terms of work and time, working from home is also flexible and can easily adjust. The most important thing when working from home is that you can be responsible with your work.
Although the work-from-home system seems flexible, companies don't have to worry about the performance of their workers. Now, you can monitor the productivity of your sales team and optimize the sales process with the most complete Sales Management System in Singapore!
2. Work without spending money
For those who want to work in a company but don't have enough money for transportation costs, maybe you should try to start online working. Likewise for companies that can manage the budget more efficiently. With the implementation of this WFH system, there's no worry about all these problems because you can work anywhere according to your domicile. 
You don't need to go to the office and don't have to pay for transportation, you don't need to buy new clothes or shoes to go to the office. Also, you don't have to spend money to have lunch with office friends. In short, you can save even more. Also, you have plenty of time to cook healthier and much cheaper meals by working from home. In essence, by working from home, you can work online without capital anywhere and anytime. 
3. Able to do the freelance job
During intense competition with job seekers, one's income is an alternative to doing work freelance online. With broader job opportunities and benefits that you can obtain, freelance is one of the fields of work that is now increasingly popular and much needed by companies. 
As for the various kinds of work that can be done from home, such as translators, freelance writers, social media agency services, or web developers, you can do it by various groups, such as housewives, students, and employees. The majority of jobs you can try at home are contract, freelance, or part-time. Therefore, instead of just waiting for the pandemic situation to improve and staying at home, freelance is an interesting and no less profitable alternative job.  
Conclusion
Those are some of the benefits of WFH that you can feel. Even though you have to work online from home, that does not mean your productivity will decrease. Do not let this work-from-home activity make you stressed. Or because you have regular working hours and start losing motivation to work.
Therefore, you must prove it by being able to always be responsible for your work. And remember to not take advantage of all the benefits you have gotten from WFH, such as being lazy. In addition, working remotely from home will be more effective with the help of HashMicro's all-in-one collaboration tool with a fast implementation process to facilitate your daily work. If you are interested with the system, you can tryout the free demo here.