Electronic commerce (e-commerce) refers to companies and individuals who buy and sell goods and services over the Internet. There are two types of transactions in this business, namely B2B (Business to Business) or B2C (Business to Customer). E-commerce operates in various market segments and can be done through computers, tablets, smartphones, and other intelligent devices. Almost every product and service imaginable is available through e-commerce transactions, including books, music, airline tickets, and financial services such as stock investing and online banking. Therefore, this business makes it easy for customers to conduct transactions efficiently only through devices and the Internet. For example, is using E-commerce ERP software. 
This e-commerce business will efficiently operate using a system integrated with the cloud. ERP Software combined with the cloud system will automate your business processes. As a result, you can eliminate manual work while enhancing staff productivity. An ERP system makes it simple to monitor your organization regularly and precisely. Aside from consumer satisfaction, company productivity will also increase along with the speed and efficiency in the automation of company operations. The best solution for using an ERP system in your e-commerce business is to invest in HashMicro ERP software. Get an ERP software pricing scheme that suits your business!
What is E-Commerce ERP?
ERP Software combines all aspects of a business into a single system that is cloud-connected or integrates various management applications. This can help to reduce the need for a variety of different methods. E-commerce ERP integrates back-office functions such as inventory software, warehouse management, purchasing goods, HR functions, and accounting into a single system that improves the efficiency of your business's operations.
You can automate your company using an enterprise resource planning system for online commerce. You can also reduce the number of information silos and workflows by creating unified data hubs. As a direct consequence, you will notice that things are more organized, and the entire process of placing an order will immediately become more effective.
Also read: What Are the Cloud ERP Advantages for Startups?
What are The Main Features of ERP that Can Help E-Commerce?
ERP has various features that can benefit the operation of a business in a wide range of sectors. These features will assist you in automating work in your organization. Utilizing ERP Systems also helps e-commerce provide customers with the best possible service. Your business will benefit more from investing in an ERP system because the system will control end-to-end processes. The main features of ERP software that can help your e-commerce business are as follows:
1. Automation
ERP Systems are available to help you automate your business. The ordering process, employee payroll, and invoicing will all be automated. An automatic system will increase employee productivity because manual work will take less time. As a result, your employee's performance will be more focused on the things necessary to run your business. Automation also reduces human error, preventing minor mistakes that can accumulate over time. Automation in your business can track inventory across all systems, automatically triggering shipments and invoicing when SKUs become available. This leads to more sales, less manual work, and better customer service.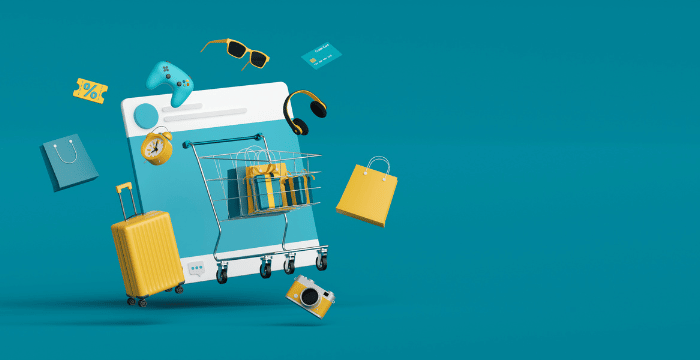 2. Reporting
ERP Software can make business reporting easier. ERP modules collect business information to help manage critical stakeholders, make better decisions, improve processes, and identify threats and problems. These reports can include data visualization software to help businesses see trends and patterns to enhance their offerings and bottom line.
3. Data analysis
ERP e-commerce systems will assist you in collecting diverse data and turning it into advanced analytics. ERP software helps you improve your business by optimizing operations to reduce costs, detecting fraudulent activity, identifying new business opportunities, and enhancing customer experience.
4. Open data
All data is accessible to all users in the ERP System; if one user enters information, it is accessible to all other users. Control permissions allow you to specify who has access to what information. This means that your CEO and warehouse operator can use the same software with an integrated centrally controlled system to make it easier for your business to run smoothly and increase productivity.
5. Tracking and visibility
ERP software monitors the metrics of your company and assists you in gaining a better understanding of your data in almost real time. You can set up reporting and analysis for virtually every aspect of your company, allowing you to obtain deeper insights and devise more effective plans.
Also read: The Reasons Why ERP Implementation is a Challenging Task
E-Commerce ERP Integration
The E-Commerce ERP system integrates various other features to aid business operations. Some examples of E-Commerce ERP System integrations are as follows:
1. Inventory system
Inventory Systems in e-commerce businesses offer numerous advantages. To automate business operations, the system is integrated with ERP E-Commerce. Inventory management systems assist companies in optimizing inventory levels, monitoring stock transfers, forecasting inventory needs, and optimizing stock management across multiple locations.
2. Customer Relationship Management (CRM)
CRM system integrated with cloud ERP gives you a clear view of your business, including customer order history, contact details, feedback, lead status and purchase history. They are beneficial, allowing you to autofill POs, generate accounts receivable reminders, and even create reminders for follow-up offers when a prospect displays specific purchase indicators from time to time. With this system, you can increase customer value, thus generating high profits.
3. Accounting
Accounting in a business is critical. For this reason, an ERP system is integrated with an accounting system that will help the company succeed. ERP accounting features allow you to track and analyze your most critical financial data, including budgets, forecasts, and more. With ERP software, you can save a lot of time, focusing on meeting your monthly financial needs, including reconciliation and closing reports.
4. Warehouse operation
Warehouse operations usually take a long time, and errors often occur. For this reason, ERP systems are a solution to reduce human errors and manual work time. E-Commerce ERP is integrated with warehouse management which helps to optimize work. The Warehouse Management Software from HashMicro will help you maximize warehouse space use, thus enabling you to automatically calculate and track your warehouse capacity. 
5. Point of Sale (POS
)
A Point of Sale System in your e-commerce business will be highly profitable because the system is integrated with E-Commerce ERP, providing various transactional benefits. HashMicro's POS Software can be tailored to each company's specific requirements. You can automatically process payments, manage promotions, collect inventory, and generate comprehensive reports in one platform.
Why Does Your Business Need E-Commerce ERP?
E-Commerce ERP has several essential benefits. For that, this system will be beneficial for your business towards success. E-Commerce ERP will reduce high inventory costs with an integrated approach with cloud systems, lowering costs and streamlining the operation process. You will also get real-time reports with accurate analysis results from the system. ERP systems for e-commerce will also make it easier for you to streamline your platform, accessing essential data in one system. E-Commerce ERP efficiency will also reduce human error because manual data entry is no longer done. Therefore, ERP E-Commerce helps your business in its various processes by providing work efficiency.
Also read: 7 ERP Software Features to Optimize Your Business.
Conclusion
E-Commerce ERP provides various features that will help automate your business. ERP systems are integrated with multiple other systems, making business automation very profitable. We have now entered the era of digitalization, so ERP software is your best solution to control your business quickly and efficiently in just one centralized platform. However, you need the best ERP Software to increase your business sales. HashMicro provides the best ERP software in Singapore to help you automate your business. Get a free demo of our best ERP software!