Singapore's education system includes six years of primary school, 4–6 years of secondary school, and 1–3 years of tertiary school. The primary school curriculum is the same for grades 1-4. An exam evaluates the curriculum's syllabus and organization. School-based tests decide how fourth-grade kids will study English, arithmetic, their mother tongue, and science in the following two years. By 12, students must take the PSLE in English, math, science, and their home tongue. PSLE results determine which secondary school students attend.
Online learning systems are widely used in most of Singapore's schools. One of the online learning systems, the learning management system (LMS), is widely used due to its efficiency. A learning management system assists students in learning at their own pace. Moreover, LMS may also help teachers keep an eye on their students. It's one of the most crucial tools to have on hand when you're prepared to go on enjoyable learning.
Table of Content
LMS Definition and Meaning
A learning management system (LMS) is a software or web-based technology used to organize, carry out, and evaluate a particular learning activity. It is used for eLearning procedures and, in its most basic configuration, comprises two components: a server that handles the essential functions and a user interface that is controlled by teachers, learners, and administrators.
The abbreviation for LMS can be used to identify its main key features:
Learning: An LMS's main objective is to facilitate and streamline learning inside your company. You can keep your employees' knowledge current using an LMS.
Management: You may arrange and manage your online classes, students, and outcomes with this program. You can assess the efficacy of your training materials.
System: A system is a collection of items operating as a mechanism or network unit. It's just another phrase for software in this instance to make it appear more costly and polished.

What is the Purpose of LMS?
LMS's primary purpose is to host and monitor e-learning. A learning management system (LMS) provides a business using a virtual hub where e-learners can access training materials. Its goal is to make training available to remote learners while acting as a center for training throughout an organization.
Analytical data, training reports, and learning gaps developed learning management systems. LMSs serve as a central center for online information like courses while concentrating on delivering e-learning. Today's LMSs include cognitive algorithms that collect information from e-learning materials to generate precise suggestions and automatically suggest courses based on a user's ability profile.
Also read: The Importance of ERP Program Education Software for Educational Institutions
Different Kinds of Learning Management Systems
There are four types of Learning Management Systems: cloud-based, self-hosted, desktop application, and mobile application.
Cloud-based LMSs are hosted by the cloud and commonly use a

software-as-a-service (SaaS)

business model. Vendors of cloud-based LMS take care of system service and perform any required technical updates or upgrades. Using a username and password, online users may log in anytime and from any place.
Self-hosted LMSes users must download the learning software to utilize it. The self-hosted platform allows creative flexibility and customization, but customers sometimes must pay for system updates and maintenance.
Desktop LMS application is set from the user's personal computer. On particular gadgets, though, the software could still work.

Mobile application LMS can be accessed anytime, anyplace, and on any mobile device. They support learning on the go. With the help of this platform deployment type, users may take part in and monitor their online learning activities while traveling.
Who Uses Online Learning Management System
Learning management systems can be utilized by corporations in addition to educational institutions, including high schools, colleges, or universities. Every business that prioritizes staff development should use it. As a result, budget-constrained small and medium-sized businesses may also profit. Interestingly, there are specific fields where a learning management system is preferable to in-person instruction, including:
Health care industry

Real estate industry

Law industry

Manufacture industry

Hospitality industry
Benefits of a Learning Management System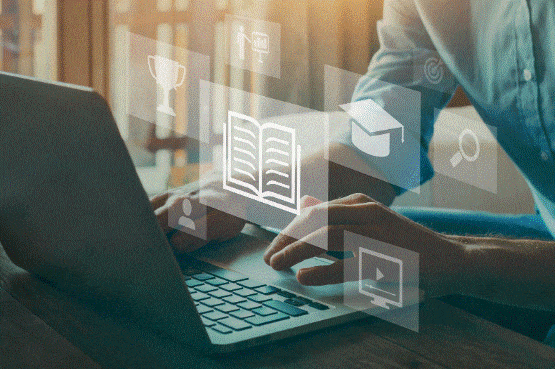 Learning management systems provide users with a variety of benefits, regardless of the kind of institution using them. For instance, an LMS might help an educational institution to save time and money. By allowing users to finish the coursework whenever is most convenient, LMSes help learners avoid taking time out of their day to travel and attend training or courses. Eliminating the need for instructors, training days, training materials, travel expenses, and site hiring may also decrease costs.
Among the other advantages of learning management systems are:
The ability to track user performance and progress; 

Increased eLearning accessibility regardless of the location; 

The ability to customize the online training and learning experience; 

The ability to quickly and easily update eLearning modules and activities; 

The ability to quickly and easily ensure that online training and learning materials are effectively disseminated; 

The ability to import and export files in SCORM, xApi, and other industry-standard elearning formats;

The use of automation prevents users from monotonous, repetitive tasks — such as filling out surveys.
Finally, one other significant benefit offered by LMSes is centralized learning. It enables an institution to compile and save all massive data in one place. LMS makes it simpler for administrators and teachers to update and manage the course contents. Additionally, it facilitates the creation of uniforms and increases efficiency in training throughout the business. Most LMSes include cutting-edge encryption capabilities that ensure data and content security.
How Does a Learning Management System Work?
A learning management system is like an extensive website that only authorized users can view. This 'restricted' website allows online or blended student participation. Online learning is equivalent to remote education given by the open university, where students communicate asynchronously with instructors and other learners. Blended learning is when instructors and students meet physically. Still, the LMS supports learning by giving an area to store and organize resources, offer assessments, and engage through blogs, forums, etc.
A learning management system makes learning more flexible, and you may utilize it through your computer, tablet, or smartphone. As a learning management system's primary purpose is to teach students, there are typically three sorts of log-ins (there could be more, depending on your solution). Admin, teacher, and student logins are the most common. 
The admin log-in is for administrators. When the admin signs in, it will let them add material and users, remove content and users, and critical access portions of the learning management system to adjust settings. The teacher log-in allows instructors to assign, receive, and create courses. The student log-in shows classes, notable work, and resource connections. If they have questions, they may contact the instructor or course leader. The instructor or course leader picks up student work via the admin log-in.

Also read:
Getting Started for Hybrid Course in Post Covid Era
Examples of Learning Management System
Onboarding and training are prominent LMS uses. When teachers use an LMS for these aims, they may build exciting learning activities to help students acquire knowledge and problem-solving abilities. You may use an LMS to teach AR, VR, and AI. Overall, the workforce may become more imaginative and creative. 
LMSs are used for sales training, which includes new staff onboarding and training, but also product knowledge seminars, training in efficient customer contacts, and case study-based tutorials that rely on earlier client experiences to improve current interactions.
LMSs may be used for blended learning. Blended learning combines classroom and online learning. Because it improves the conventional classroom experience with digital material, it's more effective than face-to-face teaching.
Conclusion
A learning management system is used for planning, carrying out, and assessing specific learning activities. Cognitive algorithms are a feature of LMSs that gather data from e-learning resources to provide accurate recommendations and automatically propose courses. Learning management systems come in four varieties: cloud-based, self-hosted, desktop applications, and mobile applications. Any mobile device and at any time may access the LMS mobile application. Learners who use LMSs save time by not having to attend training sessions or courses over the day.

In addition, we can provide schools with our innovative learning management system for an excellent user experience. Therefore, the best option is to choose Hash School ERP System, which can result in multiple benefits. Our LMS system brings a new level of enjoyment to the teaching and learning process between the instructor and the pupils. Get the School ERP System pricing scheme from HashMicro without any further ado. Get a free demo and the pricing scheme for Hash School ERP System right away.