You have learned about what ERP is in the previous chapter. In this chapter, you're going to learn about what is the importance of ERP software to help your business. There are many advantages of using ERP software for various types and sizes of businesses in different industries, such as manufacturing, retail, wholesale, food and beverages, real estate, construction, etc. Even, there are also benefits of ERP in the healthcare industry.
Here are some of the main benefits of ERP integration that you can expect to gain.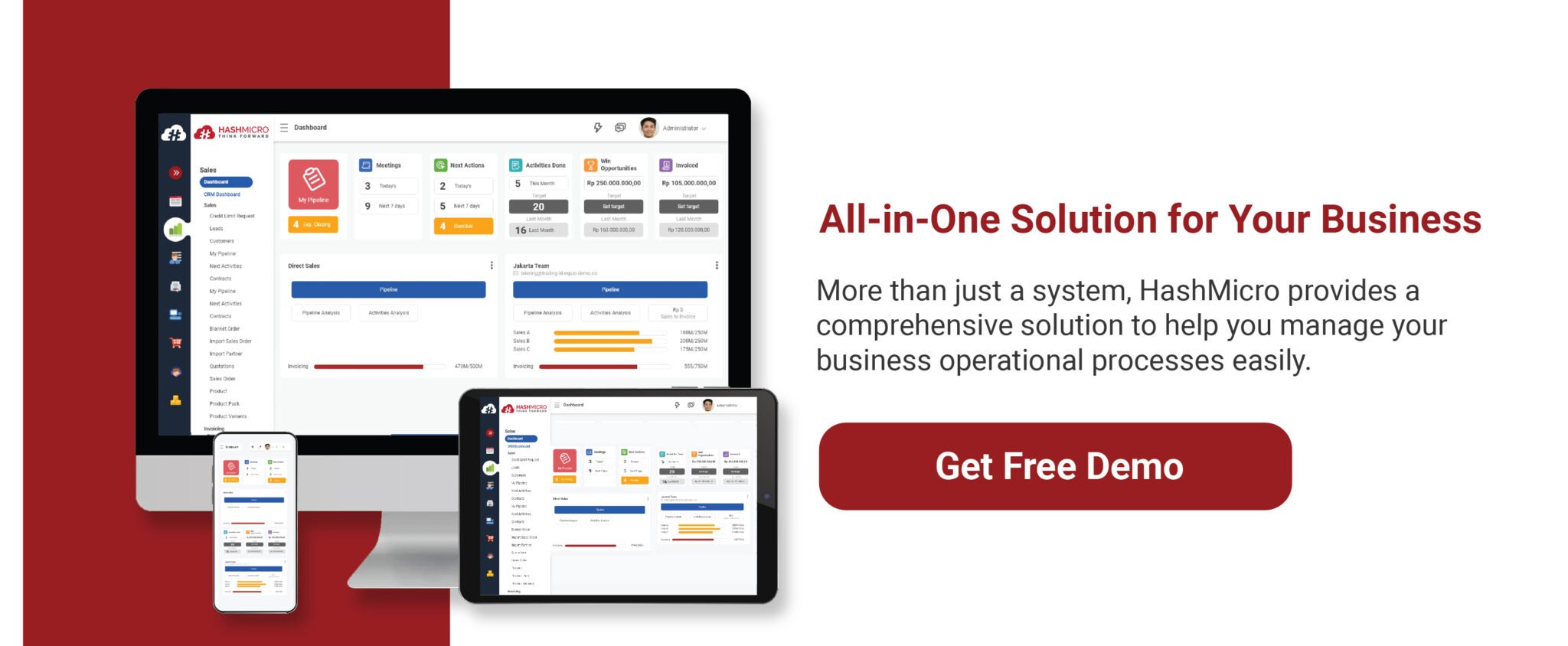 1. Streamlined Business Processes
ERP software simplifies various complex processes such as production planning, inventory tracking, financial statement generation, and many more.

For example, the accounting department does not need to spend a lot of time or use a lot of spreadsheets to create income or cash flow statements. Instead, the ERP system allows them to generate in-depth reports with just a few clicks with accounting software from Hashmicro.
Also read: What is ERP and Why is It Important for Businesses?
2. Reduced Costs
With ERP software, companies can reduce both administrative and operational costs.

Since ERP software automates most business processes, companies can also cut labor costs. As a result, they do not need to spend extra money on several different applications as well.
In addition, with comprehensive and accurate business reports, companies can also forecast their revenue, consumer demand, inventory needs, etc. This feature can make companies manage their budgets more wisely.
3. Optimized Efficiency
One of the reasons of why do companies need ERP system is its capability to help companies eliminate manual work so that various processes can be completed more quickly. For example, ERP can do order picking in just seconds to pack the goods and send them to customers more quickly.

ERP software also allows stakeholders to monitor the KPIs of each division in the company through an easy-to-understand dashboard. As a result, they do not need to meet the manager of each division directly when they want to ask for updates.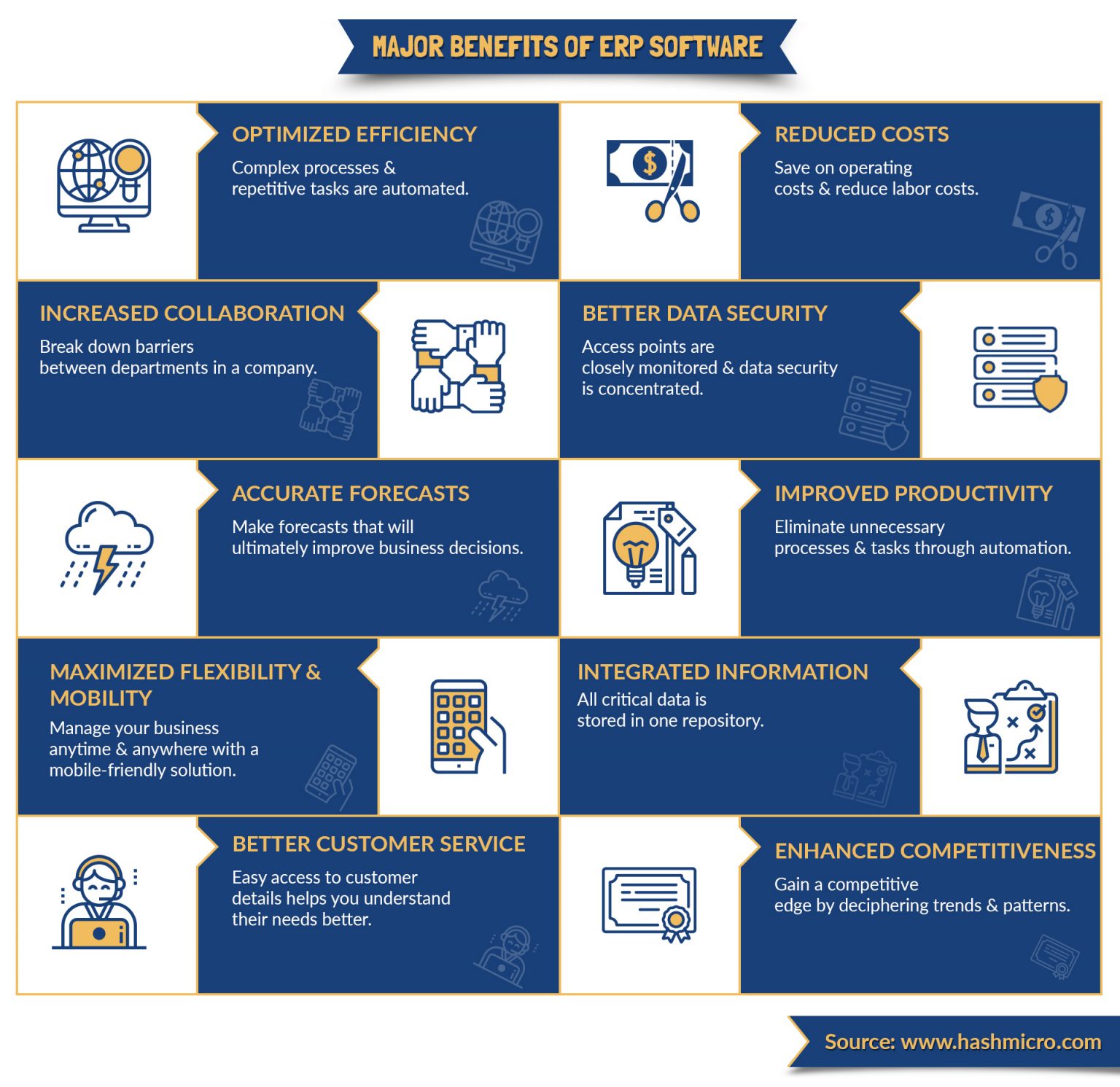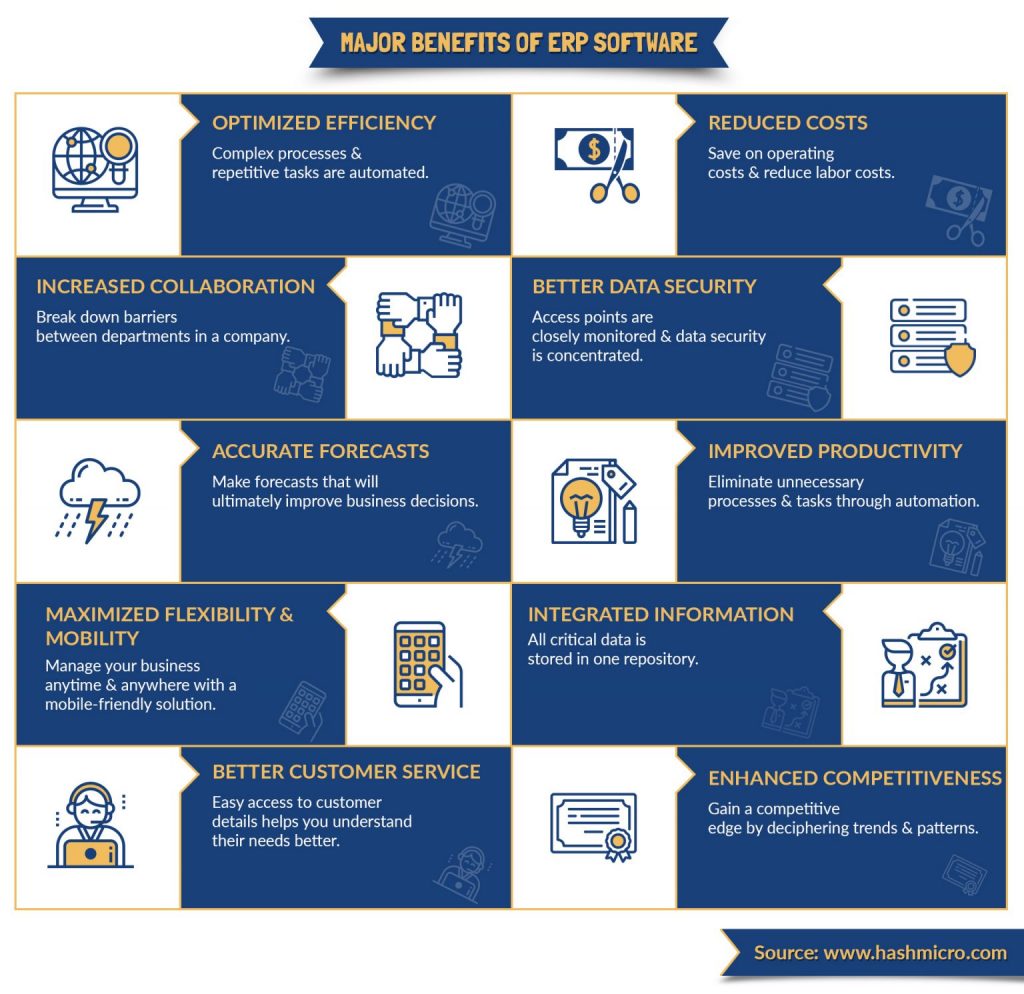 4. Integrated Information
One of the benefits of ERP software is that it allows each department across an organization to access various information they need without disrupting the work of other departments. 

For example, someone from the marketing department wants to discover customer shopping behavior. With the help of a collaborative system, they do not need to ask for the data from the sales department since they can generate it directly from the system.
Also read: Here are The 5 Best ERP Software in Singapore You Should Know
5. Accurate Insights
Insights play an important role in the business decision-making process. Advanced reporting tools in ERP software allow companies to generate accurate, in-depth reports to make better forecasts that can help grow their businesses.
6. Improved Mobility
Cloud ERP or web-based ERP systems allow business owners to monitor their business operations from anywhere and at any time with mobile devices.

Without ERP, business owners must be physically present to ensure that all the operations are running smoothly. This is hard to be achieved especially if they have multiple stores or warehouses located far apart.

Retailers or wholesalers can receive and manage orders and track their stock availability whenever necessary to avoid shipment delays.
7. Increased Productivity
Since various repetitive tasks are eliminated, employees can focus more on their core work and have more time to complete other tasks or projects.
8. Better Data Security
You don't need to worry about data security because ERP software monitors access points tightly. Data restrictions can also be controlled by the admin who manages the system, so you can make your ERP system as safe as you want.

Cloud ERP software keeps all important company data safely. Data can still be stored offline when the internet network is interrupted and synchronized when the internet connection is back.
9. Improved Customer Service
An ERP system gives you quick access to customer information and history to better understand their needs. It also helps you increase customer satisfaction by speeding up the process of order fulfillment.
10. Enhanced Competitiveness
Technological changes and aggregate demand force business owners to update their systems to win the competition within their industries.

ERP solutions are designed to offer flexibility, adaptability, and scalability for business growth. With the right ERP software, even SMEs can compete effectively with bigger players.