An SAP system is a software application businesses use to manage their day-to-day operations. This software helps organizations establish a centralized system that enables every department to access, upload, share, and retrieve shared data, resulting in a more efficient work environment.
SAP systems are essential for businesses because they offer several benefits. For instance, they allow businesses to automate manual processes and eliminate redundant tasks, reducing the risk of errors and increasing productivity. Overall, businesses can optimize their operations and gain a competitive edge in their industry by using the SAP system.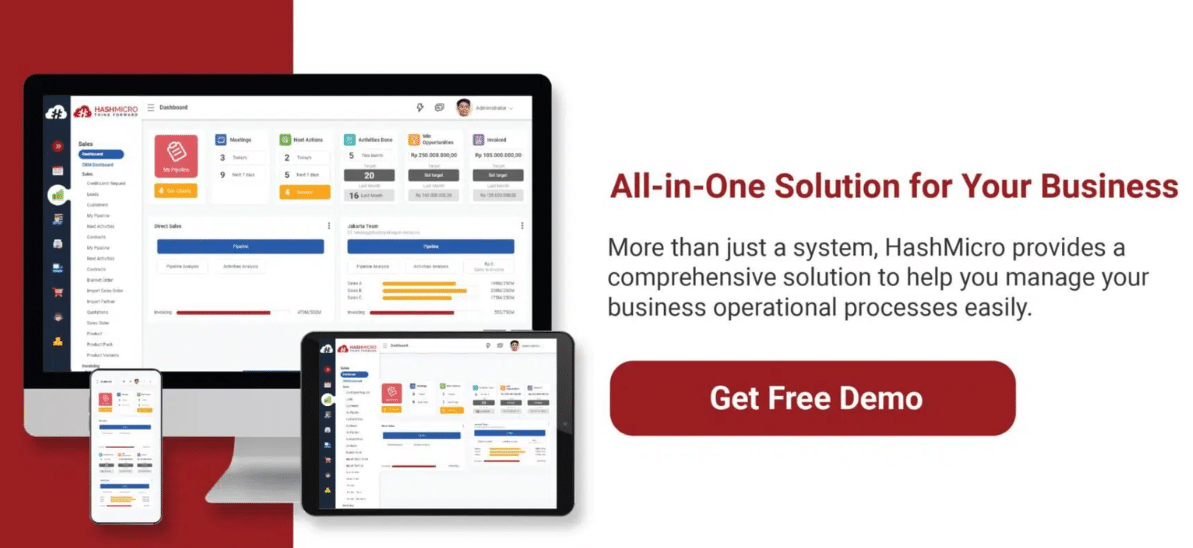 Table of Content
Definition of the SAP System
SAP, short for Systems Applications and Products, is a popular ERP software that connects and integrates different business functions into a single intelligent suite on a digital platform. It provides powerful tools to assist businesses in managing their finances, logistics, and other business areas.
Besides that, this system helps businesses manage various aspects of their operations in a centralized and integrated manner. Need to know, HashMicro is a company that provides the best SAP system services for a business. This system can make more accurate decisions using the most advanced business management software.
How does the SAP System Work and Why Is It Important for Business?
The SAP receives and processes data from all business functions integrated into one platform. Big companies need this system because it makes communicating and monitoring every performance progress made easier. The way the SAP system works will make it easy to succeed in achieving targets set by a company.
Furthermore, this system  is important for business because it helps organizations improve efficiency, productivity, and profitability by providing real-time insights, automating repetitive tasks, reducing errors, and enhancing collaboration across departments. That's why it will be very easy to develop and achieve targets for a company when using the SAP system.
Types of HashMicro SAP System Products & Modules

Now you are starting to know what SAP is and the importance of using the system in a company. There are many products and modules that the Hashmicro  offers, such as:
SAP ERP Sales
SAP ERP sales module that helps businesses manage their sales processes, such as creating quotes, processing orders, generating invoices, and tracking payments. This module enables organizations to streamline their sales operations, improve customer service, and optimize revenue generation.
SAP ERP Inventory
SAP ERP inventory system helps businesses manage inventory levels, track stock movements, and monitor product availability in real-time. It provides inventory forecasting, warehouse management, and barcode scanning to improve inventory accuracy, reduce stockouts, and enhance order fulfillment efficiency.
SAP ERP Accounting
The accounting module in HashMicro's SAP ERP system helps businesses manage their financial processes, such as general ledger, accounts payable, accounts receivable, and financial reporting. It enables organizations to automate financial transactions, reconcile accounts, and generate accurate financial statements.
SAP ERP Procurement
The procurement module in HashMicro's SAP ERP system helps businesses manage their procurement processes, such as purchase requisitions, purchase orders, and supplier management. It enables organizations to streamline procurement operations, track supplier performance, and negotiate better deals.
Also Read: 16 Best ERP Software in Singapore You Should Know in 2023 
Advantages of HashMicro's SAP System
HashMicro's SAP system has many advantages for companies. These advantages include:
Customizable
The first advantage from this system is customization capabilities. The system can be tailored to meet businesses' specific needs and requirements, enabling them to optimize their operations and achieve their goals more effectively. 
Easy to manage
The system is designed to be user-friendly and intuitive, with a simple interface allowing users to access the information they need quickly. The system's automated processes and workflows also make it easy for businesses to manage their operations, reducing the need for manual effort and minimizing errors.
Unlimited users
This advantage means businesses can add as many users as needed without incurring additional costs. It also helps to improve efficiency by allowing multiple users to access the system simultaneously, reducing wait times and improving productivity.          
Integration
The system is created to seamlessly combine with other software applications and systems, allowing businesses to unify their processes and workflows. This integration capability ensures that data flows smoothly between different tools and eliminates the need for manual data entry, saving time and minimizing errors. 
HashMicro's SAP System User Industry Type
Many businesses in various industries have adopted HashMicro's SAP system to manage their operations more effectively. Some of the industries that use the system include:
Manufacturing
HashMicro system application is commonly used in the manufacturing industry to manage production planning, inventory management, and quality control. Besides that, this system can boost the efficiency of the entire production process with accurate raw material planning management to fulfill customers' demands. 
Retail
HashMicro's system application has gained widespread adoption in the retail industry due to its ability to manage inventory, sales, and customer data effectively. By utilizing this system, retailers can improve their supply chain efficiency, reduce operational costs, and minimize errors. Overall, HashMicro's system application is a powerful solution that can transform retail operations and drive significant value for businesses.
Construction
HashMicro's system application is used in the construction industry for project management, budgeting, and procurement. The software provides real-time visibility into project progress and performance, enabling companies to make informed decisions and take corrective action when necessary.
Overall, HashMicro system application is an adaptable software system that can be used by many industries in Singapore and worldwide.
HashMicro's SAP System User Company
Singapore is a hub for business and technology, and many companies are adopting SAP systems to streamline their business operations. By using this system, companies can automate their business processes, reduce manual work, and improve operational efficiency. Some companies in Singapore that use HashMicro's SAP system include:
Forbes Asia

Hino

Wendy's

Danone

Changi Airports

The coffee Bean
The Future of HashMicro's SAP System
HashMicro's SAP system has a promising future as the company continues to expand its reach in the Southeast Asian market. With its focus on providing software solutions for small and medium-sized businesses, HashMicro has positioned itself as a key market player in the SAP industry. 
As more businesses in the region adopt digital technologies, HashMicro is well-positioned to capitalize on this trend and continue its growth trajectory. With a strong reputation, HashMicro's SAP system is considered  the best SAP system in Asia Pacific, with 3 ISO certifications. 
Conclusion
In conclusion, this system is an enterprise resource planning software solution that helps businesses manage their operations and resources efficiently. In Singapore, SAP HashMicro is a trusted SAP service provider because it has reputable products and modules that are helpful.
Besides that, with the advantages and benefits of the SAP system, HashMicro will be ready to develop your company's performance. By using the SAP system from HashMicro, you can claim a discount of up to 70% from Singapore Productivity Solution Grant to kick-start your business growth!