The term software ERP meaning (enterprise resource planning) has been known for quite some time. But now the system has a much more complicated component, it is worth mentioning that ERP could be a solution for every company's problems. From point-of-sales, all the way to managing payroll, ERP will provide a solution for you. But before deciding on implementing the software, you should consider the pricing scheme calculations first. 
With accounting, services, procurement, supply chain, and others, running a company is not an easy task. Even with the support of many amazing people, there will be times when the help of technology is needed. This is where the use of ERP systems will come in handy. Many companies are now adopting this solution to help automate their daily business processes. Though ERP solutions have evolved over the years, many are web-based applications that users can access remotely.
Table of Contents
Enterprise Resource Planning (ERP) Software
Over the years, the offerings have evolved from client-server-based software to cloud-based ERP software that enables remote, web-based access. In addition, numerous ERP software ERP applications are critical to businesses because they facilitate resource planning by integrating all of the important aspects to run their businesses into a centralized system.
In short, they are the enabler for companies to run. Commonly, ERP software can integrate planning, inventory purchasing, sales, marketing, finance, and human resources. In its simplest form, an ERP system is a link between all of the computer systems in a large organization. Without an ERP system, each department's system would only have optimization for its own distinct set of tasks.
What is an ERP system?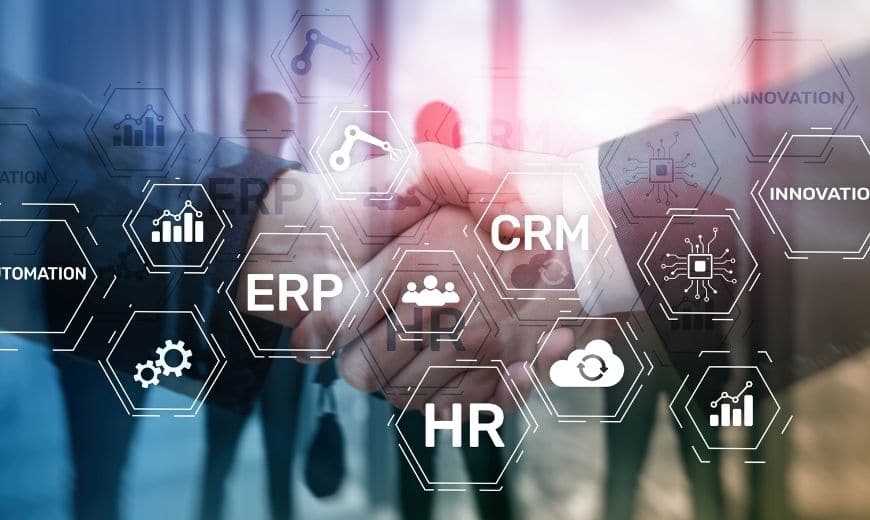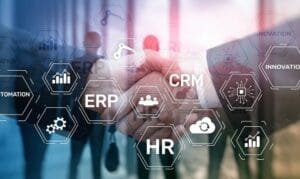 ERP software refers to a process that businesses use to manage and integrate their business functions. ERP collects data on the activity and state of various divisions and makes it productively available to other divisions. Additionally, ERP applications can assist businesses in increasing their awareness by connecting information about the production, finance, distribution, and human resources. By using ERP, time efficiency in the workplace will be easy to meet.
ERP is a software application that automates business processes and provides insights and internal controls. It does so by utilizing a central database that collects data from departments such as accounting, manufacturing, supply chain management, sales, marketing, and human resources (HR). Therefore, once data is consolidated in a central database, leaders gain cross-departmental visibility, enabling them to analyze various scenarios, and achieve significant efficiency gains. This results in cost savings and increased productivity, as individuals spend less time digging for necessary data.
ERP Benefits for the Company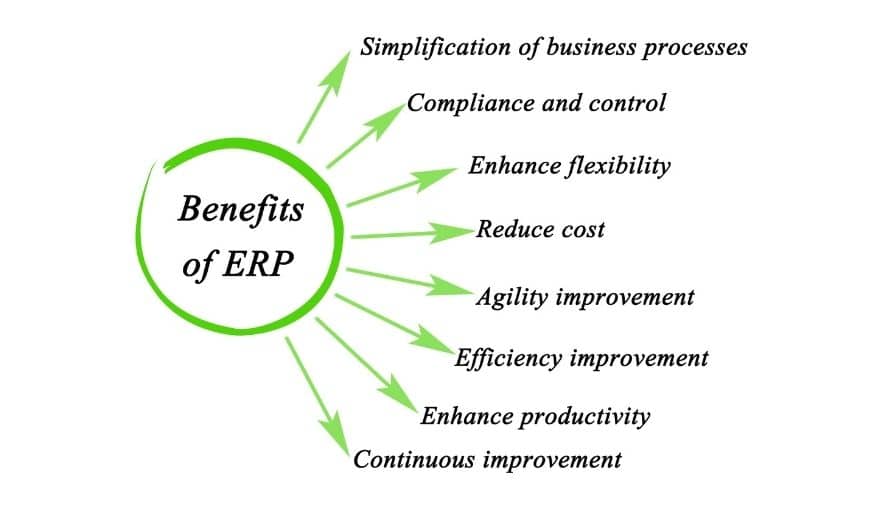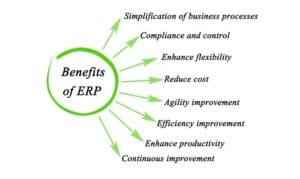 In the explanation of what ERP is above, we came across several benefits the system brings to a company. We will go more in-depth on what are the benefits that ERP brings to the company.
Download Now: HashMicro ERP Software Pricing Scheme Calculations
Higher productivity
The configuration of ERP software is to achieve the desired business results based on the core objectives. Therefore, it can be the determination of the level to which it improves productivity in the business. ERPs enable businesses to quickly access information required by clients, vendors, and business partners, resulting in increased customer and employee satisfaction, faster response times, and increased accuracy. Therefore, with easy access to all company processes and data, managers can make quick and informed decisions to improve the productivity of the business.
The use of ERP software can also increase sales activity within your company. Moreover, in this system, there is also a sales application that can increase the productivity of your sales team. This application will also provide a report as an analysis that you will do about sales and marketing strategies that will be done next.
Reduced risk
With the nature of ERP as a system, the use of it eliminates the possibility of human error in a process. ERP systems enable managers to quickly and easily access the information they need to make sound business decisions, without having to wait for feedback from various departments. The company that applies the ERP system could easily avoid the fear of false data input or false management issues in their workplace. Hence, things could only get better for the company's performance.  
Lower management and operational cost
This one could be achieved especially with customizable ERP software. ERP makes it possible for departments with interconnected processes to now synchronize work and achieve faster and better outcomes. The lower management ERP system is offered mainly by its ability of it in combining several departments into one interface. Additionally, the interconnected processes definitely help with the reduction of operational costs. 
Deeper insights
An enterprise resource planning system (ERP) facilitates data sharing between departments. Because of this, there will be an increase in insights, and it will inform everyone about the progress of a particular order. By using ERP, it allows the internals to receive a deeper insight. The features of an ERP make it possible for analysis to result in a much deeper insight. In addition, some businesses benefit from enhanced reporting of real-time data from a single source system. 
Cost of ERP
ERP charges vary according to the software vendor, the modules chosen, and the deployment method used. In general, cloud-based ERP is less expensive than on-premise ERP because it does not need hardware– and no expensive in-house IT experts. The vendor is responsible for maintenance and charges the customer an annual or monthly subscription fee, which the calculation would be according to the number of users.
When determining the return on investment (ROI) and total cost of ownership (TCO) of a new ERP implementation, the initial and ongoing workforce costs are just as critical as software selection and deployment costs. With cloud and hybrid options, there must be additional considerations. For instance, software maintenance, facility and computer capacity, downtime, recovery, security, and privacy, as well as the cost of IT staff, are all critical factors to consider. As previously stated, cloud computing options significantly reduce capital and operating costs, thereby increasing both ROI and TCO.
Conclusion
Enterprise resource planning (ERP) is a software application that manages and integrates business processes. With a clearer view, businesses can better plan and allocate resources. Without ERP, businesses typically operate in warehouses, with each department administering its own disconnected system.
ERP systems foster open communication and knowledge sharing throughout an organization. There is also a system integration for increased productivity and efficiencies, and increased synergies between teams and departments. Therefore, trust HashMicro for the best ERP experience for the growth of your company, and thrive with the customizable ERP software.