Have you ever heard about competitive advantage? It is crucial for the company's business because companies can increase sales and retain loyal customers by having a competitive advantage, both against competitors and the industry, including creating innovations and generating more significant income.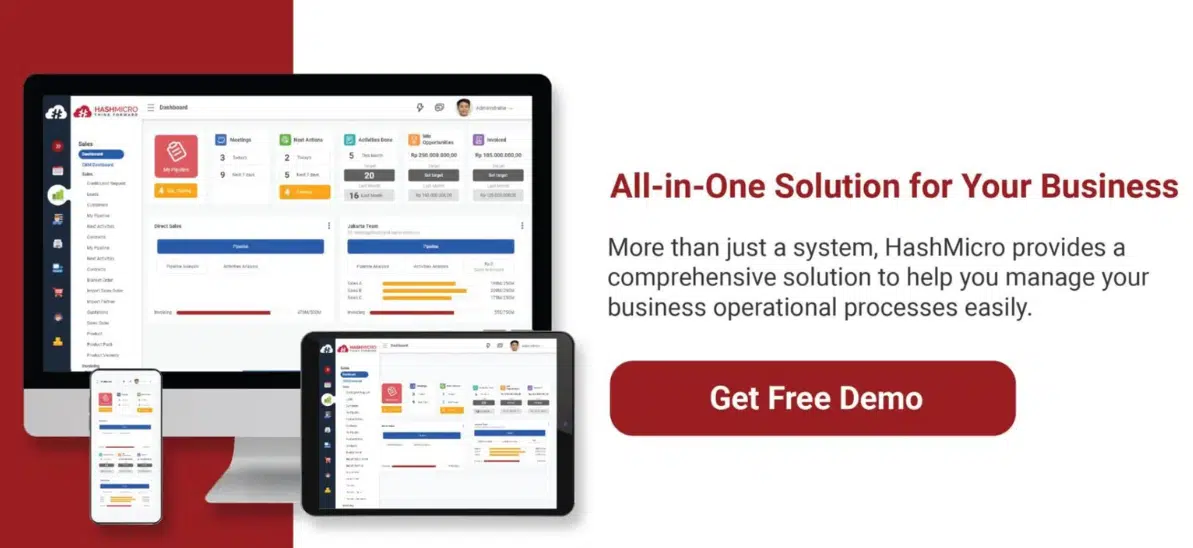 Table of Contents
Competitive Advantage Meaning
Competitive advantage refers to the ability gained through attributes and resources to perform at a higher level than others in the same industry or market (Christensen and Fahey 1984, Kay 1994, Porter 1980). Strategic management, according to Porter, should be concerned with establishing and maintaining a competitive advantage.
Stages of Gaining Competitive Advantage
Market analysis
The first step is to analyze the market. Analyzing who the target market of our product is and what values or benefits we can provide to consumers will help shape the brand's competitive advantage. In addition, we also need to analyze competitors, especially their strengths and weaknesses. From here, we can plan innovations based on their advantages and disadvantages. In addition, you can use a sales management system to help you set sales targets more clearly, assign tasks to the right sales representatives, and monitor the progress made by each salesperson.
Choosing strategy
After analyzing the target market, benefits, and competitors, the business can determine what strategy to use as an advantage. Will the business focus on a cost-leading strategy by reducing production costs so that its product prices are competitive, or will it pursue a differentiation strategy by creating new product variations. Based on market analysis, the business will determine the most suitable and effective strategy for them.
Applying and monitoring the strategy
After a business applies the competitive advantage strategy to the product, it can not let it away. Business needs to monitor the process so that will achieve the goals in the future.
Types of Competitive Advantage
Differentiation
One of the competitive advantage strategies that many businesses use is a differentiation strategy. This strategy intends to create a product that is different from competitors'. "Different" here means starting from the product's appearance, more benefits, better quality, and other things that can provide a differentiator and add value to the product.
Cost-leading strategy
This strategy puts forward the selling price set as low as possible, so the product price is lower than competitors. In addition, companies who implement this strategy will usually keep margins as low as possible or reduce production costs as low as possible to create competitive selling prices.
Resource advantage
One other strategy is resource advantage. This strategy refers to the company's access to resources for production materials and human resources to carry out business activities.
Brand equity
Brand equity strategy is consumer loyalty to the brand of a business. This strategy usually happens because of a good, unique, quality brand image and having the right business strategy to make customers use the brand in the long term. Brand benefits can also be derived from regular updates to new and existing business products to provide consumers with a unique, more functional, and valuable user experience.
Network advantages
Companies that use this strategy to gain a competitive advantage utilize network systems or membership to their customers. The company will offer various benefits to members for every purchase. Network advantage is intended to lure consumers' retention to the products with all the advantages offered.
Competitive Advantage Example 
Apple with all its product lines implements a brand equity strategy. Apple offers a much different user experience when compared to its most formidable competitor, Android. Although Apple is still below Android in terms of the user's number, Apple has consumers who are much more loyal to its brand.
Loyalness is because Apple has strong branding and offers easy access to the interrelationships between its products. Several Apple products such as iPhone, iPad, and Mac share the same software and operate similarly to connect and share data easily. This makes Apple a reasonable choice when consumers consider buying another device.
In addition, Apple is also one of the brands whose new product releases are highly anticipated every year. Because it has an excellent, long-established reputation for innovation and a commitment to developing new products. Apple's innovative strategy of developing complementary products strengthens customer loyalty and helps build barriers to competition.
Conclusion
As a company whose business competes in the industry, it is essential to analyze competitive advantage so that business and products are superior to competitors. In other words, it will be able to bring in new sales, sales retention, and greater profits. With the help of Hashmicro's ERP System, you can manage all aspects of your business automatically. Make more accurate business decisions, monitor prospects and estimates, fully control production costs, and streamline stockpiles with the support of Singapore's best and most advanced business management software. Get the free demo now!

Related Articles:
Digital Marketing: Definition, Strategies, and Successful Tips for Digitalization