ERP (Enterprise Resource Planning) software is well-known in most businesses. ERP software is a business management application that assists managers in automating various technology and human resource functions. Cloud ERP solutions are one of the ERP services that businesses can use. Cloud ERP software integrates some or all of the functions required to run a business. You can also get the price calculation for HashMicro software based on your business requirements just by downloading HashMicro's software pricing scheme calculations.
Download Now: HashMicro Software Pricing Scheme Calculations
The type of ERP chosen is an important decision because it will determine where the company's investment funds are allocated. In this article, we will present the best cloud ERP solutions available on the market today. We discuss how they effectively integrate resources from various departments, as well as their usability and analytics. Hopefully, you'll be able to find the right ERP system that meets your company's requirements and preferences.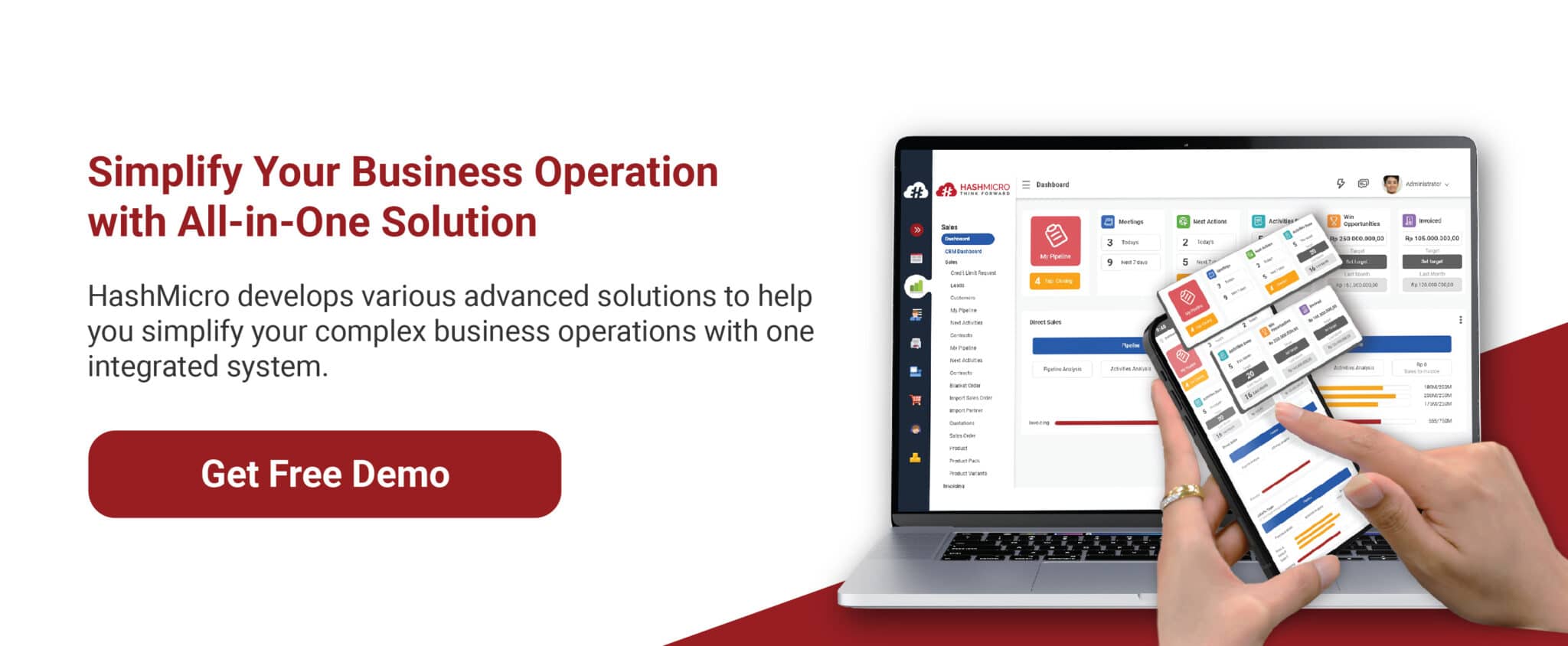 Cloud ERP Solution to Help Your Business
Software as a Service (SaaS) is another term for cloud software (SaaS). ERP software that is installed and managed by a cloud-based data center vendor is referred to as cloud-based ERP software. Applications, databases, operating systems, servers, security and antivirus updates, and other feature enhancements such as disaster recovery are the responsibility of the vendor. So, in this case, the company no longer needs to muck around with IT issues. Cloud ERP solutions are systems that use cloud computing to give users direct internet access. For that, you can choose the best ERP system from HashMicro. 
Download Now: HashMicro Software Pricing Scheme Calculations
Best Cloud ERP Solutions
There are numerous cloud-based companies, but here are five cloud-based ERP software companies you should be aware of before investing in cloud ERP for your business. Use the following list to compare cloud-based ERP vendors:
Also read: Get to Know Fulfillment Process and Functions!
HashMicro
HashMicro is one of the best cloud ERP solution providers, offering systems with cutting-edge features. This organization ensures that ERP professionals are properly trained. This software is free to use by as many users as possible within the same company. As a result, you can get a solution that is customizable based on your company's type, structure, needs, and goals.
Furthermore, HashMicro has years of experience operating in various countries. To put it another way, the company has provided business software solutions to thousands of customers in industries such as trading and distribution, construction, engineering, manufacturing, food and beverage, education, and professional services. Integrated accounting systems, inventory management, HRIS systems, CRM, and many other solutions are available. To find out more about ERP software, you can download the ERP software pricing scheme calculation here.
Oracle
Oracle ERP Cloud provides a solid business foundation for well-known solutions. Then, price adjustments allow you to run the app whenever you want. Payments can be adjusted based on the features you use, with no contracts or conditions. Furthermore, Oracle provides an agreed period of 1 to 7 years, with the cost depending on the module you select.

Oracle ERP can assist you in achieving a global business environment without having to worry about different locations and teams. However, if problems arise during use, Oracle ERP provides customer support staff who are available 24 hours a day, 7 days a week to assist you.
Scoro
Scoro's detailed performance management can assist you in completing multiple tasks and team activities. In addition, the company provides a CRM for broader sales, as well as insightful reporting and analytics tools. Furthermore, Scoro's role is to assist you in growing your business from sales to billing. This app provides users with all of the tools they require in a single comprehensive solution.
Simply put, Scoro's ability to organize and update your portfolio, match projects to budgets, and prioritize billable work over non-billable work is what distinguishes it. The dashboard design allows you to see all of your ongoing and completed projects at a glance.
Odoo
Odoo is a cloud-based open-source platform with compute modules that you may want to look into. Accounting and financial management needs, CRM and sales modules, purchasing, invoices, costs and payments, HR and recruitment, eCommerce, timesheets, project management needs, and more are all catered to.
This company supports your business with applications that you can customize to your liking. Payment is also according to what you choose. The price list offered is also available on the official website of the Odoo platform. This scheme benefits you, allowing you to plan other expenses to take care of your business.
Also read: How to Expand Business during Pandemic?
Sage Intact
Sage Intacct, which is AICPA certified, provides all of the solutions to financial problems in businesses. Accounting is accurate on the cloud-based platform, which also includes extensions for inventory management, bank reconciliation, sales tax, and multiple currency support. Major business security conventions protect all of your financial information. The analytics engine generates useful reports to assist your company's growth.
Sage Intacct can minimize the risk of projected revenue based on realistic cost accounting and margins. Pricing is based on bids that include uptime and reliable future upgrades. As a web-based platform, Sage Intacct is available on various systems, such as desktop or iOS and Android.
Conclusion
There are numerous business activities that require Cloud ERP-based software. You can use cloud ERP software at any time as long as you have access to the internet. The benefits of cloud-based ERP have piqued the interest of many businesses looking to automate and streamline their operations.
ERP software from HashMicro is one of the best cloud ERP solution providers, with over 350 enterprises relying on it. Introducing an international standard Cloud ERP System to help you take your business to the next level. If you look closely, you will notice that these tips for selecting the right ERP solution will have an impact on the success of your business. Make that decision a success by partnering with a dependable ERP solution provider.
Download Now: HashMicro Software Pricing Scheme Calculations