In this modern era, many companies are doing some efficiencies in various fields. One form of those efficiency includes determining IT solutions to increase business productivity. All of these IT needs depend on the business sector and the type of business itself. The use of integrated cloud ERP software such as SaaS (software as a Service) is indeed more common and more widely used because it is considered more practical. For example, start-ups in the field of application-based transportation online. 
The use of-based ERP cloud, when compared to a data center on-premise, does offer several advantages. Why? Because based on Techopedia, the implementation of on-premise ERP-based requires companies to have hardware such as servers on their own. So, it can also require more maintenance and costs for the company.
The well-known ERP System selection clearly a serious matter because it will determine where the company's investment funds are allocated. Both the advantages and disadvantages of these two solutions you need to understand and consider.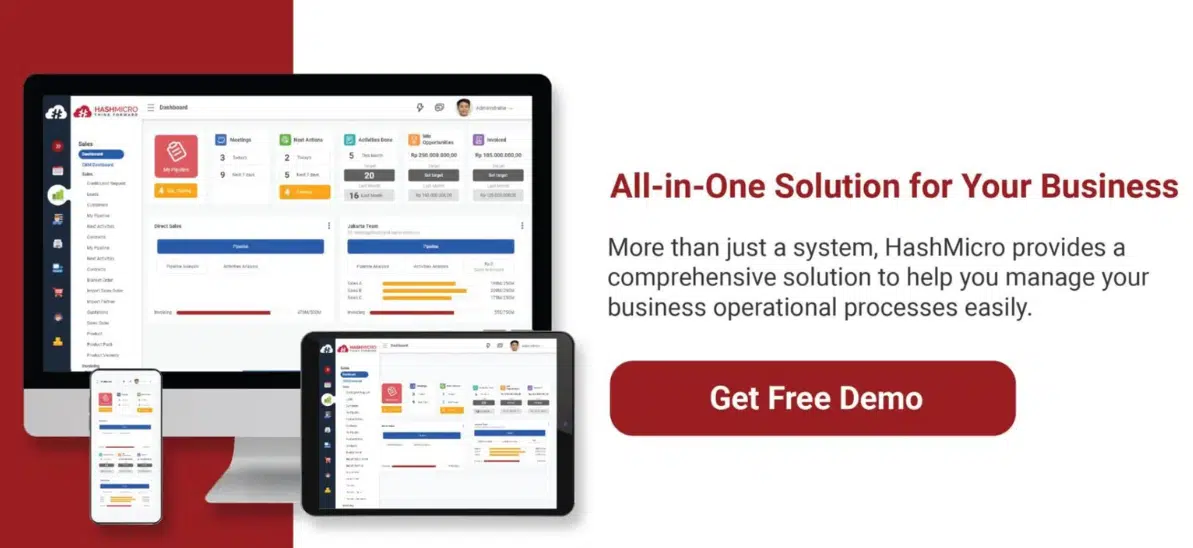 What is Cloud ERP?
Cloud ERP is an adoption of technology that makes the internet a center of data and application management, to which companies have access (login). This ERP system also gives companies the freedom to use hardware, agility, and functionality that is always updated. Cloud ERP not only has trendy and innovative solutions but also relatively new business models applicable to all types of companies.
1. Advantages of Cloud ERP 
One of the reasons why many companies are switching to an ERP cloud-based is because of security issues. Cloud ERP offers better data security than on-premise ERP. This system does not require companies to have the infrastructure needed to store their data. That is because everything is already stored in the cloud. Thus, the risk of data loss that usually occurs when datastore is on a flash drive or PC will also reduce. 
The reason for the growing demand for cloud systems is also because of the power of systems capable of accessing and analyzing large amounts of data in real-time. This means that the sales team as well as the finance team can continue to monitor cash flow and can carry out audits more quickly if errors are found. Broadly speaking, ERP implementation is very profitable because it requires less cost, time, and energy compared to traditional ERP. So that it is more widely used by small and medium businesses. 
2. Disadvantages of Cloud ERP 
When implementing cloud ERP, one of the disadvantages that can occur a weak admin control. If in the on-premise cloud, we have an admin in charge of managing the running of the software, it is different with the use of cloud ERP. In its use, almost everything is regulated by the vendor as a service provider, this is both an advantage and a weakness.
It is still possible to have an admin, but the control of that admin will greatly reduce, there is not much that you can complete. In addition, this lack of ability to adapt to the implementation of software is also often one of the obstacles for companies. 
What is SaaS ERP?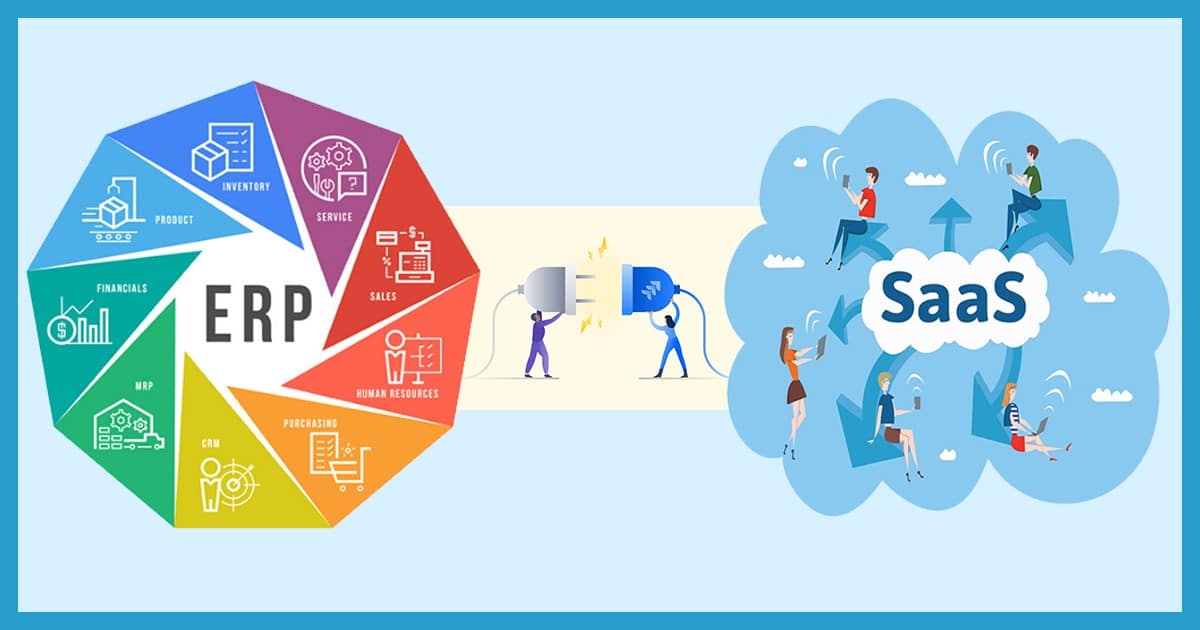 SaaS or Software as a Service is one of the cloud-based ERP models of solution. This SaaS cloud-based ERP allows businesses to use hardware or servers simultaneously. Users can access this software remotely via the internet or other software service provider networks. A service fee or subscription fee is charged to each user or business that subscribes to an ERP solution. 
When using the SaaS Service model, you only need to use the application without having to understand and take care of how the services or how you maintain the application. Because these are services provided by service providers.
This is the most popular model for small businesses, this is the most popular pricing model for small businesses, as the subscription fee is negligible. Unlike the cost of a conventional ERP implementation which is equivalent to buying dedicated server space to run a business portal.
Read more: Advantages of Cloud Inventory for Business
1. The advantages of SaaS ERP
It is not without reason that SaaS dominates IT developments. Software as a Service (SaaS) has many advantages, including: 
With a-based solution cloud, you do not have to be in front of a computer that has special software installed. As long as you have internet access,

you can use SaaS application development services anywhere and anytime.

In addition, you can also directly take advantage of these services without having to make your own (in-house development). Service users do not need to worry about the availability and reliability of the application, because of the provider's guarantee. Service users only need to focus on their data. 
Regarding costs, by using SaaS, companies can reduce operational costs, such as network maintenance and repair costs. 
Lastly, Software as a Service also allows for greater flexibility in selecting existing technology products. Users as consumers find it easier to choose the applications they want to use and stop using applications that companies no longer need.
2. Disadvantages of SaaS ERP
Not only the advantages can be felt when using this service, but there are also some disadvantages that you can feel when using SaaS that are not suitable for your business needs:
When using the Saas service model, you do not have full control over the application services that you use. Users cannot arbitrarily change the features provided because SaaS is multi-tenant so the features created are general features (cannot be specific to the needs of certain users). 
One of the risks of cloud computing and SaaS is that users must place a high level of trust in online software vendors. This leads to the need for high security and protection of privacy files.
In some cases, there are service providers who still do not have complete features. Even though they already have a fairly good reputation. Therefore, companies need to know what features are really needed. An understanding of the types of services provided is also a basic thing companies need to know before using the service. 
Steps to Choose the Right ERP System for your Business
You have already learned the meaning of a cloud ERP system, and the benefits, types, also advantages, and disadvantages contained in it. However, the needs of ERP solutions for each company are of course different, depending on the type of business and industry.
Therefore, it is very important for a company to choose the right ERP solution according to its needs. To determine the right ERP system, we need to take the time so that we do not choose the wrong software that you can use for the next 10 to 15 years. Here are some tips that you can take into consideration when evaluating a company's ERP:
Knowing every difficulty and weakness of the system you are currently using in each division is very important. The IT division must involve in this process to find out all the difficulties. From this analysis, you can determine what your business needs can enhance by using each module of the ERP system.
It is very important to choose a partner that has a reputable, credible, and reliable name. The right partner will help you get the most out of using ERP for your business processes.
Make sure to choose an ERP software that is easily accessible and user-friendly. So that your entire employee can easily adapt to it.
Do not forget to ask about the cost of hardware and networking equipment needed so that the ERP system can run smoothly. Be aware that the pricing model of each software varies greatly (initial payment, monthly fee, etc.) so you need to normalize the existing price quotes to get the best price.
HashMicro ERP – All-in-One SaaS ERP Software for business
One of the best SaaS-Based ERPs is the ERP System by HashMicro, a consultant and service provider of an ERP system based in Singapore and Indonesia. The goal is to help businesses, especially small to medium-sized businesses, to grow through automation. Implementation of a high-end ERP system usually takes up to six months, but HashMicro ERP only takes 14 business days.
In addition, HashMicro ERP System has also removed the impression of an expensive software system by offering affordable prices. With the low implementation and monthly subscription fees, small businesses can enjoy the SaaS ERP software. Which includes a variety of processes and types of businesses.
This ERP System also allows users to choose the module they want. Some of the modules that users can choose from are accounting, CRM, purchasing, inventory management, and POS (for retail stores and restaurants) modules.
The Best Inventory System in Singapore
Manual inventory management takes a lot of time, effort, and cost, and you need to meet the ever-increasing and changing customer demands in a fast time. Apart from that, there are many other things in the business that need attention as well as inventory issues. Such as loss or theft of goods.
Inventory management automation can certainly help companies. Because your company can save a lot of time and effort so they can focus more on business development. In addition, it is also able to reduce costs for inventory purposes, because you can control the purchases properly.
Inventory Management Software from HashMicro is an IT inventory provider that already has complete features and reports. It allows your company to manage multiple warehouses at once in just one platform with no additional cost. This system is also capable of recording stock-taking or adjustments and stock movements, both incoming and outgoing goods, in real-time.
The system is modular and integrated, has a user-friendly interface, and has no user restrictions. In addition, all the integrated software modules can adapt to different business needs. You can also add modules that will benefit your business operations. 
Conclusion
SaaS may be the most useful option in some situations, Lots of business or personal activities are in dire need of Saas Services. With-based solutions cloud, as long as you have internet access, you can use SaaS services anywhere and anytime. 
HashMicro is one of the most trusted SaaS providers in Singapore. We provide the most comprehensive ERP such as Hash CORE ERP with an international standard to elevate your business to the highest level. Not only that, but you can also increase the effectiveness of stock management of dozens of branches and warehouses in your company with HashMicro's Inventory Management System.

If you pay close attention to this article, these tips for choosing the right ERP solution will have a big impact and also determine the direction of your business's success. Make that decision a success by choosing a reliable ERP solution provider partner.