In this digital era, automation is essential. Any business activities are required to be done faster and more accurately at the same time. That's why more and more vendors try to compete to make the best ERP software solutions. In Singapore, for example, there are more and more ERP system vendors that offer solutions for companies every year. But the question is, what is the best ERP for retail?
To help businesses automate their daily practices, the right ERP software usually comes with features that allow you to have complete visibility of all business aspects. Moreover, with this cloud-based ERP system, companies can improve efficiency and productivity with this software. Integrated ERP solutions for businesses in Singapore are now essential to help streamline your business processes.
16 best ERP solutions in Singapore:
There are tons of ERP software providers in Singapore, either local or international developers. Here are some of the best ERP systems in Singapore:
1. HashMicro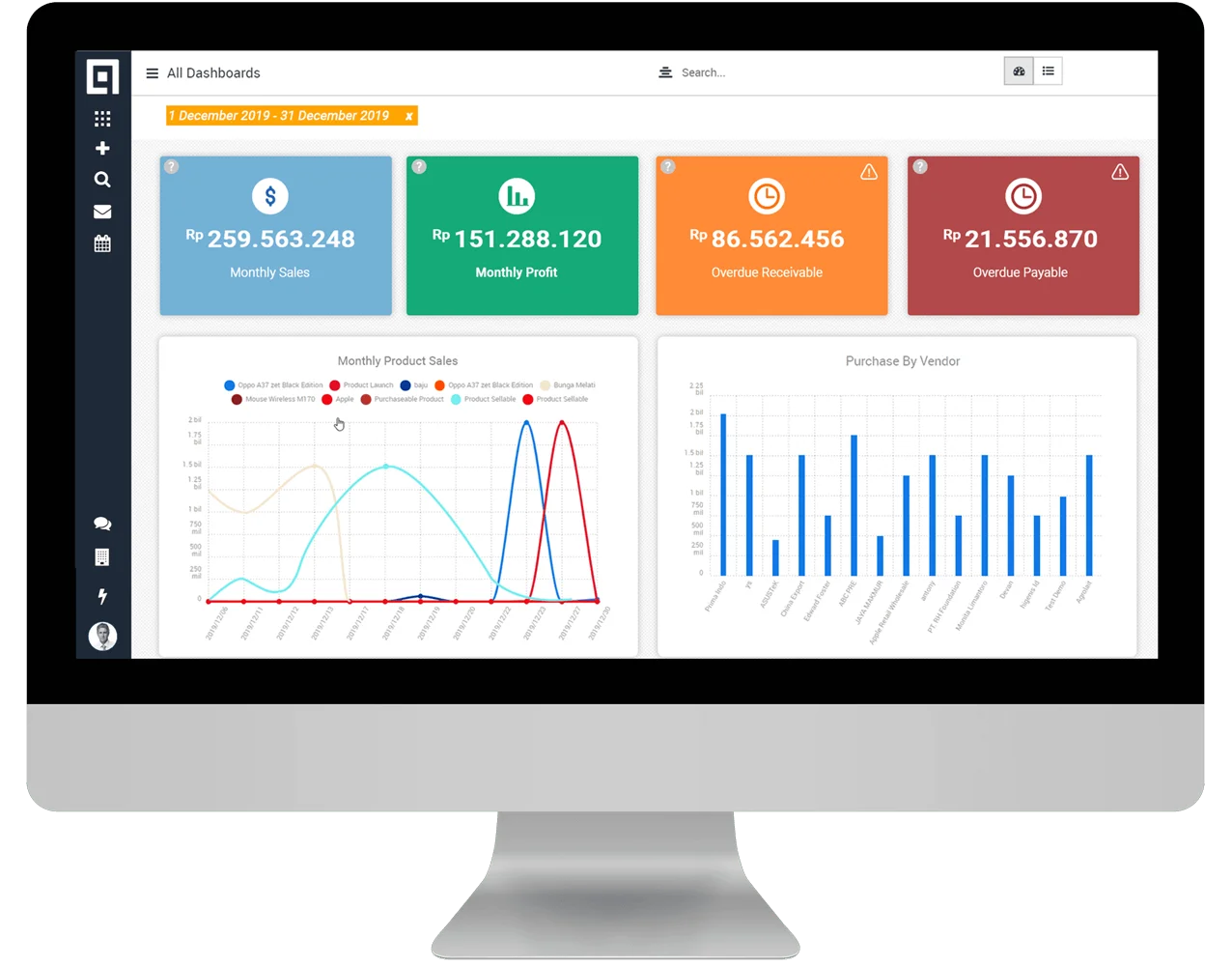 HashMicro has become one of the most reliable ERP vendors in Singapore with 15+ years of experience in providing business automation solutions. We feature HashMicro because of its scalability when implemented in mid to large enterprises. Over time, we observe that more and more companies trust HashMicro to automate their business operations. It's because it provides a good deal of flexibility and integration to adjust the ERP system with companies' workflows. 
The industries that HashMicro serves are various and we hear that it is currently building the system to apply to wider industries. It also invested heavily in robust modules that work well if purchased individually. It comes with advanced reporting, a user-friendly interface, and unlimited users. 
HashMicro also comes along with strategic implementation plans hence reducing the risk of implementation failure and optimizing ROI. You can also get up to 70% of EDG grants. Furthermore, you can get the software pricing scheme calculations before implementing them in your business. 
2. Ramco ERP System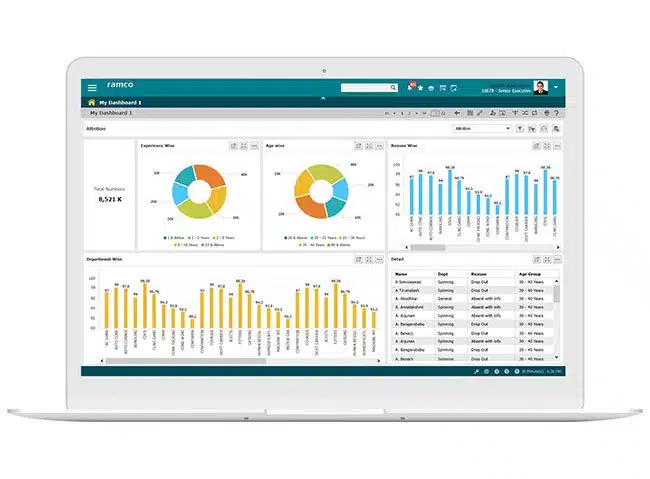 Starting as a research and development (R & D) company, Ramco expanded its wings into the ERP Software industry. The company was established in 1997. Currently, it has branches in several countries such as America, Canada, Europe, and Australia.
One of the advantages of the ERP system from Ramco is its ability to serve various types of businesses, from MSMEs to enterprise-class companies. It is what makes Ramco successful in serving thousands of clients from various countries. That's why we include Ramco as one of the best enterprise resource planning vendors in Singapore.
Although Ramco is one of the enterprise resource planning providers in Singapore, the features that Ramco provides are not as complete as Hashmicro's. Hashmicro is the most complete and best ERP software provider in Singapore and Indonesia. One of the very complete features that Hashmicro has is unlimited users. Hashmicro provides enterprise resource planning that can be used by many users without the need to add modules. That's what makes Hashmicro very popular in Indonesia.
Also read: 5 Main Benefits of ERP Software for Professional Services
3. Koneksi
Koneksi is also one of the best cloud ERP software for the retail industry in Singapore that targets small to medium-sized brackets of retail businesses. The system is available for every device and gives users real-time data for more informed decisions. It does that by providing retailers with on-demand access to business performance data. 
The platform covers comprehensive services such as sales and order management, inventory management, auto re-ordering stocks, supplier management, POS, and accounting. It is fully cloud-based, so data is always backed up. 
4. EMRP
EMRP is attractive to mid-size manufacturing businesses for its less complex and robust solutions. It has shown great improvement in the past years. EMRP is used to provide a "small" ERP system, suitable for less complex workflows in factories. 
Now, EMRP can handle more complex manufacturing and supply chain needs. It provides a platform to manage production processes and improve productivity. The system covers a whole range of manufacturing tasks such as material management, BoM, labor, and work orders, as well as financial tools like purchasing management, planning, and forecasting. 
5. Oracle NetSuite ERP System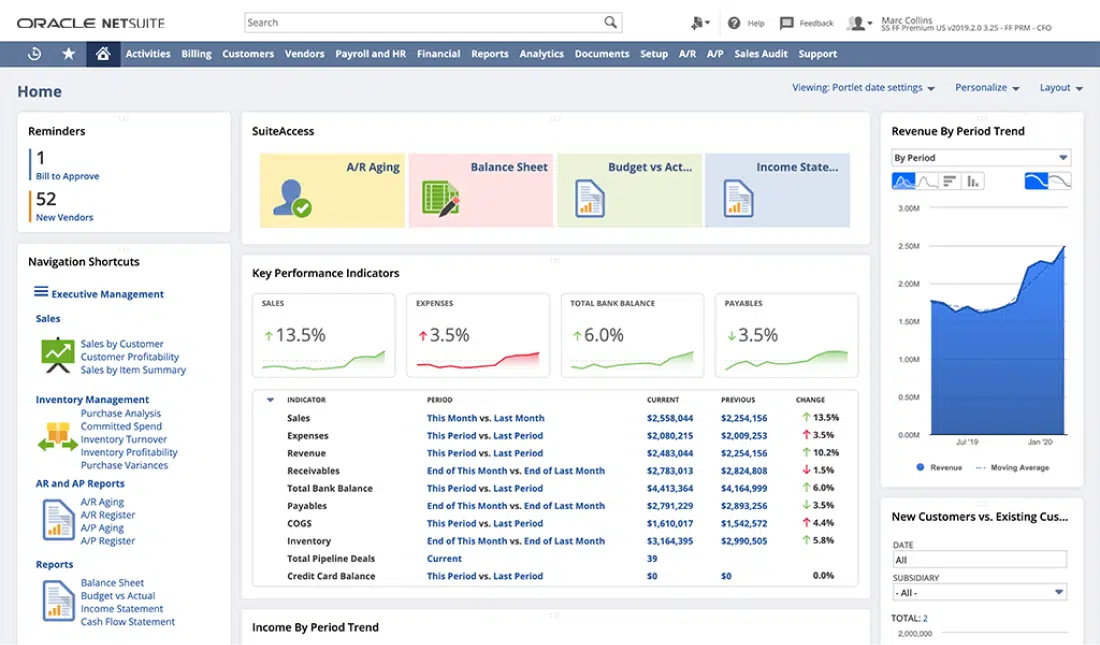 Founded in 1998, NetSuite is one of the pioneer cloud-deployed software based in California, United States. In July 2016, Oracle acquired NetSuite to form Oracle NetSuite. However, the product was only released in Indonesia in 2017.
Businesses use NetSuite for HR planning, inventory, financial oversight, hosting e-commerce, and customer relationship management. This flexible platform is also mobile-friendly. Users can access it on Android-based gadgets through the Google Play Store. It could be viewed as one of the best cloud ERP software in Singapore.
Oracle is a very well-known provider in the world. However, many companies complain about oracle software that is difficult for them to use. In addition, Oracle also often experiences problems and unlimited users. When companies want to give software access to employees, then they have to buy back the oracle software. This is what makes many companies switch to using Hashmicro software. Big companies say Hashmicro is easier to use and features more complex. That's what made them switch from Oracle to Hashmicro.
6. Brightpearl
Brightpearl is a cloud-based ERP solution for the retail industry and wholesalers in Singapore of all sizes that aim to automate back offices, so merchants can spend their time and money focusing on customers and growing the business.
This solution allows omnichannel merchants to manage their business from a single system as well as help to synchronize online and offline sales. Brightpearl is integrated with some of the leading e-commerce platforms, such as BigCommerce, Magento, Shopify, Amazon, and eBay.
7. WorkWise ERP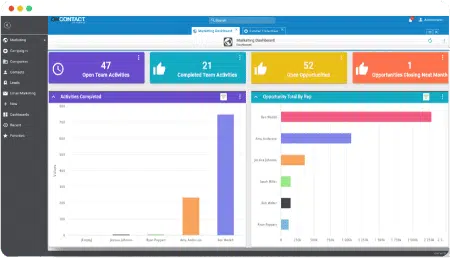 WorkWise has helped companies grow and succeed through full-featured, flexible, and easy-to-use ERP and CRM software. This system is a multi-service ERP that combines eight elements of customer management and 45 manufacturing control applications essential for modern business.
This is useful for helping companies make better decisions based on existing information and data. So that it will shorten production cycle times, optimize supply chain management, plan and implementation efficiency, and improve communication. Apart from using a PC, WorkWise can also operate on iOS and Android-based cellular.
8. ECOUNT ERP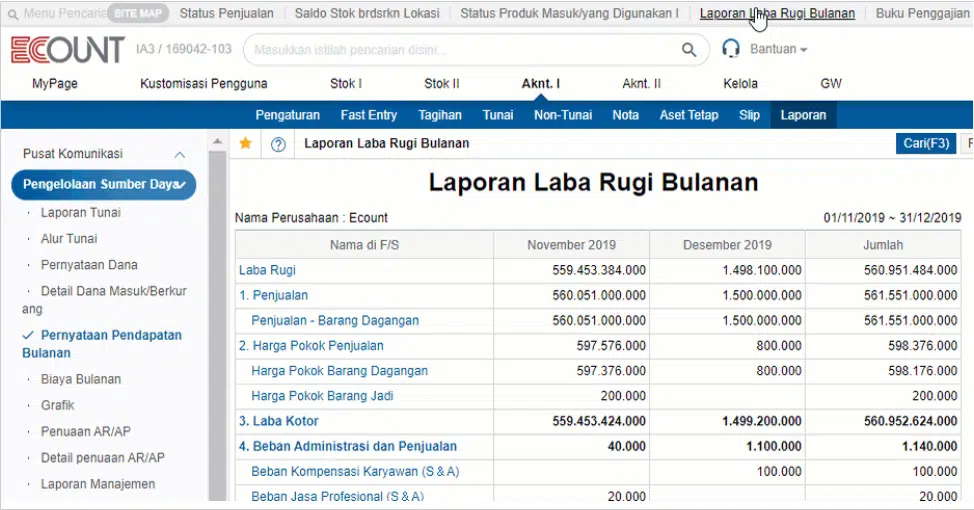 ECOUNT developed one of the first cloud-based ERP systems available for small businesses in South Korea in 1999. It is a system designed to be used by small and medium businesses in their daily operational processes. Users can manage accounting, purchasing, sales, production, and human resources in one software. With a large customer base and low operating costs, ECOUNT has an affordable program for small and medium-sized businesses.
9. Sage Intacct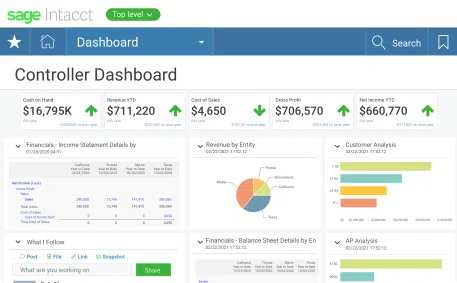 Sage Intacct's cloud-based ERP software automates accounting processes, so users can increase visibility and drive business development. Because it is cloud-based, Sage Intacct can be easily configured for business needs and reporting formats without program customization. It also has core financial software features such as a multidimensional General Ledger to optional modules such as revenue recognition, sales tax, and subscription billing.
10. Compiere
It is an ERP and CRM solution for medium and small companies in the distribution, retail, service, and manufacturing industry sectors. Compiere allows businesses to extend their core functionality to fit specific processes easily.
Customers can deploy a Compiere solution on an enterprise-owned data center system or adopt a Cloud-based deployment using Amazon Elastic Compute Cloud (EC2), a secure and scalable virtual computing service. Apart from that, Compiere also has an Enterprise version that includes additional features to meet the needs of a large company or corporation.
Also read: ERP Functions for Enterprise Management Efficiency
11. Workday
Workday launched its first product in 2006, starting with an HR system called Workday Human Capital Management, before adding its ERP software. Today, Workday ERP also has functions for planning, automation of professional services, project management, and business intelligence. Accordingly, Workday systems and platforms can help companies monitor data analysis and the mobility of their human resources.
12. ERPNext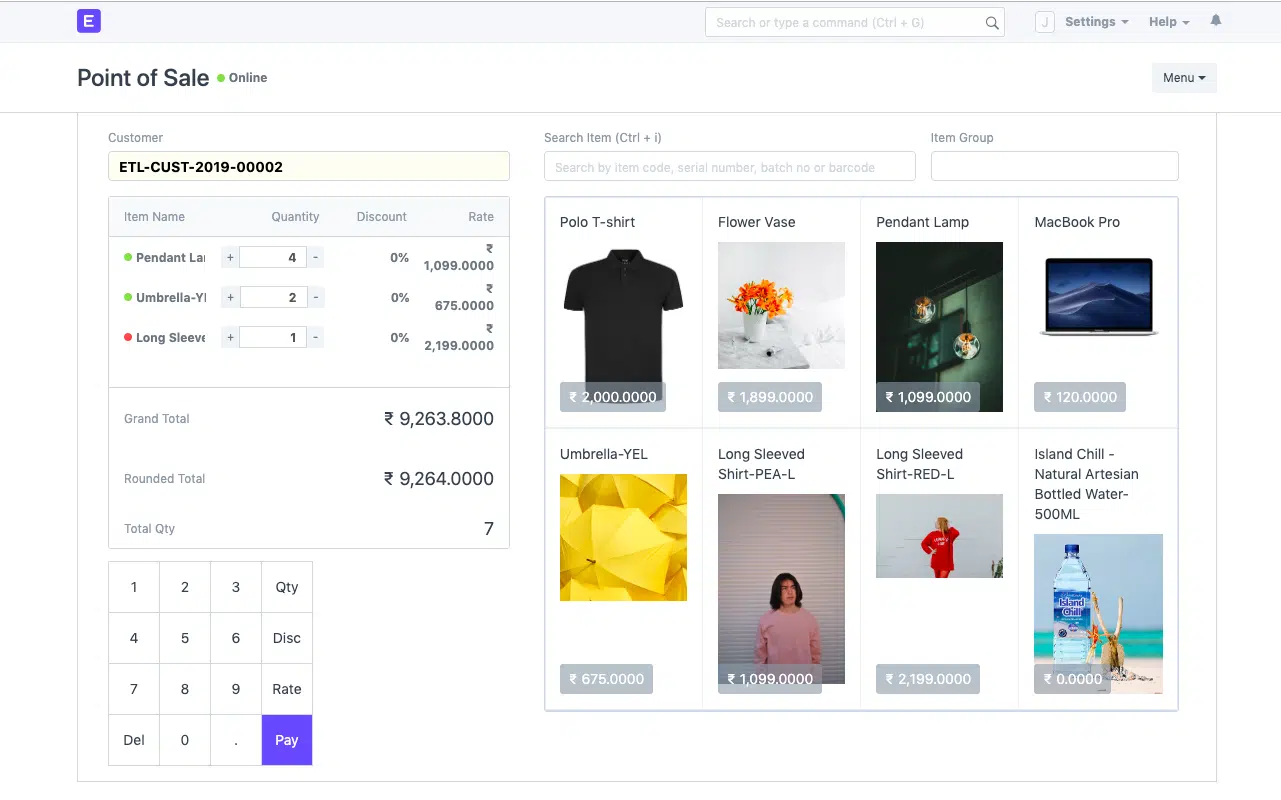 It is a web-based open-source ERP first created by ERPNEXT, an Indian programmer, Rushab Mehta. Generally, enterprise resource planning modules are used by service companies, manufacturers, and distributors. Some examples of modules are accounting, CRM, sales, purchasing, website and e-commerce, manufacturing, warehouse, comprehensive project management, and inventory. This system provides many conveniences for businesses, ranging from micro, small to medium scale, and large.
13. SAP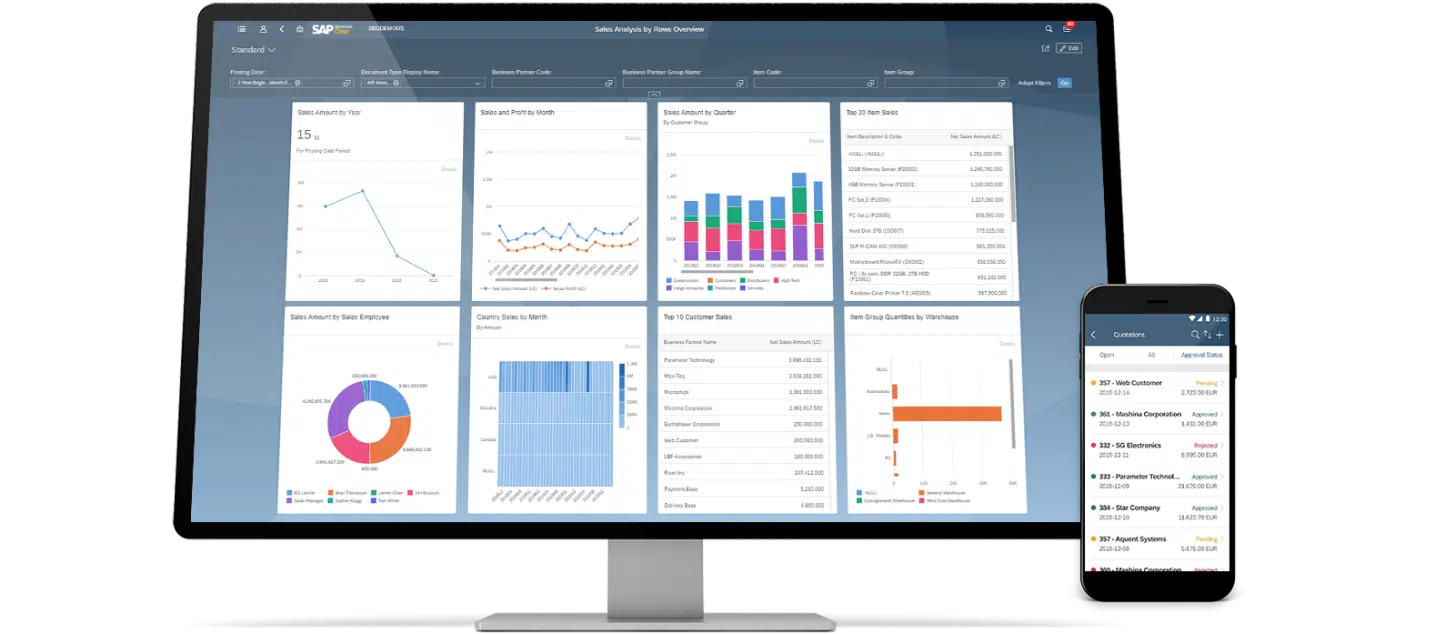 SAP is an acronym for System Application and Product in Data Processing has a set of modules that are integrated and function as an automation tool for management, planning, monitoring, and production in a company. This software is able to automate all monitoring tasks and present data in real time so that it can make business decisions quickly and precisely according to targets.
14. Odoo ERP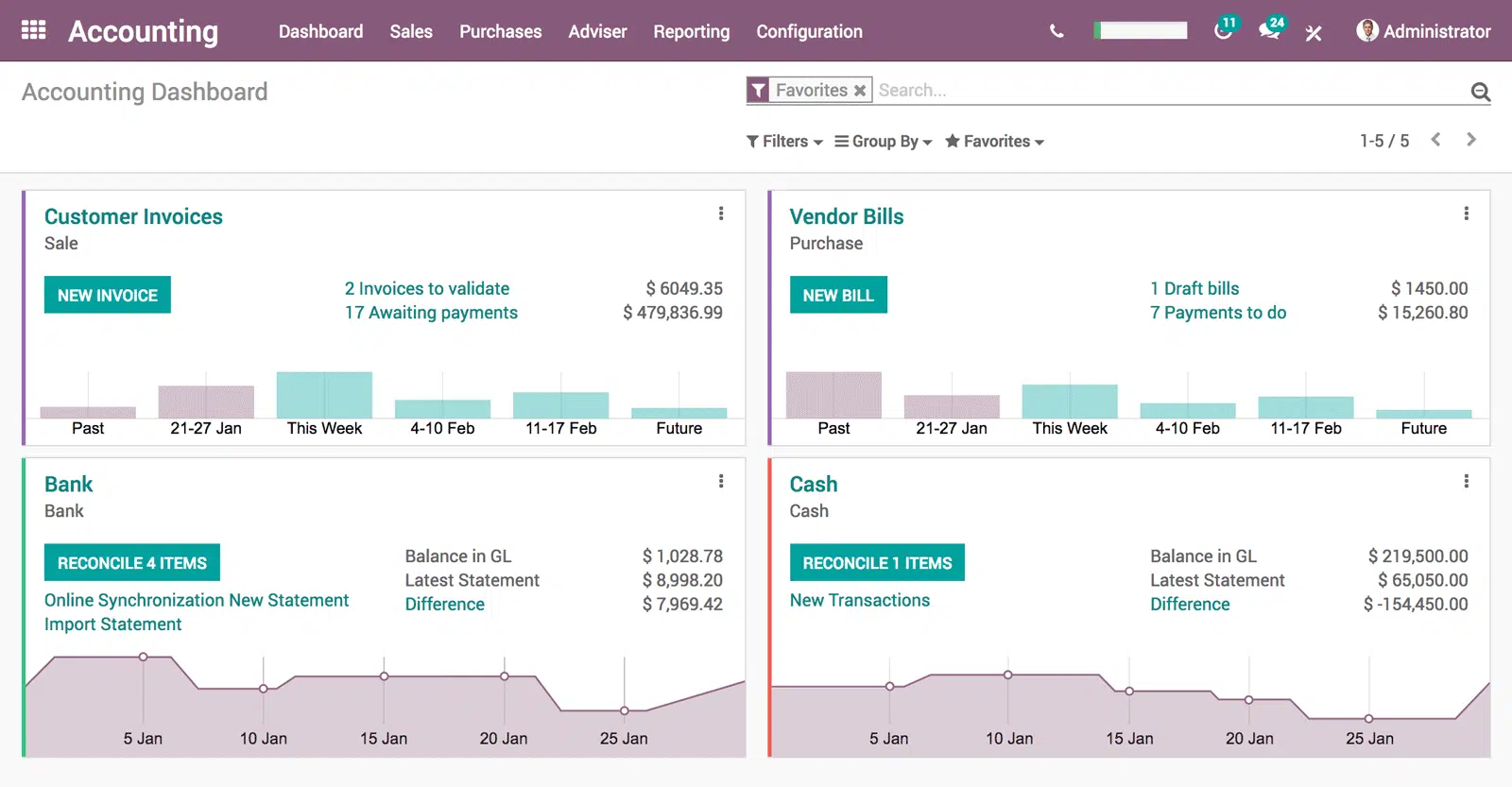 This system includes modules such as CRM, project management, sales, manufacturing, warehouse, as well as financial management. Odoo consists of more than 30 main modules which receive regular updates, aiming to maximize communication and information exchange between employees. Because it is open-source, this software is very easy to customize according to company needs. In addition, Odoo can also integrate with other systems, including payment processors and external delivery systems, such as Amazon.
Related article: Best Practices for ERP Management System
15. Epicor ERP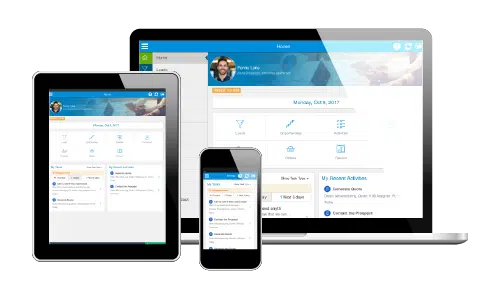 Epicor Software Corporation is a global software company based in Texas. This company is the perfect automated solution for medium and large-scale businesses involved in manufacturing, distribution, services, and the retail industry. Epicor ERP leverages new technologies such as business analytics, big data, mobility, and IoT (Internet Of Things) for flexible and intelligent manufacturing and business support to its users. Moreover, some of the modules Epicor provides are customer relationship management (CRM), supply chain management (SCM), and human capital management (HCM).
16. Zoho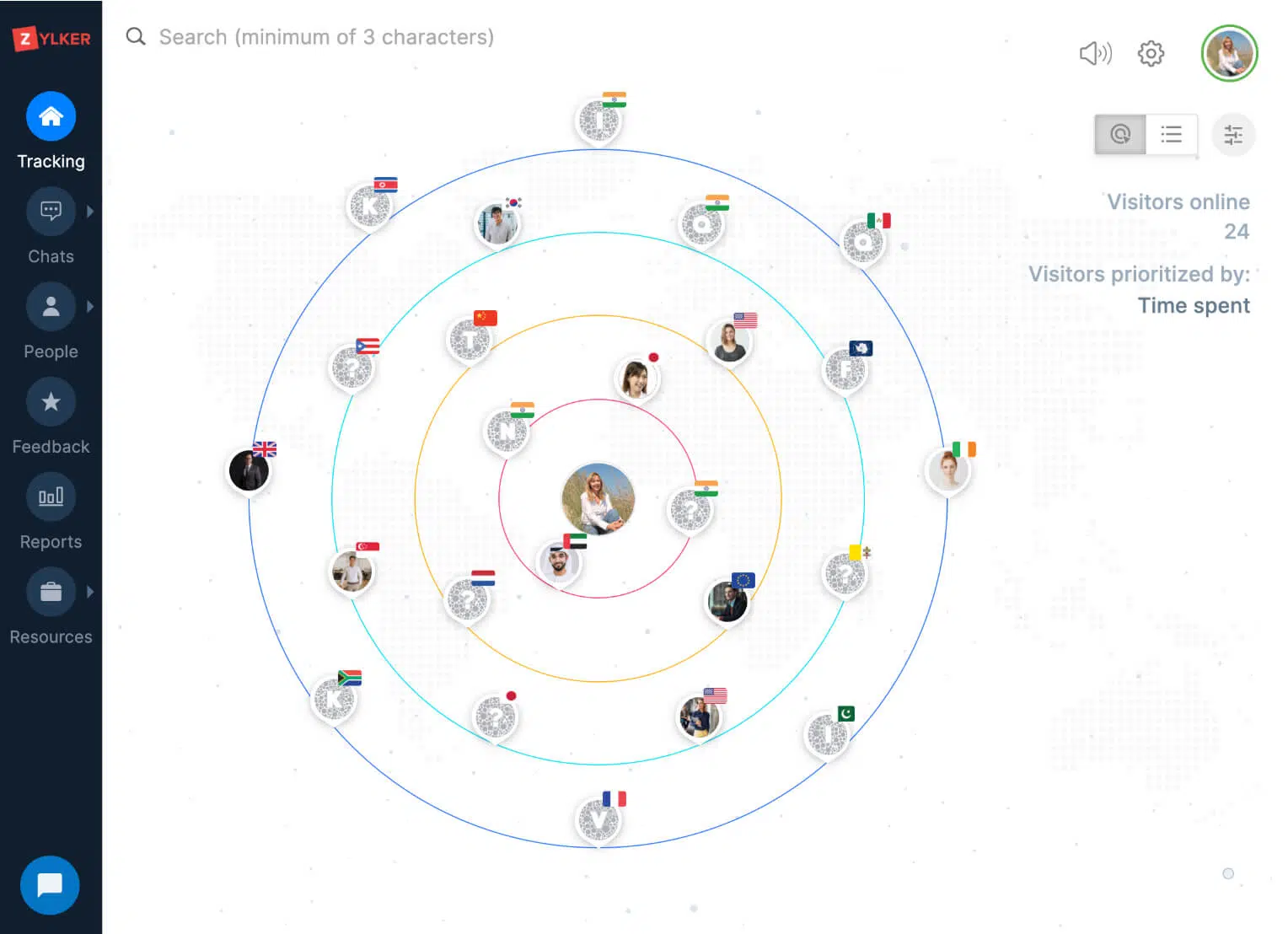 While other companies consider marketing to be the primary weapon for acquiring clients, Zoho is the opposite. This company from India puts forward product development and customer service to provide the best service.
This is what makes loyal clients trust Zoho. This business model succeeded in taking Zoho to a level they had never imagined before. Zoho is also trusted by multinational companies such as Facebook, Amazon, Netflix, and Suzuki.
Conclusion 
These 16 best ERP software in Singapore has proven their quality. Moreover, most of them do not only operate in Singapore but also around its neighboring countries like Malaysia, Indonesia, and the Philippines.
Feel free to discuss your business needs with a trusted business software consultant. HashMicro provides a free consultation for those looking for powerful ERP software or other automated solutions, such as integrated manufacturing systems, HR systems, and many more. Find out more about enterprise resource planning and contact our customer service staff to discuss your business requirements.