The best ERP software in Singapore is a solution that can automate business operations more efficiently with various advantages. In today's digital era, modern and fully automated business management systems have also become a key factor in improving efficiency and accuracy in all important aspects related to business. Therefore, one of the technologies that are highly required by businessmen today is competent cloud-based modern ERP software.
Therefore, many international ERP software development services compete with each other to design and create the best Singapore ERP software. With many new ERP tools provider emerging every year, it is certainly related to the high demand from businesses in Singapore regarding ERP applications.
However, out of the many Enterprise Resource Planning Singapore system providers, you must be careful in choosing the product that suits the needs of your business. Sometimes, several Singapore ERP software companies are unable to meet the company's desire to streamline their business.
As a reference and consideration in choosing the best and most suitable Enterprise Resource Planning software provider in Singapore to maximize your business potential. We have summarized information related to the 17 best ERP software development services in Singapore in 2023 that must be known by business owners who are seeking modern, accurate, efficient, and effective business solutions.
Key Takeaways
Singapore's businesses seek ERP software for efficiency and accuracy, driving a high demand.

Many ERP providers exist, so choosing one requires careful consideration due to varying capabilities.

ERP integrates business functions, enhancing efficiency, decision-making, and communication.

Various deployment models like on-premises, cloud-based, and industry-specific options offer flexibility.

The article reviews 20 ERP providers in Singapore, highlighting their strengths and limitations for different business needs.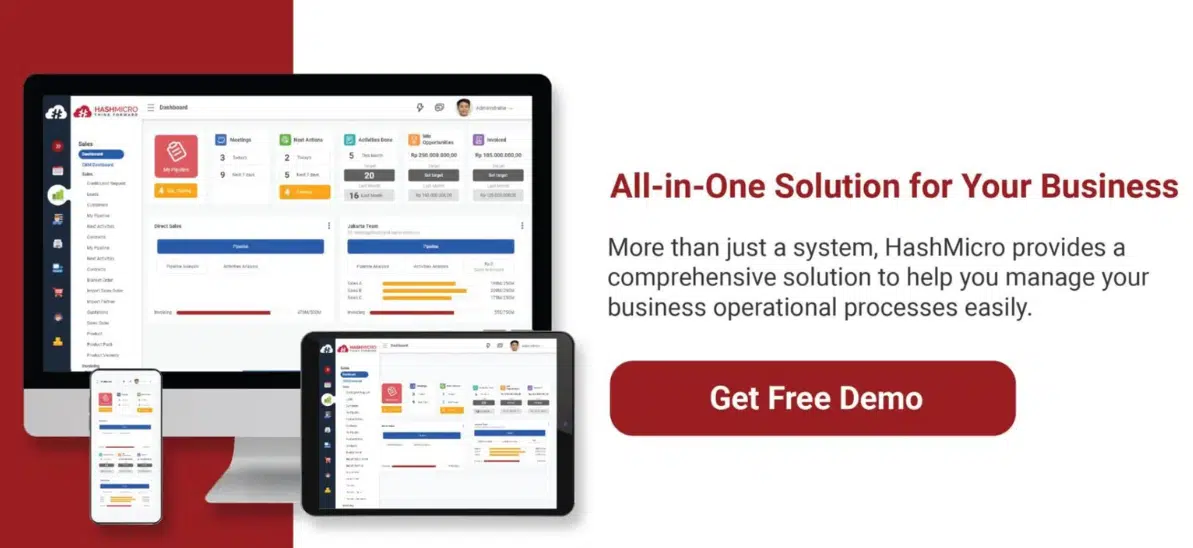 Before we discuss the software that we have evaluated as the best Enterprise Resource Planning software development services in Singapore, let's first talk about the definition of ERP software itself, how it works, and the benefits that can be obtained from its implementation in your business.
What is ERP Software and Why is It Important?
Also read: ERP Functions for Enterprise Management Efficiency
Benefits of Using ERP Software For Your Business
There are many benefits that a company can gain from using ERP tools for their business. One of the important functions, when a company uses enterprise resource planning, it has the ability to automate the operational management of the business effectively and efficiently. In addition, here are some of the benefits that a company will experience when using the best Enterprise Resource Planning solutions in Singapore:
Data Integration

: ERP software allows for the integration of data from various departments and systems within the company, allowing the company to create more coordinated and integrated information.

Efficiency

: Enterprise resource planning software helps companies run their business processes more efficiently. For example, by reducing data duplication and increasing the speed of information access.

Ease of decision-making

: ERP tools allow companies to analyze data and create reports easily. This will help you make better business decisions.

Transparency

: Enterprise resource planning software makes integrated information available to all departments in the company, making it easier to monitor and control business.

Flexibility

: ERP software often has configurable features that can be tailored to the company's business needs. So this software will certainly be easier for you to use.

Cost savings

: ERP tools can help companies reduce costs by improving efficiency and productivity, and facilitating cost monitoring and control.
Also read: 5 Main Benefits of ERP Software for Professional Services
Types of ERP Software Deployment
When considering the implementation of ERP software, it is essential to understand the different types of ERP deployment options available. These options provide flexibility and cater to the preferences of businesses. By exploring the various types of ERP deployment, companies can make informed decisions that align with their goals. Here are some types of ERP deployment that may be beneficial for your company:
1. On-Premises Deployment
On-premises ERP deployment involves hosting the ERP system and infrastructure within the company's own premises. Companies with robust IT capabilities and stringent security requirements often opt for on-premises deployment to maintain complete control over their ERP system.
2. Cloud-Based Deployment
Cloud-based ERP deployment, also known as Software-as-a-Service (SaaS) or ERP in the cloud, offers a flexible and scalable solution. In this model, the ERP system is hosted and maintained by a third-party provider, and businesses access the system through the Internet.
3. Hybrid Deployment
Hybrid ERP deployment combines elements of both on-premises and cloud-based deployment models. This option allows businesses to leverage the benefits of both approaches by hosting some aspects of the ERP system on-premises while utilizing cloud-based services for specific functions.
4. Industry-Specific Deployment
Some ERP systems are designed specifically for particular industries, such as manufacturing, healthcare, or retail. These industry-specific ERP deployments come with preconfigured modules, functionalities, and workflows that cater to the requirements of the industry. They often include specialized features like supply chain management, regulatory compliance, or inventory control tailored to the specific needs of the target industry.
5. Open-Source Deployment
Open-source ERP deployment utilizes software that is freely available and can be modified and customized by the user. This option provides businesses with greater control and flexibility over their ERP system, as they can tailor the software to suit their specific needs. Open-source ERP deployments are often cost-effective, as they eliminate licensing fees.
Also Read: Best Practices for ERP Management System
20 Best ERP Software in Singapore
Here is a summary of the best Enterprise Resource Planning Singapore software development services. There are various essential aspects that we will explain in detail as a consideration and comparison point among providers, ranging from pricing, the value that businesses can get, ease of use, and completeness of systems and features, to the coverage of industries available in Singapore.
1. HashMicro
2. SAP Business One ERP Software
3. Deskera ERP
Deskera ERP stands as one of the Enterprise Resource Planning solutions designed to consolidate all facets of business operations into one seamless platform. This ERP software covers essential features including finance and accounting management, asset tracking, project oversight, inventory control, and HR management. These functionalities aim to enhance efficiency and overall business productivity.
Pros

Cons

✓ Integrated platform for business management

✓ Features cover key operational aspects

✓ Mobility and accessibility for remote operations

× Specific customization options may be limited

× Additional modules or advanced features might require separate purchase
4. Zoho ERP Application
Pros

Cons

✓ User-friendly interface

✓ Facilitates coordination with colleagues and customers

✓ All-in-one platform

× May have a learning curve for complex functionalities

× Compatibility issues with certain third-party applications
5. SAP S/4 HANA ERP System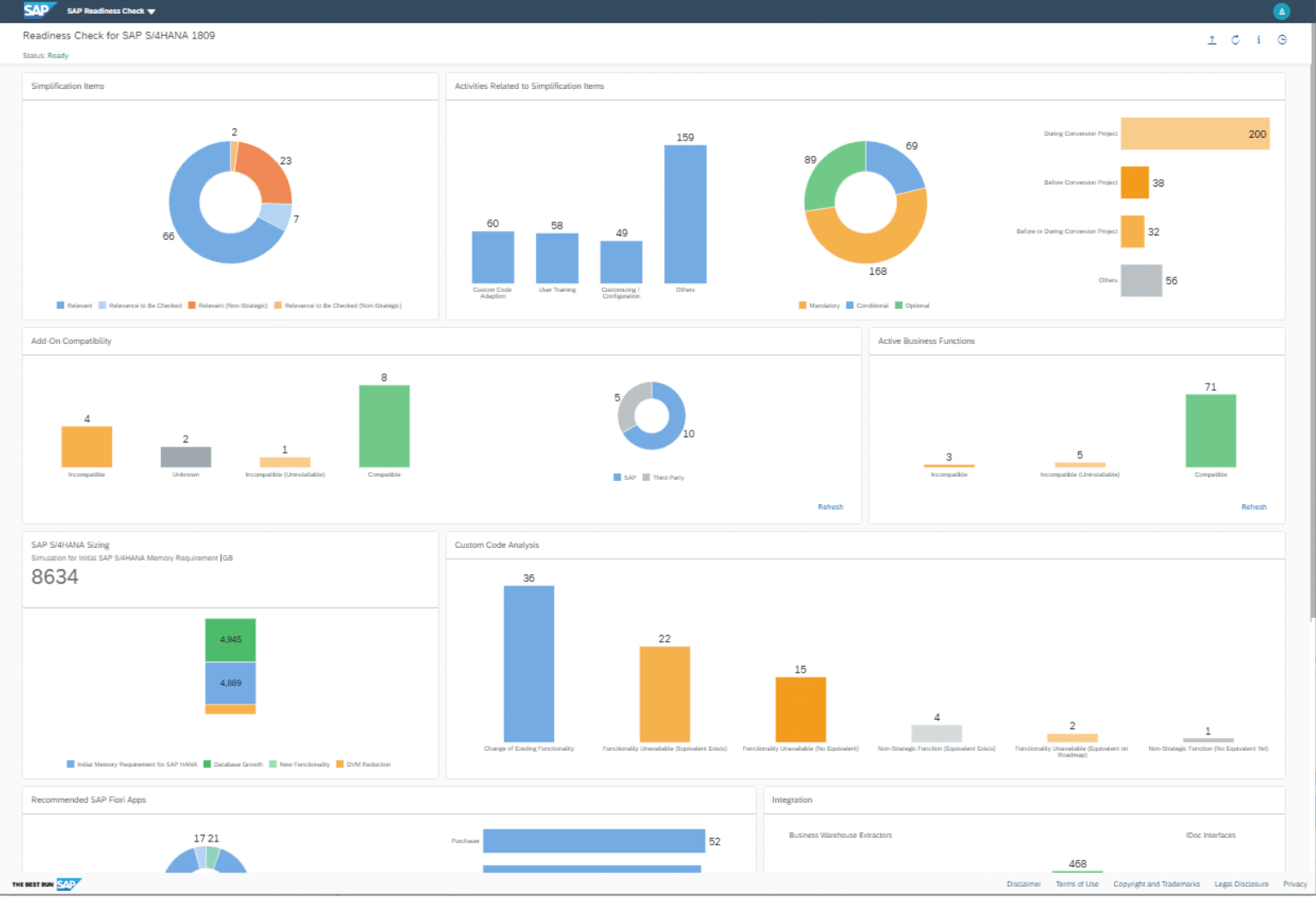 Pros

Cons

✓ Real-time data transfer

✓ Integration capabilities with other business applications

✓ Caters to various business aspects

× Additional expenses for licensing, subscription, and application support can escalate the total implementation cost significantly
6. Oracle NetSuite ERP
Oracle NetSuite ERP's pricing structure, while varying based on modules, incurs additional expenses beyond the base cost. It offers extensive support for various business functions and customizable features but might pose access limitations due to specialized database handling. Despite this, its cloud-based nature ensures scalability and adaptability for growing enterprises.
Pros

Cons

✓ Customizable features cater to diverse company needs

✓ Cloud-based system that ensures accessibility and scalability

✓ Integrated CRM module

× Additional expenses for license fees, integration, setup, and training

× Database accessibility is limited to specialized IT teams, restricting general user access
7. Brightpearl ERP
Brightpearl, a cloud-based ERP system in Singapore, caters to businesses of various sizes, offering back-office automation. By automating administrative tasks, it helps companies to enhance customer service quality and unlock their business potential.
While its seamless integration with various e-commerce platforms enhances omnichannel management, reliance on internet connectivity and a possible learning curve might be considerations for prospective users.
Pros

Cons

✓ Omnichannel support for online and offline sales

✓ Seamless integration with e-commerce platforms

× Dependency on internet connectivity for cloud-based operations

× Potential learning curve for new users navigating the system
8. WorkWise ERP
WorkWise ERP presents a cloud-based solution catered to improve the operational processes of manufacturing firms, ensuring heightened effectiveness and efficiency in their operations. Its adaptability extends to various manufacturing methods, including make-to-order (MTO), engineer-to-order (ETO), configure-to-order (CTO), and mixed-mode.
This ERP solution also empowers manufacturing companies by leveraging data analysis to facilitate informed decision-making. It aims to streamline production cycles, optimize supply chain management, and enhance planning, implementation, and communication within the organization. WorkWise ERP is accessible not only via PC but also through iOS and Android-based mobile devices.
Pros

Cons

✓ Facilitates informed decision-making through data analysis

✓ Streamlines production cycles and enhances supply chain management

✓ Accessibility via both PC and mobile devices for enhanced convenience

× Relies on a stable internet connection due to its cloud-based nature

× Users might need time to adapt to diverse methods of the system

× Functionality on mobile devices might be constrained compared to PC
9. ECOUNT ERP
Ecount ERP is an accounting application suitable for small to medium-sized businesses. It offers functions for managing purchases, monitoring budgets, and handling payroll calculations, ensuring efficiency and effectiveness in accounting tasks.

However, its limitation to accounting tasks might restrict companies requiring broader ERP functionalities. Nonetheless, its integration capabilities and support for business decision-making make it a valuable tool for managing financial data and processes.
Pros

Cons

✓ Suited for small to medium-sized businesses with accounting needs

✓ Offers integration with various business applications

✓ Facilitates business decision-making

× Limited functionality and lacks coverage for broader ERP modules beyond accounting
10. Sage Intacct
Sage Intact is one of the best ERP software companies to help your business simplify and automate your accounting tasks. It offers a set of key features, including a multidimensional general ledger and optional modules like revenue recognition, sales tax, and subscription billing. With a range of modules catering to various business management needs, Sage Intacct's ERP tools are adept at optimizing diverse aspects of operations.

Sage Intact also has easy-to-follow video tutorials and user guides. Additionally, other software applications such as online payment, CRM, and travel management can integrate with this software. With its cloud-based concept, the system can make software configuration and report formats easier without the need for program customization.
Pros

Cons

✓ Enable automated accounting tasks

✓ Diverse optional modules

✓ Integration capabilities with other software applications

✓ Provides video tutorials and user guides

× Reliance on internet connectivity for cloud-based functionality

× Limited customization might pose constraints for specific needs
11. Compiere ERP Software 
Compiere is a modern, efficient, and cost-effective Enterprise Resource Planning (ERP) software. It has various management features such as product management, order management, material management, inventory management, finance management, and Customer Relationship Management (CRM). Compiere makes it easy for users to perform their tasks with business displays and reports.
Compiere is complemented by other attributes like cloud hosting and adaptable customization. However, customization complexity and the learning curve for advanced functionalities might pose challenges during implementation.
Pros

Cons

✓ Covers essential business functions

✓ User-friendly interface

✓ Cloud hosting and customization options are available

✓ Adaptability for multi-currency, multi-company, and multi-language needs

× Potential complexity in customization for specific requirements

× Learning curve for optimal utilization of advanced features
12. Workday
Workday is a cloud-based ERP solution that helps medium to large-scale companies manage their assets, resource planning, financing, and human resource management. It released its first product, Workday Human Capital Management, in 2006, which was a human resource management system. Over time, it expanded its offerings to include additional modules like business intelligence, planning, professional service automation, and project management.

Overall, Workday's best ERP software provides integrated solutions for various business needs and helps companies manage their operations effectively and efficiently. Although, its multifaceted nature might necessitate significant training, and the comprehensive implementation may involve substantial costs.

Pros

Cons

✓ Caters to diverse business needs

✓ Facilitates data-driven decision-making

✓ Streamlines administrative, planning, and HR tasks

× May require extensive training due to multiple modules

× Cost implications for comprehensive implementation
13. ERPNext
ERPNext is one of the best ERP software development services that originate from India. caters to service companies, manufacturers, and distributors. Its diverse array of modules encompasses accounting, CRM, sales, purchasing, website & e-commerce, manufacturing, warehouse, project management, and inventory.

Overall, ERPNext stands as a robust ERP solution with a wide range of modules, ensuring comprehensive business management. However, its open-source nature demands technical proficiency for effective implementation and may require assistance from IT specialists.
Pros

Cons

✓ Covers key business aspects

✓ Open-source nature offers flexibility and customization

✓ Effective expense monitoring for resource utilization

× Requires technical expertise for proper implementation

× Time-consuming to set up without proper IT consultation

× Initial technical knowledge may be necessary for successful use
14. SAP EWM ERP Software
Overall, SAP EWM stands out for its warehouse management capabilities and integration within the SAP ecosystem. However, its complexity might pose challenges during implementation, requiring expertise for full utilization.
Pros

Cons

✓ Robust tools for warehouse management

✓ Seamless integration with SAP SCM suite

✓ Enables efficient logistics management and performance monitoring

× Complex implementation and learning curve

× Dependency on integration with other SAP systems for full functionality
15. Odoo ERP System
Odoo is an integrated ERP system solution for comprehensive business management, covering various modules like CRM, project management, sales, manufacturing, warehouse, and financial management. Through regular updates, Odoo ensures seamless communication and information exchange among employees, enhancing operational efficiency.

Odoo's ERP System offers a robust suite of modules for streamlined business operations. However, configuring and customizing the system might pose complexities, potentially requiring training for optimal utilization. Nevertheless, its comprehensive features and reporting system make it an effective choice for businesses aiming to enhance operational efficiency.
Pros

Cons

✓ Integrated modules for business management

✓ Regular system updates

✓ Customizable with integration capabilities with existing tools

✓ User-friendly reporting system

× Potential complexity in configuring and customizing modules

× May require training for full utilization of all features
16. SystemEver
Pros

Cons

✓ Designed for diverse business aspects

✓ User-friendly interface

✓ Accessible via multiple devices

× Dependency on internet connectivity for real-time access

× Potential learning curve for advanced features
17. Epicor ERP
Epicor Software Corporation is a global software company based in Texas. Tailored for medium to large-scale businesses across manufacturing, distribution, retail, and services industries, Epicor ERP offers a suite of automated solutions, enabling efficient and effective process management. With all its essential modules, it is important to note that its higher initial investment and potential customization complexities might require careful consideration.
Pros

Cons

✓ Tailored for medium to large-scale businesses

✓ Provides modules like CRM, SCM, and HCM.

✓ Offers industry-specific solutions

× Higher initial investment

× Customization may require specialized expertise or additional costs
18. Tigernix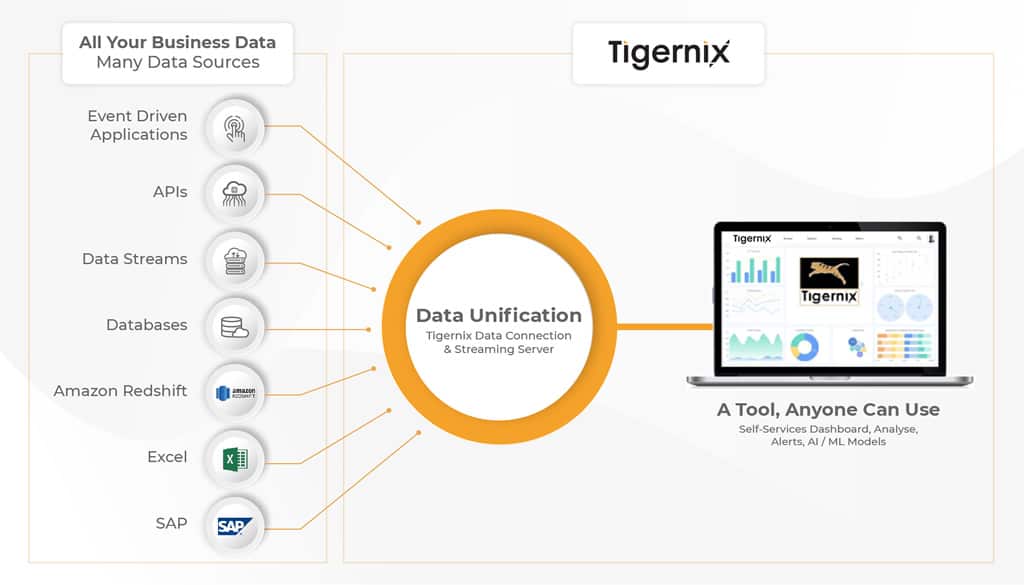 Tigernix is one of the renowned providers of web-based ERP software, offering comprehensive solutions to optimize company processes. With a vast array of modules, Tigernix has customization options, tailored to meet individual company needs. The software prioritizes automation efficiency, encompassing various functions and features.
With that, configuring multiple modules in the system might be complex, potentially requiring specialized expertise for optimal customization.
Pros

Cons

✓ Customization options for specific company requirements

✓ Tailored for small businesses

✓ User-friendly interface

✓ Integrated modules

× Potential complexity in configuring numerous modules

× Customization might require specialized expertise
19. Media Labs
Media Labs presents a highly adaptable ERP system that prioritizes customization, allowing seamless integration of open-source systems via API. Their attribute lies in dedicated customer service, actively engaging clients through consultations to ensure tailored solutions.
However, detailed customization might demand technical proficiency, and system integration complexities may necessitate a learning curve.
Pros

Cons

✓ Customization

✓ Open-source integration

✓ Dedicated customer service

✓ EDG-certified consultants

× Detailed customization may require technical expertise

× System integration complexity could pose a learning curve
20. Synergix Technologies
Pros

Cons

✓ Adaptable to various industries

✓ Supported by cloud and mobile applications

✓ Tailored modules for specific industry needs

× May require customization for specific industry needs

× Potential learning curve for implementing varied industry modules
The Best ERP You Choose Must be Able to Meet Your Company's Needs
Based on evaluations of various best ERP tools, most Enterprise Resource Planning Singapore software providers have excellent features and performance. Additionally, Businesses ranging from small to medium-sized enterprises and even enterprises can implement these features. This software has proven to respond to business challenges in various industrial sectors in Singapore, demonstrating its advantages.
Choosing one of the best ERP providers in Singapore would be difficult. Especially due to the rapid development of technology and increasing competition. For business owners who are looking for an ERP system, we recommend Hash Core ERP. Specifically, because this ERP software has a complete package of modules for various industries at a reasonable price.
The best ERP software solution offered by Hashmicro in Singapore is not only an excellent choice for businesses looking to optimize their processes. But it is also supported by the Productivity Solution Grant (PSG). With this, eligible businesses can receive up to a 50% subsidy for their software purchase from the ERP software company of their choice. To experience the benefits of the software yourself, you can request a free demo here.

Frequently Asked Questions About Enterprise Resource Planning Singapore
What is ERP software?

ERP (Enterprise Resource Planning) software in Singapore is a comprehensive solution that helps organizations efficiently manage their day-to-day business activities, including accounting, finance, procurement, project management, and supply chain operations. These integrated platforms serve as a central hub, ensuring data integrity and transparency across various departments. Overall, Enterprise Resource Planning Singapore systems are essential tools for businesses of all sizes and industries as they provide customized support for specific industry needs.

What is the best ERP software in Singapore?

Some of the leading Enterprise Resource Planning software in Singapore include HashMicro, Oracle NetSuite, SAP Business One, and Microsoft Dynamics 365. Each of these ERP solutions offered a range of features, scalability, and industry-specific modules, making them suitable for various business sizes and sectors.

What does ERP software do?

ERP software brings together diverse functions such as finance, human resources, inventory management, supply chain, customer relationship management, and more into a centralized platform. This software facilitates efficient data management, real-time reporting, and better decision-making by providing a holistic view of the entire enterprise. By eliminating data silos and promoting collaboration, ERP software optimizes productivity and resource allocation, ultimately enhancing business performance and competitiveness. Its ability to handle complex workflows and standardize operations makes it an indispensable tool for modern businesses seeking to achieve operational excellence and sustainable growth.