After understanding what ERP software is and its benefits for your business, now you have to know which modules you might need in an ERP system.

Keep in mind not all ERP systems are the same. Advanced ERP systems consist of more modules than others.
Here are some core modules that you should consider when choosing an ERP system.
Accounting Management
Accounting or financial management is an ERP module that is very important for every industry, since there is barely an organization that does not manage cash flow, payments, debts, and day-to-day financial transactions.

The features of the accounting management module include billing management, asset and depreciation management, tax management, invoice management, financial analytics reports, currency management, etc.
Inventory Management
Companies that hold and sell inventory, either it is merchandise and their own assets require inventory management modules in their ERP systems. The modules handle stock tracking, procurement control, orders, and various other inventory management requirements.

The common features of an inventory management module are stock management, warehouse management, inventory forecasting, picking and packing, supplier management, and shipping tracking.

HashMicro's ERP inventory management module allows you to manage inventory stocked in multiple warehouses or stores across different locations.
Also read: What is an Inventory Management System? | A Complete Overview
Purchasing Management
Just like inventory management modules, purchasing management modules are critical for manufacturing, wholesale and retail companies. Purchasing Management modules help companies manage purchases more efficiently. With the modules, spending can be more controlled and items purchased will always be in accordance with consumer demand.
Manufacturing Management
Manufacturing management modules are made to simplify various complex processes within the manufacturing industry. They cover production planning, routing management, budget management, monitoring of raw material stocks and finished goods, and a lot more.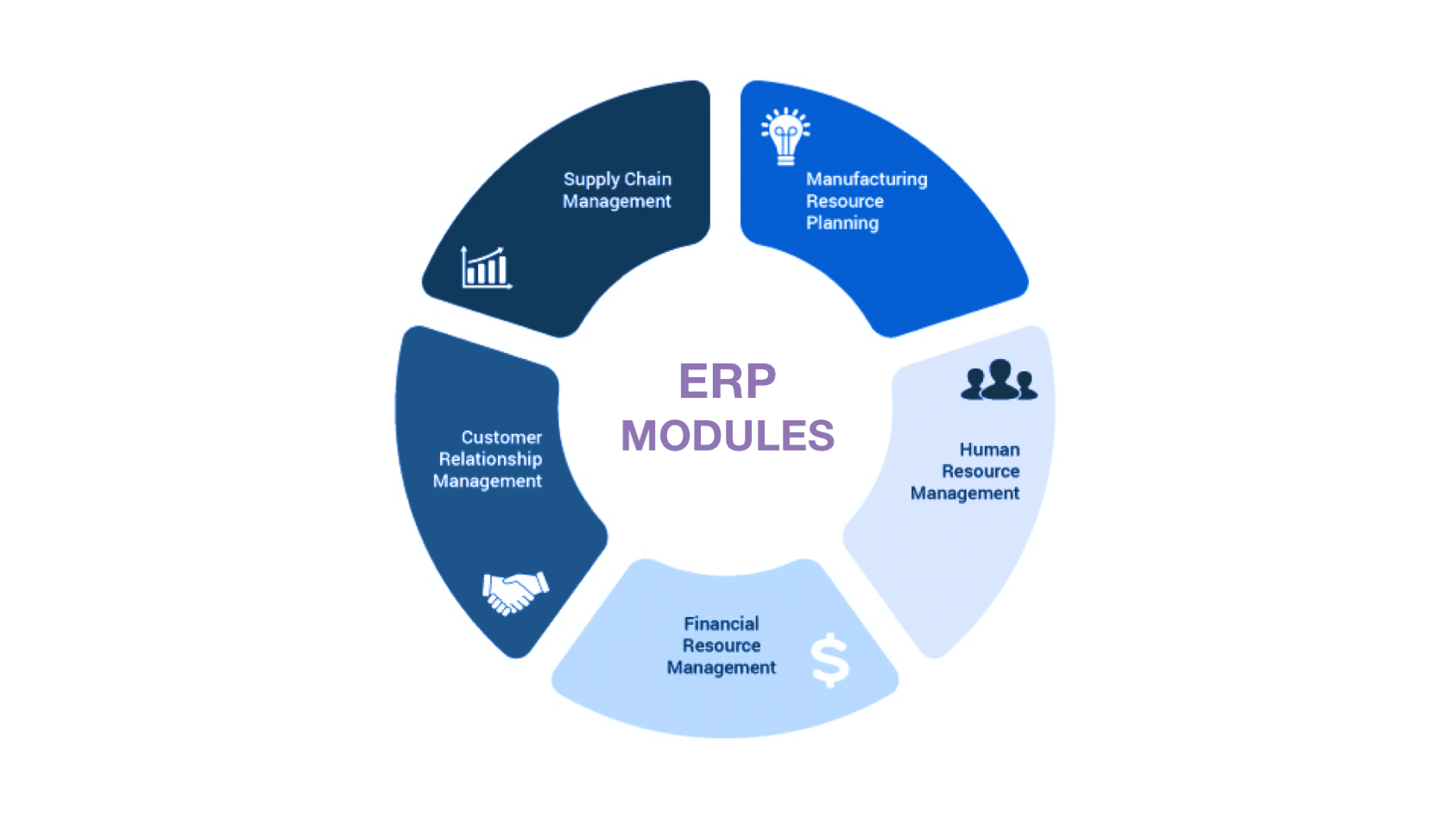 Human Resource Management
HRM modules help companies to manage their human resources more efficiently. These modules have capabilities of managing employee information, tracking working hours and attendance, payroll, handling employee taxes, creating surveys, streamlining recruitment processes, and conducting employee performance appraisals.
Sales Management
If you sell services or products and need an effective solution for managing your leads and customers, then the sales management is a must-have module for you.
The features include lead and customer data management, sales cycle management, email scheduling, quotation and invoice generation, and in-depth sales reporting.
Customer Relationship Management
CRM modules are almost similar to sales modules, but the focus is more on managing customers. They enable companies to manage the sales pipeline, log calls with customers, customize and schedule email marketing campaigns, generate reports on customer behavior and purchasing patterns, and many more.
Supply Chain Management
SCM modules are highly necessary for manufacturers. The modules give companies visibility into the entire supply chain, from start to finish.

The features of SCM modules include inventory management, order management, procurement management, logistics tracking and freight forwarding, planning and forecasting, supplier management, and return management.
Warehouse Management
Warehouse management modules also critical for manufacturing companies. They help manufacturers manage daily warehouse operations and orders as well as provide accurate real-time information related to inventory.

The features of warehouse management modules include stock transfer tracking, inventory audits, inventory forecasting, picking and packing, supplier management, bill of materials management, and shipping management.
Project Management
Project management modules are highly recommended for construction and engineering companies. The modules enable companies to streamline their daily operations including project planning, budgeting, task distribution, billable hour tracking, invoicing, and a lot more.
To find out other modules that you might need in an ERP system, please visit the HashMicro website.
ERP Modules Based on Industries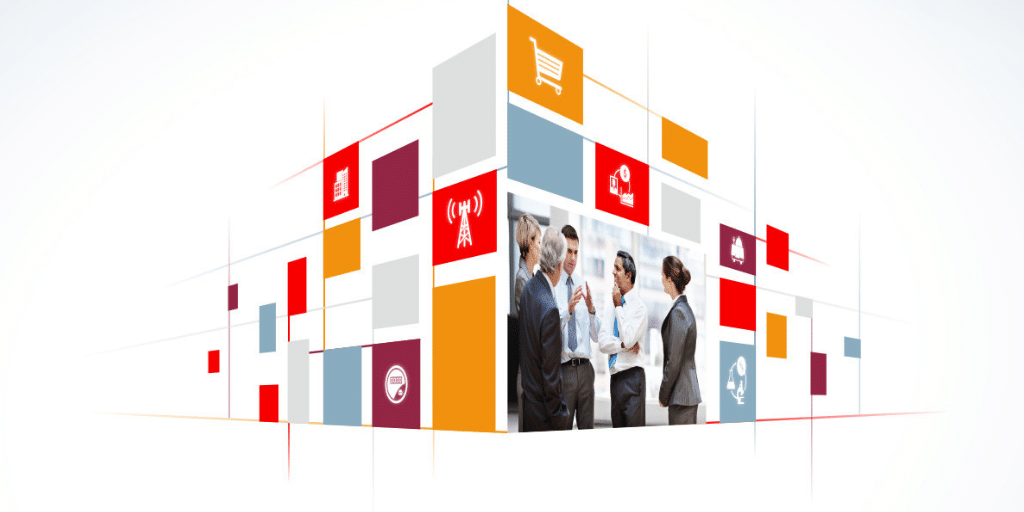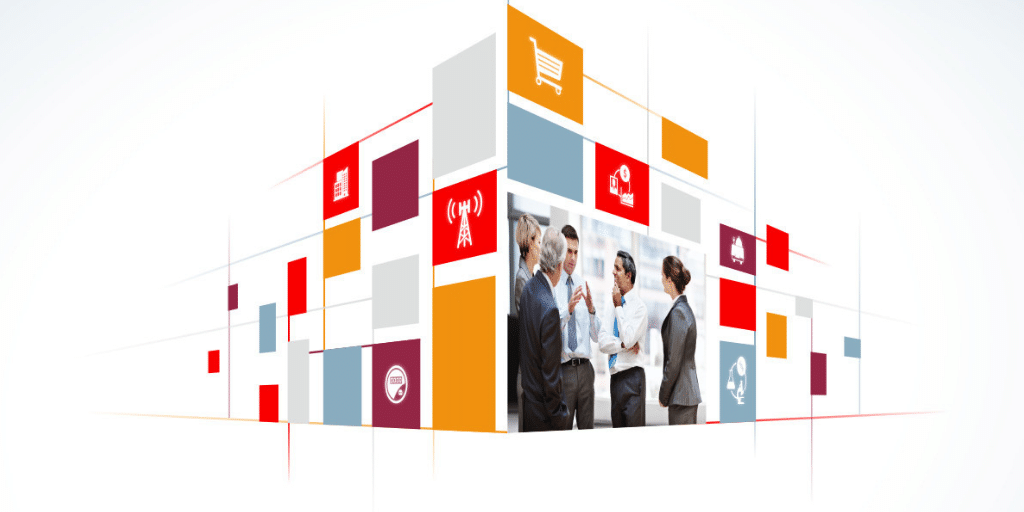 To make it easier for you to determine which modules you should add to your ERP system, we have adjusted a few industries with the right ERP modules for them.
ERP Modules for Wholesale & Retail Industry
Retail and wholesale businesses deal directly with customers. Retailers have many customers, some of whom may be repeat customers, while wholesalers tend to rely more on repeat customers. However, both work in the same way and require similar ERP modules.
Here are the relevant ERP modules for retailers and wholesalers:
Inventory Management

Accounting Management

Warehouse Management

Purchasing Management

HRM

CRM
ERP Modules for Manufacture Industry
Manufacturers need solutions that can simplify the process of production planning, inventory tracking for raw materials and finished goods, and order fulfillment.
The following are the critical ERP modules for manufacturing companies:
Inventory Management

CRM

SCM

HRM
ERP Modules for Professional Services
Professional services need practical ways to manage client data, reservations, and schedule appointments. Clients want quick responses to their inquiries and appointment requests. Great customer service is one of the main keys to the success of service businesses.
The ERP modules that need to be considered by the professional services are:
CRM

HRM

Accounting Management
ERP Modules for Educational Institutions
Educational institutions need specific ERP modules that can help them simplify the learning process, recruitment, student data management, and so on.
ERP modules needed by educational institutions include:
Accounting Management

Inventory Management
ERP Modules for Food & Beverage Industry
F&B businesses need solutions that make it easier for them to order raw materials from suppliers, handle customer orders, speed up payment processes, track deliveries, and so on.

Relevant ERP modules for F&B businesses:
POS

Catering Management

E-Menu

Central Kitchen Management
ERP Modules for Real Estate Industry
Property and real estate owners need solutions that can help them manage contracts with tenants or buyers, handle reservations, process payments, and maintain their facilities.

Here are important ERP modules for them:
Accounting Management

Contract Management

Rental Management

Facility Management
ERP Modules for Construction & Engineering Companies

Construction and engineering companies need solutions that make it easier for them to plan projects, manage contracts with clients, monitor staff performance and working hours, as well as allocate budgets.

Here are some relevant ERP modules for them:
Project & Contract Management

Accounting Management

CRM

HRM

Inventory Management
With HashMicro, you can choose ERP modules that are most suitable for your industry from the available ones or customize the modules that you need yourself.
To find out other modules that you might need in an ERP system, please visit the HashMicro website.