The idea of ERP program educational software for the education industry has been gaining attention among schools, colleges, universities, and other institutions for a long period of time. Because ERP software education can remotely monitor activities, it is critical during a pandemic. In the era of big data, this has become a crucial solution. Every year, educational institutions collect tons of information about your students, teachers, graduates, staff, course schedules, fees, lesson plans, and so on. All of this information will be hard to use, without the right educational ERP software. The software will assist you in analyzing the data and making decisions based on facts.
Institutes that already have educational ERP management systems have experienced increased workflow efficiency and greater data management, which proves to be an instrument of high productivity in all institutional operations. So with these considerations, let's take a look at some of the reasons that highlight the importance of ERP program education.
Table of Content
What is ERP Program Education?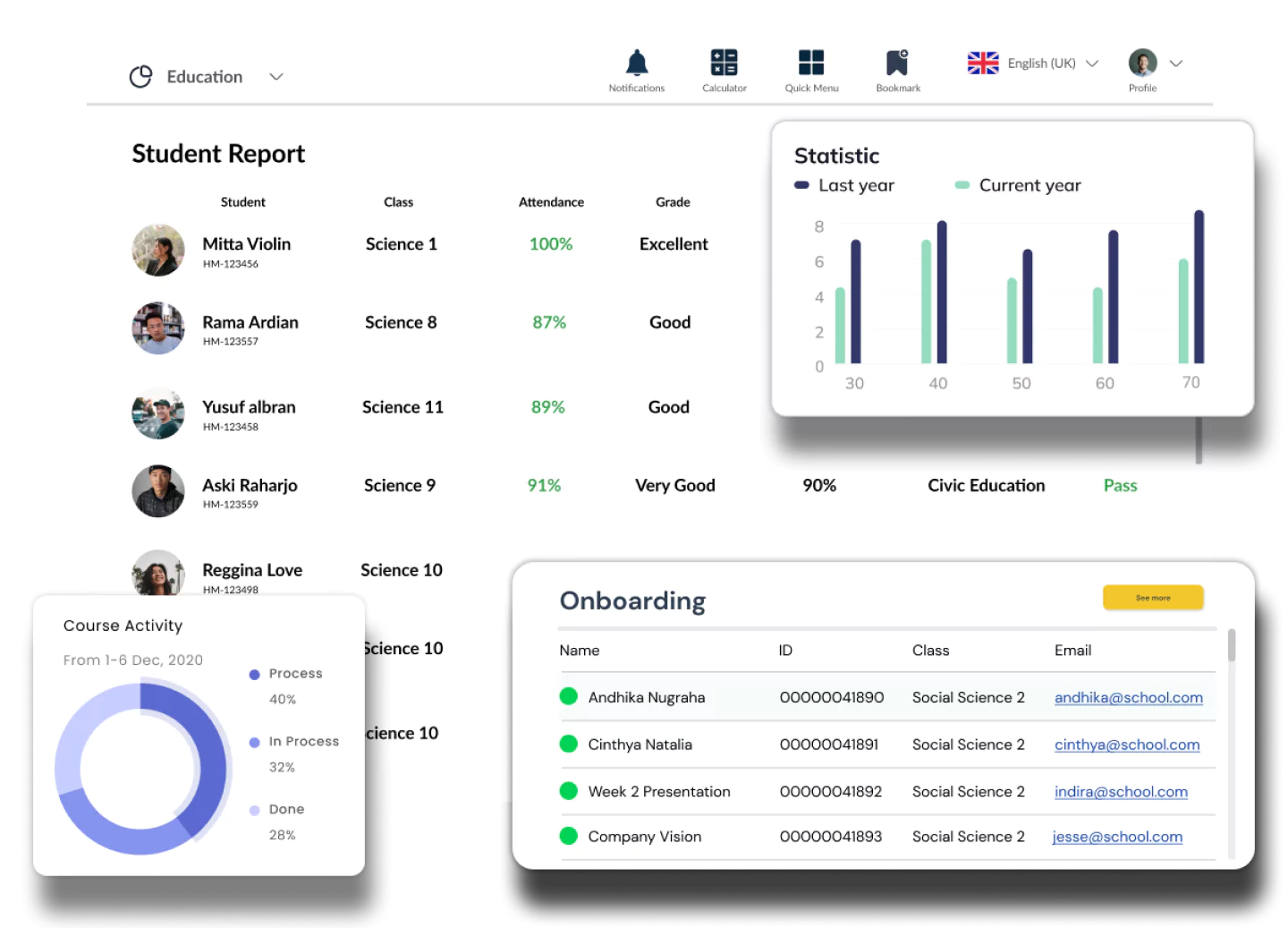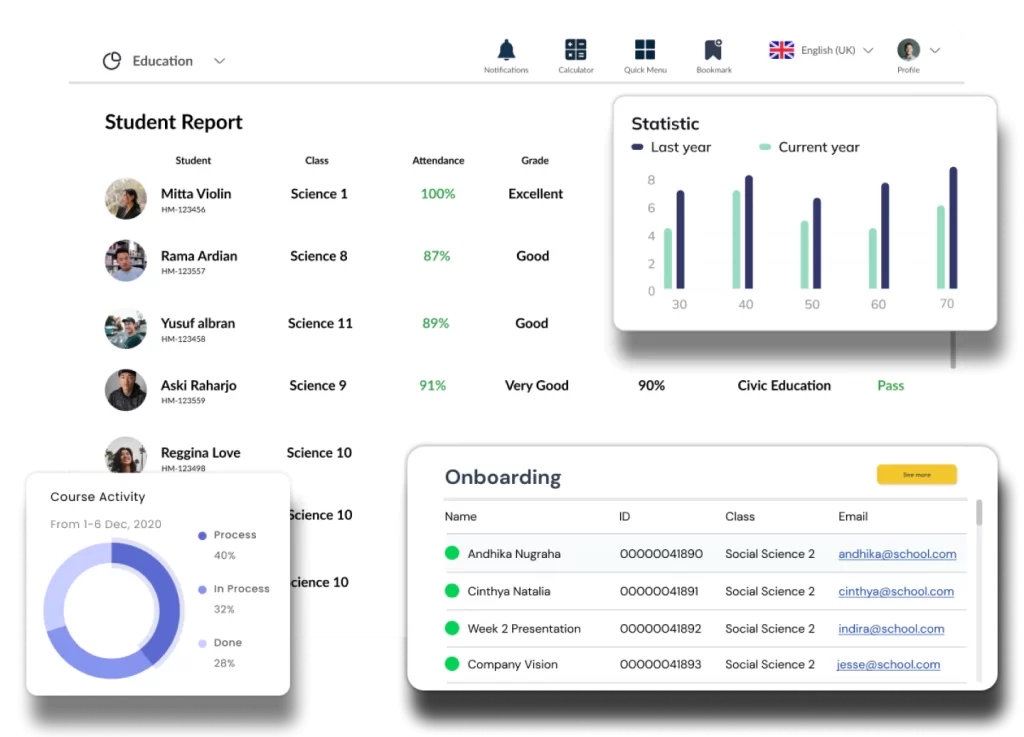 ERP program education is a software system designed to make the educational operating process more efficient. This software helps manage and keep track of day-to-day activities, including administrative process, curriculum management, student attendance, student information, fee record management, etc.
In addition, it connects various departments to a central system, thus eliminating the error of redundant data, automating processes, and increasing the efficiency of the institution staff. It also allows information sharing across various departments and locations while establishing clear communication between management, staff, and students.
With the implementation of an ERP program education software, stakeholders can have a centralized dashboard view that lists down all the relevant information. This includes, teachers can track student's progress anytime they want, thus they will have more time teaching students. Parents can remain informed about the progress of their child, which enhances the communication between the institution and parents. Moreover, with access to real-time data and analytics of an institute, it increases productivity, and the efficiency of planning, designing, and operating academic resources.
Also Read: 5 Ways to Increase Your School Management Efficiently
Why is ERP Important for Education institutes?
Here are some of the major benefits of implementing ERP at educational institutions:
1. Automation
Automation is one of the essential features of any ERP system. ERP are designed to automate a variety of tasks, particularly those that you perform on a regular basis. One example of regularly recurring work that ERP could do for you is generating a report of the money your institution spent last month. The software automatically brings specific information from all of the system's applications. As a result you don't have to search for the information you need.
Even better, with good ERP systems, you can configure regular reports to present the information based on the format you want accurately. As you can see, ERP software can save your time through automation processes. Thus, it will benefit your institution's financial bottom line as well.
2. Centralized Data
ERP program education connects the entire institution into a single platform to simplify data management. The software is capable of collecting, storing, and analyzing available data, such as the admission form, student information, exam schedules, fee payments, and other data. It generates the data and makes them accessible to all departments, enabling the administrative process and information management more efficiently.
With an ERP system, information sharing between teachers, students, administrators, and staff becomes much easier. This fills the communication gap between them, allows them to stay connected, and keeps them up-to-date on all important information about the institution. Thus, you will have a better control over internal and external communication in your institution and never experience a communication breakdown.
3. Complete Data Safety And Security
Every educational institution must keep track of current students, alumni, teachers, and other resources. As expected, you will need to store a lot of academic material for a long time. It is never safe to manage all the physical records of this information. An ERP software can store this enormous amount of data securely.
The system includes a backup method to keep the data safe, which is quite impossible to do when the data is stored in files. In addition, the system also restricts data access and only permits the authorized users, to ensure data integrity and privacy. As a result, it ensures complete security from any data breaches.
4. Cost Effective
One of the most prominent benefits of ERP implementation in any industry including educational institutions is its cost-effectiveness. The program reduces labor hours and expenses by automating fundamental administrative tasks including admissions, payroll, and fee collection. The results of savings expenses can be used for important educational purposes.
5. Improved Resource Management
The overall goal of resource management in schools, colleges, and other educational institutions is to make sure that money is spent wisely on these essentials. It's especially difficult to deal with manually because of the different nature of the materials utilised.
Your school will need highly efficient ERP software to manage operations, distribute resources, and monitor all activities. This aids in accelerating day-to-day activity and resolving issues or problems in a timely manner.
6. Digital Transformation Simplifies Operations
Every industry, including education, is undergoing a digital change. Expanding its web in this area as more educational institutions use innovative technologies, it is revolutionizing corporate operations.
Digital transformation is achievable with educational ERP software. It allows you to entirely automate your institute's administration activities. The system manages everything from enrollment to fee management, course completion, and alumni records. It streamlines long and time-consuming operations, making them easy to plan and execute.
Also Read: 10 Reasons Why School Management System is Important
Tips to Choose the Best ERP Program Education Software for Your Institute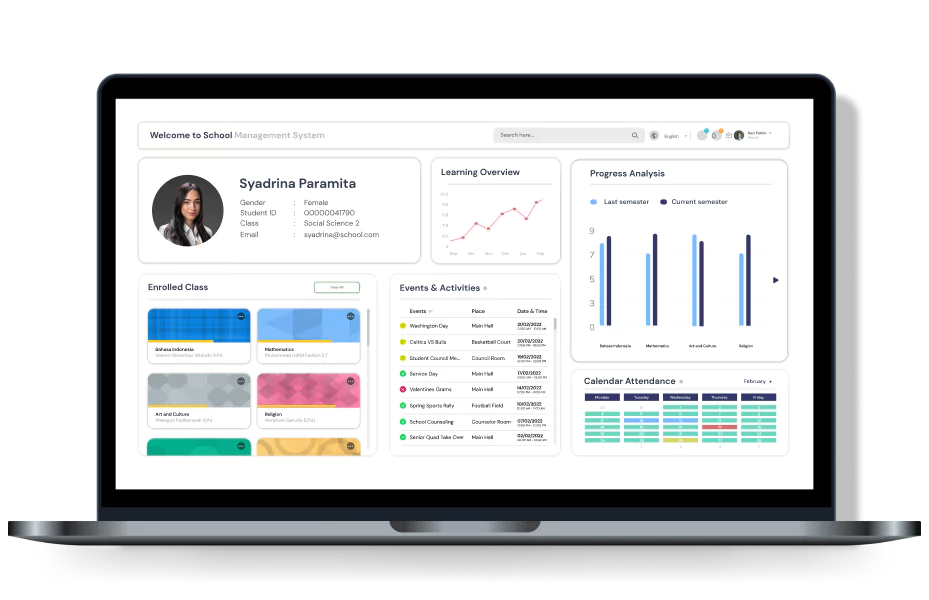 Choosing Enterprise Resource Planning (ERP) software for your educational institution is definitely not an easy task. This involves a number of decisions. Here are a some tips to consider while you making your decisions:
Needs Assessment: Begin by compiling a list of requirements for your school, determining which tasks require automation and which departments will gain the most from automation.
Deployment Options: On-premise, cloud and hybrid deployment options are available for ERP systems. Understanding your infrastructure and funding constraints will aid you in determining which deployment alternatives are ideal for you.
Customization and Integration Options: Your school's requirements may alter over time. Understanding software's modification and integration capabilities will be quite beneficial in the future.
Choosing the Right Implementation Team: Many ERP installations fail due to poor planning. However, choosing the right implementation partner can be a solution. Academia ERP can be useful in saving time and money during the software implementation process.
Change Management: With the existing workforce, technological adoption is difficult. To gain the benefits of the new software, you must train your existing workforce to use it in the best possible way.
Conclusion
ERP program education has several advantages in terms of technological innovation, efficiency, real-time data availability, etc. The system enables everyone involved in the academic process to connect and gain better visibility into the information they need.
HashMicro provides the best school ERP software that presents specifically for educational establishments to significantly improve the effectiveness of allocating and operating academic resources better.
Many institutions are already taking advantage of automation, if you want to enjoy the same benefits, feel free to request a free demo of educational ERP from Hashmicro.