Of course, every company that runs a business has a procurement of goods or services. In general, in the procurement of these goods, there are various processes such as requests, offers, and purchases. Business actors need a quote to make it easier to manage these activities.
Quotations are often almost the same as invoices, although they serve a different function. However, like Quotation, current invoices can be managed using e-invoicing applications, namely billing and invoice management software. This article will discuss the meaning of citation, its purpose, types, and examples in full. Let's talk about it.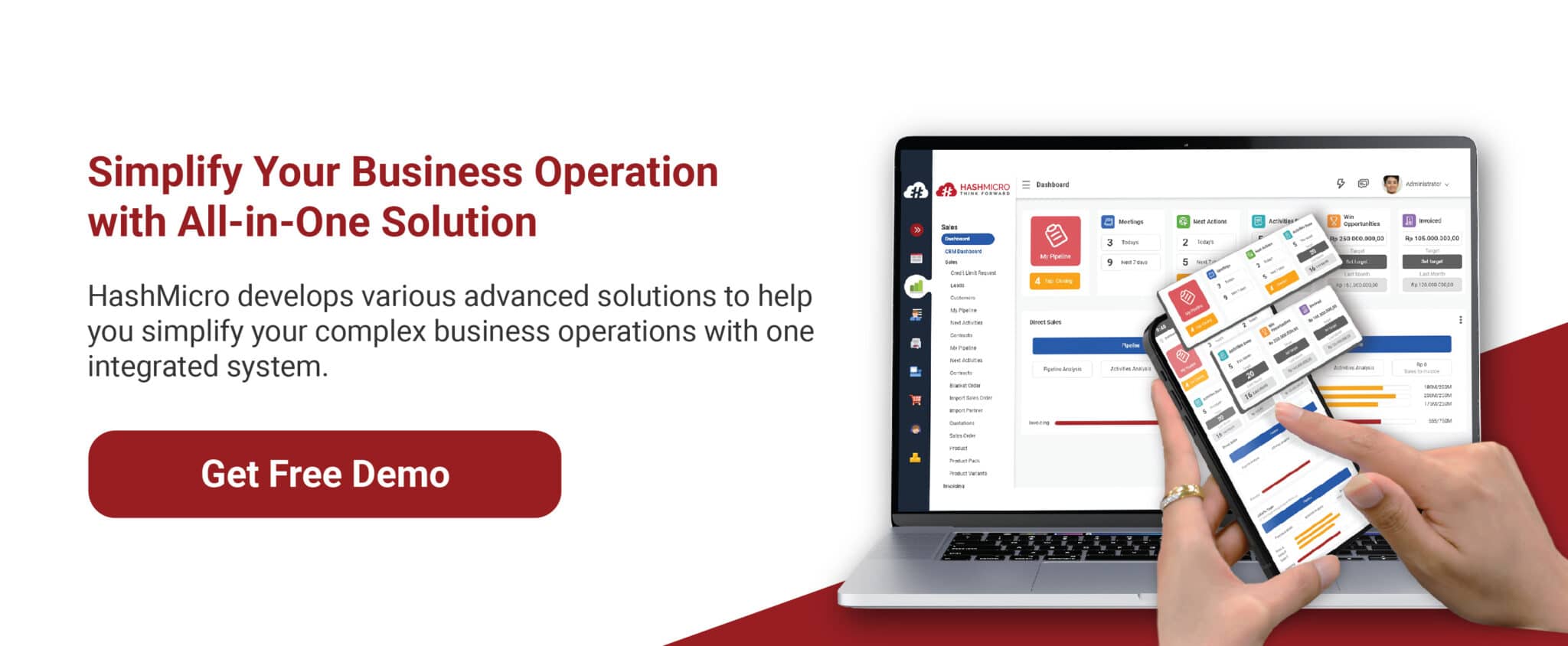 Table of Content
Meaning of Quotation
The meaning of a quote is a letter of offer that is given to a customer after a request. Its general function is as an offer, both regarding price and services, which the company offers to customers. Business-to-business (B2B) typically uses a letter of offer for each transaction.
In contrast to quotations, quite often people make mistakes in equating sales invoices, the notion of a sales invoice itself is a document that exists because of sales activities. This document contains the price of goods, types of goods, VAT, discounted prices, and so on. The sales invoice serves as a form of ratification or approval of the occurrence of a sales transaction between the two parties. We can manage all of these things using document management software from HashMicro. This application can help you access various documents through your mobile phone or laptop.
Purpose of Payment Method Quotation Agreement
There are several purposes of a payment method agreement, see the following list:
To be able to manage money in and out of the company, both from sellers and buyers. Quotation helps the company's finances to stay within a predetermined budget, as well as control money coming in and going out.
Apart from regulating, quotes also protect buyers from price changes. If at any time the seller suddenly decides to set a price, the buyer will not be affected because the price is still charged until payment is made.
Quotations also give buyers about when goods should be paid for at the latest. This is useful to avoid conflicts between buyers and sellers in the future.
Offer Payment Method
In addition to containing a price agreement, the quote also contains a payment agreement between the two parties, both the buyer and the seller. An example of a payment agreement is as follows:
1. Cash on delivery
This payment system is made in cash, right when the ordered goods arrive at their destination. This method exists to avoid fraud, both buyers who are afraid their products will not arrive and sellers whose goods are not paid for.
2. Cash before delivery
The cash before delivery payment system is a payment made before the goods are sent to the customer. This type of payment is also pretty much done after Cash on Delivery. This payment system is more profitable for the seller because the goods to be purchased will be paid for in advance by the buyer.
3. Payment term
Term of payment is a method of payment using the maturity period. If the buyer does not meet the requirements then there will be sanctions from the seller to the buyer.
Handle your company's finances more efficiently by using Accounting Software from HashMicro.
Quote Types
Quotations certainly have a different role in each transaction. This results in two types of offer letters:
1. Seller Offer
A vendor offer is an offer letter or agreement document made by a manufacturing company or service company. When will there be an agreement from both service and manufacturing companies with vendors? The company will provide an offer letter to the vendor. However, manufacturing companies use this type of document more than service companies.
2. Customer Quotation
By vendor type, a Customer's Quotation is a different offer document or agreement with a manufacturing or service company for its customers. When a company wants to make an offer regarding a sale to a customer, it will release a customer quote.
The difference between vendor offers and customer offers can be seen from who the recipient of the offer is. Depending on each perspective, for example, if there is a vendor who wants to make an offer to the company, for the company the offer will be seen as a vendor offer. And vice versa for a vendor, a quote is a custom quote.
Quotation Structure
A quote is an important offer letter that has its written format. Therefore, every company needs to pay attention to the format of writing quotations carefully in order to establish maximum cooperation. The following is the correct arrangement or format of the writing structure:
1. Opening Section
This opening section contains information about the company. usually in the form of a brief company profile. The opening section also needs to promote the company. The goal, of course, is to introduce your company to a second party.
Not to forget, the opening section also needs to be good to attract the interest of the reader, to be able to get the next offer. We also recommend adding the company profile section to complete various mandatory documents and other certificates that support the legality of the company and its owners.
2. Content Section
The body of the letter is the part that contains the details of the quotation. We need to emphasize that the writing must be complete without reducing the slightest. Starting from the type of product and service offering, quantity, minimum order quantity to payment method.
The contents of the letter also need additional information or other information at the bottom so that later it can attract interest from potential buyers. Especially in the content section, the details that we fill in must neat and weighty. In particular, if you make a direct quotation.
3. Closing Section
Then in the last part, there is a cover. Fill in the closing section by using sentences that contain high hopes to establish cooperation with potential customers. This also applies to making direct quotations. A direct quotation itself is a direct offering letter.
Don't forget to add, to be able to continue to attract potential customers, try to attach a document of job documentation that has been done before. In particular, the types of offers previously. The attachment can also be evidence of experience. So that customers will become more interested in making deals.
Read related article: Business Communication — Understanding, Purpose, Process
Quotation Benefits
Using a quotation in the procurement of items can certainly provide various advantages and benefits for the company. The following benefits :
1. Work effectiveness and efficiency
In using a quotation, the entire price and quantity by the company are written on a piece of paper, both from the company and the vendor. It is easier when you need a product or service. That way, it will save time and more because of the effective way of working. Try ERP Software to, if you want to handle your business more effectively.
2. Minimize risk
With a quotation, it is possible to minimize the risk of unwanted events or things. For example, such as cancellation of purchases, price changes, stock availability, and so on. If these things happen, it can hamper the procurement process.
3. Regulate the income and expenditure of money
Quotation allows companies to be more organized in managing incoming and outgoing money if the details of the goods are clear. So that the company's financial condition remains within the predetermined budget.
Sample quote
Here is an example quote: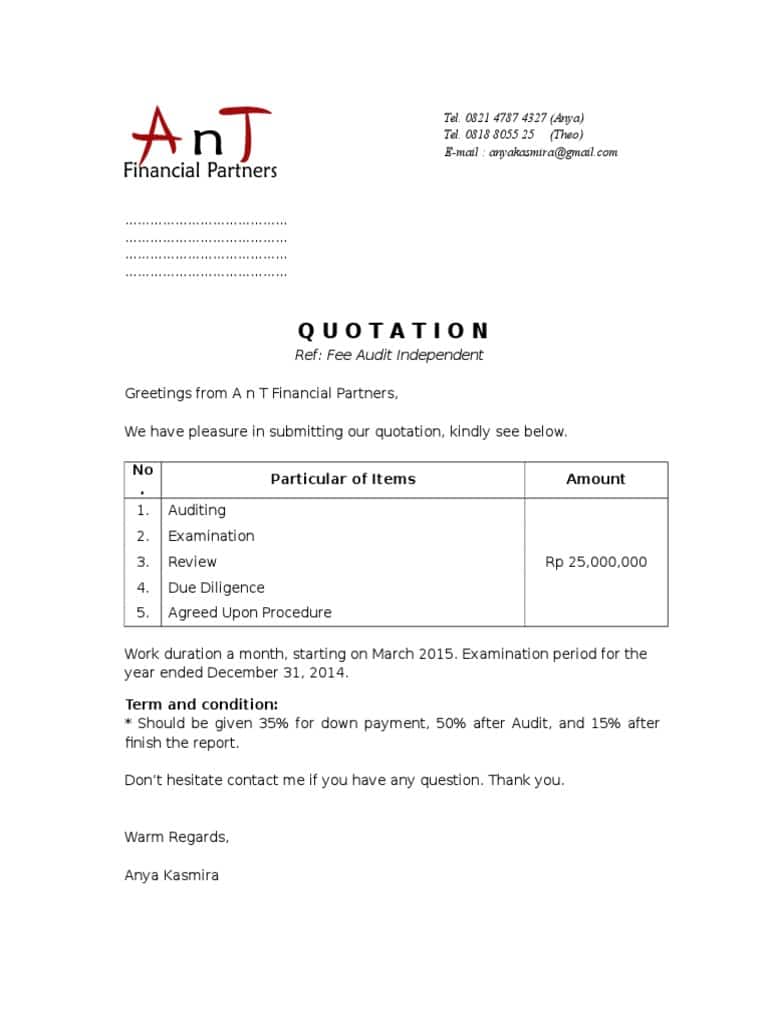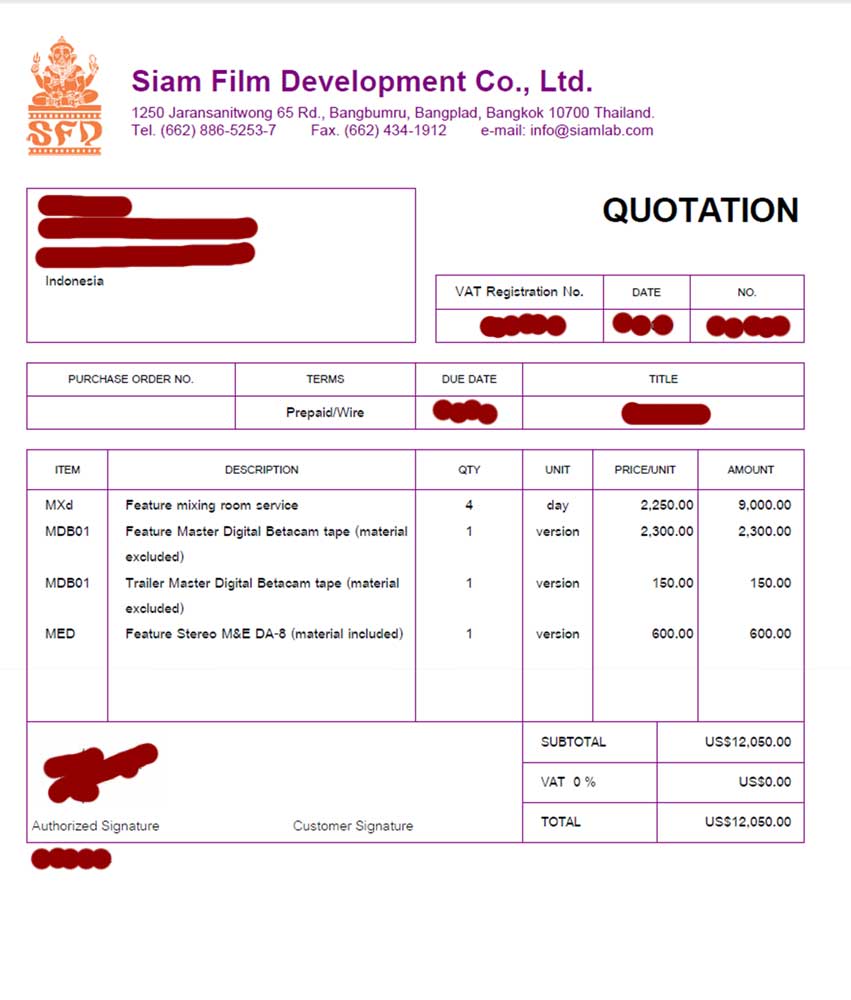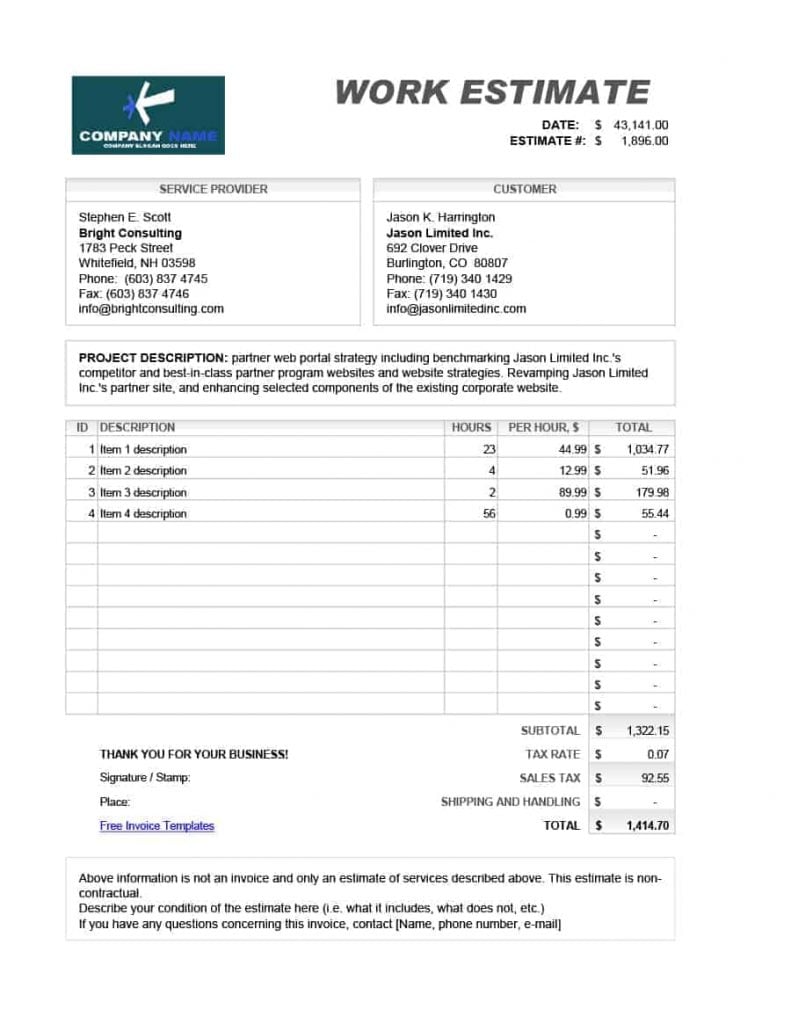 Conclusion
Thus the discussion of this article regarding quotes. We can conclude that the offer letter is very important for a business. In addition, quotes will make both the seller and the buyer a profit. Lastly, in business, a quote is something that companies usually give when making an offer of cooperation with another party. So the equipment must get prepared.

Document management and other administration are crucial things, so companies must do them right. Perform document management using the HashMicro Document Management System which provides various resource management services. The management of these resources can be in the form of management in terms of finance, accounting, inventory, supply chain, and so on.