One of the challenges humans face is ensuring an adequate food supply. Food production is very supportive of the development of trade which is essential for the progress of human civilization.
Thus, food becomes something that humans consume for survival. Food is a product of animal or plant production. So, food production is converting raw materials into edible food products.
So this recycled food product can be used for direct home cooking or the food processing industry. Food production can be divided into numerous stages, each of which is crucial. The creation of an ERP system can improve the efficiency of production using food production software.
In the food processing industry, the procedure begins with the primary processes of cleaning, separating, etc., and concludes with the packaging and marketing of the product. With such a complex procedure, lengthy production sometimes encounters numerous obstacles.
Therefore, the food production procedure will be facilitated by manufacturing software that benefits this business. So that from the production process to sales can be efficiently handled, leading to an abundance of food production.
Table of Content
Also read: 9 Best Food Manufacturing Software for Your Business
Food Production History
Food production has evolved from providing essential supplies to focusing on nutrition, health, and sustainability. Our ancestors spent thousands of years hunting and gathering food.
They thrive via teamwork and a healthy environment. Food was inconsistent back then. They would move if the food source ran out. In 11,000 BC, humans began agriculture to survive.
Food trading became global as technology advanced. In the Middle Ages, archaic technology was used to mass-produce food. In the 11th century, wind or water-powered mills rose across Europe, enabling large-scale flour manufacturing.
Fertilizers and equipment have helped food production keep up with an expanding population. Agricultural mechanization permitted faster cultivation, higher yields, and extended food storage.
Food Production Challenge
Technology will affect food production. As consumer demand evolves and retailers want more from suppliers and distributors, the industry must sustain customer and distribution commitment.
Food manufacturers that can meet standards and expectations have a competitive advantage. Food businesses may better manage supply chain operations and processes with the correct technology, enabling client demand evolution and retailer compliance without investing a budget. As a food producer, you'll face the following challenges:
1. Understanding and meeting customer demands
Knowing when and where consumers are looking for your product is essential before spending resources meeting the retailer's stringent requirements.
2. Managing food recalls safety and quality.
Food manufacturers must monitor their products from their operations to retail shelves to meet food safety standards.
3. The visibility of the food distribution supply chain. 
Food manufacturers must have supply chain visibility to know where their products are, expected timelines, and delivery times.
4. Maintain sustainable product development 
With innovations and changes in food and beverage production coming through monitoring and experimenting with data
5. Controlling costs 
Minimizing waste and simplifying operations can assist. You've developed a profitable, sustainable enterprise.
Food Production Software
Technological developments change the fast-paced lifestyle of today's people. The food and beverage business faces more significant challenges than any other sector. From stringent regulatory requirements to highly complex and competitive supply infrastructures – food and beverage manufacturers must employ innovative and impactful tactics to remain relevant and profitable in their market.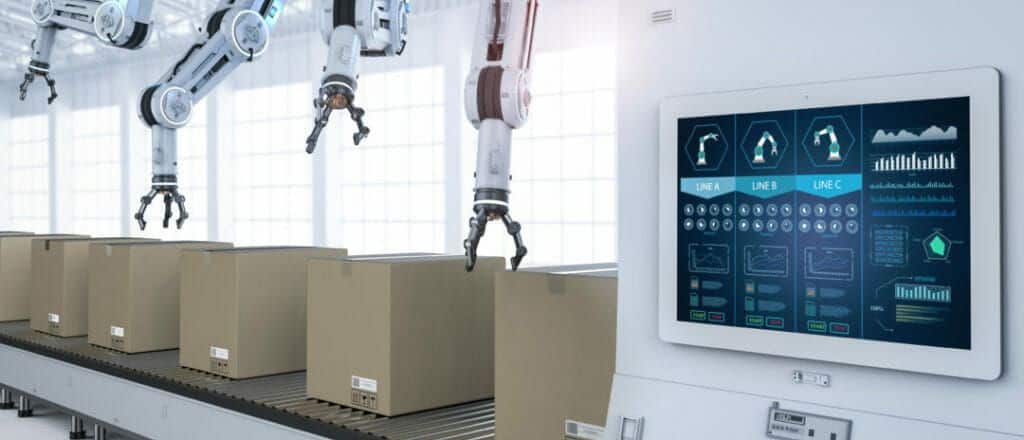 Software development offers benefits to all businesses, such as food manufacturing. Today, food and beverage manufacturers must understand why they should invest in Enterprise Resource Planning (ERP) systems to their advantage.
Since it has multiple benefits, now is an excellent time to switch to Food Manufacturing Software. ERP software systems provide a variety of valuable features and functions that are invaluable for food production automation processes. Various companies already offer software, but choosing the software that works well for your company is essential.
Food Production Software Benefits
The implementation of an integrated ERP system during the production of food results in several beneficial business outcomes. Let's take a more in-depth look at the advantages of ERP software to the food manufacturing sector so that you can determine whether or not this is the best course of action for your company.
The implementation of ERP software is beneficial for any type of company. Those working in the manufacturing sector will find it a very helpful resource. This is because it offers various helpful functions and essential features when managing perishable stock. These include batch tracking and traceability, predictive stock management, quality assurance monitoring, and warehousing applications.
How Food Production Software Overcomes the Food Production Challenge 
Food production is the primary driver of industrial growth, with rapid technological advances making consumer demand materialize. Technological advancements and consumer demand will continue to change and increase so that food manufacturers utilize the latest technology to control their production processes.
With ERP software that will be your solution in developing this manufacturing industry. The following describes how Manufacturing Software will address the challenges of food production:
1. Accounting and operations
The integrated ERP system provides a solution for managing inventory, sales, purchasing, and production, so this system will also reduce human errors, including duplicate data entry, which is usually completed manually.
The accounting system will monitor the company's financial condition whenever and wherever you are. Starting from cash flow, revenue to expenses can be monitored in real-time. What's more, the various features of Manufacturing Software can increase the efficiency and profitability of your business operations.
2. Lack of scalability
ERP solutions with integrated quality control functions can provide food manufacturers with control over their supply chains and access to relevant quality control data. This software will streamline the control of the management of manufactured goods. So with this software, you can maximize your production.
3. Short shelf life, Production order data, and Lot tracking
Food production is very important to pay attention to estimates of how quickly a product needs to be consumed. Paying attention to expiration due to the short shelf life is very important.
An ERP system provides a solution for you to efficiently track your products and can help reduce spoilage, track expiration dates, and send timely notifications when stock levels drop. Asset Management System enables end-to-end tracking of goods condition for each product material accurately.
4. Warehouse management
A must for food producers to have efficient warehouses to ensure food safety for further business growth. Stock tracking is not only crucial for loss prevention but also crucial for meeting customer demands. With Inventory Management, it is easier to manage thousands of SKUs or manufactured goods and track stock availability, improving the accuracy of stock movements.
5. Labeling
Utilizing their integrated labeling capabilities, food ERP solutions promptly supply producers with essential labels while assisting them in complying with applicable requirements. Integrating labeling and production guarantees that a specific batch of items has the correct label for the client.
Also Read: 7 Common Manufacturing Challenges & How to Overcome Them
Food Production Software Examples
HashMicro is one of the best examples of food production software integrated with the ERP system in Singapore. HashMicro's software is one of the company's primary products and services for use in Hash Manufacturing Systems.
It offers various features for the software you use for food production. You will be able to convert the manual operations of your business into automated systems if you utilize the benefit of the many different software modules available to you.
Manufacturing, procurement, sales and customer relationship management, human resources, and accounting are some of the features that HashMicro offers. You can accomplish high productivity and monetary success by utilizing HashMicro's leading Manufacturing System.
Conclusion
Food manufacturing in today's world is essential in determining the track of future expansion in food production. On the other hand, food manufacturers frequently encounter difficulties during manufacturing, particularly while establishing their businesses.
Now is the time for the food business to work together with technological advances, which are now happening. Your food production company could benefit from manufacturing software with features and a wide variety of practical purposes.

Hash Manufacturing provides various useful features and integrations for your manufacturing company. This will be quite beneficial if you want to create a food business. However, the company must have a simplified management process. One of them is using Singapore's top Hash Manufacturing System to manage your company's operations automatically. Contact us now and get a free demo!