Quality standards, consumer choices, and online grocery shopping are all changing all the time. To stay in business, supermarkets must change to keep up with the changing trends. Digitalizing the system is one of the solutions that supermarkets can do. At the same time, finding the best ERP for supermarket management systems is hard.
Many businesses are moving their business systems to the cloud to lower their operating costs and make them more competitive. So, we made a list of some of the best software for supermarkets so that companies can stay ahead of the competition and meet the ever-growing needs of the market. Choose the right supermarket management systems to grow your business, make more money, and cut costs.
Table of Content
1. HashMicro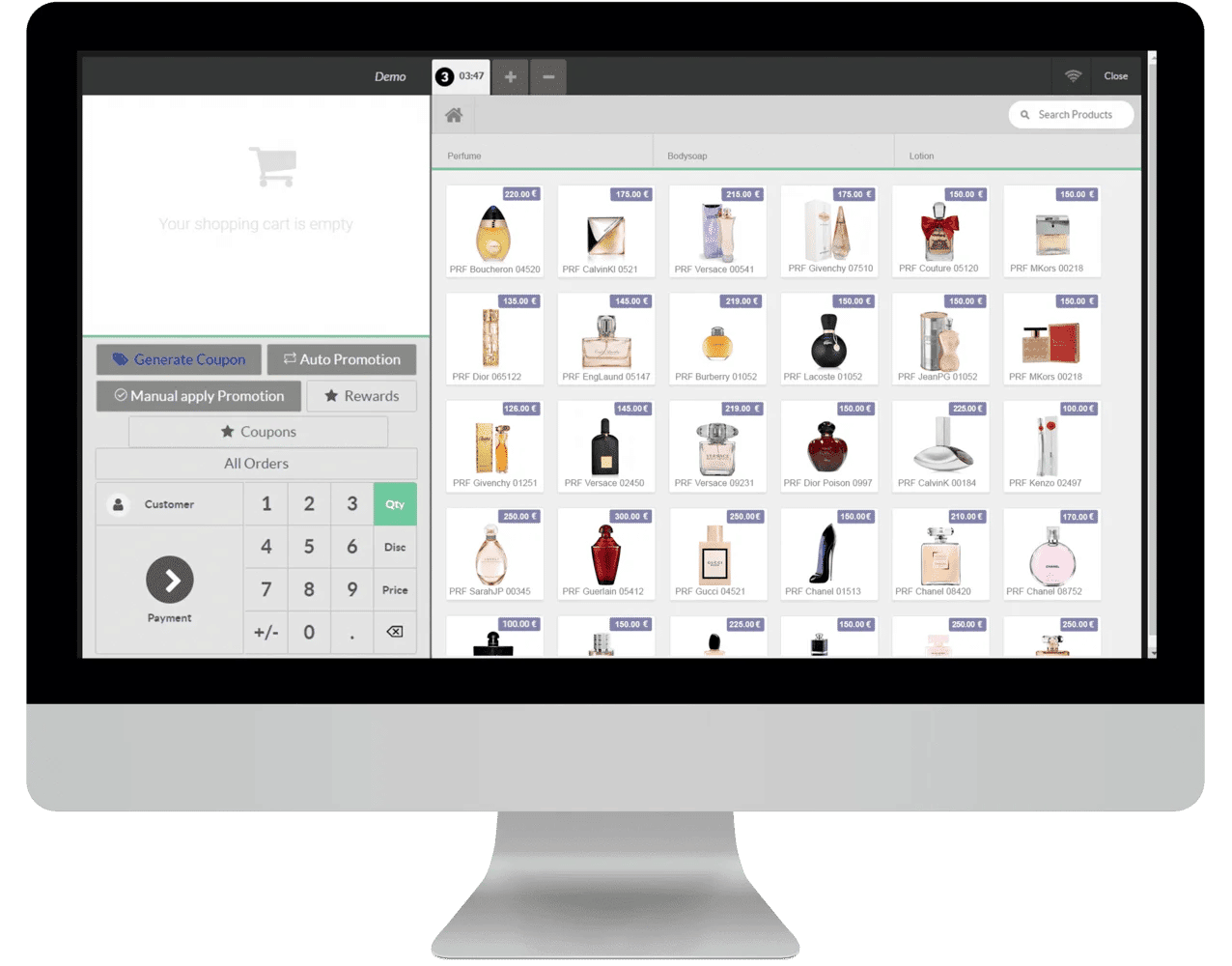 The HashMicro Point of Sale Software is a full solution for many different kinds of businesses. So, both SME and enterprise-level businesses can use the system. HashMicro is also built in a way that lets the company that decides to use it choose which modules to use. Then they can change how much money they want to spend on software. HashMicro's prices aren't too high, especially since one of their main markets is SME businesses.
HashMicro POS system is software for supermarkets and other retail businesses that helps them run more efficiently. It is the most complete supermarket management systems for improving stock control, employee productivity, customer management, and keeping an eye on the company's finances. HashMicro POS Software can change to meet the needs of companies, no matter how big it is. 
HashMicro also makes their software's user interface look nice and easy to use. It is a system that can help companies in the retail industry streamline many of their business processes. With the help of HashMicro POS Software, you can automate many tasks that used to be done by hands, such as bookkeeping, purchasing, marketing, customer management, and more. With HashMicro POS Software, companies can reduce the chance of making a mistake by using the system's automation features.
2. Netsuite Supermarket Management Systems
NetSuite software is an online service that lets businesses handle all of their most important business tasks in one place. The service doesn't require a big license fee upfront, maintenance fees for hardware or software, or a complicated setup. Companies use NetSuite for enterprise resource planning (ERP) to manage their inventory, keep track of their finances, host e-commerce stores, and manage customer relationship management (CRM) systems. This platform is flexible enough to be used for a wide range of business purposes. 
NetSuite has options for customization, global compliance, and a wide range of features. Their software has a huge number of features and functions. Companies won't have to worry about outgrowing it because the features will grow and change as they do. It works well for medium-sized and large businesses that offer a wide range of products and services. The software works best when all of its modules are actively running and working together. One worry is that it might be harder to learn than expected.
3. Epos Now Supermarket Management Systems
Epos Now is a company based in the UK that focuses on POS systems for the hospitality and retail industries. It has worked with more than 30,000 businesses. With a cloud-based POS system provider, Epos Now offers a variety of POS system solutions. Started from complete systems with software and hardware to smart devices that run on specific software or standalone software that companies can load onto their device. In addition to supermarket management systems, it has several other features, such as reporting, back-office functions, security and inventory that can be changed, and employee and customer relationship management. 
Epos Now says that its POS system is the easiest in the world and that it only takes 15 minutes to learn how to use it. Plus, it has phone support 24 hours a day, 7 days a week, and unlimited coaching and training. It works both online and offline, so businesses can still be operating when there is no internet connection. Also, the system can work with more than 80 other applications and programs, giving businesses more options.
4. Traqq
Traqq is a program for monitoring employees that efficiently keeps tabs on worker output and attendance by taking background screenshots and automatically taking snapshots of their workstations. The platform is offered in its beta edition and is entirely free. Because of its small weight, it does not trail behind or interfere with staff productivity. Even when a worker is not logged in, it may monitor and track. Once the staff has a reliable internet connection, automatic syncing will start. It is perfect for human resource management in startups and companies with a little workforce. 
The Traqq toolbox includes sophisticated tracking features that can track even mouse and keyboard activities and operates whether an employee is online or offline. Additionally, it enables the efficient management of an infinite number of teams. This tool tracks the user's productivity while automatically keeping track of working hours. Companies can see how many hours a person works each day, week, or month using its reporting tool. Additionally, the reports can be downloaded as a CSV file, simplifying billing. It instantly synchronizes payroll and invoicing spreadsheets with employee data. Strict ethical guidelines apply to all Traqq instruments. It doesn't keep any private or delicate employee data. 
Related article: 4 Proven Strategies to Improve Supermarket Supply Chain 
5. Lightspeed Retail Supermarket Management Systems
The computer gear and software needed for transactions are provided by Lightspeed Retail, a cloud-based point-of-sale system for retailers. Business owners may create product variations, track things across different locations, and order inventory via linked vendor catalogs thanks to its strong inventory management features. Chain apparel stores and other retailers with several locations are suitable customers for the product, which is suitable for more established small enterprises. A simpler, less expensive product might be more beneficial for young small enterprises with less complex operations. 
The analytics package is Lightspeed's strongest feature. As a senior manager, for instance, companies can invest a lot of time manually calculating their performance in Excel. But the analytics package is taking care of all of it. It is simple to view a company's inventory, staff, and marketing performance at any moment. Lightspeed is the most practical POS system because of the many apps that integrate with it.
6. Marg
Small, midsize, and large businesses all use Marg, which is an on-premise ERP system. It has different modules that retailers, distributors, and manufacturers in different industries can use to meet their specific needs. Customers, store owners, and suppliers can all use Android apps that come with the solution. Users can create, update, and share financial plans on Marg, such as pricing policies, scheme launches, and item-by-item pricing. It links together different business applications, keeps track of how things are done in different places, and makes a performance report for each branch.
Marg's modules include order management, purchase management, planning and costing for production, and inventory management. It also has a distribution module for pharmacy and other industries. Inventory management, reports, touch POS, barcode scanners, and integrations with e-commerce and logistics platforms are all part of the retail POS module. It also automates the sales force and gives reports on things like activity, attendance, daily sales, and so on. Other features include a financial account with reports from auditors, inventory management for multiple locations, and currency symbols.
7. Eazy ERP
Enterprise resource planning software like Eazy ERP is used to optimize and organize the daily operations of a manufacturing company. It takes care of the processes for inventory, purchasing, product development, logistics, sales, and inventory. Eazy RP is the first ERP software in India to work with Tally. This integration makes sure that financial management is better and that smart insight are used to improve how well a business does. It makes the best use of resources with its strong integration with TallyPrime, automated vendor scheduling, and cost calculation features. 
For purchase and production management, the system has powerful web-based authorizations and export documentation. Eazy ERP also helps improve customer service and align organizational goals with resources for a higher and faster return on investment (ROI). Its solution lets manufacturers keep all of their operational processes perfectly in sync. This helps them achieve operational excellence, which improves their customer service while cutting down on operational time and cost.
Conclusion
It can be hard to find the right sales app for your business. This is something that will help your business in the long run. When you start using the software, your business will start to change. The first thing you need to do is figure out what you need. Make a list of what you need and then compare it to what each vendor you meet has to offer. If your business is big, you should narrow down your options by choosing only a few vendors who have worked with big businesses before. On the other hand, you should choose vendors whose services fit your needs and budget. 
You also need to know a lot about the people who make your software. We suggest that you choose vendors who build their systems in-house to make the installation, customization, training, and maintenance processes easier. Also, make sure that the sales app you choose doesn't have any hidden fees. That way, you'll know right away how much you'll have to pay. HashMicro gives people who are looking for supermarket management systems or other business apps free consultations.