The best ERP web application software often has features that help you to have total visibility of all company areas, which may assist businesses in automating their everyday operations. Additionally, businesses may increase production and efficiency with this cloud-based ERP solution. You can optimize your business procedures with an integrated ERP web application.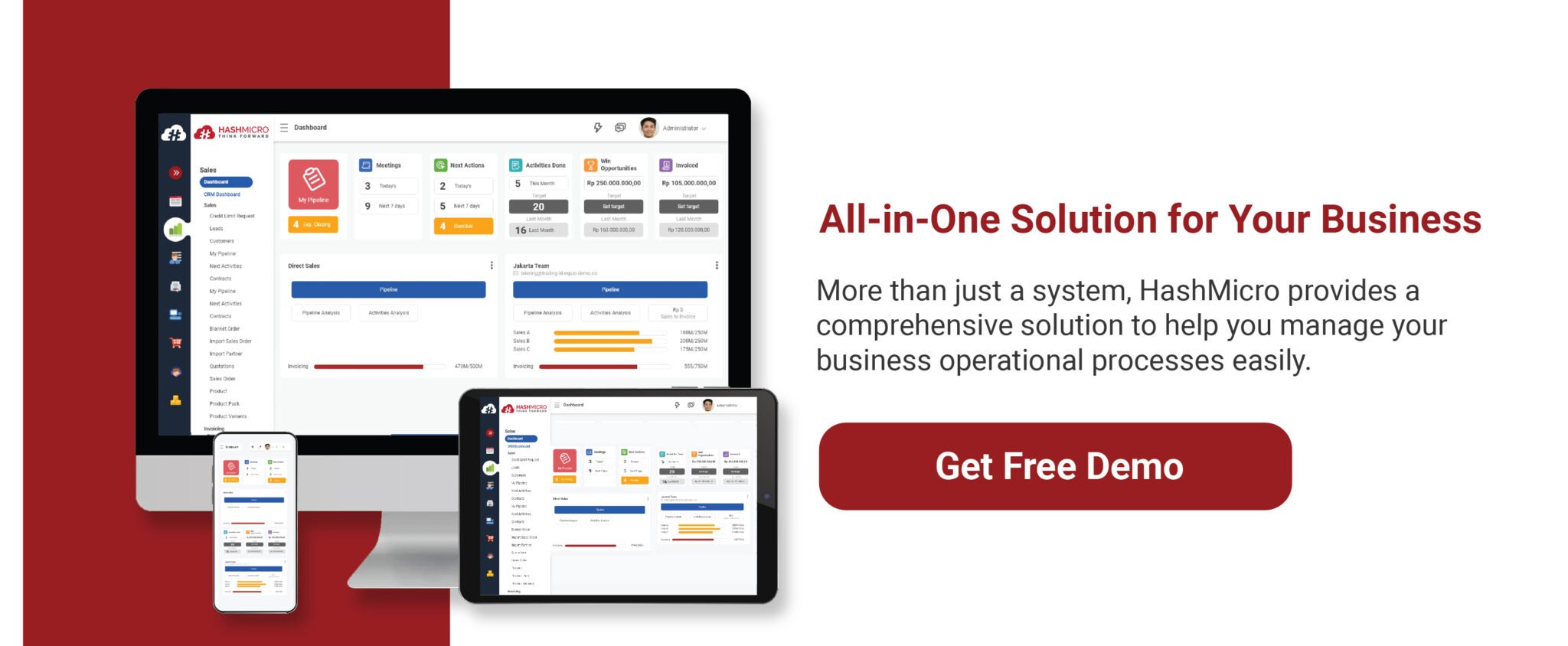 Table of Content
Choosing between on-premise ERP and cloud-based will be among the most important considerations when selecting a new enterprise resource planning (ERP) system. ERP solutions that are cloud-based are more prevalent than ever. Nearly all ERP vendors now provide a cloud-based option, and some have completely abandoned their on-premise ERP services. However, there are still many reasons a small or midsize company could decide to use a conventional on-premise ERP system, which, until recently, was the industry standard in the ERP market.
Also read: ERP System Benefit for Your Business Company
5 ERP Software for Your Business
ERP software comes in various forms depending on the demands of the company's operations. Therefore, it is preferable to first learn about your business's top 5 ERP Software providers in Singapore. Which one is ideal for your business? Well, that's up to you to decide, but this summary of the benefits and some recommendations for ERP Web Application Software should help.
HashMicro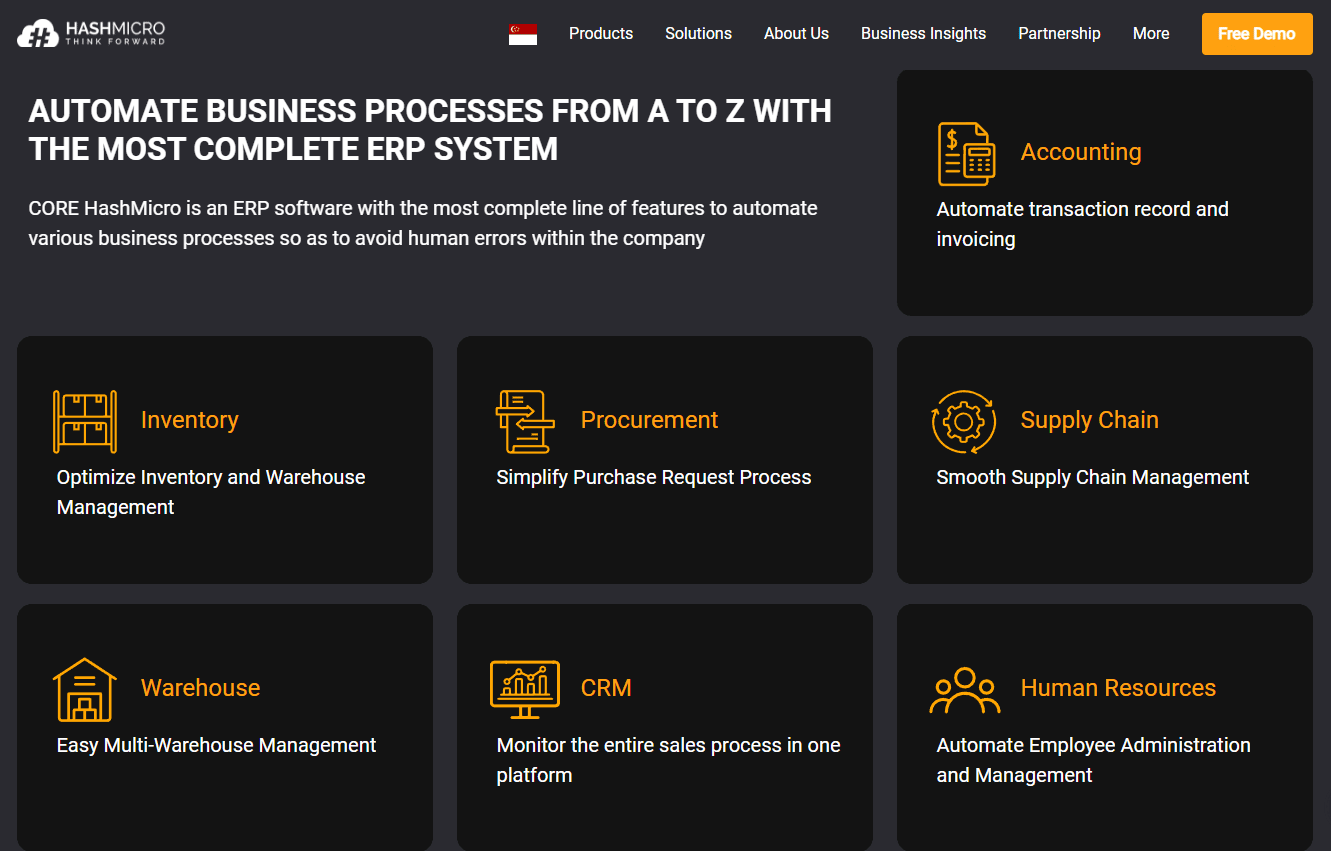 HashMicro has become one of the most reliable ERP vendors in Singapore, with 15+ years of experience providing business automation solutions. We feature HashMicro because of its scalability when implemented in mid to large enterprises. Over time, we observe that more and more companies trust HashMicro to automate their business operations. It provides great flexibility and integration to adjust the ERP System with companies' workflows. 
The industries that HashMicro serves are various, and we hear that it is currently building the system to apply to wider industries. It also invested heavily in robust modules that work well if purchased individually. It comes with advanced reporting, a user-friendly interface, and unlimited users. 
HashMicro also comes with strategic implementation plans, reducing the risk of implementation failure and optimizing ROI. You can also get up to 70% of EDG grants. Furthermore, you can get the software pricing scheme calculations before implementing them in your business. 
SAP ERP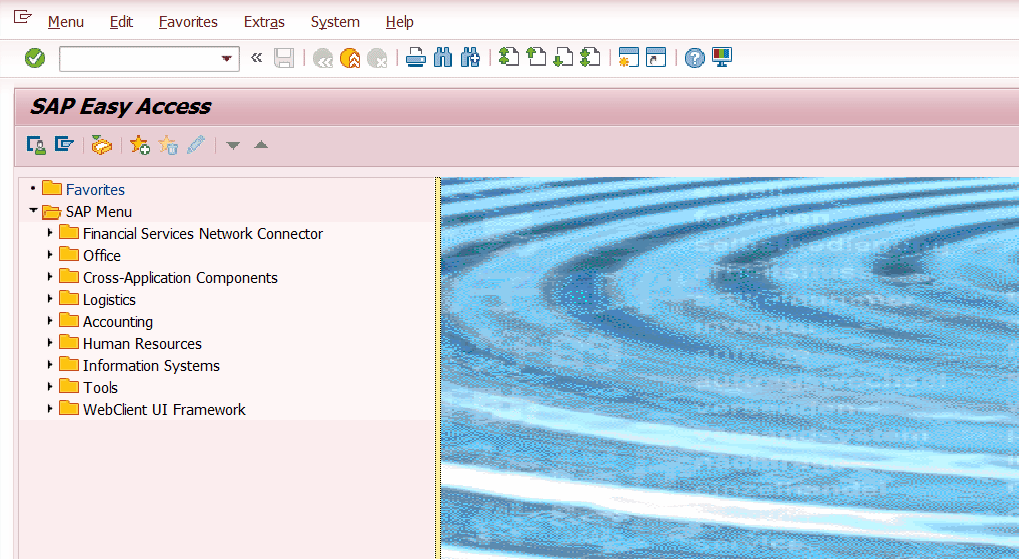 The original name for SAP, translated from German, was System Analysis Program Development. The "SE" in the full corporate name, SAP SE, stands for Societas Europaea, similar to the U.S. term "Inc."
SAP is a multinational software vendor and the market-share leader in ERP. The company currently serves more than 180 countries and offers on-premises, cloud, and hybrid deployment models, though cloud computing options are the focus of most of its development efforts.
System Application and Product in Data Processing, or SAP, is an abbreviation for a group of linked modules that serve as an automation tool for management, planning, monitoring, and production in a business. This program can automate all monitoring chores and display data in real-time, enabling rapid and accurate business choices aligned with objectives.
Dynamic 365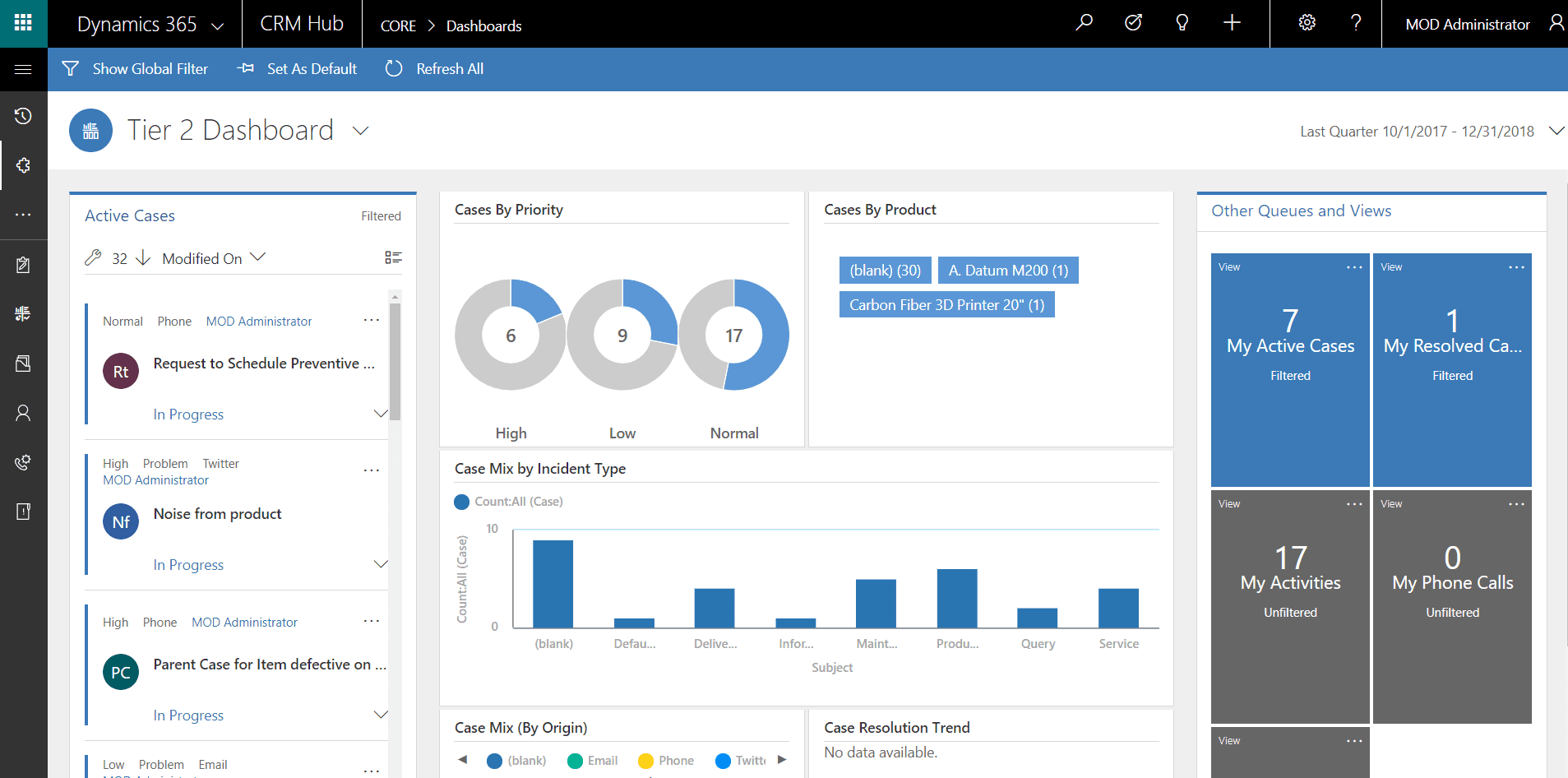 Microsoft Dynamics 365 combines ERP software (Enterprise Resource Planning) and CRM software (Customer Relationship Management) with Power BI reporting capabilities and AI.
Dynamics 365 consists of many intelligent business programs, also called applications, that help you manage processes within different business areas, such as sales, service, marketing, finance, project management, and HR.
Since all Dynamics 365 apps are based on the same common data model, it allows users seamless integration between all applications. Using a standard API, the common data model also integrates with other Microsoft products, such as Office 365 and non-Microsoft products.
Oracle NetSuite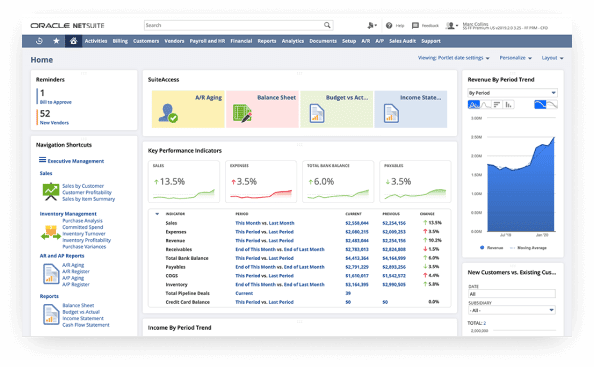 Founded in 1998, NetSuite is one of the pioneer cloud-deployed software based in California, United States. In July 2016, Oracle acquired NetSuite to form Oracle NetSuite. Businesses use NetSuite for HR planning, inventory, financial oversight, hosting e-commerce, and customer relationship management. This flexible platform is also mobile-friendly. Users can access it on Android-based gadgets through the Google Playstore.
Oracle is a very well-known provider in the world. However, many companies complain about oracle software that is difficult for them to use. In addition, Oracle also often experiences problems and unlimited users. Companies must buy back oracle software when they want to give employees software access.
ERPNext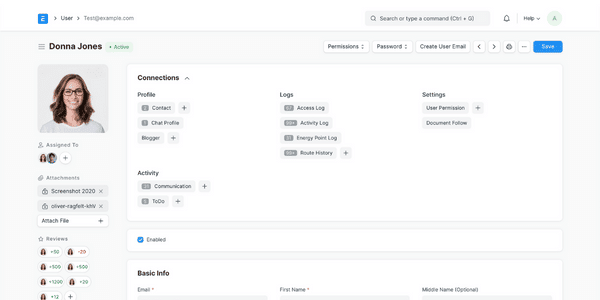 ERPNext is a free and open-source integrated Enterprise Resource Planning software developed by Frappe Technologies Pvt. Ltd. and is built on the MariaDB database system using Frappe, a Python-based server-side framework. It is a web-based open-source ERP first created by ERPNEXT, an Indian programmer, Rushab Mehta. Typically, service businesses, manufacturers, and distributors use ERP software modules. Some examples of modules are accounting, CRM, sales, purchasing, website and e-commerce, manufacturing, warehouse, comprehensive project management, and inventory. This system provides many conveniences for business actors, ranging from micro, small to medium scale large.
Web-based ERP vs Cloud-based ERP
Web-based ERP Software
A web-based ERP system provides access to the desired modules of an ERP solution or the entire ERP solution over the internet without having any hardware or software at the user's end. The service provider will provide you with a username and password that will allow you to access the ERP system via a web browser over an HTTPS connection. The physical location of the web application and database is completely irrelevant because they can be kept on-site at the company's facility or the vendor's data center. A web-based ERP solution DOES NOT need the installation of any program or communication software on the local computer. Like a web page, any client can access the program from any location by clicking the link.
There are two ways to sell an ERP web application:
Under a traditional software licensing model (per named user, concurrent user, module, etc.).

Under a Cloud-based subscription model, where monthly usage charges apply. Web-based ERP solutions are flexible as they can be run from anywhere and on any internet-enabled device.
Also read: ERP Solutions
Cloud-based ERP software
A cloud-based ERP system is a full-suite solution with all the required ERP modules, where the user pays a monthly charge based on how the company utilizes software and hardware. Using the advantages of ERP is essentially the same as leasing the vendor's gear and software. The vendor's servers or a third-party infrastructure house the software and database for cloud-based ERP, accessible by a remote desktop connection on a computer, tablet, or mobile device with an internet connection.
Cloud-based ERP vs On-Premise ERP
Cloud-based ERP systems are more common than ever before. Today, nearly every ERP vendor offers a cloud deployment option, and some have ditched their on-premise ERP offerings altogether. But there are still several reasons why a small or midsize business might choose a traditional on-premise ERP system, which, until recently, was the norm in the ERP space.
Which one is right for your organization? Well, only you can make that decision, but this rundown on the pros and cons of each should make it easier. By knowing the advantages and disadvantages of each type of ERP system, business owners can determine the best fit for their SMB, allowing for a more informed allocation of resources and a more efficient ERP solution. Here is a useful comparison table for the two deployment choices: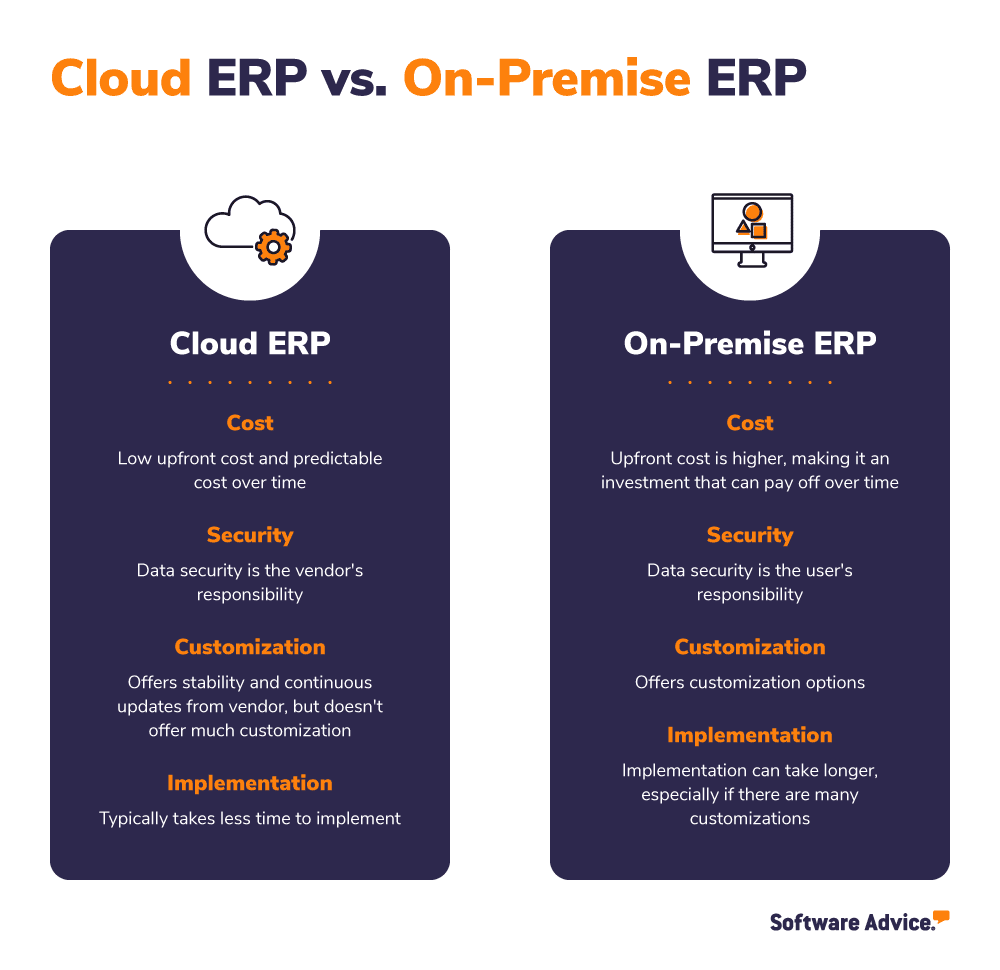 Benefits of Automated ERP Web Application
There are a lot of advantages that you can reach by using this software. Companies most likely use ERP for various objectives, including increasing their business, lowering expenses, and enhancing operations. Integrating and automating corporate processes reduces redundancy, increases accuracy, and boosts output.
ERPs enable businesses to instantly obtain data for clients, vendors, and business partners, resulting in higher customer and employee satisfaction, faster reaction times, and higher accuracy. The departments also allow the employees to see how each division contributes to the company's mission and vision. The departments can better interact and share information to boost productivity and employee satisfaction. This ERP system benefit will surely help and provide companies with the most useful ways it offers. 
ERP's Advantages
There are many advantages of using ERP software for various types and sizes of businesses in different industries, such as manufacturing, retail, wholesale, food and beverages, real estate, construction, etc. Even there are also benefits of ERP in the healthcare industry. Here are some of the most important business advantages of ERP web application software:
 Business reporting enhancement
The business is also able to analyze the progress of different projects. ERP software allows a business to compare other functions across various departments. Now, there is no need to write several emails and maintain spreadsheets. A company can make a report easier with ERP software.
Provides better customer service
Customer data is more easily accessible to the system with quicker response times and improved on-time delivery and order accuracy. In other words, ERP systems will help your customer access accurate and updated data and improve your customer care relationship with your company. ERP helps a business maintain up-to-date information and generates real-time data updates.
The system has also already improved inventory planning, procurement management, management of vendor relationships, and the betterment of customer service. You don't have to worry about the mingled part of having multiple data storage locations along the way. With its help, you can easily manage and maintain the data from various projects with this platform. It will save a lot of money on your expenses for arranging your multiple data storage.
Better data and cloud security 
The system dedicates security resources to data and cloud security. This can be a problem for businesses that have multiple data storage locations. So, it should avoid installing harmful software and can distribute data from various servers. You can avoid the problem using effective ERP software because it improves the security consistency of each data. In addition, you can manage and maintain your data all at once. It will simplify your business process and boost productivity in all business activities.
Also read: Choosing The Top Cloud ERP Vendors
Conclusion
For companies of all sizes, there are more ERP alternatives than ever when selecting a new ERP system. This software is now more affordable for SMBs thanks to cloud-based deployment strategies, but these systems have several limitations and significant security risks. These top 5 ERP programs in Singapore have established their worth. Additionally, they are operating in Singapore and close to nations like Malaysia, Indonesia, and the Philippines.

Our offering, Cloud ERP Software from HashMicro, may be used to automate various business processes and is appropriate for multiple business models. Please talk to a reputable business software professional about your needs. For customers searching for robust ERP software or other automated solutions, such as integrated Manufacturing Systems, HR systems, and many more, HashMicro offers a free consultation. Learn about ERP software and contact our customer care representatives to discuss your company's needs.