Human life's sustenance relies on food consumption, making it a fundamental necessity. As such, it is no surprise that there has been an increase in consumer demand for food. In order to cater to the needs of customers, it is essential that food manufacturing processes are streamlined to prevent any delays. For this reason, the implementation of a food manufacturing automation system is crucial to ensure smooth operations.
Food Manufacturing Automation Challenges
Every business faces its own unique set of challenges that must be overcome to thrive and succeed. For businesses in the food manufacturing industry, there are several challenges that are important to be aware of, such as:
Deliver the highest quality products
One of the main challenges in food manufacturing is the variation in raw materials and human errors. The quality and flavor of raw materials can vary depending on various factors. Meanwhile, human error can occur during manual handling. This makes businesses struggle to ensure consistency and quality in their products.
To tackle this challenge, food manufacturing automation has emerged as a game-changer in the industry. By using automation, businesses can minimize the impact of such variations by precisely controlling the manufacturing process to maintain consistent quality.
Comprehensive visibility into operations across different locations
Food manufacturing businesses often operate across multiple locations, which can present challenges regarding visibility into operations. Traditionally, businesses would need to visit each store or location individually to get a sense of operations on the ground. This can be time-consuming and may not provide a complete picture of operations. 
Food manufacturing automation aids businesses in overcoming this challenge by providing comprehensive visibility into operations across different locations. Automation technologies can be used to collect data in real time from different locations, allowing businesses to monitor operations remotely and identify trends and issues as they arise.
A single system with a centralized source of information
Food manufacturing involves many processes that generate a large amount of data. Often, data related to different aspects of the food manufacturing process is stored in separate systems or databases. This can create data silos, where it is difficult to get a complete picture of operations or to identify trends and insights across different parts of the business.
With Hash Manufacturing Software's single-system solution, you no longer need to worry about this issue. You can now access and save data in one dashboard, enabling centralized data and information management. This streamlines the process and makes it easier to locate important data when necessary.
Food Manufacturing Automation Benefits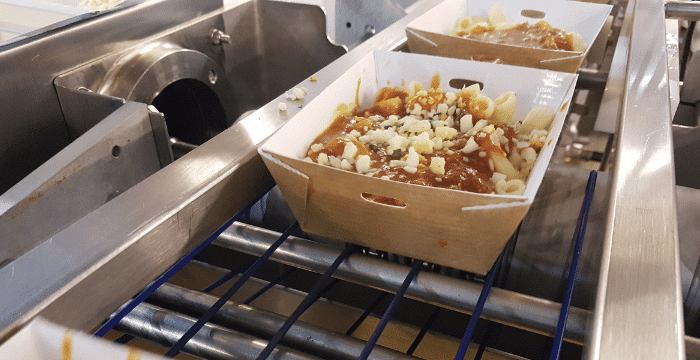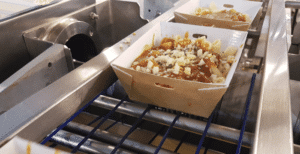 Food manufacturing automation benefits businesses in many ways, including: 
Enhances forecasting and production planning
Anticipating the availability of raw materials is crucial prior to food production to avoid any potential material shortages during the manufacturing process. In order to meet the needs of consumers, it is essential to optimize material planning while also maintaining production timelines to avoid delays. Coordinated manufacturing planning can be employed, such as setting a deadline for the production and packaging of food.
Furthermore, the manufacturing plan feature of the manufacturing system enables more efficient management of manufacturing orders. Automating the food manufacturing process allows for adjustment of food production based on demand, production capacity, and fluctuations in the supply chain, leading to a more effective and streamlined production process.
Helps maintain quality and safety
When it comes to buying a product, consumers primarily focus on the taste and quality of the food. If the flavor and quality of the food do not meet their expectations, they are unlikely to make a purchase. Therefore, it is essential to monitor the production process in order to ensure the highest quality of products. 
Businesses can achieve this benefit by closely monitoring the work of employees and encouraging them to report on all job progress, including any issues that may arise during production. This includes equipment damage or safety concerns. By using self-manufacturing kiosks for real-time and independent reporting by employees, you can ensure that no progress is missed and any problems can be addressed promptly.
Boosts sales
As sales volume increases, so does profitability. To achieve significant profits, food manufacturing automation can play a crucial role in boosting sales. By integrating sales systems and CRM management, this system facilitates faster closing of deals with top customers. This streamlined process can help increase sales and ultimately lead to increased profitability.
In-depth report
Accurate and comprehensive reports are crucial for the success of any business. These reports provide valuable insights into the growth of the company. Furthermore, they can use it to evaluate their businesses' performance and make informed decisions for the future. Food manufacturing automation provides this benefit through automatic, comprehensive, and accurate reports. 
This system eliminates the need for manual compilation of reports, providing reliable and up-to-date information for making smart decisions. By utilizing the existing and dependable facts, automated reporting can offer a new and efficient way of managing your business operations.
Also read: Why Food Manufacturing ERP Software is Critical for the Food Industry
Hash Manufacturing Automation from HashMicro
Hash Manufacturing Automation from HashMicro offers a comprehensive manufacturing cloud system that enhances your business's profits and productivity. With its advanced features, there is no need for additional time or chaos in the production process. This system allows you to increase productivity and streamline the entire production process by integrating data that users can access automatically and in real-time. 
The system enables you to make precise raw material forecasts based on sales history data, thus satisfying customers' needs. By implementing Hash Manufacturing Automation, you can significantly improve your food manufacturing process and achieve greater success in your business operations.
Conclusion
The food business involves various processes and needs to meet customers' high demands. Ensuring the smooth coordination of these processes can be a challenging task for food manufacturers. By automating tasks, such as production scheduling, inventory management, and quality control, food manufacturers can reduce errors and improve their operational efficiency.
With the right ERP system, such as Hash Manufacturing Software, food manufacturers can take advantage of advanced automation capabilities and robust features to optimize their operations. You can stay ahead of the competition by utilizing it and get up to 50% off on Productivity Solutions Grant.