Enterprise resource planning or ERP refers to a type of software that organizations and companies use to manage business activities. This includes project management, accounting, risk management, human resources management, supply chain operations, and many more. No only that With the right ERP software, you are able to boost your sales team productivity, especially with the most complete Sales Management System in Singapore.
ERP allows you to manage the overall process of your business activities efficiently. ERP helps reduces processing time, increases collaboration and secures your company's data with a centralized data system. This will significantly help your company to grow and progress. This is why 95% of business that uses an ERP system reported massive improvement. Currently there are more than 50.000 companies in more than 120 countries that implemented ERP in their business operations
Choosing the right ERP software is crucial for your businesses, organizations, or institutions. The right ERP software will increase productivity, optimize the workflow, and ultimately reduce the overall cost of business management. you can also choose the right ERP vendor after calculating the ERP software pricing scheme. This article will help you quickly compare and evaluate the top 5 best ERP software on the market. 
Download Now : Free HashMicro's Best ERP Software Pricing Scheme Calculations
Table of Content
1. HashMicro ERP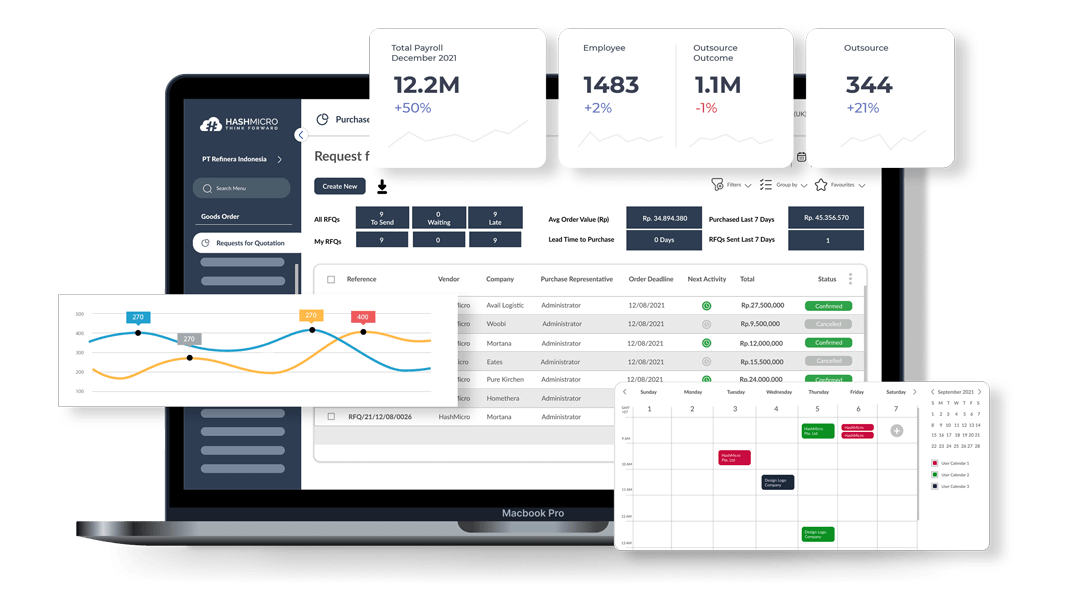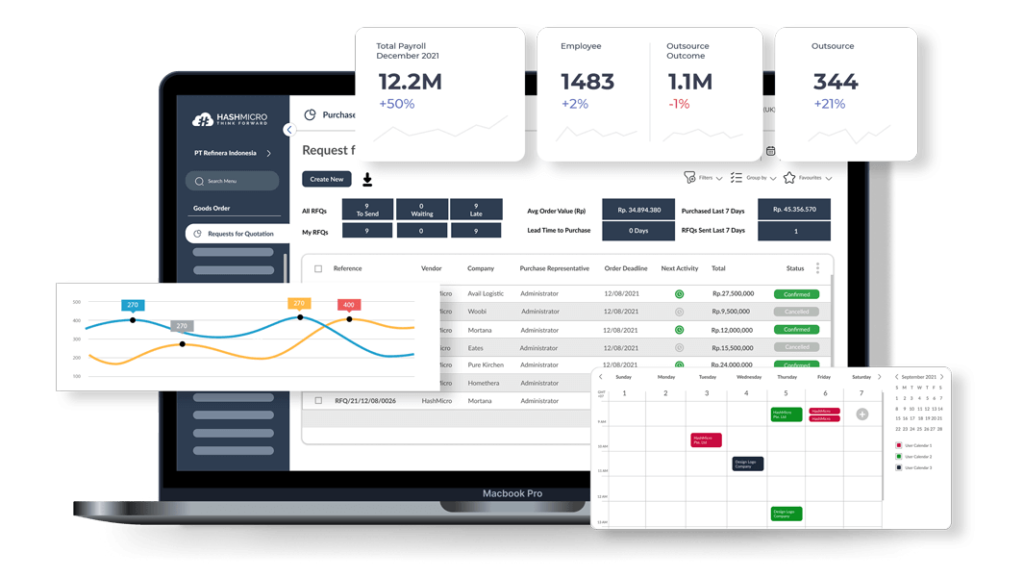 Hash CORE ERP from HashMicro is the best ERP solution to integrate and simplify all business processes. This software can help various business scales in all operational activities ranging from human resource management, tax payments, accounting, bookkeeping activities, inventory management, procurement systems, CRM to maximize sales and customer satisfaction, and supply chain management activities, all in an integrated, end-to-end, secure system.
This software is also fully customizable to suit the needs of various industries with their individual needs, allows an unlimited number of users, and is also easily integrated with pre-existing software and systems, making it the perfect software if you need to maintain a unique set of management systems and workflow in your companies.
HashMicro ERP software has been used in multiple industries, including manufacturing, retail, F&B, trade, government institutions, finance, and many more. With clients ranging from Danone, UOB, Forbes Industries, to Singapore Ministry of Education and clients from multiple countries in Southeast Asia such as Singapore and Indonesia, HashMicro ERP software is the best choice of ERP software for its customizability, wide range of services, and prestigious clients currently using it.
Download Now : Free HashMicro's Best ERP Software Pricing Scheme Calculations
2. Microsoft Dynamic 365 ERP
Microsoft Dynamic 365 is a product line of ERP software by Microsoft. Unlike other ERP software in the market, Microsoft offers multiple product bundles based on your needs. The categories include:
Marketing
Sales
Customer Service
Operations
Field Service
Finance
Commerce
Human Resources
Each one comes with different apps as a product suite. For example, Human Resource products will only provide software related to Human Resource Management. 
Most packages require a minimum number of licenses to purchase, usually 10 or 20 license minimum. Also, the licensing guide and requirements are rather complex to navigate and understand as it has many different individual products. It also requires your company to adapt to a Microsoft ecosystem. This makes it difficult if your company's primary operating system and software are not from Microsoft. This option is the best solution for businesses that want to buy in bulk and already have a Microsoft ecosystem.
3. Compiere
Compiere is a comprehensive, open-source ERP platform used by retail, distributors, publishing, manufacturing, healthcare, government, and many more. However, it is more suitable for wholesale and distribution companies, as they will gain immediate access to suitable modules. Instantly available modules are purchasing, accounts receivable, invoice, warehouse management, and order management. 
While it is suitable, some features require adjustments from your company's IT team, such as legacy warehouse inventory management systems. Compiere also leaves only a little room for third-party add-ons and instead offers a suite of modules. While it is possible to integrate Compiere with SQL-based add-ons, this requires an extra amount of time and work. If you integrate Compiere with some third-party SQL-based tools, it can export to various file types, including Excel, HTML, Word, XML, text, PDF, and postscript.
The User-Interface and User-Experience or UI/UX of Compiere is also very outdated, making it a less enjoyable experience for users. It is suitable for companies searching for stability, which does not have a constantly changing business process. This is also suitable if you wouldn't mind having slightly outdated features and looks on the software.
4. Odoo ERP
Odoo is a fully integrated, customizable, open-source ERP software packed with hundreds of expertly designed business applications. Odoo's intuitive database can meet most business needs, such as CRM, Sales, Project, Manufacturing, Inventory, and Accounting, to name a few. Odoo is an all-in-one software solution designed to meet the needs of companies, regardless of their size or budget.
Odoo is suitable for you if your company has an excellent IT and software development team, as it requires a few adjustments and is not ready on the fly. However, due to its open-source nature and high amount of integration options with third-party software, it is relatively easy to find resources and the suitable modules and features that your company needs. 
Another thing to note from Odoo is the amount of time you need to set it up according to your company needs, as your software development and IT team will do it, and not from the service providers, with updates on features and modules not available regularly as this is an open-source project. This software is suitable if your company has dedicated software development and IT team who constantly experiment with or change your business process. 
5. Sage300
Sage 300 is an ERP software solution offered by Sage and is designed for mid-market companies. This software is capable of various business processes, from managing finances to operations and inventory. Sage 300 simplifies the financial aspect of your company and is an excellent choice for businesses that are managing multiple currencies. Sage is also suitable for various companies if you have subsidiary companies or franchises.
One of the top features is the ability to manage vendor relationships. You can automate your purchasing process, orders, invoices, receipts, and returns, suitable for e-commerce or businesses with multiple branches. Also, If you decide on using Sage 300 for ERP, you will have access to a wide range of features in Sage's extensive product suite, such as Sage CRM, Sage Inventory Advisor, and Sage Payment Solutions.
However, with all those great features, Sage has limited customization options and most likely will require a dedicated IT team to optimize it correctly according to your business needs. It is also only suitable for middle-sized businesses as it has a limited number of features and a limited number of users allowed. If your business expands, you need to upgrade into another sage product, such as the Sage X3, making it unsuitable if your company is already big enough or on the path to expansion.
Conclusion
Each of these ERP software has its own advantages, and It is important to choose the one that suits your company's needs. HashMicro offers the best solution for your company's needs as it is highly customizable to suit your company's needs. It also has been serving solutions in various industries from F&B, Technology, Trading and Distribution, Retail Innovation, Manufacturing, Construction, Talent Management, Accounting, and many more. You can see more information about HashMicro here.
Tell us about your type of business and industry and we will offer you the best business solutions. If you want to get a free demo of our tour product, click here!
Download Now : Free HashMicro's Best ERP Software Pricing Scheme Calculations