In this modern era, technology is not always about fancy and expensive high-end solutions. Additionally, everyone can start their technology journey by taking easy steps to automate existing processes and improve productivity. That's why Productivity Solutions Grant (PSG) Singapore comes.
The Productivity Solutions Grant (PSG) supports companies keen on adopting IT solutions and equipment to enhance business processes. PSG has been pre-scoped by various government agencies such as National Environmental Agency (NEA) and Singapore Tourism Board (STB). PSG comes as a solution that cut across industries, such as customer management, data analytics, financial to automate daily business operations and client satisfaction, and inventory tracking.
Table of Content
What Is PSG Grant Singapore?
Productivity Solutions Grant (PSG) is a strategic program by the Singapore government to simplify processes and enhance the productivity and operational efficiencies of SMEs in Singapore. PSG covers so many IT solutions for various industries such as retail, construction, and food. Not only that, but PSG also provides solutions in business management, processes, and systems, such as customer management, financial management, and inventory system to monitor stock transfers.
PSG supports companies that looking for IT solutions to enhance their business operations. Besides sector-specific solutions, PSG provides up to 80% of funding for approved e-commerce solutions. Additionally, with this, PSG is available as a solution for small to medium-sized businesses in their operational activities through the latest and most advanced IT systems.
Productivity Solutions Grant (PSG) Singapore Criteria
As per the latest announcement, in the Singapore budget 2021, the maximum support of 80% has recently been extended and the new ending date to apply is 31 March 2022. Applications of PSG must meet the following eligibility criteria at the point of submission through the Business Grant Portal such as:
The applicant must register their business in Singapore

The applicant must be either of the following:

an NEA-licensed: waste management company, cleaning company, or pest management company with existing contracts in Singapore,

a premises owner such as building and facility owners with an official certificate of it,

a tenant or lessee at a deployment location with a lease agreement at the stipulated location that is valid for at least 2 years from the date of application in BGP.

a managing agent representing the Management Corporation Strata Title (MCST).
The applicant of PSG must not have made any payment or signed or confirmed any contract or order with a supplier, vendor, or third party, Concerning the purchase/lease/subscription of the solution or equipment before the application.

Only available for a new user without any other equipment before. 

The solution or equipment only can use in Singapore.
The following entities don't qualify for PSG support:
Charities, Institutions of Public Characters (IPCs),

Religious Entities

Voluntary Welfare Organisation (VWO)

Government agencies and subsidiaries
Additionally, if you're an SME registered and operating in Singapore with a minimum of 30% local shareholding and looking for IT solutions you're eligible for the PSG. For start-ups with less than 6 months of the operating period, you can still apply for PSG.
Related Article: The Secret of Why Productivity Solution Grant is Important For Business in Singapore
Conclusion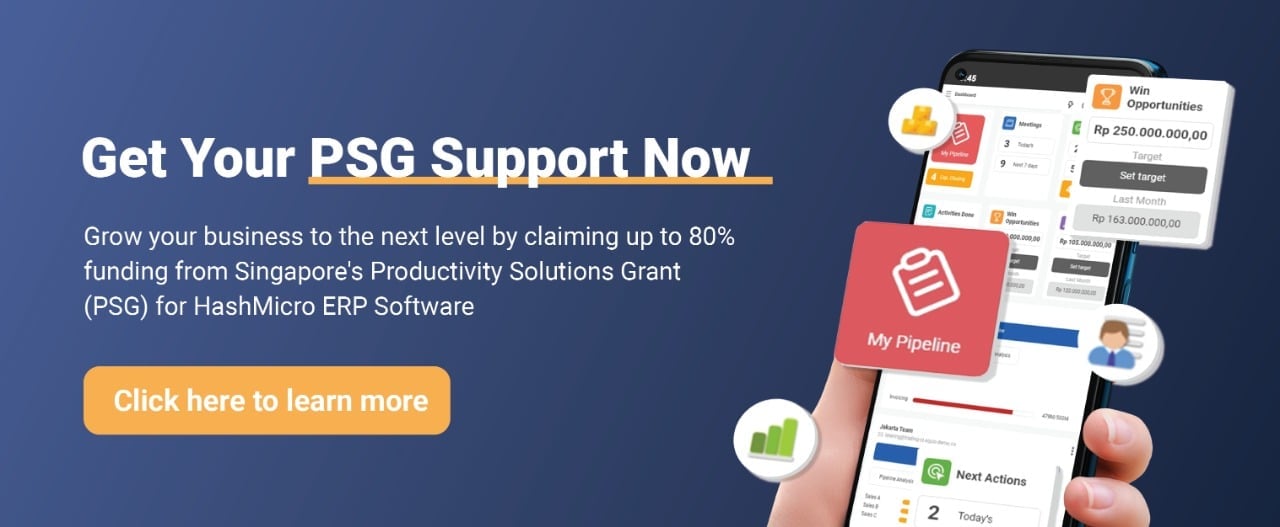 In our opinion, if your business requires a set of multiple digital solutions, we recommend you to sign up with a PSG vendor that provides a full suite of services. Hashmicro not only provides eCommerce solutions, but We also have other services that suit every industry. If you are SMEs looking for a PSG vendor, HashMicro is the perfect one for you. Kick-start your business growth by claiming up to 80% Productivity Solutions Grant (PSG) with HashMicro ERP Software!