Accounting software is one of the most important software for any business in Indonesia. There is not a business that does not manage finance and financial management in some companies can be very complex that the role of accounting software has become highly essential.

Not only making payments to suppliers or generating invoices for clients, there are still many other processes in accounting that need to be simplified such as tax management, bank statement reconciliation, accounts receivable management, and a lot more.

If you are currently looking for accounting software to automate financial management in your business, then you are reading the right article. Here is a list of top five accounting software systems in Indonesia that you can consider.
1. EQUIP
EQUIP is Singapore-based accounting software that has been developed by HashMicro since 2008. Although it is fairly new in Indonesia, EQUIP accounting app has been used by various companies from diverse industries in Indonesia, such as Astra Finance, The Face Shop, Hino Truck, Yokohama, and many more.

EQUIP accounting system is provided with so many advanced features required by companies to manage their financial processes, including invoice and payment management, credit and debit note management, localized tax management, financial report generation, multi-currency management, bank reconciliation, account management, and so on.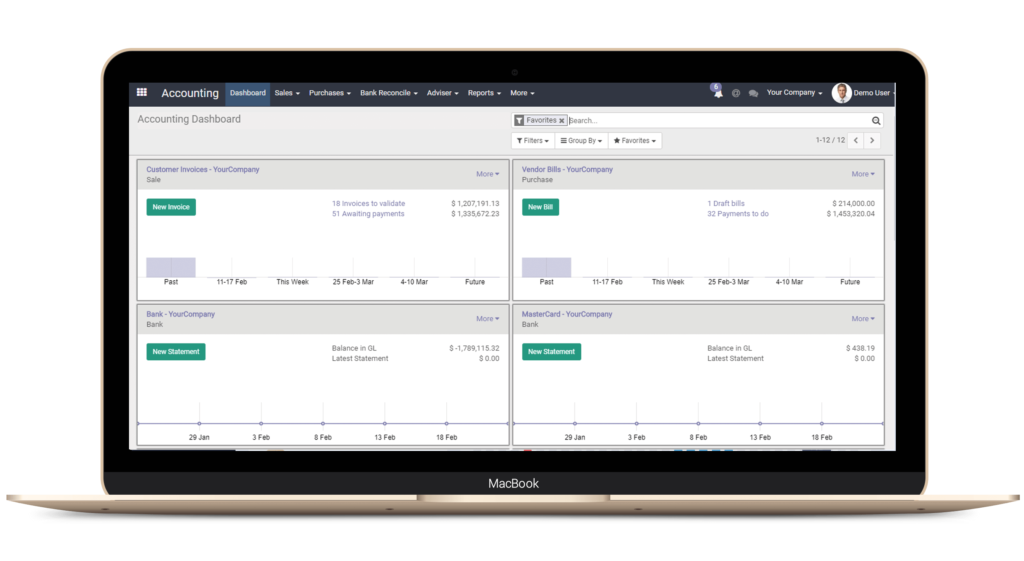 Other advantages of EQUIP accounting software is that it enables companies to forecast financial outcomes through the financial forecasting feature and makes it easier for them to track profits and losses across departments and even multiple locations.

In addition, unlike other well-known accounting apps in Indonesia, EQUIP Accounting offers unlimited licensing per entity so that it can be used by as many users as possible at no additional cost. The cloud-based and on-premise accounting system that is integrated with the payroll, sales, and inventory modules also offers convenience for users to customize it since it is developed in-house.
2. SAP
Who doesn't know SAP? The Germany-based software has more than 300,000 customers spread throughout the world, including Indonesia. Through S/4HANA Finance, SAP offers a cloud-based and on-premise automated solution for large companies in Indonesia to simplify their financial processes.

Some of the main features of SAP S/4HANA Finance are real-time financial reporting, accounts receivable management, credit management, financial planning, and budget management. Just like EQUIP Accounting, this software also has sophisticated reporting tools that make it easier for companies to forecast their future revenue and expenses.

SAP S/4HANA Finance can be integrated with SAPSuccess Factors to automate human resource management. In Indonesia, SAP S/4HANA Finance is more suitable for large-scale companies.
3. Zahir
Zahir is one of the oldest accounting software providers in Indonesia that serves various types of businesses. There are several types of packages offered by Zahir Accounting; Zahir Online for service and manufacturing business, Zahir Essential for distribution and trading companies, Zahir Professional for construction and manufacturing companies, Zahir Enterprise for large companies, and Zahir On Premise for large and medium-sized companies .

Some of Zahir's main features for small and medium businesses include sales management, purchasing management, accounts payable management, accounts receivable management, and cash management. As for enterprise companies, Zahir offers more features that include inventory management, warehouse management, and asset management.
4. Accurate
Accurate presents two types of accounting software packages for business leaders who want to automate their financial management, namely Accurate Online and Accurate 5 Desktop. Accurate Online requires customers to subscribe every month and stores the data in the cloud, while Accurate 5 Desktop requires users to purchase the software permanently and stores the data on local servers.

Accurate is more suitable to be used as a bookkeeping system for the back office, but this software can also be used to manage sales. Some of the main features of this software include quotation management, sales order management, delivery order management, invoice generation, and accounts receivable management. Although Accurate can also be used to read barcodes through a scanner, it is unable to print them.
5. Jurnal
Jurnal provides a cloud-based accounting software system that is more suitable for various small and medium-sized businesses in Indonesia. Without the initial installation fee, Jurnal financial app can be accessed from anywhere using the internet.

Jurnal provides a variety of important features such as complete and real-time reporting, invoicing, costing, inventory tracking, and asset management. This accounting app also allows users to connect their bank account to the app through the Cash Link feature.
Which Accounting Software Should I Choose?
With a lot of options at your fingertips, you may be confused about which accounting software you should choose. However, by making a number of considerations, you will be able to find the right accounting solution for your business more easily.

Two important things you need to consider are your business requirements and your budget. The more and complex your business needs, the more accounting software features you will need. The size of your business and the number of employees that your company has can also be factors that need to be considered.
Medium and large-scale companies with a large number of employees need accounting software that is customizable and integrable with various other modules, such as purchasing, inventory, HRM, and sales. Also, keep in mind that the more customizations needed, the more costs you will have to spend on an accounting system.

If you are still confused and have any questions related to the accounting software, you can ask the right automated solution provider. HashMicro, as the most comprehensive ERP and accounting solution provider in Indonesia will be more than happy to assist you.

Visit our website to find out more information about the accounting software and various other modules that we offer or contact us to get a free demo directly at your place.