Invoices are a part of the business. It is one of the most basic business processes. To run your business smoothly, you must understand the difference between standard and proforma invoices. Briefly, a proforma invoice is a preliminary bill of sale sent to buyers in advance of the goods delivery. The invoice will typically include the purchased items and other essential details, such as the shipping weight and transport charges. 
Table of Contents
Related article: The Difference Between Purchase Order and Invoice
What is a Proforma Invoice?
Proforma invoices are created and set before a sale. "Pro forma" comes from the Latin, meaning "for the sake of form" or "as a matter of form." So, what is it meaning? A proforma invoice is an initial draft or estimated invoice which the supplier uses to request payment from the committed buyer of goods or services before they are supplied. It includes a description of the goods, the total payable amount, and other details about the transaction. 
Essentially, it is a "good faith" agreement between a seller and a customer who has already committed to the transaction process, so the buyer knows what to expect ahead of time. Most proforma invoices provide the buyer with a precise sale price. It includes an estimation of any commissions or fees, such as applicable taxes or shipping costs. Although it contains exact cost details, it is not an official demand for payment. This invoice doesn't carry the same legal weight as the final sales invoice. Thus, businesses should not use it for accounting purposes or binding agreements. 
Difference Between Invoice and Proforma Invoice
Generally, an invoice is a detailed document listing goods or materials that a customer purchased. The vendor or seller is the one issuing an invoice at the purchaser's request, and it contains a complete description of the quantity and quality of goods sold, including their prices, terms of sale, etc. Simply put, standard invoices are distinct from what we call it. They contain pretty much the same information but serve different purposes. 
Meanwhile, a proforma invoice is often called a dummy invoice or a kind of quote. The purpose of a proforma is to provide the buyer with an accurate and complete good faith estimate that they can use to decide whether or not to issue a purchase order. A proforma invoice serves as a more serious interest on the buyer or importer's part than a regular quotation. This indicates that they commit to purchasing the goods but want to ensure final details before proceeding and making a binding agreement with the seller. 
In short, invoices are legally binding documents containing full details of goods in a given transaction. They are issued after a purchase agreement has been struck but before the payment has been made. On the other hand, proforma invoices only include enough information to allow customers to determine the duties needed from a general examination of the goods. As proforma invoices are neither a financial record nor a legal document, you cannot use them for accounting purposes, such as bookkeeping. 
Related article: The Definition and Purpose of Sales Invoice
Benefits of Proforma Invoice
The purpose of a proforma invoice is to show how much goods or services will cost to help the customer decide if they want to go ahead with the purchase. A proforma is usually sent to a customer when they've committed to purchasing from you but can't be sent an official invoice as the details are still yet to be confirmed. Thus, this invoice has a lot of benefits in business processes, for example:
Notify the estimated price. 

Record the customer's product purchases.

Quoted as a temporary invoice because it is not an official bill. 
The Use of Proforma Invoice
In some transactions with an initial payment, the seller will need to issue a proforma invoice to ensure that the payment process is guaranteed before completing the order. The seller will be sure that a transaction is secured, and the buyer will know the amount of price they need to pay. In general, there are two uses of proforma invoices, including:
Requires prepayment
When making a payment in this invoice, buyers will sometimes pay the services and products in advance. After the payment in this invoice is complete, the seller needs to ensure the financing details before the customer completes their order. In other words, it guarantees the financial information of a sale process. This way, a company is sure that the transaction will go smoothly. 
A high probability that sales will occur
Issuing proforma invoices is an estimate and a payment request. Therefore, there is a high possibility that the sale will occur. Cancellation of transactions often happens between the seller and the buyer. By using a proforma, the cancellation rate will most likely be lower. As a result, sellers can ensure that the sales transaction will occur. 
What to Include on a Proforma Invoice
The primary purpose of a proforma invoice is to show your customer the transaction details. As such, it should include the same information as the final invoice. The information you should have are:
Your company identity: name, address, and contact details

Your customer's name and address

The unique invoice number

Date of the issue along with the due date

Description of the goods

Pricing, including the shipping rates and taxes

Payment details

VAT (Even though a proforma is not a tax invoice, you should still show the expected VAT amount)
But unlike the final sales or commercial invoice, the proforma should also include:
The term "Proforma invoice," so your customer knows it's not a sales or tax invoice

The phrase "This is not a tax invoice."
Proforma Invoice Sample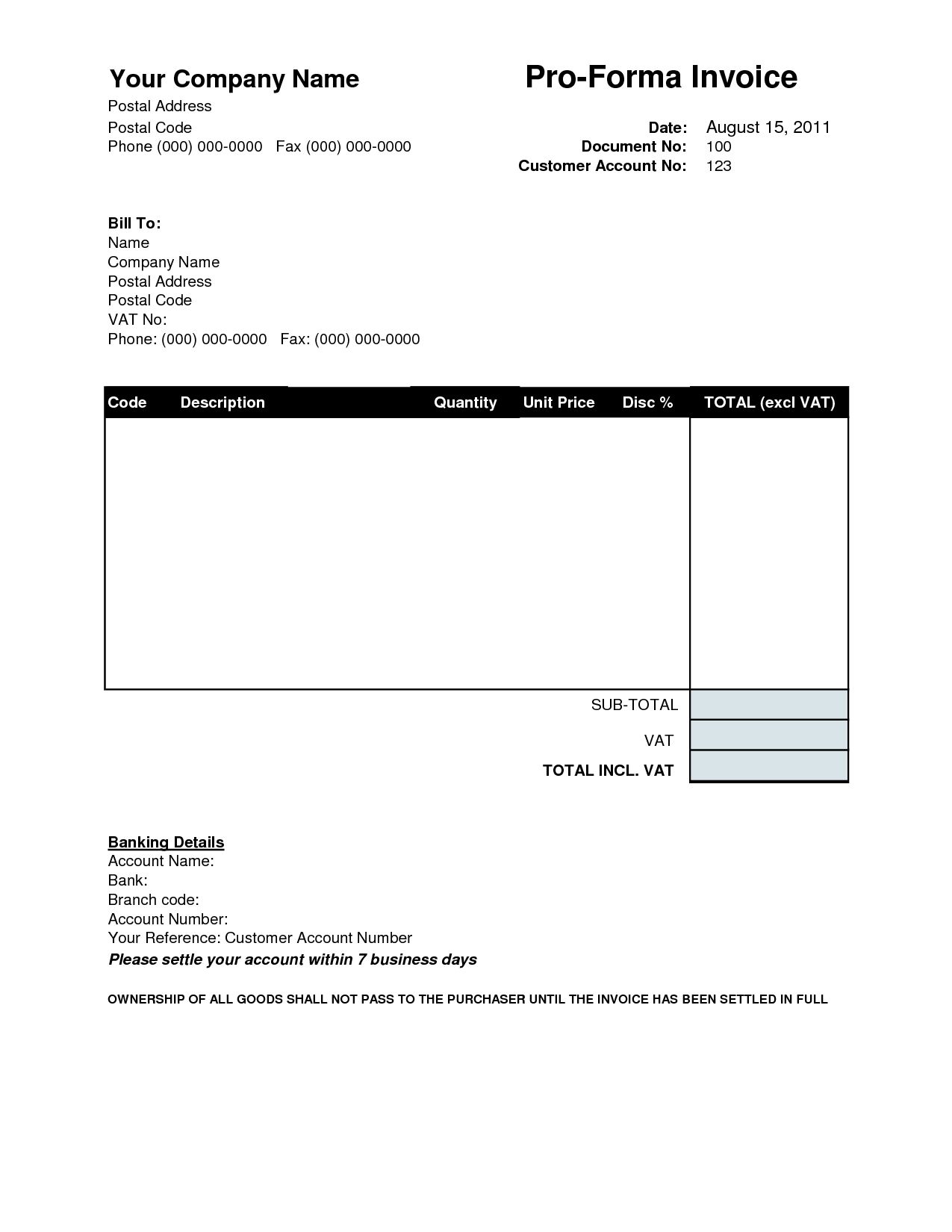 At first glance, it looks like it's no different from a regular sales invoice. Businesses can use the same method as standard invoices to create a proforma invoice. Most accounting or invoicing software includes proforma invoice templates. To further understand and manage your business invoices easier, you can use the e-Invoicing system from HashMicro. This has terms that correctly state the contents of the invoice. These characteristics are:
Attention to price and tiny details.

Provide a quotation to customers.

Record the total price.
Related article: 5 Main Benefits of ERP Software for Professional Services
Conclusion
Now you know all about proforma invoices. Hopefully, this leads to you having one less detail to worry about in your sales process. If you want more flexibility in managing your business finances, technological advancement enables you to have that. HashMicro has software e-invoicing to solve your company's problem. Automate your business process and save time to gain valuable growth for your company.