Budgeting is a significant financial lesson that you should know. So that when an unforeseen event occurs, such as a circuit breaker action, the company's finances are not harmed. Singapore's circuit breaker measures for 2020-21 are stay-at-home and cordon sanitaire orders implemented by the Singapore government as a preventative measure in response to COVID-19. The circuit breaker action is separated into several stages, starting with the prelude, initial, tightened, and relaxed measures. This behavior undoubtedly impacts many sectors of life, including education and commercial operations.
There are three phases of reopening to resume activities post-circuit breaker safely. The first phase is the safe reopening of economic activities. Then, in the second phase, almost all economic activities were reopened, followed by the "new normal" in the third. Budgeting is one of the most important processes you shouldn't miss when reopening your business after the circuit breaker. To recover from COVID-19-related sales declines, you must manage your budget well. If you have difficulty budgeting for a business that will reopen, you can use accounting software that can make your job easier. You can download the Accounting Software pricing scheme to estimate the price. 
Also read: A Quick Guide to Financial Accounting
Here are five simple budgeting tips that can help your business get ready for the new normal.
1. Understand the impact of COVID-19
Before budgeting, you must first know how severely the COVID-19 outbreak has affected your company. By assessing the severity of the impact, you will be able to make a more solid financial plan.
Companies experiencing a slight decrease in sales may only need to make small changes to their financial planning. Meanwhile, companies that are badly affected may need to plan for a revamp of their entire cost structure.
2. Create a Solid Financial Plan with Your Team
Create a COVID-19 financial-planning team involving various cross-functional teams from different departments, such as sales and supply chain. They might be able to help provide a comprehensive explanation of changing consumer behavior, current market and financial trends, and potential future indicators.
You can count on your company's financial statements in January 2020 to compare your company's financial performance before and after COVID-19. Your financial forecasts and budgeting techniques will likely change since you have to adjust to the current economic situation. Use a web-based financial app to help you generate real-time accurate financial reports.
3. Evaluate your Cash Flow Statements
Now, it's time to analyze your cash flow statements. Check your accounts and accounts receivable to ensure they're paid on time. You will find out your company's expenses during the pandemic. Then you can record any costs that you can reduce.
In addition to controlling the budget, evaluating cash flow statements can help you find an effort to boost the company's revenue. Use HashMicro's Accounting Software to make it easier for you to keep track of the company's cash flow wherever you are.
4. Prioritize Your Budget Allocations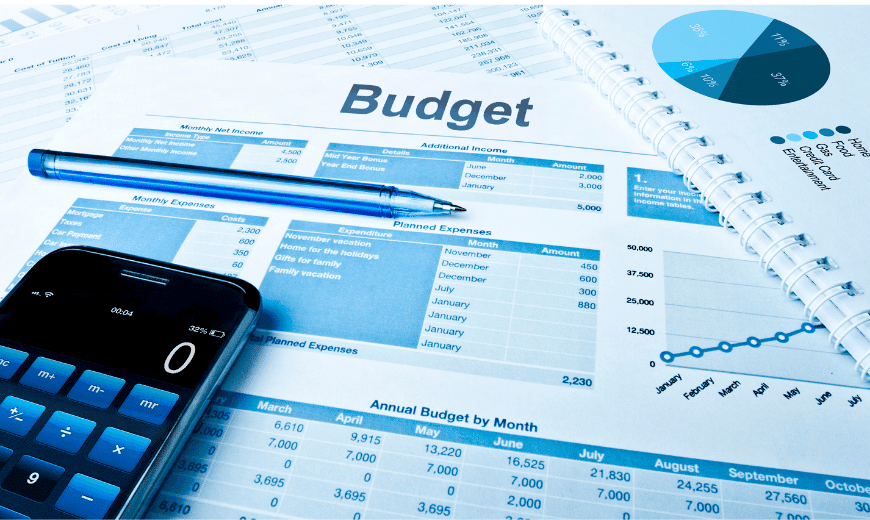 By this time, you should have prepared an emergency fund. It's important to regulate how you use the emergency fund. Before the pandemic, you might have planned to spend the company's money on various things like seminars, new marketing tools, etc. But those plans have to be rearranged as your priorities have changed.
Prioritize your budget allocations for essential things that greatly value your business. Postpone investments and expansion plans until your company regains its financial health. Review all purchase requests from each department or business unit. To control the company's procurement costs, opt for HashMicro's easy-to-use Procurement Software.
5. Improve Budgeting Process with Automation
The use of accounting software can greatly help improve your budgeting process while reducing operating costs. This tool helps automate your accounting processes so you don't need to hire additional accountants and save money instead.
HashMicro's Accounting System provides a budget management feature that is connected to the Purchasing System. The feature allows you to set an approval matrix for every purchase request from different departments or locations.
Also read:  The Importance of Accounting Software for Businesses
Conclusion
So, as previously stated, budgeting is critical to comprehend because it significantly contributes to your company's financial stability. It is also essential to understand budgeting strategies to help your company prepare for the "new normal". When a circuit breaker is tripped and reopened, the company's finances, if budgeted properly, can protect the company from financial losses. Accounting software can help your company's budgeting process run more smoothly, practically, and with less human error. HashMicro Accounting Software can help you complete your company's financial budgeting automatically. You can download the Accounting Software pricing scheme to estimate the price. Also, you can try our free demo accounting software!