The Fintech industry is quite rife at the moment. The term "fintech" is an acronym for "financial technology." The term "fintech" refers to new technologies that aim to improve and automate the delivery and usage of financial services. Fintech is utilized to assist businesses, business owners, and consumers in managing their financial operations. To achieve this, companies are leveraging specialized software and algorithms found on computers and, increasingly, smartphones. To accomplish this, you must utilize the best accounting system from HashMicro to handle your money, including cash flow management, journal entries, and reconciliations.
Fintech can apply to a variety of sectors and industries, including education, retail banking, fundraising and NGOs, and investment management, to mention a few. As a result, you may use HashMicro's ERP system for the financial sector to automate day-to-day business processes and optimize customer needs fulfillment in real-time platforms. Also, to help you understand ERP finance, you can download the greatest ERP financial software pricing scheme for more information and features regarding the software.
Table Of Content
Seven Fintech Industry Trends
As the world goes into lockdown due to Covid-19, financial institutions and their partners around the world finally have the drive to automate other banking services and make them more client-centric. What does the year 2022 have in store for us? Here are seven fintech trends to watch:
Digital banking
Bank closures are occurring as a result of changes in consumer habits triggered by the pandemic. Digital banking gives a better consumer experience while also being faster and more efficient. The good news is that digital banking is more than just being paperless and cashless; the underlying technology has significantly aided in the transition from the traditional centralized banking model to a more distributed and technology-driven model.
White label fintech
White labeling is the next popular financial trend that you should not miss. Providers create white label products that are renamed before being sold. This is due to the difficulties of financial management. White label financial solutions make it simple for businesses of all sizes to set up worldwide payment gateways. This is a true win-win situation because it gives distributors a broader consumer base while lowering retailers' initial launch costs.
Data aggregation
Data collectors will have more responsibility to facilitate the exchange of data between financial organizations and their consumers. This transparency aims to enable fintech companies to provide extra services to their own clients. To manage all your company data easily and safely, you can use the best HashMicro ERP System. You can get ERP software pricing scheme calculation first for better budgeting before implementing it in their business.
Blockchain technology
Blockchain is without a doubt the most significant financial invention for digital transactions because its management is decentralised, which means it cannot be controlled by any single person, corporation, government, or bank. While businesses are concerned about the security of these cutting-edge FinTechs, the growing adoption of Blockchain as a means of creating secure digital ledgers cannot be overlooked.
Robotic process automation (RPA)
Robotic process automation enables firms to improve job productivity while investing a little amount of money. RPA uses software robots (bots) to free up human resources and increase the efficiency where routine and repetitive business processes are performed.
Voice-enabled payments
Voice has the potential to be a trusted tool for individuals and businesses to quickly conduct ordinary financial transactions. Customers will benefit from the ease of speaking as opposed to typing in order to obtain the information they require more quickly. Natural language processing, natural language understanding, and natural language creation advancements will enable clients to use speech for banking transactions in a strong way that will make them feel as though they are dealing with a human teller.
Big data
In 2020, people generated 1.7 MB of data every second. Fintech companies and their clients create massive volumes of data that can be combined to provide a more complete picture of a customer's financial situation. Expect financial institutions to collaborate with data aggregators (see #3 above) to use big data to increase client retention and service quality.
Related Article : 5 Tips on Building a Successful Fintech Company
Fintech Industry Challenges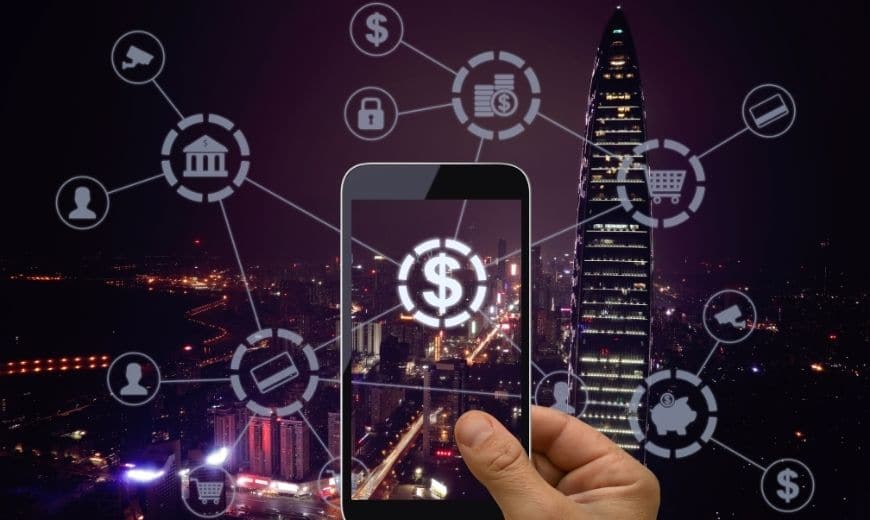 Fintech, like other industries, has its own set of obstacles and limits. There are various crucial areas that businesses must focus on to achieve long-term success, ranging from user retention and target overshooting to data security concerns. The following are the issues that businesses encounter when undergoing fintech transformation.
Data security and privacy concerns
Cybersecurity is more crucial than ever in today's business climate. One of the primary targets for hackers is the increasingly digital environment in the financial sector, including mobile banking and payment systems. Customers' money as well as personal data can be jeopardized by cybersecurity flaws. As a result, even huge, respected firms must protect vital information and ensure their virtual security is spot on. Use the HashMicro document management solution to keep your company's data safe. With layered encryption, HashMicro's document management solution assures the protection of your documents.
Compliance with regulations
Fintech applications are diverse and cross multiple business sectors. And, one of the most regulated industries is finance. It simply complicates the process of developing compliance plans and determining regulatory requirements for businesses. As innovative technology becomes more integrated into financial operations and services, regulatory requirements for such procedures emerge.
Lack of tech expertise
Financial institutions with out-of-date business software and systems will be unable to meet the digital world's ever-increasing expectations. Customers today want quick and easy access to financial services. Legacy systems and a scarcity of technical professionals result in services that are difficult to use and give little value. A mobile application designed by a specialist who lacks the necessary experience can deprive the company of numerous benefits, such as an NFC chip that facilitates payment methods, fingerprint unlock that improves app security, and other features.
Conclusion
Fintech Industry will grow in market share in the future. However, developing a successful and secure fintech solution necessitates considerable effort and a competent team. Collaborate with certified specialists to build a functional financial system and outwit the competition. HashMicro's ERP System for the Financial Sector automates daily business processes and enhances customer requirements fulfillment in a real-time platform. It also accurately manages finances through well-tracked profit and loss, real-time financial reports, and quick bank reconciliation.