Managing a company's finances is important, and it includes a number of aspects. Thus, companies often utilize the help of comprehensive financial software. Finance software is a type of software that is specifically designed to automate, assist, and store personal or business financial information. An integrated financial system is in charge of storing, analyzing, managing, and processing a wide range of financial transactions, records, and processes.
Finance software is divided into two types: personal and business finance software. Furthermore, financial software may offer additional services such as accounting and bookkeeping, and be integrated into other enterprise information systems. Therefore, a complete financial system is essential for companies nowadays, where automation is key. If you are considering implementing this software, you can start off by finding out the pricing scheme calculations.
Table of Contents
Advantages of Using Finance Software
Managing business accounting, as well as other financial aspects, can be overwhelming. Especially when you are doing it manually, finance management is complex and often takes up so much time. Thus, the manual processes are no longer the industry standard. 
As business automation is growing rapidly, many companies need assistance with financial matters. The constantly moving pieces are difficult to maintain without a certain degree of automation. Moreover, implementing a correct financial system has these key advantages:
Financial services allow you to more precisely track your financial habits.

Payroll processing is incredibly simple by automated software.

You can monitor your savings and investment accounts.

Your finance team can detect errors before they cause major problems.
Related article: The Importance of Accounting Software for Businesses
Top Finance Software Option of 2022
The best personal finance software allows you to quickly and easily manage and keep track of your finances, from receipts and payments to income and outgoings. Singapore has a broad range of financial software vendors. As a result, selecting the best financial system for your company may be a difficult task. To make things easier for you, we can help you choose from a smaller selection.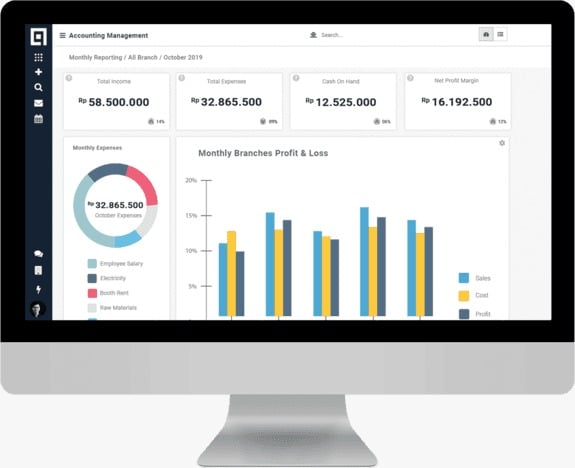 The ERP system for the financial industry from HashMicro automates day-to-day business operations. HashMicro's robust financial software optimizes client requirements fulfillment in real-time. Moreover, HashMicro's finance software comes with many modules. The help desk system, CRM, accounting, and procurement are just a few of them. 
The financial ERP system from HashMicro contains a variety of enterprise-class solutions that are customizable for the specific needs of the financial services industry. In addition, this software will bring many benefits, such as improving customer management and increasing sales. Other than enabling the company to manage its finance accurately, HashMicro's financial software is configurable with unlimited user experience. 
Implementing HashMicro's financial system will grow your business more. With automation and access to real-time data, you can make a more accurate decision. If you want to find out more about HashMicro's finance software, you can start off by downloading the pricing scheme calculations. 
Quicken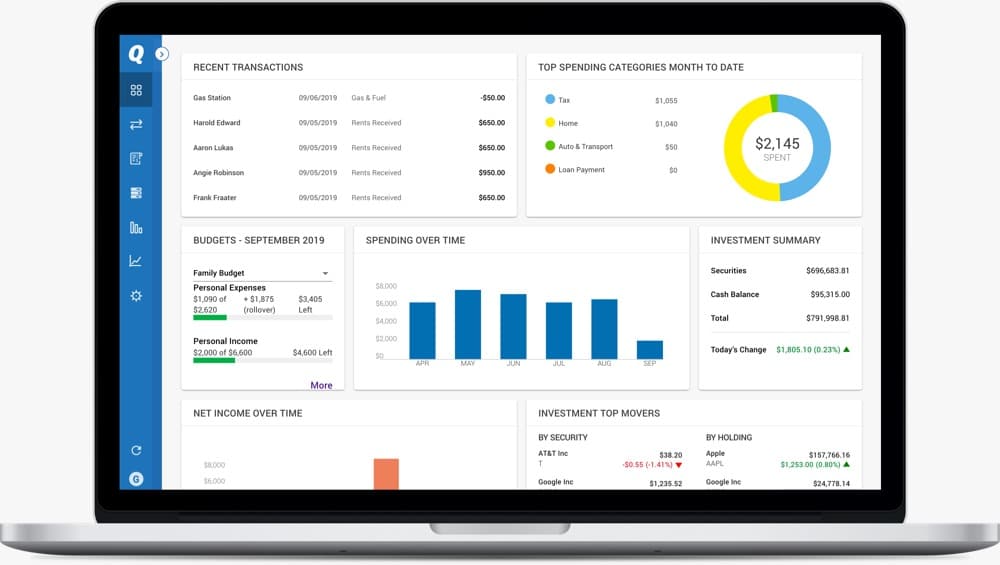 As one of the software that has been around for several decades, Quicken is a well-known personal financial management system. This software, which is available for both Windows and Mac, allows users to create a central hub for tracking their financial life in one location. Every Quicken membership level includes free customer support, core software updates, and 5 GB of free Dropbox online storage.
Related article: 6 Ways to Make Your Finance & Accounting Department More Efficient
You can use this software to track the value of your assets in order to calculate your total net worth accurately. The app is powerful enough to handle both personal and business expenses, as well as property management functions such as tenant rental payments. Quicken provides a money-back guarantee of 30 days.
YNAB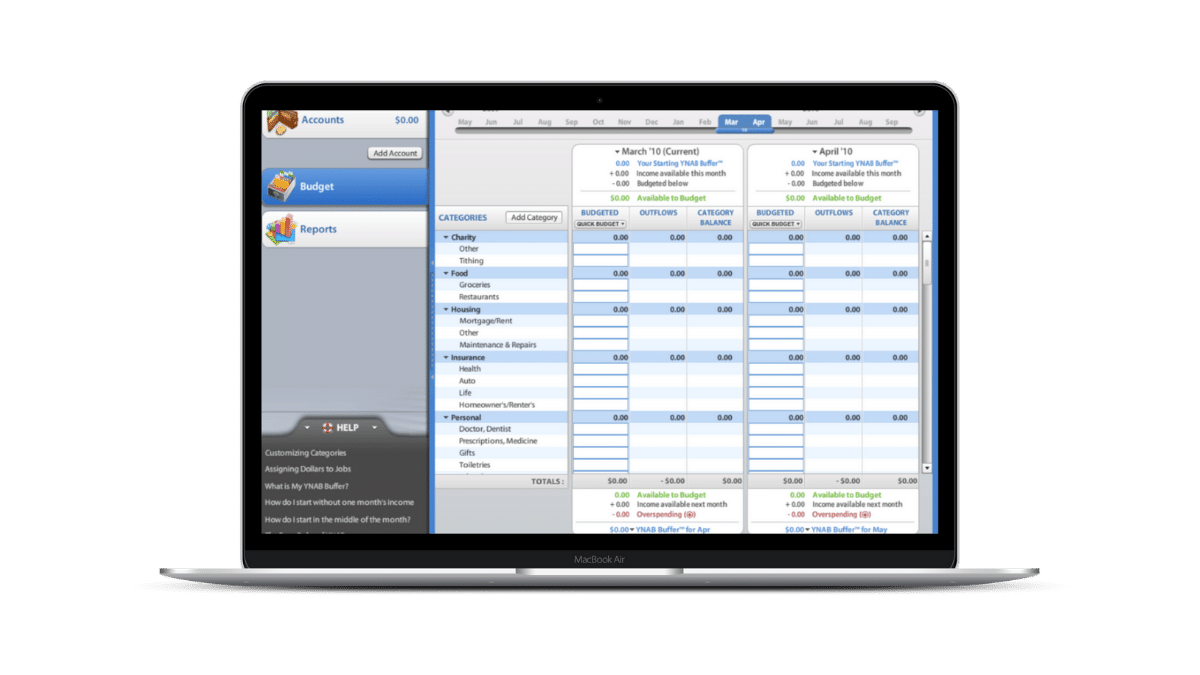 You Need a Budget (YNAB) is personal finance software designed to help you manage your monthly budget while improving your financial literacy. As you create your budget and manage your daily finances, the software will provide tutorials to help you tackle some of the more difficult financial topics. If you've been struggling with bad financial habits, YNAB can help you break them by teaching you a few simple financial management rules.
YNAB's goal is to assist users in breaking free from the "paycheck to paycheck" cycle. YNAB is a personal budgeting tool that encourages users to get out of debt, budget ahead of time, and create categories that fit their lifestyle. Furthermore, YNAB is also well-known for its interesting classes, welcoming culture, and budgeting education.
Mint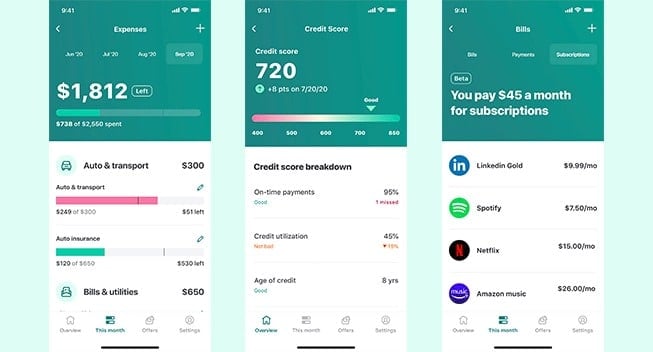 Mint, an Intuit subsidiary, is a free app that provides users with insights into their personal financial activity. It has an active community and plenty of helpful resources for getting started as the most downloaded personal finance app. Additionally, Mint can help you analyze your spending and pinpoint the areas you need to improve by using your bank and credit card information. 
Mint allows you to set up alerts for things like due dates and low balances to help you stay on track. These features assist you in avoiding costly fees for late payments and overdrafts on your bank account. Besides, mint will give you real-time information about how much you can spend on things like food and gas if you've set up budget categories. Mint is available for free download and use on iOS, Android, and desktop computers.
Mvelopes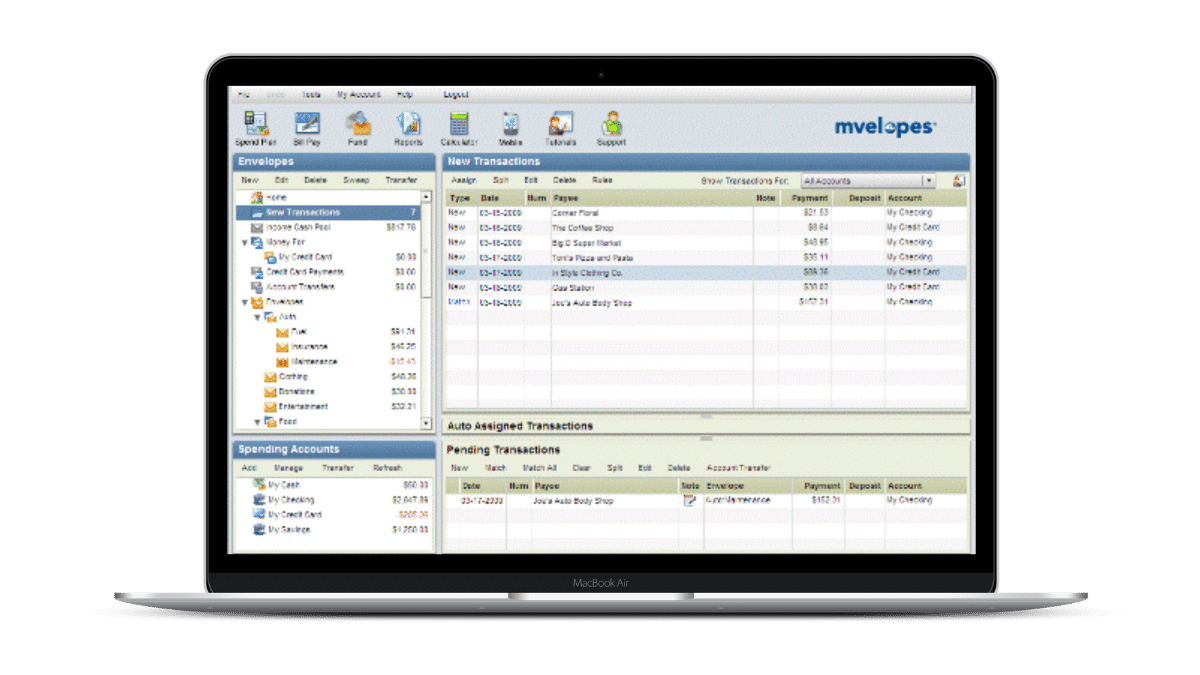 Just like the name of this software, Mvelopes helps you stick to your budget by using envelopes to manage your money. In short, you will break down your budget and put them into different envelopes. Mvelopes adopt this method for budgeting into their digital platform, thus you can do it on your phone or computer rather than with physical cash. Moreover, this software will also show your amount of spending to keep you on budget.  
Banktivity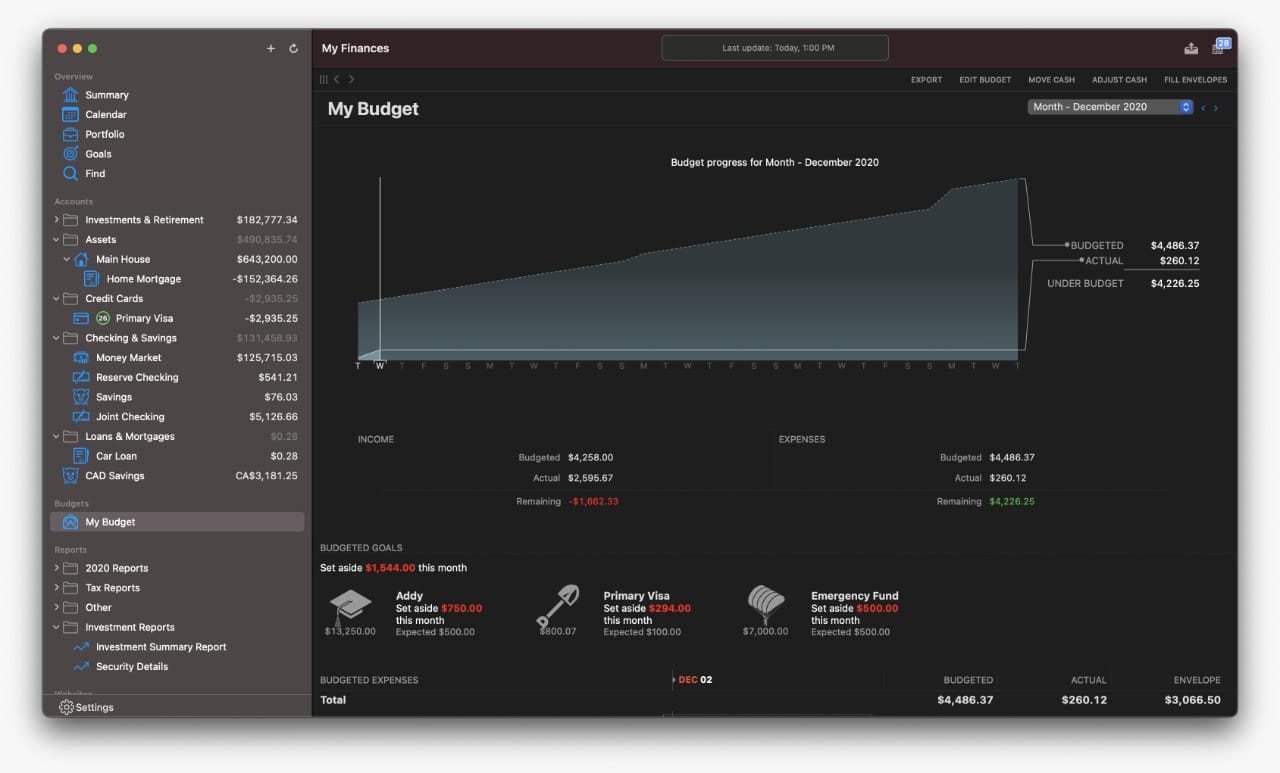 As a finance platform, Banktivity provides many advanced features. For new users, Banktivity will mostly help with basic financial management needs. In addition, Banktivitiy also comes with asset management and calculation of gains and losses to help you keep track of financial condition. As a cloud-based and integrated financial software, Banktivity also enables their user to manage credit card accounts. 
How Software Can Transform Your Finance
With the many benefits that the financial system brings, it will help your business in several aspects. Just focusing on the main benefit, which is automating the manual processes, swapping the manual system with an automated one is indeed transformational for your business. Shortly, the financial system is transformative for your business for the following reasons. 
It's very convenient. Get rid of paper receipts, checks, and manual records.

It is dependable. Historical data provides a record of financial activity, eliminating the need to second-guess what occurred or where your money went.

It increases productivity. You can focus on the important goals and activities by arming yourself and your employees with the right tools. You can relax knowing that your financial records are in good hands.
Conclusion
Financial software, as a part of the comprehensive ERP system or as a standalone, brings many advantages for businesses across all sectors. With a wide range of financial modules and functions, it will surely streamline daily business practices and bring. As a result, companies can do their daily operations more effectively which will grow them more. 
Furthermore, with an increasing number of options for finance software, choosing the right one for your business might be difficult, but there is surely one right fit for your business out there. If you are looking for the best financial system for your business that is integrable and customizable, HashMicro might be the right choice. Find out about the pricing scheme calculations, free demo, and more here.