Tuesday, February 16, 2021. HashMicro and EQUIP, in collaboration with Satya Wacana Christian University, organized a webinar entitled 'Unlocking your Competitive Skill: The Rise of ERP and Digital Transformation in Business,' which was held online. The resource person in the first session was Lusiana Lu as the Business Development Director of HashMicro. Then followed by Jayson Komajaya as EQUIP Functional Analyst and Lusy Pratiwi as EQUIP Business Development in the second session. With the digital transformation theme, this event was also moderated by HashMicro's Account Executive, Aditya Pradana.
Opened with a speech from Evy Yeniarti as Satya Wacana Career & Alumni Center Director, the first part of this webinar discusses the current digital transformation in Indonesia and upcoming trends. The topic was chosen based on the current situation where the pandemic has hit, and companies that are not familiar with technology are in distress. Therefore, businesses must also adapt by carrying out digital transformation.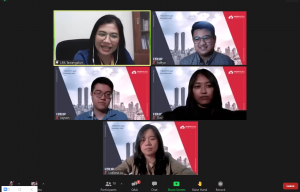 The second part discusses how an ERP system can develop a business. In carrying out their operational activities, companies often face several common difficulties, such as double-entry problems where staff repeatedly input the same data. This is, of course, inefficient and prone to errors. Besides, it is also related to the challenges in maintaining servers, which are complex and require a lot of money. The adoption of technology from infrastructure procurement to software is carried out entirely by the company itself.
Therefore, an ERP system is here to solve the problems experienced by businesses. With an automated cloud solution, companies will have one integrated system where all data is stored in one central location. Besides, because it only uses virtual storage, companies can also save costs because they no longer have to buy hardware and pay maintenance costs for conventional servers. This session ended with demonstrating how an ERP system can be said to be reasonable based on its features and capabilities, using HashMicro's ERP software, EQUIP, as an example.
The webinar was attended by participants who were students and alumni of the Satya Wacana Christian University and came from various departments, such as Information Engineering, Information Systems, and Accounting. Regardless of their background, they still showed high enthusiasm, especially when answering questions about the presentation topics that had been previously delivered.
This event is expected to be useful for the audience, especially those who desire a career in IT, especially ERP.
According to Lusiana Lu, the conditions for implementing digital transformation in Indonesia are still uneven. Many and fast occur in labor-intensive industries such as transportation, finance, and online media. Meanwhile, the heavy equipment industry, namely manufacturing, mining, gas, and oil, is still running slowly.
Some of the causes for this problem are limitations in several elements related to IT, for example, budget, manpower, and infrastructure. Coupled with the lack of research and development centers and costs. There are still many things that need to be addressed in digital transformation in Indonesia to increase industrial productivity.
However, McKinsey's research entitled Unlocking Indonesia's Digital Opportunity 2016 states that with comprehensive digital transformation, Indonesia is expected to grow to 2,000 T rupiah in the period 2016 – 2025. Thus, opportunities are wide open for graduates of informatics engineering and information systems.
One means of digital transformation is an ERP system. This software can bring about revolutionary changes in various modern business processes. These software applications can simplify essential business functions such as financial management, accounting, and inventory management. The 2018 Asia Pacific ERP market was 124,000 T rupiah and of this amount, Indonesia contributed 3 T rupiah. Lusiana added that ERP will gain a lot of attention in the near time and encourages students to be prepared because career opportunities in this industry will be expanding, but with a fierce competition level.