The growth of the digital wallet industry is a global trend. The reason behind this widespread growth is its ability to have a single platform that makes transactions much faster. Due to the fast transaction facility, this technology has been able to become the most widely used element of the FinTech Industry.
In addition, speaking the realm of business, marketing activities are one crucial thing you need to do. The comprehensive marketing automation software can help any company get organized, increase sales, improve the customer experience, and save a tremendous amount of time.
Moreover, you can apply various marketing strategies, such as digital marketing that you can optimize through the best marketing automation system from HashMicro.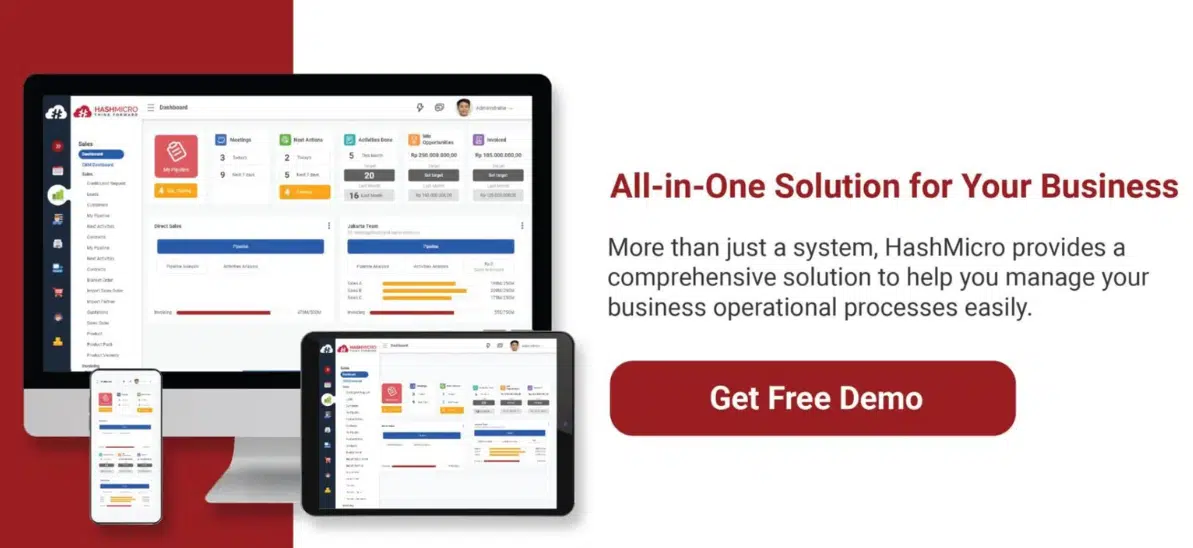 The Digital wallet industry will continue to thrive in the open banking era which enables financial services to be more accessible, and affordable to consumers. The use of the most complete Marketing Automation Software will help in optimizing the marketing efforts of the digital wallet industry with an integrated system.
Moreover, the integrated Marketing Automation Software can help you send marketing campaigns to customers easily to promote the products or services of the digital wallet industry. Check out the article below to find out the various benefits of the best marketing automation system, as well as the software price calculation scheme from HashMicro.
How Does Marketing Automation Software Work for Digital Wallet Industry?
We all have that list of manual, repetitive tasks: reminders, follow-ups, reporting, and drafting emails. With the right marketing automation software, you can set those manual processes up once and forget about them. Your automated campaigns can continue to run in the background while you focus your attention on bigger projects.
In this digital era, the marketing process is the main key to increasing revenue. The cloud-based Marketing Automation System can also be integrated with other systems to support your business marketing activities.
Moreover, you can expand targeted leads, build better relationships with clients, and optimize your marketing efforts with this automated marketing automation software. To find out more, you can download the pricing calculation scheme of Marketing Automation Software from HashMicro so that you can find out the size of the estimated price.
The Benefits of Marketing Automation Tool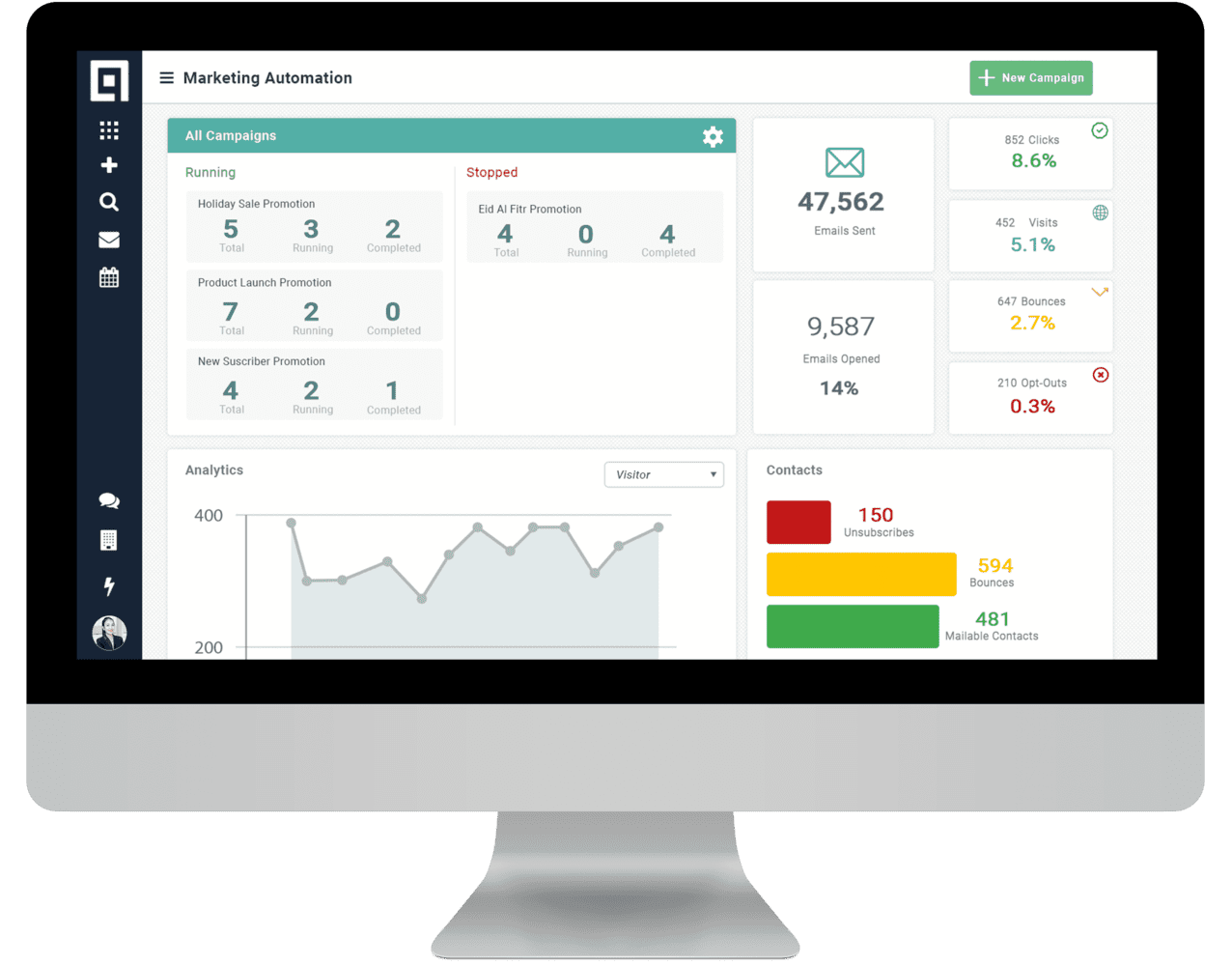 Right on target
Starting a business certainly has many risks. That's why you need research so that your target market is not misdirected. By using marketing automation Software, create and send your relevant marketing campaigns according to the segmentation of your client segments.
Customizable Templates
Find out which of your campaigns is the most effective for your company, which can lead to the most conversions more easily and practically. You can personalize your campaigns according to the preferences, inquiries, and business types of the recipients. Immediately switch to HashMicro Marketing Automation Software and make all marketing operations of your startup business automated.
Conversion Analysis
Personalize your campaign according to the preferences needed, the appropriate requests, and the type of business that the recipient matches. Thus, it makes it easier for you to analyze your most effective campaigns, the ones that generate the most conversions more easily, without having to waste too many costs and too long a time.
In-Depth Reporting
Marketing Automation gives you detailed reports, just like most modern software. Various data ranging from click rate, open rate, bounce rate, delivery rate, and others are available in real time. Not to mention, you can also create reports with multiple formats. Moreover, you can track the individual performance of each campaign through in-depth, configurable analytics reports.
The Main Features of Marketing Automation Tool
We all know that marketing automation software has a long list of features. The following are the main features of Marketing Automation Software that you need to know:
Multi-Marketing Campaign Management
Marketing campaigns can manage a range of campaign types across various channels, to send your customers the right information to get them interested in your products. Campaign management involves the planning, execution, tracking, and analysis of these campaigns.
Create attractive emails with interactive building blocks. Add headers, footers, CTAs, links, and images without a hitch. Leverage every marketing and sales channel to build a unique and consistent customer experience for your brand.
Mass Mailing Management
Once you've created your email, the next step is that you need to send the email to a potential customer who has been targeted. To send it, you can rely on the second feature, which is Mass Mailing Management.
This feature gives you the opportunity to reach many customers through email marketing, whether they are in a single group or more groups. Moreover, you can review and edit your email campaigns before sending them.
WhatsApp Integration
Marketing automation software has the advantage that its use can be integrated with the WhatsApp application. With this integration, it will be easier for you to optimize marketing activities for all business channels. The WhatsApp integration feature helps you to send campaigns to WhatsApp contacts directly from the system.
SMS marketing management
Through this feature, you can increase engagement with subscribers or clients. You can create missed call campaigns, automate interactive voice response, and launch SMS campaigns for your existing customers.
In addition, you can create SMS templates according to marketing needs. Sending marketing SMS using an automated system makes it very easy for you to send it whenever you want.
Custom trigger Management
With the Custom Trigger Management feature, you can set triggers for each subscriber action. You can easily monitor this through special button-clicking activities or by entering and exiting certain segments. Therefore, you can see the presence of potential customers who are interested in your business.
In-Depth campaign reporting
Campaign Reporting that you can use to find out the performance of each campaign you have created. The system allows you to see the open rate, click rate, bounce rate, and others through reports that you can configure. This is very important for you as one of the evaluation materials in creating campaigns that attract clients.
Marketing Automation Software Integration
CRM leads
Integrate with the CRM-Leads to facilitate the categorization of prospects that you're going to receive in your marketing campaigns. Feed lead history and other crucial data to your CRM from your marketing automation software features and vice versa to keep information in front of your teams.
Help Desk & Ticketing System
Process and solve the complaints or issues from customers related to the marketing campaign you send to them with the help of the Help Desk & Ticketing System. The system can make all incoming calls, emails, and tickets manageable automatically in one platform. Also, provide the best service for your customers by facilitating back-end administrative tasks.
Membership management
Connect with the Membership Management System to automatically send promotions to members based on their spending/tier. Also, get a loyalty program feature that presents membership tiers with unique privileges for each member of different groups. Let members manage their own data, check payments, and more through the available online portals.
Conclusion
The advent of the digital era has unveiled limitless possibilities in the corporate world of big business. Good marketing automation software now makes it possible to measure and automate processes like marketing tasks and workflows.
Ultimately the end result obtained by the use of these tools is enhanced operational efficiency and rapid growth in revenue which in effect is overall productivity. You can use the ultimate Marketing Automation Software that can help you send marketing campaigns to clients to promote your startup products.
This cloud-based Marketing Automation System from Hashmicro can not only automate marketing tasks but can also be integrated with the best CRM Systems to facilitate the segmentation of leads that will be sent to marketing campaigns. To find out more, you can download the automation software pricing calculation scheme from HashMicro. Get free demo now!