Social media strategy is a summary of all the planning and expectations you want to achieve in social media. Using social media to promote a product or service you have is the right choice. This is because using social media as a platform for your business, you don't need great capital and power. But you still need to plan appropriate social media strategies and effective ways to reach wider consumers on social media. Furthermore, if you want to capture more targeted leads, enhance relationships with clients, and optimize your marketing efforts, you can also try Marketing Automation Software as a solution
Then, why do you need social media strategies in your business? because a good social media strategy can enhance brand awareness, facilitating sales so that it can find appropriate market targets and get feedback from sale products. Achieving that requires a proper social media strategy.
Here's The Effective Social Media Strategy for Your Business!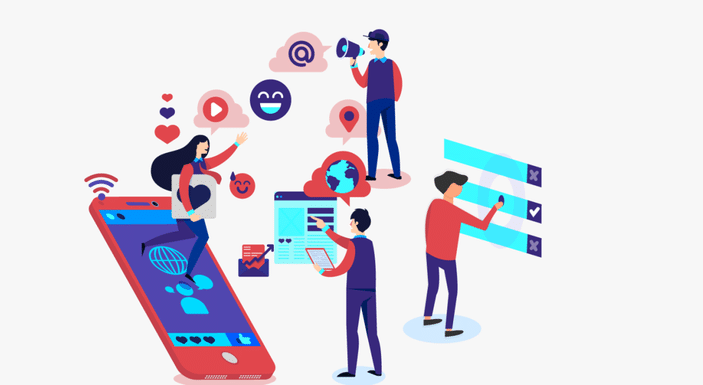 1. Set clear and measurable goals
One of the most significant problems faced by many businesses on social media is that they don't set the goals of specific, measurable, realistic, relevant, and appropriate social media marketing. Goals here can be, the addition of new customers, the increased traffic to websites and the collecting of customer databases, the increase in profits and investments (ROI), the brand awareness, the sale of new products that achieve specific targets, market expansion, etc.
As a result, the setting of goals to be achieved, make every step and decision of your business become more targeted. if there is a failure can be evaluated easily and can be immediately corrected.
2. Get to know your audience and competitors
Since every business must have market targets, the next social media strategy is to recognize your audience, what they like and dislike, and what they want and need. In other words, you need to study the behavior and customer journey.
Besides the audience, you also need to recognize your competitors by doing competitor analysis. Find out how the strategies that the competitors use, the advantages of your product over their products, whether their targets are the same, and so on. Recognizing these will help you to make the right strategy.
Then, if you still find it difficult to determine your potential business prospects, you can use HashMicro's best CRM system. The system helps you integrate potential prospects, increase lead conversions, and help carry out comprehensive monitoring of sales activity, from meetings to client follow-ups.
3. Determine the social media
With so many social media trends being used by audiences from all walks of life. Then you need to establish social media that matches your target, to have a big impact on your business to be known to a lot of people.
4. Create a unique and exciting content planning
Social media growth doesn't make the business competition any easier. The ease and effectiveness in using social media make many large companies choose to make it the main marketing tool. In order for your business to be superior, strategize accordingly. One way is to beat the high level of competition on social media by creating unique and interesting content.
The important thing in creating content planning is always considering content that is worth sharing and having value and benefits for the buyer. One interesting way to use consumer services is like having a giveaway or giving challenge and those who can get a lot of engagement, likes, and comments would get presents.
5. Set the content screening schedule
Scheduling interviews for each content is quite easy because some social media, such as Facebook, Twitter, and Instagram, gives the key that there are certain times when there are likely to be many visitors. The trick is one of the social media strategies that provide major leverage when used properly. If you still have difficulty doing so, you can try using some software to help organize your content presentation schedule.
6. Relation building
As you know connections play an important role in various matters, particularly in business. The ability to build relationships and extensive connections can help business people. It can also be done by utilizing social media, real-life by meeting in person, participating in seminars or exhibitions, etc. Extensive relationships and connections will help your business to continue to grow.
7. Analysis results from each upload
The last effort you make is doing an analysis. You must be able to measure what you have done. One way to conduct this analysis is by using social media metrics. This process measures any of the content you upload or platforms by calculating the ability to reproduce users through impressions, likes, and comments and how big an audience is on your social media platform.
Conclusion
To conclude, that are 7 Social Media Strategies that are effective in improving your business. These social media strategies have a very important role in the business world. Learn each strategy and apply it to your business. This strategy is not only for large-scale businesses but also for those of you who have small-scale businesses. In order to know which marketing campaign, or social media campaign that works best for your business, you can use HashMicro's Marketing Automation Software. The software will automatically track and analyze which campaign that works for you.