Frozen food is one of the culinary products that is rapidly growing and gaining popularity. The convenience of processing frozen food is one of the reasons why it is becoming more popular and preferred by consumers. Furthermore, this type of food can be created into a variety of menus that will undoubtedly match consumers' tastes. This is what drives up the consumer demand for frozen food products. Therefore, cloud-based supply chain management software for the food industry is needed to assist you in managing your supply chain more efficiently. HashMicro's supply chain management software solutions offer you complete visibility and advanced analytics to keep up with fast-paced markets and plan and estimate the right product at the right time.
In addition, during the pandemic, people's limitations to go out of the house both for activities and shopping for their daily groceries made them do shopping online and choose food products that are fairly durable for some time in the future. The increased surge in demand, however, has added to the challenges. Companies must produce the best quality of products and services. To achieve that, you will need comprehensive automated supply chain management software to remain competitive in the frozen food industry. The following is a complete explanation of supply chain management software from HashMicro, ranging from key features, benefits, and software price calculation schemes.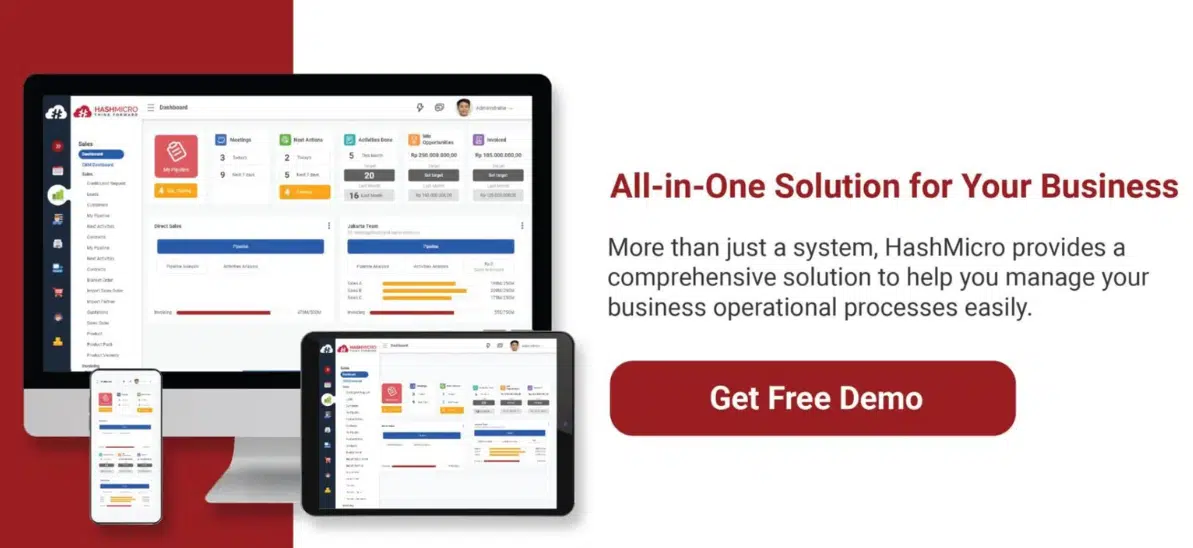 Table of Contents
Why is SCM Software Important for the Frozen Food Industry?
Frozen food sales have increased globally, with many consumers shifting to popular frozen foods. Consumers are increasingly demanding longer shelf life and healthier ingredients. Due to these factors, an effective supply chain management system plays an essential role in minimizing cost, waste, and time in the production cycle of frozen food business processes. In fact, the industry standard has become a just-in-time supply chain where retail sales automatically signal replenishment orders to manufacturers. One way to further improve this process is by implementing an automated supply chain management system for the food industry. Before implementing the software, you can download the SCM software calculation scheme to get an estimated cost and better budgeting.
The integrated supply chain management software provides the required functionality to manage critical business areas such as inventory management, formulation management, quality control, traceability, and others. In addition, this cloud-based SCM software allows you to operate more efficiently, comply with global regulations, improve food safety, lower costs, and grow your businesses more confidently.
The Main Features of SCM Software
This integrated supply chain management software system has rich features that can streamline your supply chain operations from start to finish. The key features of supply chain management software include:
Inventory Management
A crucial element of any food company's operation is ensuring that the warehouse and inventory management are in good working order.  To handle the registration properly and track all logistical transactions, SCM offers a fully-integrated pallet administration so that your inventory control is always in good shape. To avoid risks and errors, follow your goods' availability, locates them, and make inventory adjustments.
Procurement
Before purchasing materials, supply chain management software can help you compare prices and details from different vendors. SCM application development can help generate quotations for purchases and use analysis tools to sort out documents that vendors send and essential process information. Get notified when stocks reach the minimum level and send purchase orders automatically to suppliers.
Order Management
Track the order status, receive order updates, and fulfill orders more effectively. It assists businesses in automating purchase order processes. For example, generating and tracking purchase orders, scheduling supplier deliveries, and creating pricing and product configurations.
Shipment Tracking
Locate your courier's whereabouts to ensure that all the customers' orders are delivered on time. It helps coordinate transportation channels, improving delivery performance and boosting customer satisfaction. Moreover, it coordinates well with all transportation channels and warehouses.
Return Management
Simplify the return process and set up solid returns solutions to improve customer satisfaction. Helps with the inspection and handling of damaged or faulty goods and processing refunds or insurance claims.
Planning & Forecasting
Forecast future demand and inventory need and ensure the right amount of stock on hand with advanced analytics. Supply chain management software makes it easy to estimate customer needs and demands and provides solutions for managing resources and inventory. The system can also calculate the market for new products based on historical demand.
Also read: 5 Parts of Supply Chain Management Activity
Benefits of SCM for the Frozen Food Industry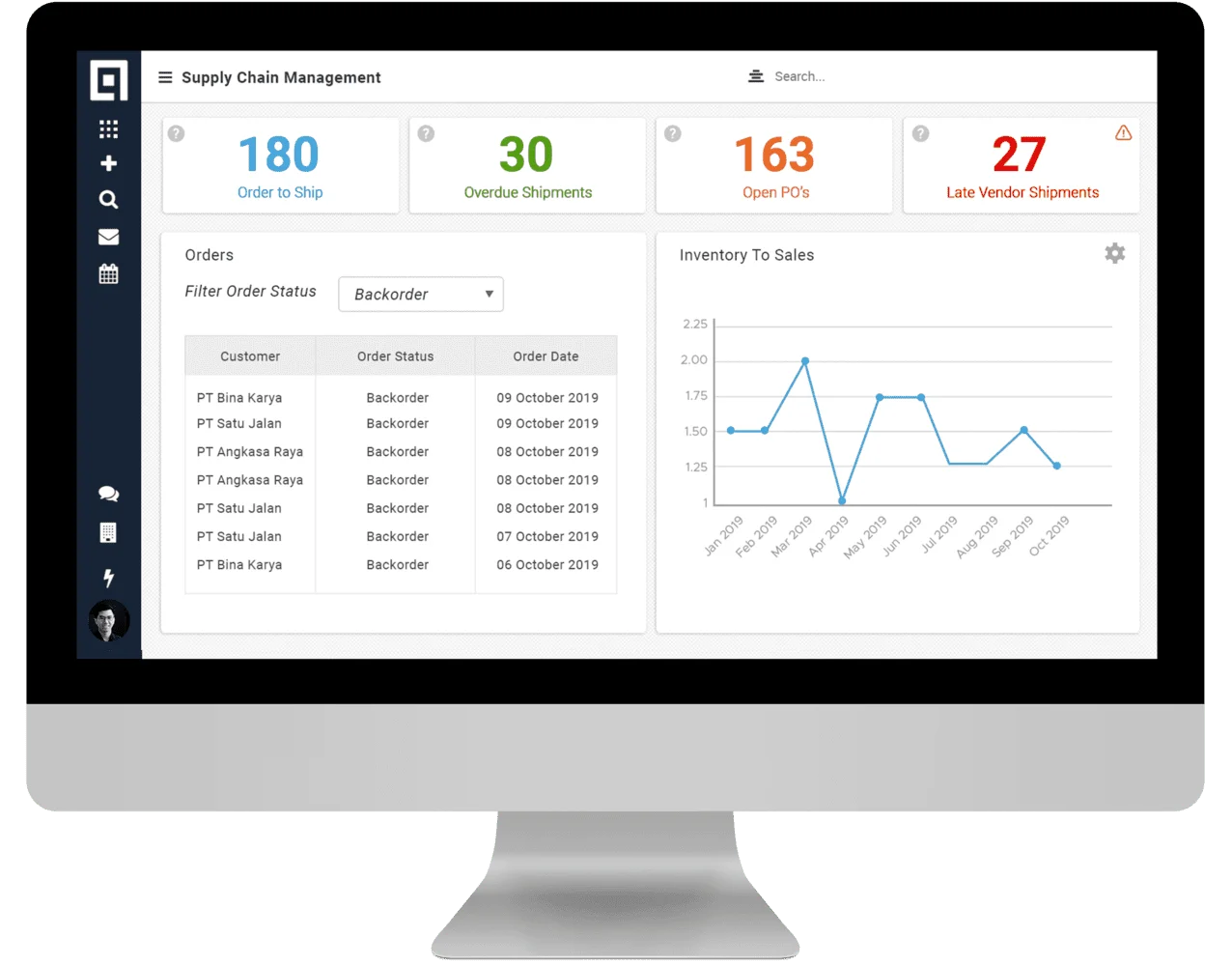 Many businesses that rely on effective supply chain operations can benefit greatly from this software system. Good Supply Chain Management can provide benefits such as:
Improves Efficiency: Pinpointing and eliminating bottlenecks causing delays to supply chain processes allows you to increase the speed of execution. Time is money and inefficient supply chains cost organizations greatly. In addition, integrating SCM software with current systems and automating manual tasks boosts productivity and decreases time-to-market.
Multi-warehouse Support: This capability allows the company to process orders from a variety of sources, ensuring the company can meet all needs in a timely and cost-effective manner. In addition, your warehouses in multiple locations are well-tracked and human error will be eliminated significantly.
On-time Delivery: Every cycle from ordering to delivery is arranged effectively so customers will receive it as planned.  Improve on-time delivery by coordinating all activities across your supply chain. It coordinates well with all transportation channels and warehouses. With the use of supply chain management, companies can faster their delivery process and provide on-time delivery. This will help in improving the satisfaction of customers.
Sales Forecasting: You can have sales predictions automatically to keep up with the ever-changing market landscape. This aims for anticipating customer demand and planning procurement and production processes accordingly. Efficient forecasting can help remove the need to buy unnecessary raw materials, hence reducing costs.
Supply Chain Management Integration
For effective supply chain automation, the system must be able to get information on what's happening within your company. Supply chain integration requires close alignment and coordination within a supply chain, often with the use of integrated systems.
CRM Sales
Sales Management System helps you create sales orders and quotations, set multiple price lists, and calculate commission easily. With integration with sales software and CRM, you can easily monitor the sales process on one screen in real time. This software can make offers, sales orders, and invoices automatically in one sales platform.
Procurement System
The procurement system helps you create purchase orders and purchase requests and set up the approval matrix easily.  Problems related to slow workflows, lack of transparency, time wastage, and high costs are some of the problems encountered in the procurement process. SCM systems integrated with Procurement Systems can solve this problem while obtaining materials and goods for the business.
Inventory Management System
The SCM application integrates with the Inventory System to assist you in managing the stock in multiple locations, doing the stock transfer, and stock taking in one platform. Inventory management capabilities help optimize inventory levels to ensure that your company never has to deal with overstocking or understocking. Real-time tools let you know where your inventory is at any given moment, allowing you to operate precisely.
Transportation Management System
Transportation management modules direct the systems that handle supplies in transit. This helps to manage all cargo, goods packing and picking, cargo location, and delivery time effectively. Being able to monitor shipments allows you to see issues in their early stages, giving you the most time to get back on track.
Conclusion
As a frozen food business, nothing matters more than managing the supply chain from beginning to end. Companies frequently face supply chain issues when operating their supply chain operations. Solving this challenge is far from simple and will take a long time. However, you can easily solve the issues in the supply chain with integrated supply chain management software. In order to overcome supply chain issues, business requires the best supply chain management software from HashMicro.
Finally, better product control leads to greater insight from this automated SCM software, allowing you to truly ensure the quality and safety of your products. The implementation of excellent supply chain management software can assist you in minimizing losses due to goods that are not in accordance with market demand or customer demand and stock storage that is too long. To find out more and get the estimated cost, try out free demo and you can download the SCM software pricing scheme calculation here.