POS app integration is a streamlined connection between your POS software and your operations platform. With integration, your operations platform can pull detailed data directly from your POS in real-time. The integrated platform automatically inputs daily sales and labor accrual data entries into other business purposes such as accounting general ledger. Integrated point of sales systems data goes beyond the cash drawer summary level offered by simple POS reports. Detailed POS data integrated with your business operations and accounting drives useful insights in sales reporting, costing, labor details, and enhanced business analytics and reporting.
Some companies may offer adaptable POS customizations, but these can be costly and time-consuming. True POS integration creates complete compatibility, but with POS as one part of an entire cloud-based accounting and operations platform. Hashmicro offers you the best POS software to enhance your business. Download HashMicro POS software price scheme calculation to know your costs in using the POS software.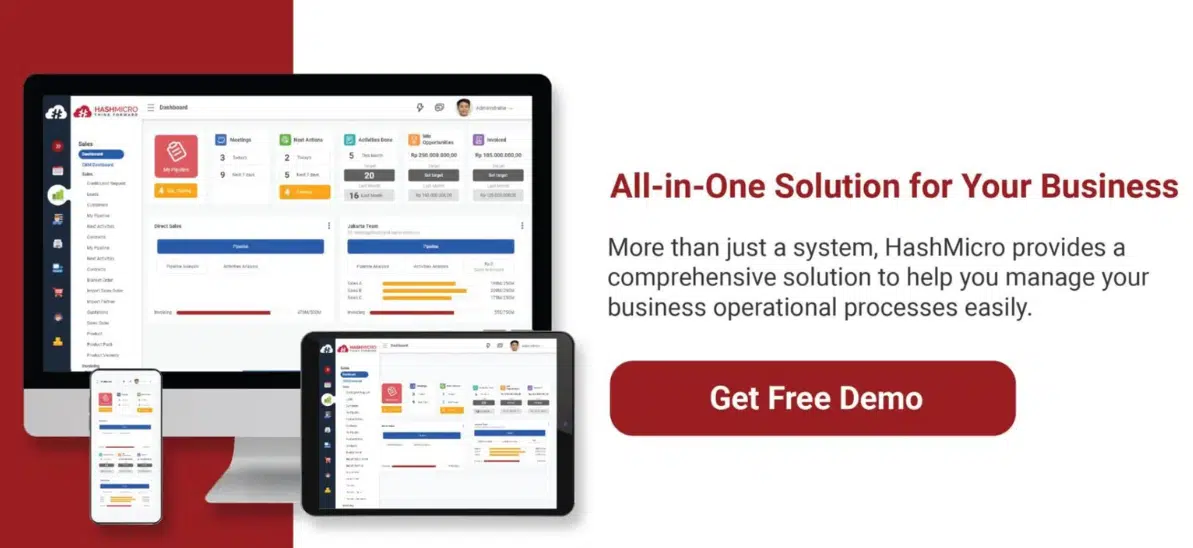 Table of Contents
Why POS App Integration is a Vital Part for Business Accounting Software
POS software seamlessly integrated with your accounting platform enables you to centralize key data collection about daily sales and labor. By eliminating manual POS data entry, general ledger input is streamlined and errors are reduced. Automatically pulling POS data and creating sales and labor journal entries not only ensures accurate data, on the other handit also saves time for your employees, managers, or bookkeeping team.
In addition to the short-term efficiencies, POS integration can inform your business strategy over time through its accessibility. When your accounting system pulls data directly from your sales POS system, you can see a real-time representation of your financial situation. Anomalies in your numbers can be immediately addressed through data-driven decisions. POS software integration drives data collection that can help you run your business. The full integration of POS system enables insights within two main categories. It gives benefit to your bottom line: financial and operational reporting.
Read more : Central Kitchen: Everything You Need to Know

How To Integrate Your POS App With eCommerce Sites
After you understand the why — now you need to know the how. Here are the five steps you need to take to successfully integrate your POS and eCommerce website:
Evaluate your POS.

Consider your requirements.

Ask the right questions: POS and your online store.

Set up POS and online store systems.

Tweak product descriptions and images.

Optimize for improvement.
These 6 steps will help you to integrate your POS app with your eCommerce sites. With the best integration system, you will be able to enhance your business much better. 
What POS App Integration Means For Financial Reporting
Daily sales summary
A POS-integrated platform creates transactions within your accounting software, labeling the "Daily Sales Summary" for each day and each branch location. A journal entry about revenue, tenders, and discounts is recorded from each sales ticket. This integration maps sales reporting and receipt details from your POS to your GL, creating a detailed road map for transactions. By automating this data transfer, data collection is streamlined and insights are accessible from one centralized dashboard.
P&L statement
An integrated POS allows you to automate financial reports, at the frequency and detail you need, to make data-driven decisions about your business. With complete sales reporting, you can customize a recurring comparative analysis by location. Business intelligence, based on real-time POS and operations trends, provides key data that you need to know to improve operations.
Labor data
POS integration allows you to transfer data between systems, track time entries and accrue labor expenses in your GL. By automatically keeping track of key metrics, such as labor as a percentage of sales, you are able to optimize labor spending based on business trends. POS integration enables you to make immediate staffing decisions to control labor costs by automatically recording time entry details for different job titles. Real-time information about your labor benchmarks ensures you can make informed adjustments daily, instead of weekly or monthly. And with POS and payroll integration, payroll processing is efficiently streamlined, saving you the time and hassle of manually passing information to and from your payroll processor.
Read more: Top 8 Career Options in Finance Fields
Conclusion
In Conclusion, point-of-sale system integration with your accounting system and operations platform can transform your POS from just a cash register to an integral part of a smart, data-driven business operation strategy. Knowing what POS integration is and the key benefits of integration empower owners, employees, and managers to start automating essential pieces of running a healthy, and profitable.
Move to POS integration to streamline your operations, without costly customizations or multiple systems, and consider a comprehensive. You can choose the right POS app vendor after calculating the software pricing scheme. Tell us about your type of business and industry and we will offer you the best business solutions.