Business Contract Management is essential for any business, but it is especially important for start-ups. Poor business contract management has the potential to reduce a company's annual revenue. There will be a relaxed attitude and a tendency to react to adversity rather than face it proactively, especially after signing the contract. Business contract management is a business process that can help companies manage the formation, review, execution, monitoring, evaluation, and renewal of contracts in order to improve company performance while reducing risk. This includes supervising contract negotiations, execution, performance, modification, and termination with these parties. Another duty is to ensure that all contracting parties are fulfilling their obligations. 
Furthermore, management must ensure that the contract complies with the terms and conditions of the company. HashMicro's business contract management system allows you to centrally manage all types of contracts, gain direct access from anywhere, and receive automatic notifications when contracts expire. For that, you need to use the best management system from HashMicro. Learn more about HashMicro's Contract Management Software in this article!
Related Article: 6 Top Contract Management Software for your Business!
Table of Content
Why HashMicro's Contract Management Software?
HashMicro's solution is very comprehensive and targets 15 industries so HashMicro's solution is highly trusted. The HashMicro ERP system also offers unlimited user licenses, so everyone in the company can use it at no extra cost. In addition, HashMicro offers ready-made software that the development team is constantly improving. HashMicro software can also be customized according to each client's specific needs. Register for a demo now at this link!
3 Types of HashMicro's Contract Management Software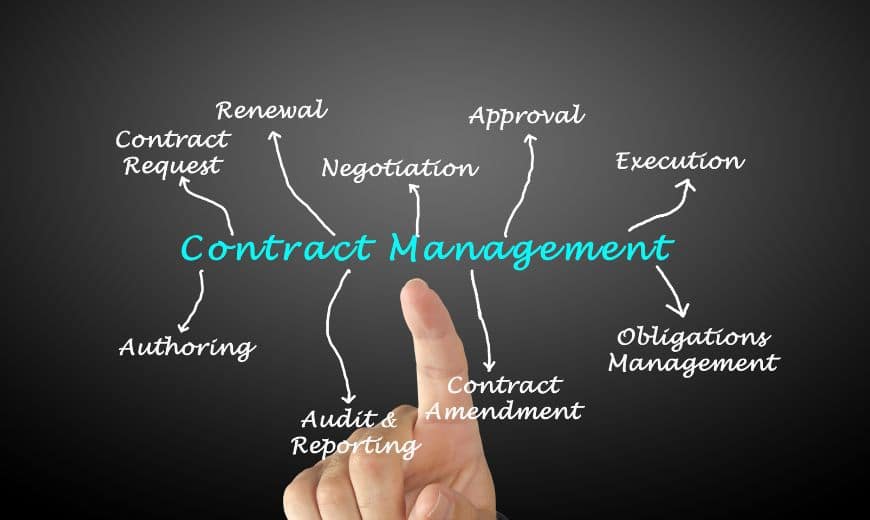 1. Project-Based Contract Management
This module will assist you in tracking the profit and loss of the company's total revenue generated by its projects. This module also provides features that can provide the easiest way to track and find out the number of fees that must be paid according to the progress of each job. Apart from that, this feature also allows you to create and customize the terms & conditions that you want to apply to each contract.
2. Rental-Based Contract Management
This Rental-Based Contract Management module is designed to assist you in managing rental contracts. This will help you keep track of your rental items more easily. If you want to use a rental system for your business, HashMicro has the best rental system. Download the rental system calculation scheme from HashMicro right away. This module's features allow you to track all of your rental items, check their availability, and determine which rental items are past due in order to charge the appropriate late fee. Lease Based Contract Management can also help you keep track of when your lease contract expires. Before the contract expires, notifications will appear automatically.

3. Contract Document Management
The difference between this type of contract and the others is that Contract Document Management can assist you in maintaining all types of contracts from files to any attachments that support contract integrity. This feature allows you to keep track of the expiration dates of all of your contracts. It also receives automated reminders to renew contracts that are about to expire. Another advantage is that users of this module can flexibly create and customize different types of contracts, and grant other trusted users permission to edit them.
Conclusion
By knowing how important contracts are, effective contract management can drastically improve the performance of your organization. Contract management software is one of the tools that can assist your company in contract management. When drafting a contract, there are numerous factors to consider and plan for, so it is critical that you use a contract management system to streamline your company's operations. Download the pricing scheme calculation of HashMicro's Contract Management System now!