The cosmetics market will continue to rule the retail industry for the next few years. That means this could be a great year for those who want to try their luck in the market. Starting a beauty and cosmetics business can also be harmful if managed with poor planning. Marketing is getting more creative in this digital era, especially with marketing automation tools. More and more makeup brands are emerging with creative marketing concepts and strategies. One of the strategies is to optimize your marketing efforts with the best Marketing Automation Software.
When starting a cosmetics business, it is important to put effort into the marketing strategy, for example, by utilizing integrated email marketing software. Because launching a cosmetic product usually attracts the public's attention, putting efforts into marketing strategies won't hurt. Therefore, we can offer Singapore's No.1 Marketing Automation system to help you integrate marketing into an automated software system.
What Do You Need to Start a Successful Makeup, Beauty and Cosmetics Business
Despite uncertainty in the retail industry, the cosmetics business has skyrocketed. According to The NPD Group, a company focusing on market research, the beauty businesses contributed 45 percent of the industry's total gains last year. So, in this article, we have put together a few tips that can be your guide to your journey in the beauty and cosmetics business.
1. Keep Up with Trends & Know What Consumers Need
You can't run a successful cosmetics business without following the trends. If you want to be one step ahead of your competitors, then try to be more up-to-date than them. You can subscribe to various well-known beauty websites to stay updated on their latest products.
Don't forget to read many fashion articles, watch makeup-related videos on YouTube, and keep up with beauty trends on social media. This will help you develop ideas for your cosmetic brand.

You can also conduct surveys to find what beauty products consumers need, what they haven't gotten from other cosmetics brands, and why they choose to use makeup products from certain brands. This can help you innovate your products.
2. Test Your Products
One of the best ways to gain trust in beauty is that your cosmetic products have passed health tests and are safe for use on the body or face.
From the security results, you can go to the next stage, namely market testing to find out the market response to your cosmetic products.
Also read: Brand Imagery: Definition and Interesting Facts That You Should Know
3. Comply with FDA Regulations
Another important thing that you may not miss is compliance standards. Make sure your makeup products meet safety standards and get approved by the FDA. Therefore, testing your makeup products before releasing them to the public is crucial. Beware of ingredients that you should avoid in your cosmetics.
4. Develop a Marketing Plan
Marketing beauty products cannot be rushed and careless because it is closely related to the health and safety of cosmetic products.
To build public trust that your cosmetic products are safe to use and become the most quality products in the beauty industry, it requires a fairly long marketing plan, maybe even yearly planning. The best and easiest way to do this is to use a premium app like SEMrush to research target keywords from your potential niche, then Google each keyword and see what other sites (and especially forums and Quora) have to say about the topic. The content you discover there will tell you all you need to know about your future niche audience.
5. Choose a Niche
There is no single product that can reach everyone. If you think that all people can accept your product, then the biggest possibility is that the marketing effort and operational costs will be even greater and not targeted. So you have to determine first who best fits the characteristics of the product you are going to build.
6. Decide on the Location
Location selection is crucial in running a business, especially the cosmetics business, which requires special foresight to see which location is most suitable for the target market. The wrong location will only waste time, energy, and money.
7. Go Where Your Customers Are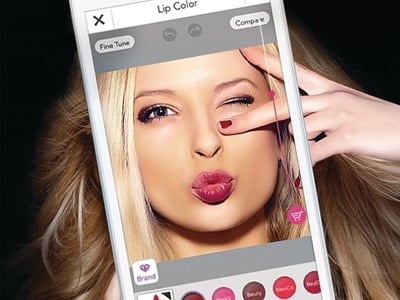 In this digital era, consumers use various channels to shop. Millennials, who make up the majority of cosmetics fans can't be separated from technology. Thus, making it easier for them to find your brand online.

Look at what Elizabeth Arden did. This famous brand has existed in the beauty industry for more than 100 years and was better known as a beauty brand for older women. Still, now they are targeting younger consumers by promoting their products through an e-commerce site and social media like Instagram. They even collaborate with a famous makeup artist.
In addition to selling your cosmetic products on your e-commerce site and social media, you can also sell them on multiple marketplaces. Adding more sales channels can help you increase brand awareness and your sales.
8. Discover Your Brand Personality
What kind of impression do you want to make when someone encounters your makeup brand for the first time?
You must think carefully about the brand identity you want to build. Do you want your brand to be known as an eco-friendly makeup brand? Do you want people to see it as a cosmetics brand that promotes women's empowerment?

The majority of consumers want brands that care about social and environmental issues. Therefore, it would be great if you could take a stand on a social or environmental issue and engage your customers to tackle it together.
9. Get a Memorable Logo
Is the identity of your cosmetic product easy for consumers to remember? If not, it doesn't hurt to consider using a new logo that is easier to remember for your cosmetic products.
You can compare the logo of cosmetic products with competitors and look at the shape, color, size, and type of writing used. Or even take it to a design consultant to get maximum results.
10. Generate Publicity
User-generated content is one marketing technique that you might want to try. One of the brands that have run generated publicity is Instagram and Apple. This technique will save your effort and marketing costs for the cosmetic business. You will get content and publications for free by utilizing the results of consumer reviews.
But there is a fundamental but very big impact that you need to consider, where you can't limit people's assessment of your product. So you need to be very careful in responding to reviews shown on your brand or cosmetic product.
11. Add More Value to Your Products
Today, the number of beauty brands out there is almost countless, competing with each other to be the most remarkable ones. Figuring out what your competitors are doing will help you create better ideas. You can apply concepts that are similar to theirs but try to add more value to your products.

You can take the example of Fenty Beauty by Rihanna. The newly-launched cosmetics brand made a huge breakthrough by releasing a wide range of foundation shades more applicable to all skin tones, especially dark ones.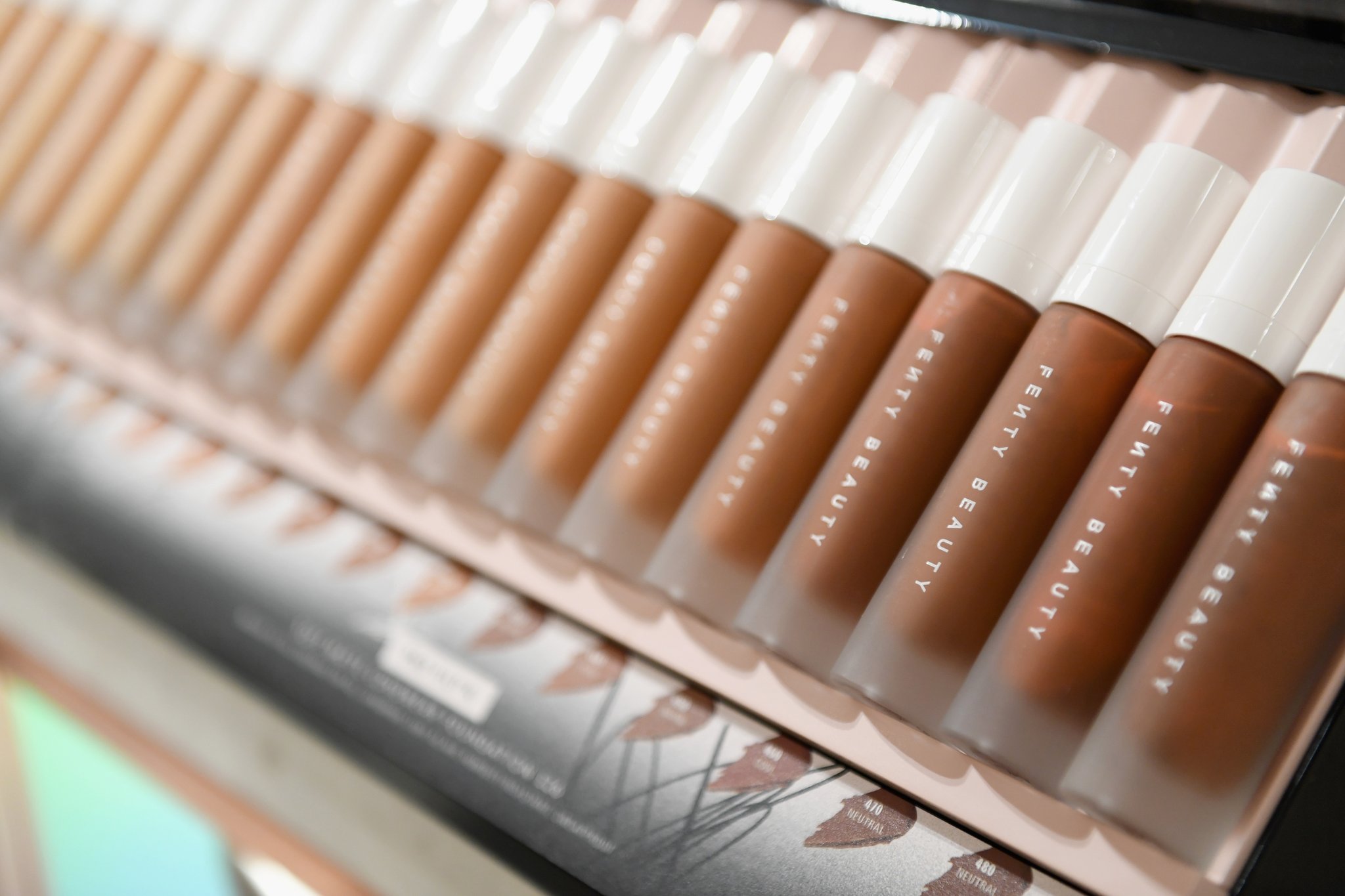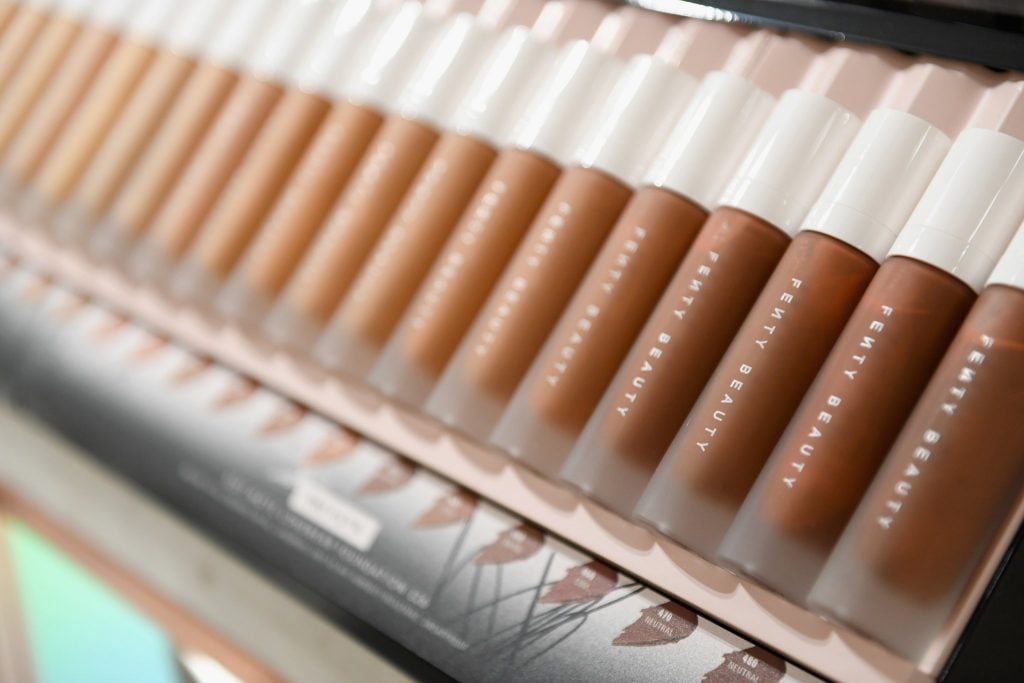 Rihanna figured out what other brands had not offered and what was most needed by women of color. Many dark-skinned women complained that they had trouble finding foundation shades that perfectly suited their skin tones. Thanks to Fenty Beauty, now that more and more makeup lines are releasing diverse foundation ranges.
To make it easier to collect and record the storage of goods you will sell, you can integrate it with comprehensive inventory management software. The system helps to control the procurement of goods, manage orders, control inventory with automatic notifications when the stock starts to run out, and provides an accurate estimation of stock requirements. If you are considering implementing this software, don't forget to download the pricing scheme calculations beforehand.
12. Deliver Excellent Customer Experience
Nowadays, consumers are not only concerned with products but also with the experience they get. When you're at the mall, you can see that people prefer to go to makeup stores that provide a great customer experience, for example, through free beauty consultations or makeup services.

However, since almost all makeup stores have already provided the same services, you should consider something different. You can take a look at what Sephora does. The French cosmetics line provides a Virtual Artist application that allows customers to try their makeup products virtually.
Sephora also integrates online and offline experiences by allowing its customers to make purchases online and pick up orders in-store. In addition, they also provide chatbots that help their customers find deals, make purchases, make fashion choices, and find products that meet their unique styles and tastes. With an innovative customer experience like this, it's no wonder that their revenue increased by 11% last year.
Read the related article: 7 Retail Technology Trends You Don't Want to Miss
13. Choose the Right Brand Ambassador
Collaborating with influencers and making them brand ambassadors is commonplace for various brands to market their products. If you must embrace a brand ambassador to help promote your cosmetics business makeup brand, choose someone relevant to it.
Don't choose a brand ambassador based on their fame regardless of their reputation or relevance to your brand. So, you must ensure they can be a good representative and help build a positive brand image.
Then, if you still find it difficult to determine your potential cosmetics business prospects, you can use HashMicro's best CRM system. The system helps you integrate potential prospects, increase lead conversions, and help carry out comprehensive monitoring of sales activity, from meetings to client follow-ups.
Also read: 6 Ways to Choose the Right Brand Ambassador for Your Company