Over the past few years, online ordering with the help of online e-menu software has become a trend in the food and beverage industry. People love this option because it is easy, convenient, and completely transparent. Nowadays, restaurants have provided mobile applications and a cloud-based e-menu system to make it easier for their customers to place orders. Many also have joined food delivery applications such as DoorDash, GrubHub, UberEats, etc. So, does this mean dining out is no longer a thing?
People still love eating out. Going to a mall on the weekend, you might find it challenging to find a place to eat since all the restaurants are entirely out of stock. Since restaurants and cafes are still relevant today, there is no reason for you not to improve the dining experience at your F&B outlet(s). One of the current trends that will help you enhance your restaurant guest experience is the use of an integrated e-menu system. Customers, especially millennial ones, cannot be separated from technology. They want to keep connected with technology even when they are eating out. This is why many restaurant owners have switched to the right e-menu software. To consider which software to use in your restaurant, you can download the pricing scheme calculations for e-menu software here.
The following are some of the main benefits of E-Menu for restaurants:
1. Improve the Guest Experience with e-Menu
When people come to your restaurant, they don't just want to eat and drink but also yearn for a pleasant dining experience.

Today, people cannot keep away from technology and want anything to get ready faster. Therefore, investing in E-Menu is one of the most effective ways to retain your current customers and acquire new ones.

E-Menu helps restaurateurs provide an outstanding experience to their restaurant guests through an attractive menu display and ease in adding or removing orders, addressing waiters, and finding unique menu choices.
2. E-menu Speed ​​up the Ordering Process
You will have to put a tablet on each table and allow the guests to order themselves. The E-Menu enables them to view the menu of the day, the customer's favorite menu, or the chef's recommendations.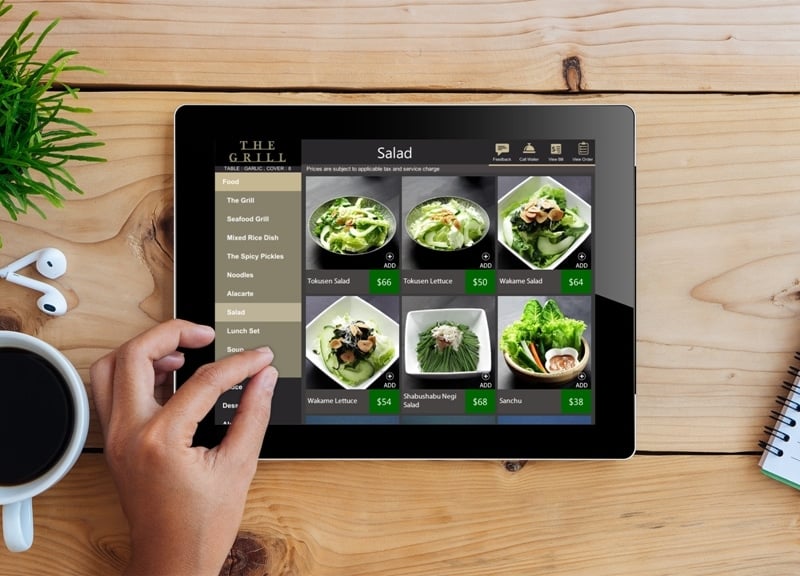 Your restaurant guests can also add or delete items from their order lists and place orders in just a few clicks. This means that you can significantly reduce the lead times, thus increasing the satisfaction of your restaurant guests.
3. Simplify Menu & Pricing Updates
You no longer need to replace your old menu books with new ones whenever there are changes in your menu items or prices. However, strikethrough and cover-up tapes make your menu books look messy.

E-Menu allows you to update your restaurant menu in just a few seconds, and you can do this anytime and anywhere. You don't even need to be physically at your restaurant to update the menu.
4. Boost Sales with Cross-Selling
With E-Menu, you can determine any food and beverage items you want to promote. Foods and drinks that were previously less popular or rarely ordered by guests can quickly become new favorites.
5. Gain a Competitive Advantage
The food and beverage industry has become more competitive in the last few years. To win the competition, you must offer more excellent value or provide better service. If your competitors have invested in software to automate their restaurant operations, you must too. E-Menu helps you modernize your restaurant and make it more advanced than other restaurants.
When your restaurant guests are happy with your service, they will most likely share their remarkable experiences with their peers and post good reviews on Google, Yelp, Instagram, or Facebook. This will eventually increase your restaurant ratings.
Conclusion
So, above are the advantages of restaurant e-menus. As a restaurant owner, it's time for you to take these benefits! Especially now that we are moving into an era of all-technology. In addition to facilitating the process of business activities in your restaurant, E-menu can increase company profits a lot.
Don't worry about difficulties in using the E-menu because Hashmicro is present in your business convenience solution. So, add the leading restaurant system from HashMicro products into your company, now! As you know, Hashmicro is Leading F&B tech to maintain 100+ outlets easily. with Fully integrated ERP with POS, cashier, stock management, profit and loss bookkeeping, & central kitchen.