You see barcodes everywhere – from ID cards, documents, and also stuff you bought from the supermarket. The images that contain lines, bars, as well as spaces are almost in anything for identification. It represents numbers and other symbols. It all can be automatically created with the use of online barcode inventory software.  To help you choose the best software, get the software pricing scheme calculations from HashMicro here.
Barcode looks very simple yet very useful. It has the function of specific product data such as production code and expiry date. A comprehensive barcode application can help your business get a fast and accurate item verification, full traceability of your assets or inventory condition, and more. With the right barcode inventory system, you are able to boost your work efficiency, especially with the most complete Sales Management System in Singapore.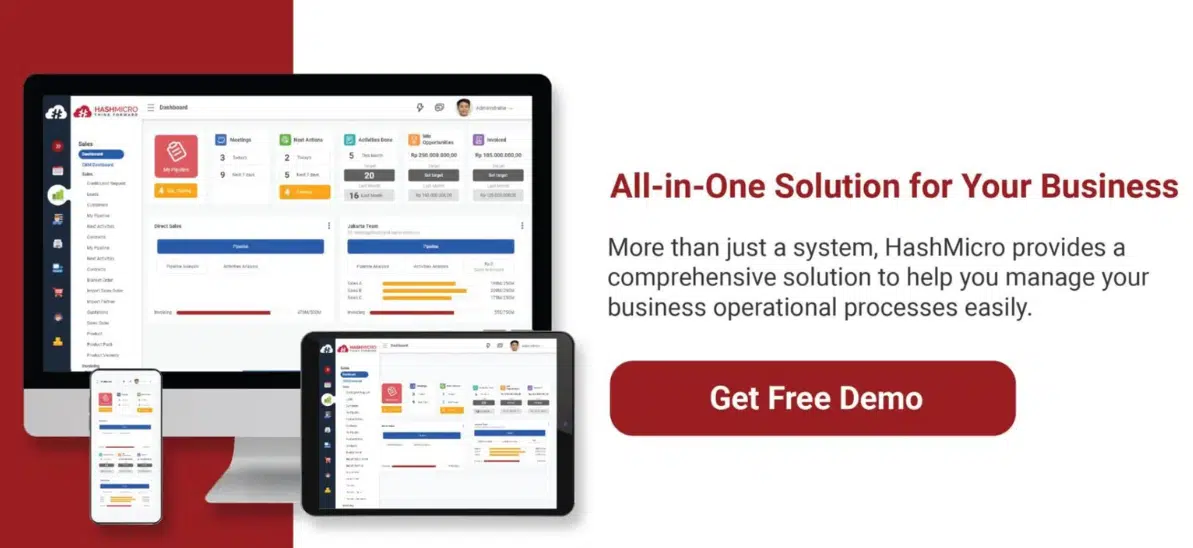 Table of Contents
The Barcode Application
Barcode can increase efficiency and productivity when paired with a complete barcode reader. The reader uses laser beams to scan the image and translate it into computer data as item stock data.
Most people see barcodes and barcode readers in supermarkets or retail stores. However, barcode's functions are not only that to that. An integrated barcode inventory software works to help record inventory, check out a book, or track animals for research purpose.
Meanwhile, barcode readers that work with computers are often seen at retail stores. Again, it is not limited to that. Barcoded readers also function in inventory-related activities.
Barcode System and Asset Tracking
Generally, durable barcode labels are the top choice for industries that uses them for asset tracking. The barcode system here functions as an asset, warehouse, and utility asset tag. In some cases, barcodes work as unique identification labels (UID).
Moreover, asset tracking maximizes efficiency in controlling and minimizes the company's property loss. For this purpose, a company may use a set containing a computer, barcode, barcode reader, and asset management software for real-time operations.
The barcode system is the primary key for easy data collecting and asset tracking. So, the retail store's important information for your business includes project names, asset categories, and others.
Barcode and barcode readers help companies calculate and track assets more quickly and accurately. It minimizes human errors.
Related Articles: 5 Effective Asset Management Tips for Improving Business Efficiency
Barcode System and Inventory Management
Just like asset tracking, inventory management may use barcodes to optimize efficiency. Companies must know the location of products' background and how the products are being distributed to customers or their storage. Therefore, It can also help the managers to decide when to make a purchase.
Therefore, an inventory management system that uses a barcode system automates all aspects of inventory management, increasing its effectiveness. It gives you a forecast for future demand.
Related Article: 7 Things to Consider When Choosing an Inventory Management System
Benefits of Using the Barcode System
If your company starts implementing a barcode system, you will enjoy a lot of conveniences. As a result, barcodes improve operational efficiency, enable better customer service and clear visibility of business management processes.
Other benefits include:
Barcodes reduce data entry errors. As a result, the scanning process is fast and reliable. It's better than doing it manually.
Using a barcode system reduces employee training time. It is not difficult to understand how the barcode system works.
Barcode design and printing is cheap.
With barcodes, inventory control becomes better because they are more precise and faster in an attempt to find the location and calculate the quantity.
Conclusion
In conclusion, accurate information is essential for your business, both in inventory management and asset management. Barcode systems are reliable and cost-effective. Barcode systems can adjust to company regulations which ensures accurate availability data.

You can choose the right ERP vendor after calculating the ERP software pricing scheme. Tell us about your type of business and industry and we will offer you the best business solutions. If you want to get a free demo of our tour product, click here!