IT departments have become a vital and integral part of every business. Not only are they responsible for maintaining the technology infrastructure, but also providing excellent customer service. With tough responsibilities, IT departments and support teams still have to face various obstacles such as inefficiencies in terms of communication, high asset costs, lack of team productivity, and so on.
One of the most effective solutions that can be applied by companies to improve the efficiency and productivity of their IT departments is to use automated solutions like ERP software. The more processes that are automated, the more streamlined and efficient the workflow will be.
Here are seven main ERP benefits for IT departments and support teams that you need to know.
1. Increased Data Security
Data is one of the most important assets in IT departments. The problem is that even IT companies are not immune from data security threats done by hackers. Not to mention the data backup issues that are often overlooked even though they still occur frequently.
ERP software provides the right solutions to these problems. It is equipped with robust firewalls and allows users to control who can access company data. Cloud-based ERP software also automatically stores various changes that occur in your data.
2. Improved Team Collaboration
With a centralized database, ERP software has proven to be effective in improving collaboration between employees, teams and departments. In IT departments, collaboration is the very critical, because IT staff are very dependent on each other.
Undelivered important information can cause errors in various tasks. Decentralized information can also lead to misunderstandings in the workplace. Thankfully, you can avoid these issues by implementing an ERP system.
3. Faster Average Handling Time
Both internally and externally, the average handling time should not be overlooked. Distributing tickets to the wrong people will only add new problems, rather than solving existing ones. Ticket tracking is also one of the major challenges in IT departments.
With the help of ERP software, issue handling can be done more quickly and precisely. Managers can easily distribute tickets to the right people at the right time. Tickets can be prioritized based on the severity of the issues and tracked easily so that none of them will be forgotten.
4. Optimized Accuracy
In addition to providing accurate reports, ERP software also helps improve accuracy in terms of task delegation, task execution, and decision making. With a significant reduction in errors, support teams will not need to keep correcting mistakes in their tasks so that they can focus on other important tasks.
5. Reduced IT Asset Costs
With the asset management module in ERP software, IT assets such as computers, laptops, servers, and so on can be tracked properly. You can prevent loss of assets by tracking their locations and knowing who the owners are.
You can also avoid damage to your assets by carrying out periodic repairs and maintenance which can be scheduled automatically with an ERP system. It also calculates asset depreciation automatically, making it easier for you to know the value of your assets. All of this will lead to longer asset lifespans and optimal cost savings.
6. Streamlined Workflow
Through automation, all processes can be simplified. Each task can be delegated quickly and precisely. Each agent will be clear on what they have to do. Each progress can be monitored in a single view and agents can follow up with customers more easily.
7. Enhanced Customer Service
One of the main benefits you can get from implementing an ERP system is improved customer satisfaction. The ERP system allows your support team to view complete information about customers and respond quickly to their issues. Complete ERP software even comes with a customer portal so customers can submit and track their own tickets.
Conclusion
There are so many other benefits that IT departments can get through ERP implementation. If you want to know more about what an ERP system can do for your IT support team and entire company, feel free to attend an upcoming business and tech workshop presented by HashMicro and Lenovo Indonesia.
"Improving IT Efficiency with ERP Software" is a free workshop that will be held on June 25, 2019 at Ibis Harmoni Hotel Jakarta. This event is intended for IT-based companies who want to get effective solutions to improve the efficiency and productivity of their IT departments.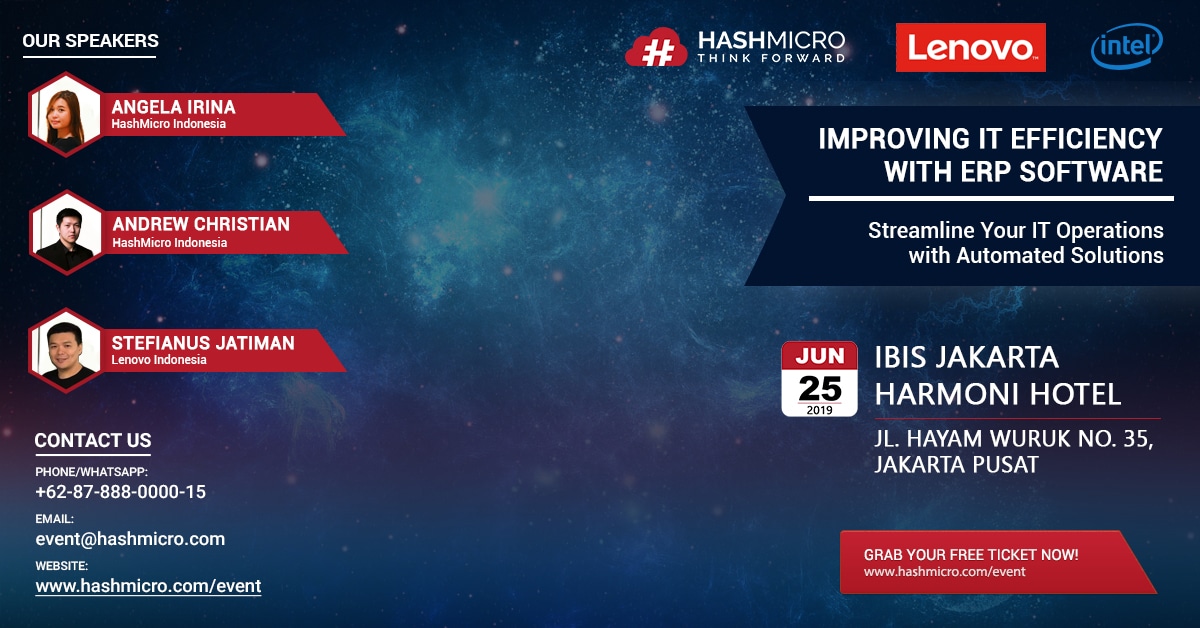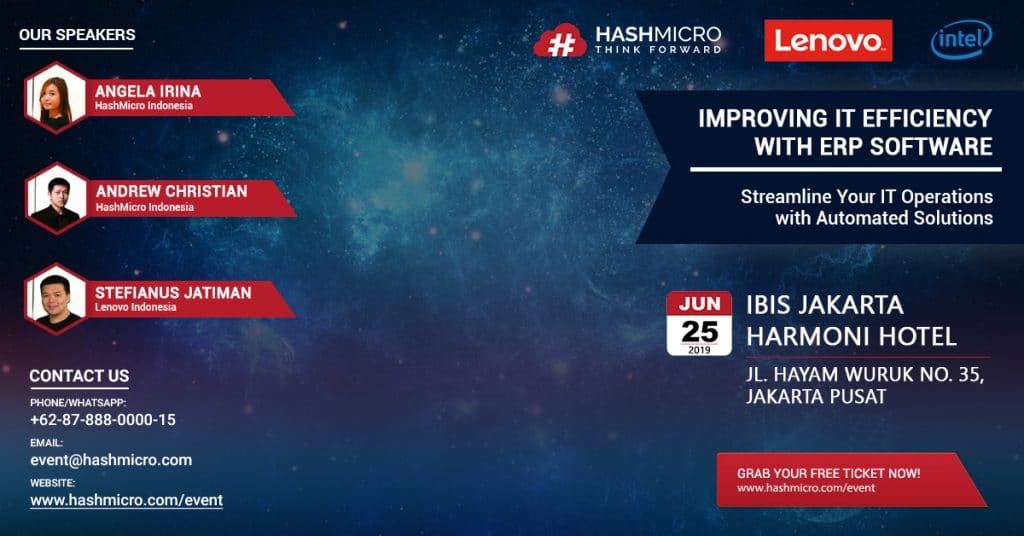 Get your free tickets by clicking the following link:
https://hashmicro.com/event