So you got some negative online reviews? Don't panic. Seeing somebody slams your business on Facebook, Instagram, Google or Yelp must be upsetting, but you shouldn't take it personally. It doesn't necessarily mean your business is bad. Bad reviews happen and you'll see more of them as your business grows. 
You may be worried about losing some prospects due to the negative online reviews. That is understandable. But you shouldn't think about them too much. Here are savvy ways to fix them and even turn them into positive results.
1. Stay Calm & Keep Your Negative Online Reviews Published
Negative reviews hurt your feelings, especially if they turn out to be fake ones. Many sellers think they can solve everything by removing their bad reviews. However, that's not how you should deal with bad reviews.

Your business may not suit everyone and you can't please them all, so it's okay to have one or two people dissatisfied with your product. Remember you're not the only one getting bad reviews. They actually show your authenticity as a seller and that you have different types of customers. Having 100% positive reviews just seems so unrealistic. In other words, bad reviews are not something you should get rid of, but properly handle.
2. Respond to Them Quickly and Publicly
So you've decided to keep your negative online reviews. However, you're not going to solve anything if you ignore them. The best thing to do is responding to every single complaint immediately, just as quick as you respond to the positive reviews.

It is strongly recommended to reply to the bad reviews publicly, but there are a few things to keep in mind while responding to them:

Don't react defensively or allege that the angry customer is giving a false comment




Make an apology even if you didn't make any mistake

Ask the customer concerning the bad experience they had

Tell them that you will provide the best solution for them

Offer them to speak directly to you by phone or email
Here's an example of how to respond to a negative online review: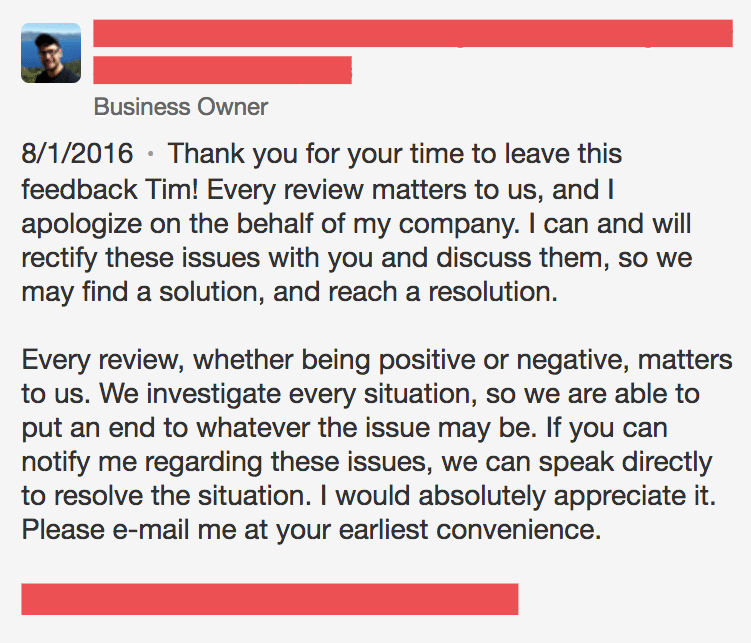 3. Evaluate the Situation
Responding to negative reviews alone is not enough. You need to analyze the problems or bad experiences your customers encountered. Evaluate your product quality, delivery service, and customer service to figure out any deficiencies your business may have. By checking and evaluating, not only can you change the perception of the disappointed customer, but also minimize chances of getting more bad reviews in the future.
4. Try to Talk to the Upset Customer
Try to get the data of customers that gave you a negative online review. Contact them directly by phone or email to talk about how you can fix their disappointment. You can schedule your emails and set up reminders so you won't forget to follow up with the customers.

By contacting the customers directly, you will find it easier to figure out the root causes and find solutions. Your customers will feel appreciated. In addition to apologizing, you can also provide vouchers or special offers for them to win their back.
5. Focus on Getting More Positive Reviews
Instead of thinking about eliminating negative online reviews, you should focus more on getting more positive ones. They will drown out your bad reviews.
In order to get more positive reviews,  you should first be able to improve the quality of your product and customer service. Good product quality brings in more customers. So does good customer service.

Deliver great customer support by giving your customers the ease to submit their inquiries and complaints. Using an automated help desk system will help you greatly in this regard. It allows you to respond to customers more flexibly through live chat, phone, messenger, and email. This means, your customers can choose the option that works best for them. Better customer service will help you improve customer reviews and reduce the likelihood of future complaints.