The dawn of the fourth industrial revolution has ushered in a new era of networked factories and digital production. "Industry 4.0" describes the movement to integrate cyber-physical systems with traditional automation and IoT to build "smart" factories. These businesses are developing their unique Industrial Internet of Things by syncing their equipment with the cloud. 
Intelligent Supply Chain Management unlocks an appealing vision, promising massive scalability and exponential growth. With Hash Manufacturing Solution, an integrated ERP system including a suite of cloud-based apps. You can speed up your company's digital transition with technologies tailored to capital goods, machinery, and other heavy industrial items. Learn more about it by calculating the software pricing scheme.
Also read: Manufacturing Automation System Tips to Increase Steel Industry Productivity
Table of Content
History and Evolution of Industrial Manufacturing
During the 18th-century First Industrial Revolution (Industry 1.0), machines replaced crude production methods. By the end of the 18th century, the US had adopted this 1760 English concept. The First Industrial Revolution shifts mining, textiles, glass, and agriculture from an agricultural and handicraft economy to a machine-dominated one.
The Second Industrial Revolution (Industry 2.0), which occurred between 1871 and 1914, is the next major change in manufacturing. This change was made possible by substantial railroad and telegraph networks that facilitated the speedier exchange of people and ideas. Modern production lines in industries were made possible by the introduction of electricity.
Oldsmobile automobile manufacturer Ransom E. Olds was the first to design an assembly line. His method was useful. His business produces 20 units per day, which increases productivity by 500% in a year. Henry Ford adopted Olds' approach as a starting point for developing his technique. Ford is widely recognised as the real innovator behind the assembly line and mass production of automobiles.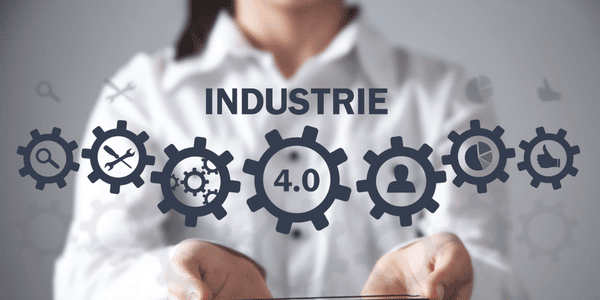 Using computers and memory-programmable controllers, the Third Industrial Revolution (Industry 3.0) started in the 1970s of the 20th century. This period focuses on integrated circuit chips and the resulting computers, microprocessors, digital cellular phones, and the internet. We may state that the digital revolution transformed analogue technology into a digital format.
The Fourth Industrial Revolution, also known as Industry 4.0, is the fusion of advanced digital technologies with physical assets. These technologies include IoT, AI, robots, drones, autonomous vehicles, 3D printing, cloud computing, and others. These technologies are interconnected and can communicate, analyse, and act. Adopting Industry 4.0 makes businesses more adaptable, intelligent, and ready to make data-driven choices.
Also read: 7 Ways to Improve Efficiency at Your Manufacturing Plant
Industrial Manufacturing Challenges
Despite the pandemic, governmental changes, tariffs, and environmental shifts, Industrial manufacturing solutions expect 7.2% growth through 2021. That's an optimistic prognosis, but even growing companies will encounter production hurdles in the years ahead. Read on to discover manufacturers' biggest issues and possible solutions, including the construction sector's role.
Skills shortage
The industrial sector faces a major manpower shortfall as a competent generation begins retiring. Employers today want individuals with cutting-edge technical skill sets. They require people who are good at arithmetic and have analytical minds. With the rise of innovation, the formerly need for an incompetent and trainable workforce is gradually waning. Manufacturers can easily train on the job and save money thanks to augmented and virtual reality advancements.
Machine intelligence
The Internet of Things is being used increasingly in the industrial sector. Most businesses currently use the technology or are about to use the Internet of Things devices. These intelligent robots let businesses gather beneficial data that might help them increase production and conduct predictive maintenance. However, compiling information is a rather simple operation.
The difficult aspect is analysing and combining the data that has been gathered. Despite having machines, most businesses lack the technology to evaluate and extract system data. In this way, the sector is passing up a significant chance. Data mining capabilities need to be improved across the board in this sector. They will be able to make better selections in real time this way.
Customer Self-service application
The prompt delivery of goods is a priority for most manufacturing organisations. Additionally, they want to maximise income and profits. However, there is no longer any usage of customer self-service. Applications and portals with a customer-facing focus are popular in the sector. Every customer who needs information must call the manufacturer on their phone.
Customers in the manufacturing sector include partners, final consumers, and subcontractors. Each of the three clients is different in their needs, wants, and worries when working with the manufacturer. Manufacturers with isolated partners and end-user portals linked to a large source will provide superior customer care. Customers can ask questions, seek new proposals, seek answers or information, and get the updates they need on their purchases. Monitoring, accepting, and updating the job tasks to subcontractors is possible.
System usability
Users of internal systems are comparable to customers who choose self-service platforms over mobile devices. Internal users need modernised technology to help them accomplish their jobs more effectively. Modernised systems provide flexibility, better understanding, and speed. This enables employees to utilise apps to their advantage by completing jobs more effectively and efficiently.
Instead of impeding work, the system offers an atmosphere that encourages the completion of tasks by workers. However, most industrial companies that employ AS/400 systems cannot provide a crucial user experience. The contemporary worker needs a modern system. Businesses must explore the market and hunt for answers. Companies may choose from many options to provide a highly enhanced user experience.
Project management
Producers must follow incredibly demanding, restrictive, and rigid deadlines to get their goods to market. Every project in the production line is concerned with attention to cost, schedule, and quality. As a consequence, these initiatives usually have strict guidelines and strict management. Failure to meet deadlines puts manufacturers at higher risk of losing millions of dollars in potential revenue and profit.
Because of this rigidity and strict supervision, businesses have less flexibility to modify their scopes as projects go. Most projects need an early and dependable design commitment. As new information becomes available or adjustments are necessary, there is always less room for modification. A team that hopes to produce high-quality items may find this difficult and irritating. Having deadlines all the time.
Trade war effects
For all manufacturers, low earnings are a major concern. With ongoing trade disputes, this might become worse. Trade conflicts now impact every industrial area. Since completed goods and raw materials are obtained and marketed internationally, manufacturing is no exception. In the next year, the sector is thinking about making tactical adjustments, mostly to the supply chain. They aim to lessen the effects of ongoing trade conflicts.
Need for a supply chain visibility
Manufacturers should satiate the growing consumer desire for more openness. Throughout the customer and product lifecycles, they should meet demand. Granular visibility and real-time across the whole supply chain are required to accomplish this.
Manufacturers must be aware of every detail. They must be aware of product delays before they can take action. Being aware of such events will give them the advantage to make adjustments or solve the issue.
Effective Manufacturing Digital Marketing Strategy
How to leverage digital channels to increase leads, sales, and MRR is one of manufacturing's biggest digital transformation challenges. Industrial businesses struggle to measure the effectiveness of paid advertising, corporate SEO, local SEO, content strategy, and social media. Some of these businesses' biggest issues are their website design, digital experience, and brand presentation. They can't ignore them if they want to keep taking advantage of the industrial renaissance.
Industrial Manufacturing Types
Industrial manufacturing solutions are essential to a nation's economic productivity. This economic sector includes everything from steel production to the extraction of materials for sewing. Industrial parks are crucial to this line of business, too. The concept of manufacturing centres on transforming unprocessed materials—biological or inorganic—into something that society can use. These are the top five categories of manufacturing businesses now available on the market:
Textiles and Clothing
The clothes and textiles sector includes businesses that manufacture raw materials such as fleece, cotton, and flax used to create fabric. Wool and materials for apparel, outerwear, upholstery, and bedding are also part of this industrial sector. The apparel and textile sector includes the output from tailors and sewers. Synthetics, like polyester, are within the category of mixture production. The focus of describing this part is on the content rather than the object.
Plastics, chemicals, and oil
This branch of manufacturing includes the processes for converting synthetic materials, coal, and unprocessed petroleum into useable products and producing cleansers, tars, paints, insecticides, and medications. However, elastic construction is seen as a work of plastic art. Additionally, this industrial sector utilises raw petroleum to make certain polymers, gasoline, and other synthetics.
Computers, Technology, and Transportation
Despite the close connections between these professions, they are often seen as different aspects of manufacturing. Most of the components in this assembly area run on electricity, and each needs a power supply. All machines, microchips, semiconductors, chips, and wide media hardware may be found in this sector. The transportation portion is self-descriptive as it includes all vehicles, trains, and aeroplanes that don't come under other components like metals or compound assembly.
Food Production
The integration of agribusiness with manufacturing in modern society demonstrates how horticulture has transformed through time, resembling a food production facility more closely than a traditional farm a century ago. The simplest of all industrial businesses includes all stages of food production, from the farm to the dinner plate, as well as tasks like canning and filtering.
Metal Manufacturing
Metals are a part of the industry, along with oil and compound assembly; the other divisions are often referred to as "light industry" or "buyer arranged industry." Metal fabrication includes all forms of iron, aluminium, and steel production.
Also read: 6 Main Benefits of ERP Software for the Manufacturing Industry
Industrial Manufacturing Solutions from HashMicro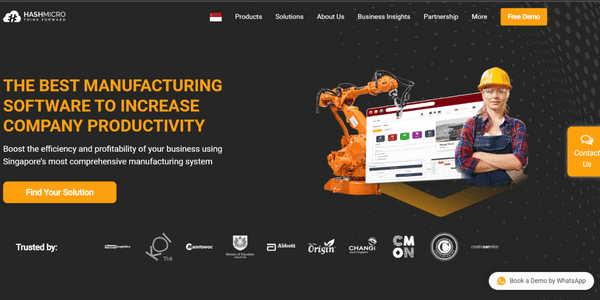 Your manufacturing businesses will benefit from various software types, including manufacturing, inventory, SCM, CRM, and HRM. Each piece of software has a purpose that may effectively facilitate the operation of your manufacturing company. All of the software has to be a part of one integrated system for the best performance. It will only require a lot of time and money if you have software with a distinct system. As a result, you must choose software, such as the finest Manufacturing Software from HashMicro, that offers all necessary modules and functions in a single system.
Hash Manufacturing Automation is the best option for streamlining the production process for business operations in the manufacturing industry. This technology is simple to use and intuitive. Additionally, it may assist manufacturers in properly producing reports and streamlining their production planning. This software is a complete production system since it is integrated into other systems like accounting, procurement, CRM, inventory, HRM, and assets. This advantage will help you save time and money, increasing the efficiency of your manufacturing company's operations.
The aforementioned software parts make up the Manufacturing ERP Software from HashMicro. It streamlines your production processes daily. Companies may get the software pricing scheme calculation to determine an estimated price before learning more about the manufacturing software.
Importance of Industrial Manufacturing Solutions
ERP systems provide several advantages for manufacturing businesses of all sizes. For contemporary manufacturing businesses to expand quickly and develop a culture of data-driven decision-making, they must leverage solutions and technologies that support these goals. Given today's hyperconnected and data-driven world, the potential of analytics and big data cannot be disregarded. By integrating several internal operations, ERP systems assist in enhancing production and distribution and provide a 360-degree perspective of the complete firm. It might be difficult to implement the proper industrial ERP software.
It needs you to consider various things, including your budget, implementation objectives, timeframe, and necessary features and functionalities. For many industries, an ERP system is a wise investment. It is a platform that offers various business operations, including inventory and work order management, supply chain management, customer management, financial management, and more. Implementing ERP software may help businesses save 25% to 30% on inventory expenses and around 15% on raw material expenditures. The programme improves efficiency and decision-making by facilitating the flow of cross-functional information.
Industrial Manufacturing Solutions Features From Hashmicro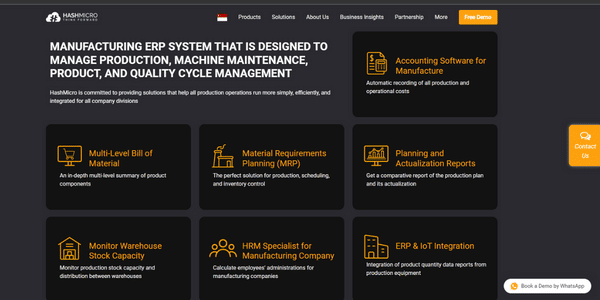 It could be challenging for your company to choose a Manufacturing ERP Application. The following is a list of some essential characteristics of industrial manufacturing solutions. These features will improve the efficiency of all business activities. Before acquiring a solution, you may use HashMicro to see how pricing schemes are calculated!
Multi-level BOM
A bill of materials is a complete list of all the materials and parts necessary to make a product (BOM). BOM includes the raw materials used in manufacturing and the assembly, sub-assembly, sub-component, and other pieces. Depending on the production processes, BOM formats change. There are two typical BOM kinds, however. The first is the Bill of Materials for use in the engineering phase or at the start of a project (eBOM). When a product reaches mass production and is sent to customers, the second kind of BOM is linked (mBOM).
Also read: Production Software in ERP Systems for Manufacturing Industry
MRP
MRP is a technique for determining the materials and components necessary to create a certain product. Manufacturers often use this strategy. The three concerns that Orlicky set out to answer in MRP are what is necessary, how much, and when.
Industrial manufacturing solutions, for example, often needs an MRP system to automate the production process. The corporation uses the technology to calculate how much material it will require for manufacturing and to plan shipments.
HRM 
One of the most crucial resources in industrial manufacturing solutions is the workforce, which is responsible for maintaining the production process. Assuring its wellness is thus crucial for the firm. Manufacturing businesses may better serve the requirements of their workers by using HRM Software. Before choosing to adopt HRM software, businesses may also download the pricing scheme.
management warehouse system
Companies employ warehouses or logistics systems to store and deliver products. A warehouse system that provides product availability, stock, quality, and delivery status is not typical. It is an up-to-date system to which only certain staff members have access, and it is essential to supply chain management. The process of obtaining, manufacturing, and dispersing items or products is part of the contemporary supply chain, which includes a warehouse. Starting with basic materials and converting semi-finished goods into completed goods.
Conclusion

ERP (enterprise resource planning) systems for manufacturing are not all the same. While some manufacturing ERP businesses prioritise inventory optimisation, others prioritise supply chain management. HashMicro's Manufacturing Software may help with your company's requirements. Consequently, firms must have a clear set of criteria while searching for an appropriate ERP provider. Before purchasing a solution, find out how to calculate price plans with HashMicro and test our demo for free!