Digital marketing is the new trends that your company team must master if you don't want to lose out on the competition. This technique is necessarily needed including in the digital manufacturing sector. The definition of digital marketing, according to the Smart Insights version, is the opportunity to reach consumers using devices, platforms, media, data, and digital technology. Digital marketing includes any marketing steps that take use of technological devices using the best marketing automation software. You can also get a price calculation for HashMicro software based on your business requirements by downloading this pricing scheme calculations. With that, you can choose the most top-choices marketing automation for your business. Let's dive into the explanation of digital marketing if you want to compete and bring forward your manufacturing company!
Tabel of Content
What is Digital Marketing?
From the definition above, digital marketing is a strategy for attracting customers through the use of various digital technologies automation system. The benefit of digital marketing is the elimination of marketing boundaries. You are free to promote products anywhere and anytime, whether on a local, national, or international scale using the most advanced marketing automation system. The product sales system is so much faster and based on consumer interest. When you place an online ad, you can specify the criteria for people who are suitable to be your customers. This will increase the effectiveness of your sales easier. The other benefits are you can get many times the profit in a shorter period of time. Hash Manufacturing Automation is the most efficient technique for reaching those goals above. You can simplify all the work for accurate result using the most new system that will help manufacturing companies.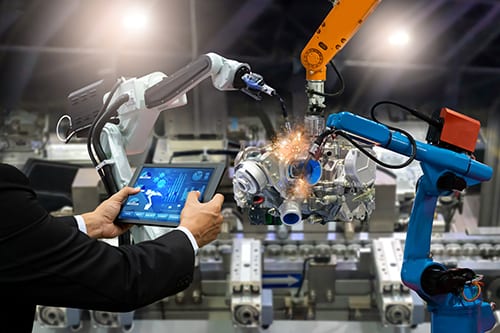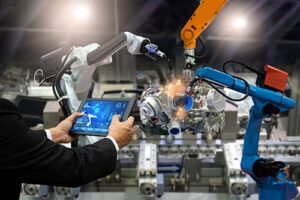 Source: solutions.borderstates.com
Digital Manufacturing Applications
W The global manufacturing business has experienced growth in these recent years. This could be related to improvements in data sharing, as well as an increase in aggressive marketing activities. Digital manufacturing is when a corporation uses digital technologies to assist their manufacturing operations. This technique allows them to use actual data analyses to improve the entire manufacturing process and achieve productivity improvements.
Although there are still many of the manufacturer companies that haven't implemented the digital manufacturing to their companies. External market factors, combined with complicated sector dynamics, and a general intolerance to risk in construction, according to McKinsey, are important causes for the manufacturing industry's digital marketing lag. Many firms, and even older employees, have yet to adjust to current digital marketing methods, and indeed lack the "perceived" desire to expand in this area. In the other hand, manufacturing marketing must now move beyond its old ideas and apply innovative techniques to generate new business. Manufacturers who invest in digital marketing may face less competition, depending on their market or product. In other words, you need to sell smarter, faster, and effectively. With that, you can boost your sales team productivity with the most complete Sales Management System in Singapore.
The Benefits of Digital Manufacturing 
There are several benefits that the manufacturing companies may take from implying this digital manufacturing trend. Manufacturers may develop a connected, networked, and completely integrated factory with digital manufacturing. Manufacturers can also use digital manufacturing to reduce inventory, improve quality, and increase the number of items they produce. In a number of ways, digital manufacturing helps manufacturing organizations in improving productivity in planning and production processes. 
Digital manufacturing associates product, process, and resource information with a comprehensive solution to production design through change processes. It is resulting in flexible work instructions that can display 2D/3D part information as well as machining and tooling instructions. This technique helps to reduce commissioning costs by validating robotics and automation applications through simulation virtually. It also allows you to construct factory models faster if they are working at maximum efficiency before increasing production. Our ERP software helps you to streamline your business processes & drive your company's growth significantly. Every information from sales, stock of goods, expenses, and income to employee data can be accessed anytime and anywhere.
Besides that, it also produces full, verifiable CAD-based machine inspection programs for coordinate measuring machines (CMMs) and numerical control (NC) machine tools, allowing quality data to be shared across your organization. Other than that, digital manufacturing is able to execute production operations while having real-time access to data from the lifecycle.
The Advantages of Digital Manufacturing
There are a number of advantages to integrating manufacturing processes across departments and decreasing the risk of errors by automating data interchange. A joined-up manufacturing process achieves increased efficiency by eliminating errors caused by lost or misread data, which are frequent in paper-based operations. Digital manufacturing reduces costs by allowing design changes to be incorporated in real time and cutting maintenance costs at all stages of the value chain. This integrated system can also help you managing your inance accurately by tracking your profit & loss, sales team performance and customers' data.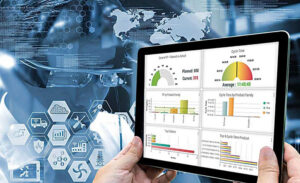 Source: industrytoday.com
Digital technologies enable real-time manufacturing visibility, resulting in better insights for important choices and a faster rate of innovation. Furthermore, it lets designers simulate and develop a full manufacturing process. Therefore, they may test it before spending time and money into the practical implementation. This modeling can be done with cloud-based manufacturing, which uses open-access data from a variety of sources to create changeable manufacturing lines and  increase productivity.
Conclusion
To sum up, various sectors of manufacturing companies commonly use digital manufacturing now.  A high-tech supplier can employ a digital manufacturing system to generate a 3D simulation. This simulation consisted of a whole production line and examine the many production variants and concepts. This level of transparency in planning helps the organization acquire client trust and win the contract. Current digital manufacturing tool development initiatives focus on improving user experience. This strategy is used by presenting information in the context of tasks completed, allowing users to make better decisions faster. 

We are currently offering you to increase your productivity with a complete manufacturing system in Southeast Asia. Our Manufacturing ERP software has seamless integration of data in every item updated. We also prevent the production of either too much or too little goods with the demand forecasting feature. Other than that, we provide advanced features in the best software that allow users to perform quality control & repair tracking quickly and comprehensively. Therefore, HashMicro will simplify all the work in your Manufacturing company for fast and accurate results in our software system. Also, you can get a free HashMicro software demo and consultation of your company's needs with our business experts right in this moment, click here now and dont miss it!