The manufacturer is the main business partner who processes designs into tangible products. Its job is also to help manage the entire manufacturing process without intervening. As a manufacturing company, you have a strong role to play in determining whether the products your clients bring to market are successful or not what they expected. Undoubtedly, using CRM System from HashMicro can automate your sales pipeline. Convert more qualified leads and win more deals with Singapore's most complete, fully-integrated CRM System.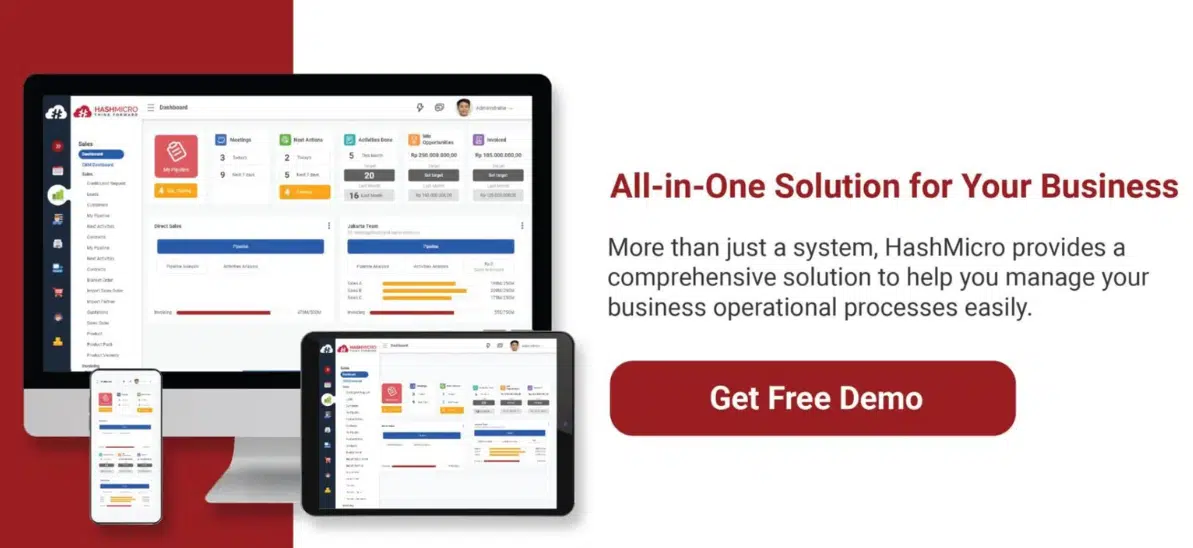 Table of Contents
Are you the right business partner?
In recent years, the manufacturing industry faces a significant revolution. The market has become very competitive, which creates a need for manufacturing companies to improve performance as well as minimize costs. Every time a customer has a project and cannot produce it themselves, they will look for the best manufacturing company as a business partner. When consumers have a great product idea but feel that it is too complex or expensive to produce in large quantities. So it's time for your company to be the right choice for their manufacturing needs.
Here are some tips that can be done:
Position your product as a solution
A superior manufacturer not only produces a product but also emphasizes how your product can serve as a solution to client needs. It also knows how to provide the best solution and how to use your offering.
Prioritizing customer satisfaction
The ideal manufacturing company will consistently exceed client expectations by managing every aspect of the relationship effectively. Starting from the initial business prospect to post-production and staying in line with customer needs during the daily operational process. Do your best to ensure that what is produced can satisfy all parties. This will also help to build a good reputation for the company.
Companies that have many positive reviews will create a reputation that can help ensure the sustainability of the manufacturing process. Your potential customer will likely have a broad picture of your company and can tailor it to their needs if appropriate. HashMicro's Help Desk System be able to provide your support team with written guidelines regarding the average handling time, customer complaint handling, and so on
Review the facilities
Before committing to contracting with your company, clients usually want to take a look at the factory in person. It aims to better understand the capacity of the producer and how well you understand the products and business needs of your clients. Make sure the company has adequate facilities for running consumer production operations. Show references to other products the company has manufactured to ensure the quality of manufacture meets the client's own standards.
Ready for change
In order to become the best, reliable manufacturers constantly modify their manufacturing processes to suit the needs of consumers. Create a flexible production system, which allows the company to react quickly to changing customer demands and market trends. One of the effective systems is the production pull system as are assembled on demand.
Top manufacturing partners will aim to build long-term relationships and be willing to work with you to solve problems when your needs change. It must know what questions you have to ask to determine the best solution and whether it is able to provide expert insight to inform the decisions you make.
Pay attention to the total cost of spending
Be one step ahead by implementing a supply chain management strategy. Which takes into account the total cost of materials and goods purchased for production purposes. With this approach, you can support the production system on time, accelerate product development, and continuously minimize funds.
Conclusion
In determining the best business partner, the client will visit at least a few producers before making a final decision. If you want to be the consumer's choice, apply the steps above that can make a company stand out from another. You will be responsible for the quality of their products. So you should make sure that the company meets the criteria so that you can be trusted to be the best business partner. ERP Manufacturing from HashMicro can help to increase the productivity and profitability of your manufacturing business. It provides various benefits for manufacturing companies. Hash Manufacturing Automation enables you to improve productivity to the next level.