Furniture, fixtures, and woodworking businesses worldwide are increasingly pressured to find new efficiencies. Singapore's furniture manufacturers have expanded rapidly over the years, with home decoration and environmentally-friendly products gaining popularity among consumers. These consumers are also increasingly willing to fork out money for luxury furniture. Software for furniture manufacturers such as Hash Manufacturing Software can help you with furniture manufacturers such as inventory and warehouse, schedule management, manufacturing plan, and many more.
Price sensitivity, unpredictable raw material prices, labor concerns, and increased consumer demand for adjustable product alternatives continue to erode furniture sector profitability. E-commerce is the biggest driver affecting the furniture sector today, along with sustainability, stricter client needs, and improved product quality.
Thanks to economical worldwide shipping choices, superior online customer support, and dependable online payment systems, online web shops are the sales channel for B2B and B2C furniture firms. Download HashMicro's software pricing scheme to learn more about how software for furniture manufacturers can make managing your furniture production less difficult and more effective.
Table of Contents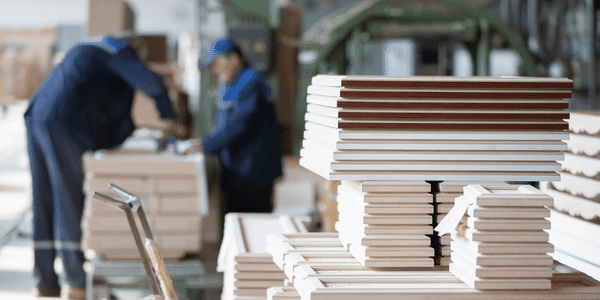 Upgrading Inventory Management
For producers of bespoke furniture, in particular, stock management is a delicate balancing act since having too much inventory or capital invested in stock may significantly negatively impact cash flow and necessitate the usage of enormous amounts of storage space.
In order to maintain production lean and reduce the danger of product shortages and excess inventory, a smart inventory management system will synchronize stock levels, display, and customer needs. The technique of inventory management aids firms in keeping track of their finished goods and raw resources. Businesses may increase their bottom line by using an efficient inventory management system to lower the cost of goods sold and boost sales.
By keeping track of your inventory in real-time, you may prevent overstocking things that are not selling and running out of popular items. This may make inventory management easier for you and give you more time to work on other elements of your company.
For efficient e-commerce inventory management, some features to look for include the capacity to monitor numerous locations, real-time notifications, and interfaces with other company software like Shopify. All of these features are part of top inventory management software like HashMicro.
Reducing Waste
The primary objective of lean manufacturing is to eliminate both physical and conceptual waste throughout the manufacturing process. This aids in manufacturing high-quality items while cutting down on wasteful costs.
To embrace lean, review your present practices and set realistic goals. Since one of the poor's key concepts is improving processes, you may move on after completing one target. By automating, you may reduce inefficient material usage by 10% the next year or enhance administrative efficiency by 20%.
Scheduling Management
It is crucial for effective production planning and scheduling that labor, equipment, inventory, and unfulfilled orders are all readily available. Planning improves resource usage by merging orders for similar furniture with the same components or equipment. A plan will boost communication between the shop floor, planners, and back office and reveal bottlenecks, capacity constraints, and workloads.
Planning production work and anticipating bottlenecks is key to delivering products on time and keeping happy customers. The following process flows are essential to maintaining quality throughout the chain and avoiding unnecessary delays. Keeping teams, equipment, materials, and suppliers in sync may be difficult without the correct production scheduling technology.
Also read: Get To Know About Manufacturing Industry: Definition & Types
System Automation
The availability of workers, machines, supplies, and outstanding orders is essential for efficient production scheduling. Planners may better use existing resources by combining orders for comparable furniture with the same components or equipment. With a plan in place, everyone from the production floor to the planners and executives in the back office will be on the same page, and problems like bottlenecks, capacity limits, and overwhelming workloads will be easier to see.
Also read: Boost Your Furniture Retail Store Profitability in 5 Steps
Conclusion
Technology may help furniture manufacturers better manage production, but it can be difficult to determine ideal options. Standalone programs like CRM, IM, and PM serve a specialized purpose, but ERP software provides various functions. Suppose you want to take advantage of a system that spans many departments. In that case, you should start your hunt for integrated Manufacturing Software by making a comprehensive inventory of all your company's information technology requirements.
Even if installing the correct company system costs more, the investment may pay off in the long term. Picking a system that can grow with your company is more important than finding one that works well now. Evaluate the system's scalability and flexibility to see whether it can grow with your business. You may check out the HashMicro Manufacturing software's price calculations and try our free demo.