The industrial goods sector is comprised of companies that primarily manufacture capital goods for use in manufacturing, resource extraction, and construction.  Instead of selling directly to consumers, businesses in the industrial goods sector produce and sell machinery, equipment, and supplies used to manufacture other products. Therefore, good manufacturing software would be beneficial for this sector. With a reliable manufacturing software, industrial goods companies can maintain the condition of their assets more easily.
Download Here: Hash Manufacturing Automation Pricing Scheme Calculations
The items sold in the sector mostly require some serious care. Things like machinery, and supplies need extra attention to always be in good condition. An integrated manufacturing software is able to cover that.  By using robust manufacturing software, the industrial goods sector could perform confidently in the market. Therefore, business owners in this sector need to learn about the manufacturing software pricing scheme calculation in order to make a wise purchase.
What is the Industrial Goods Sector?
The  industrial goods sector is a sector consisting of companies that manufacture or sell manufacturing and construction machinery, equipment, and supplies. The companies involved in the sector are: aerospace and defense; industrial machinery and tools; lumber production; construction; waste management; manufactured housing; cement; and metal fabrication. The industrial goods sector's performance is largely determined by the supply and demand for building construction in the residential, commercial, and industrial real estate markets, as well as the demand for manufactured goods.
In contrast to the consumer goods sector, which produces goods and services for direct household consumption, the industrial goods sector provides capital goods for manufacturing and construction to other businesses. The industrial goods sector  is prone to financial cycles. During recessions, the level of economic activity in such regions declines significantly, reducing the demand for industrial goods.
Due to the diversity of sub-sectors, however, not all businesses in the sector reduce output simultaneously. Some subsectors may lag behind economic cycles, while others may lead them. Frequently, waste management companies and industrial conglomerates exhibit resilience. During economic downturns, they are able to generate relatively steady revenue streams.
Also read: The Importance of Quality Control in the Industrial Sector
Businesses in the Industrial Goods Sector
Given the nature of industrial goods production, this industry is characterized by high entry barriers and high capital requirements. Scale economies also play a significant role in cost reduction. Thus, some of the world's largest corporations are in the industrial goods sector.
CNH Industrial is an American and Italian multinational auto industry corporation. It manufactures agricultural and construction machinery; industrial drivetrains; trucks; buses; and other commercial vehicles. The company employs more than 60,000 people worldwide and operates 37 manufacturing facilities. Another example is the French multinational tire manufacturer Michelin. As the largest tire manufacturer on the planet, it oversees 69 manufacturing facilities in 17 countries across Europe, Asia, and North America.
Typically, businesses that produce industrial goods hold a great number of fixed assets. This is due to their expansive manufacturing facilities and machinery. Therefore, the application of a great manufacturing automation is crucial to maintain their condition. Learn more about the pricing scheme of a manufacturing automation here.
Download Here: Hash Manufacturing Automation Pricing Scheme Calculations
Invest in Industrial Goods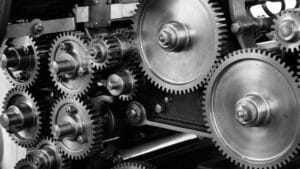 A high  correlation exists between the industrial goods sector and the macroeconomic environment. Consequently, investors can capitalize on economic expansion by investing in this sector. Industrial goods companies' publicly issued bonds and stocks are available to retail investors. Institutional investors with ample capital can also participate in private equity transactions.
The majority of industrial goods companies, especially those that are publicly traded, have reached maturity. They typically distribute consistent dividends to shareholders. Investors must also consider the industrial goods sector when allocating their assets. They can manage the economic cycle sensitivity of their portfolios by investing in defensive sectors.
Performance Measurement of Industrial Products Industry
The Industrial Production Index (IPI) can be utilized to assess and forecast the industrial sector's health. It is a monthly indicator of macroeconomic performance. The index measures the level of production in the manufacturing, mining, and utility industries. IPI is a more reliable indicator of the performance of the industrial sector than GDP. It excludes retailers' value-added services.
Quoting IPI, the capacity utilization rate is calculatable. It measures the relative strength of demand and supply. Low capacity utilization (also known as "overcapacity") of industrial output is indicative of weak demand. This is a negative indicator for industrial goods industry. High capacity utilization is indicative of robust demand and positive sectoral momentum.
In addition, there are stock indices that measure the equity performance of industrial companies. The Dow Jones Industrial Average (DJIA) is comprised of the thirty largest U.S. companies. However, it is frequently criticized for its limited scope and price-weighted average.
The Nasdaq Industrial Index (INDS) includes Nasdaq-listed firms engaged in energy production, equipment production, chemicals, construction and materials, general industrials, etc. It is important to note that not every company included in the indices operates in the industrial goods sector. Many of them belong to a larger category.
Also read: What is Advanced Manufacturing and its Benefits for Your Company?
Conclusion
Understanding that most companies in the industrial goods sector are at a mature age, they must have really high traffic. To make sure the customers are getting a great deal every time, these companies might need the help of good manufacturing software to help maintain their quality of assets and service.
HashMicro provides only the best ERP experience. Hash Manufacturing Automation is a great choice for the industrial goods sector as an investment. By having multiple integrations with modules that are certainly beneficial for the sector, Hash Manufacturing Automation will help companies maintain their condition and even achieve more in the future. Learn about the pricing scheme calculations here
Download Here: Hash Manufacturing Automation Pricing Scheme Calculations