ERP Manufacturing software is also known as MRP, is the special ERP for manufacturing. When choosing a new ERP system, companies need to make multiple comparisons and analyses. That is because an ERP solution is a long-term investment for the company. That is why the selection process needs to consist of a lot of comparisons and analyses. There is a special case for Manufacturing ERP Software. The Manufacturing ERP will include modules such as planning and management, procurement, and else.
ERP Manufacturing software has benefits that resonate, one of which is providing advanced features that allow users to perform quality control. This one could help scale up your business immensely. Manufacturing companies often have highly specialized requirements. Download the HashMicro ERP manufacturing software price scheme to know your costs in using this software. Check out the following article to find out more about ERP software solutions for manufacturing!
Table of Contents
What is Manufacturing ERP?
Manufacturing ERP refers to Enterprise Resource Planning software and systems that are used to plan, manage, and deliver specialized functionality to manufacturers and manufacturing business activities. This systems are designed to adapt to and integrate with any business process, thereby providing manufacturing organizations with a comprehensive business management platform.

Therefore, the Manufacturing Resources Planning system is a production-oriented control system that automates the planning, scheduling, and inventory management of components, raw materials, and other parts or assemblies necessary to manufacture completed items. More precisely, an MRP system ensures that raw materials and equipment are available for manufacturing and enables the planning of any associated buying.
Manufacturing enterprise resource planning (ERP) is intended for the management of manufacturing operations. When the following business systems and processes are in place, manufacturing companies should consider implementing an ERP software solution for manufacturing management:
No longer function or function inefficiently (throttling/bottlenecking)

No longer support the growth of the company

Lack of current security requirements to mitigate risk
Identifying broken processes is important for growth and find areas of improvement.
Why is ERP Software Used in Manufacturing Industry?
Standard ERP systems include modules such as customer relationship management, human resource management, finance, and sales. While these are critical areas for any business, manufacturing companies require ERP software that addresses some of their more unique and specific requirements.
The simplest answer to this problem is to develop a sort of ERP that includes all of the critical modules found in a conventional ERP but also includes a few additional modules tailored to the unique needs of a manufacturing organization. That is why manufacturing ERP is needed.
Apart from the basic ERP modules, manufacturing applications ERP software includes modules for operations and product management, inventory management, and engineering control, among others. Manufacturing businesses can use ERP software to handle important areas of their operations, from factory line operations to supply and inventory planning.
The Advantages of Implementing Manufacturing ERP in Your Organization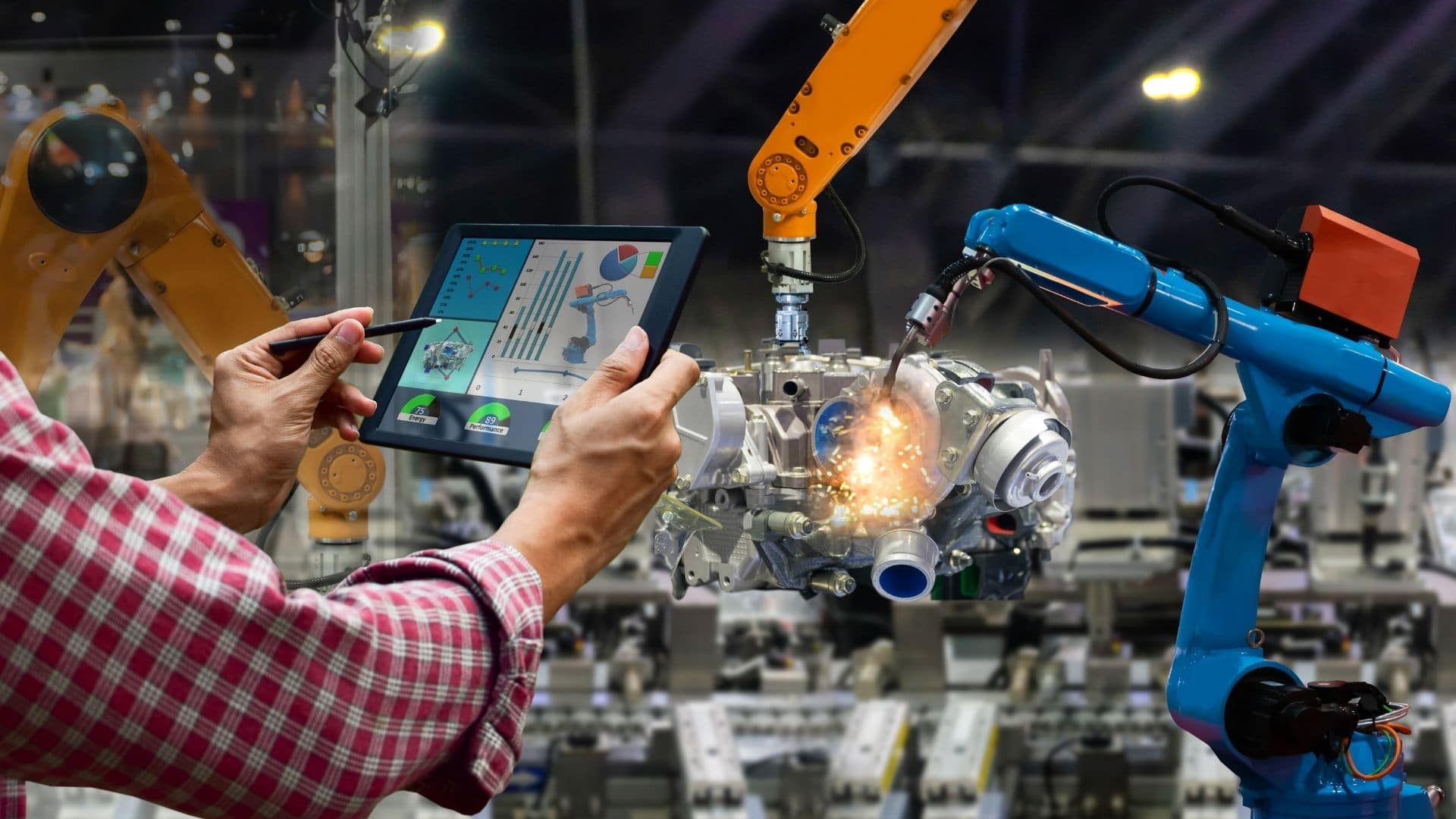 A robust, integrated manufacturing ERP system provides numerous operational and financial benefits, both at the micro and macro levels. Among the top 10 best benefits of ERP for manufacturing businesses are the following:
Minimizing redundancy and automating processes to increase efficiency

Optimizing manufacturing operations for enhanced productivity

Improving supply chain, warehouse, transportation, and inventory management

Mitigating risk and increasing confidence around compliance

Providing better service to customers 

Unifying departments and comparing metrics across the business

Eliminating the need for multiple systems that don't communicate with one another

Capturing real-time reporting for your operations that you can quickly access

Centralizing operational and financial information for enhanced visibility and communication

 Gaining the ability to adapt when faced with changes or disruption in the business environment
By and large, manufacturing ERP software works and provides support to the specified needs. That enables manufacturers to expand their businesses and boost revenue while maintaining a high standard of quality.
Also read: Original Equipment Manufacturer: Definition, Characteristics, and Benefits
Add-on Modules for Manufacturing ERP
Aside from the main modules available in the general ERP, here are some add-on modules for manufacturing ERP. These add-ons will be able to help manufacturers meet their unique and specific goals.
Operations Management
Operations is the secret sauce in a manufacturing company. It is the lifeblood of the business. Naturally, a this system must include an efficient operations management module that manages all processes that fall under the Operations team's purview.
A lean operations management strategy results in a lean supply chain. The products are manufactured on time and without errors, and they are delivered to the customers. All of this results in increased revenue for the business, cost savings, and an improved customer experience.

Project Management
Alternatively, for businesses that manufacture/assemble multiple products on a single production/assembly line, a project management system is a must. It is also advantageous for businesses that produce unique items in small batches.
Through several data-rich dashboards and analytics reports, a robust manufacturing ERP enables you to implement agile manufacturing project management and other dynamic models.
Lastly, you will need connectivity to cyber-physical systems such as AS/RS, barcoding software, and attendance management systems to obtain accurate, real-time insights into project progress and forecasts.
Human Resource Management System (HRMS)
The Human Resource module of an ERP system is critical in optimizing human resource management for the company's HR team. It manages payrolls, stores employee data, tracks employee attendance across the entity, and measures employee performance against predefined KPIs.
Having an efficient human resources module in the ERP system relieves the human resources department of a great deal of unnecessary paperwork. Additionally, this eliminates the need for the business to purchase a separate human resource management system and then worry about integrating it with the ERP.
Asset Management
Asset management is gaining traction, and the term is having a broader interpretation. For example, it was traditionally limited to recording the date of purchase, commissioning, and maintenance costs.
Now, asset management modules enable you to monitor asset health, perform preventative maintenance, optimize capacity planning, and make informed decisions about overhauls and alternative spares.
Additionally, they assist you with advanced applications such as energy management, automated maintenance scheduling, and capital project management. Thus, you can look for similar offerings that enable you to track your production assets.
What is the Difference Between Standard ERP and Manufacturing ERP?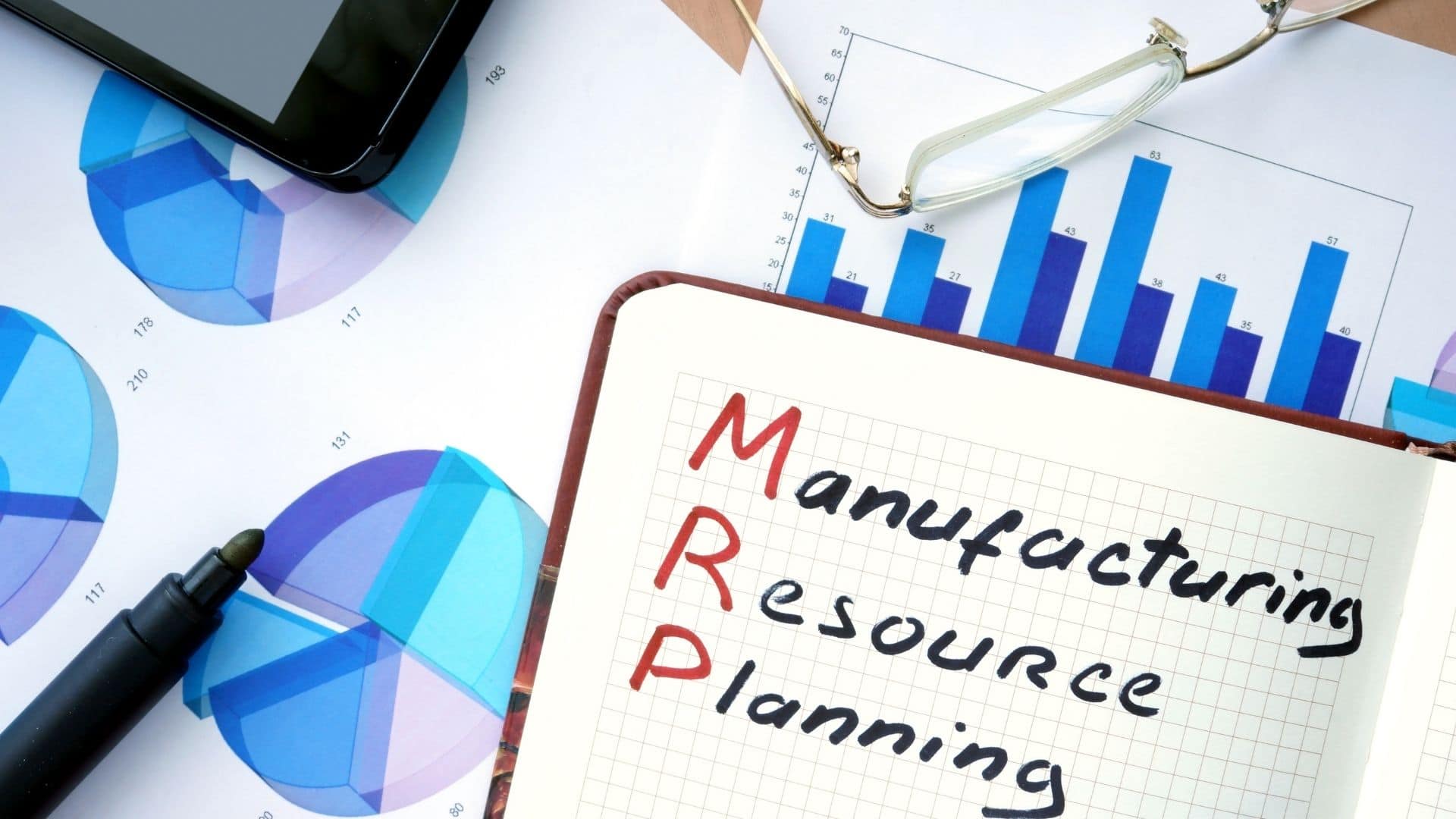 A standard ERP system is a piece of generic ERP software that performs the same functions for all businesses. Often, a generic system is built as a one-size-fits-all solution, which may lack full manufacturing integration and critical manufacturing-specific functionality. Thus, inadequate integration can result in limited data views and may necessitate software customization to meet unique industry and business requirements.
A manufacturing ERP system is a purpose-built ERP for the manufacturing industry, providing advanced functionality tailored to the industry's unique requirements.
This application integrates core business processes with manufacturing processes, providing a manufacturing business with complete visibility and control. In which the specification helps manufacturers to achieve their goals faster.

Top 5 Manufacturing ERP Systems
Regardless of why a business seeks an ERP system, there are a variety of options available today for virtually any industry and for businesses of varying sizes and complexity. These top 5 ERP companies provide manufacturing systems that you could choose from depending on your need.
HashMicro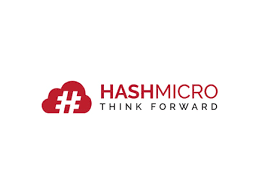 HashMicro is a smart business solution provider that helps medium to large enterprises improve the efficiency of their day-to-day business processes. This company offers automated solutions that support businesses' recurring tasks with the support of a cloud-based system that automates end-to-end business operations. This ERP company provides multiple modules for enterprises, and there are also specified solutions for manufacturers.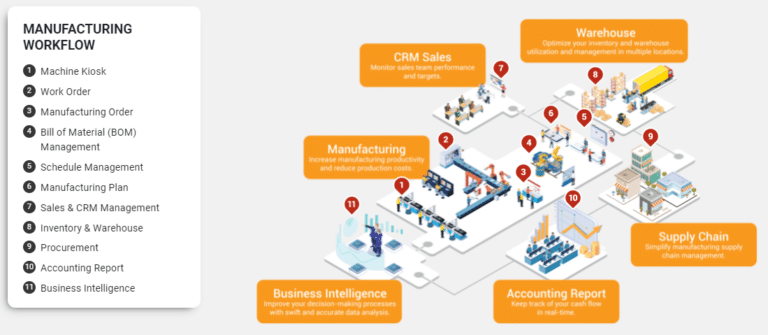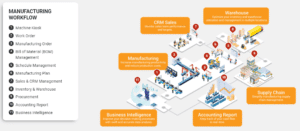 Hash Manufacturing Automation has seamless integration of data in every item updated. This solution also prevents the production of either too much or too little goods with the demand forecasting feature. Most importantly, it provides advanced features that allow users to perform quality control & repair tracking quickly and comprehensively.
The manufacturing workflow in Hash Manufacturing Automation is one of the most complete manufacturing ERP packages. It includes machine kiosks, work and manufacturing orders, Bill of Material (BOM) management. Not only those, it also includes inventory management, as well as procurement. Most importantly, HashMicro will provide you with the best ERP experience with its customizable software.
Epicor


Epicor offers a platform for any manufacturer with over $1 million in sales. Additionally, it is adaptable in that the basic ERP's core functionality can be expanded through the purchase of additional modules individually. This enables businesses to purchase only the modules they require, with the option of additional modules later.
Epicor manages production, supply chain, and scheduling in addition to financial management. The platform enables manufacturers to leverage make-to-order, configure-to-order, and make-to-stock shop floor control, all of which can be managed within the platform's out-of-the-box software functionality. The system is adaptable and scalable.
NetSuite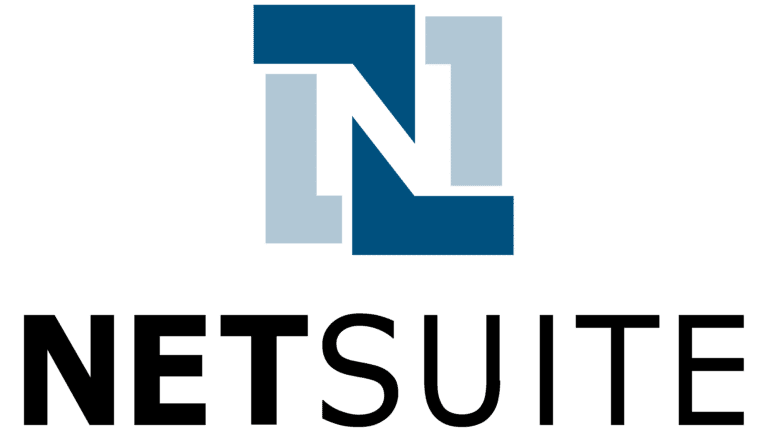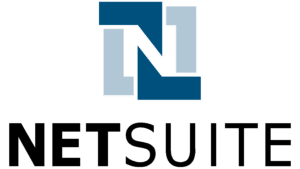 One of the widely used ERP softwares is NetSuite ERP. Why is this ERP software widely used? NetSuite ERP has many features by which companies can customize their business needs. Thus, NetSuite ERP becomes the ideal software for all businesses. NetSuite ERP has advantages in financial records, including auditing expenses.
NetSuite helps to manage supply chain, production, and scheduling in addition to financial management. It is also able to manage end-to-end inventory and inbound/outbound logistics in real-time while minimizing the total cost of ownership. With this ability, NetSuite is able to serve medium to large enterprises.
Rootstock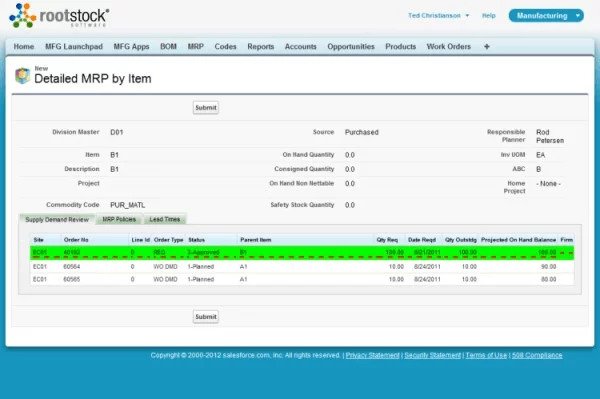 Rootstock is built on the Salesforce platform allowing it to leverage powerful cloud options and superior integration among applications, a problem that often plagues other systems.
Rootstock offers production scheduling and capacity scheduling, shop floor control, inventory, purchasing, and financials, as do most ERP systems. But Rootstock also offers engineering change management, sales order management, services, and returns and repairs. You can use the broad selection of options to add applications and solutions from within the Salesforce ecosystem to customize and focus needs for specific industries.
Syspro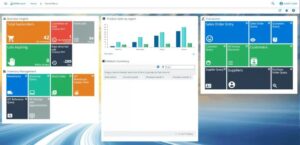 Syspro manufacturing software provides ERP functionality that is scale-aware. Additionally, this Tier III provider offers a modular system that allows for the addition of additional modules as the business grows. Syspro includes the essential components found in small ERP systems, such as shop floor control, inventory management, and finance functions.
Syspro also includes a powerful scheduling engine with single and multi-constraint support. Using this method, the system can track actual versus estimated labor, as well as materials and scrap. This is a great tool for small businesses where material costs can significantly impact profit margins. ECC allows users to track and manage changes to production versions.
Conclusion
The best manufacturing ERP solutions enable Adaptive Manufacturing Enterprises to adapt to change and disruption, thereby providing a significant advantage. Today, a wide variety of ERP system types and deployment options are available. Its range is entirely dependent on the manufacturing company's function, size, and requirements.

Providing solutions, HashMicro will be more than capable of giving you the best manufacturing software experience with its Hash Manufacturing Automation. The customizable software will provide unlimited growth for your business. By using a solution from HashMicro, you are now closer to your goals.