New technologies are emerging and transforming how we work daily. Automation usage is increasing and gathering traction in the manufacturing business. The main objective of automation is to have machines or programs undertake repetitive, time-consuming, and possibly dangerous jobs previously handled by human workers.
After the effects of the worldwide pandemic in 2020, it is predicted that there will be a steady increase in the use of Automation Software throughout the manufacturing process. Factory automation benefits will be evident from production and assembly to tracking and monitoring. 
Also read: Manufacturing Equipment that Your Company Must Have

Table of Content
Challenges in Singapore Factory Automation 
Manufacturing companies are increasingly aware of the need to automate and digitize their processes. But making this change means that tried-and-true procedures and processes must be examined. Most of the time, they update and modernize everything across the board. Most companies possess a clear vision of how to automate and digitize production, but they lack an understanding of how to implement it.
Attempts are frequently made to compel the transformation by employing several cookie-cutter solutions and automating specific machines and procedures. Unfortunately, this strategy will not be successful in the long run, resulting in frustration and halting everyone's efforts to automate properly. To achieve smart production, companies must integrate the solutions, hence why the use of manufacturing software is essential.
Importance of Factory Automation for Singapore Companies
Automation has greatly affected factory floors, jobs, the quality of finished products, and the industry's economics. Regarding robotics, artificial intelligence, and machine learning, the world is on the edge of an era of inventive automation and undergoing rapid change. Automated Manufacturing Systems carry out production, assembly, inspection, and material handling tasks with minimal human intervention. Here are the four benefits of using factory automation software.
1. Increasing production product in factory automation
The ability to maintain a constant work pace over long periods of time is a major benefit of automating routine tasks. Therefore, this means that you can boost your manufacturing output by allowing your machines to operate for long periods. In addition, machines can maximize your production area by allowing you to add more workstations.
2. Increasing products' quality in factory automation
Programmable machines can execute highly skilled and precise motions, improving your products' consistency and quality. When you automate production procedures, you can rest assured that it will maintain the quality of your products at an acceptable level. This will save you time and money because fewer scraps will be produced, and less rework will be necessary to make high-quality items.
3. Creation of fulfilling jobs in factory automation
Automation replaces monotonous, time-consuming, and potentially dangerous manufacturing jobs, allowing workers more time for management, problem-solving, and critical thinking. While implementing automated procedures, businesses may need to invest in training to ease the transition.
4. Increasing resiliency in factory automation
The COVID-19 pandemic highlights the vulnerability of the current paradigms of supply chains. Numerous enterprises that relied heavily on human labor for production were forced to close. These enterprises would have been more robust to the interruptions created by the pandemic if automation had increased. Whether your objective is to reduce expenses, boost output, or save time, automation can help you do it.
Also read: Best Manufacturing Software for Singapore Enterprise
Factory Automation Singapore Software Types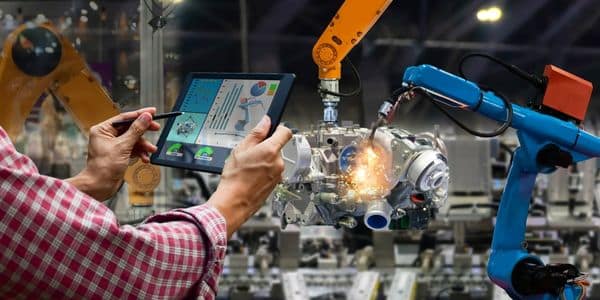 Many types of production software are available, and the marketplace for solutions can be quite confusing, given the variety of features available. Many can be used alone or in combination with other software. Here are the types of factory automation software in Singapore you need to know.
1. Enterprise resource planning (ERP)
ERP is a company management software especially useful for large manufacturers. Manufacturing ERP Software platforms offer the same functionality and purpose as MRP but additionally integrate these functionalities with human resources, accounting, purchasing, and sales & marketing. As it is directly related to incoming sales and demand data, the new data layer can make the MRP more dynamic and precise.
2. Material requirements planning (MRP)
MRP is one of the oldest industrial software platforms. In MRP, shop-floor efficiency is boosted by managing the required inventory levels for creating goods. With multi-level BOMs, MRP may break down raw materials to the component level, including the quantity required for each component. It can also be tied to purchase requirements and "on-hand" instead of "available" inventory.
3. Manufacturing execution systems (MES)
MES is a form of manufacturing solution that indicates an attempt to link the processing of raw materials to the production of final items in real-time. The software of a manufacturing execution system can manage a variety of operations functions, including quality control, production, service, and labor, among others. 
Singapore Factory Automation Software from HashMicro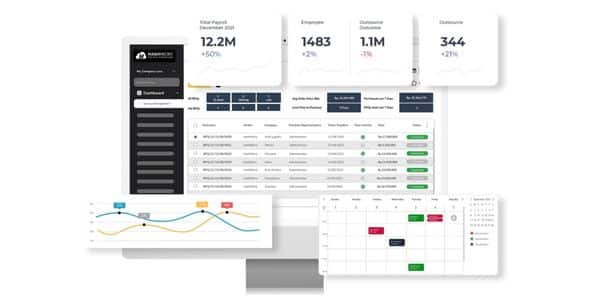 HashMicro is an ERP solution provider that offers a wide range of software solutions, including factory automation Singapore. Our software enables manufacturing companies to carry out the principles of industry 4.0. We have many solutions, such as CRM, inventory, accounting, procurement, supply chain, and HRM. It integrates manufacturing operations through cloud-based systems and provides a single source of real-time information.
The Manufacturing Automation Software from HashMicro is the best choice to increase the productivity and profitability of your manufacturing business. The up-to-date system, automatic scheduling, and cost control are the main features. These features help simplify all manufacturing jobs with fast and accurate results. You can also save time working efficiently by automating various manufacturing processes.

Conclusion
Factory automation is the process of using production software or robotics to operate robotization operations. The goal is to improve quality and flexibility in the manufacturing business. To improve your manufacturing operations, you need factory automation software.
Hash Manufacturing Automation is the best choice to increase the productivity and profitability of your manufacturing business with its integrated system. The features help you simplify all manufacturing processes. Contact us now and get a free demo!