The manufacturing industry is one of the fastest-growing industries in Indonesia. Unfortunately, many manufacturers have not digitized their business and only updated their hardware. The implementation of the software will be very beneficial for increasing the efficiency of their business. Companies often perceive that the software is a complex and expensive tool. But don't worry, the HashMicro manufacturing application comes with a complete solution and a competitive price.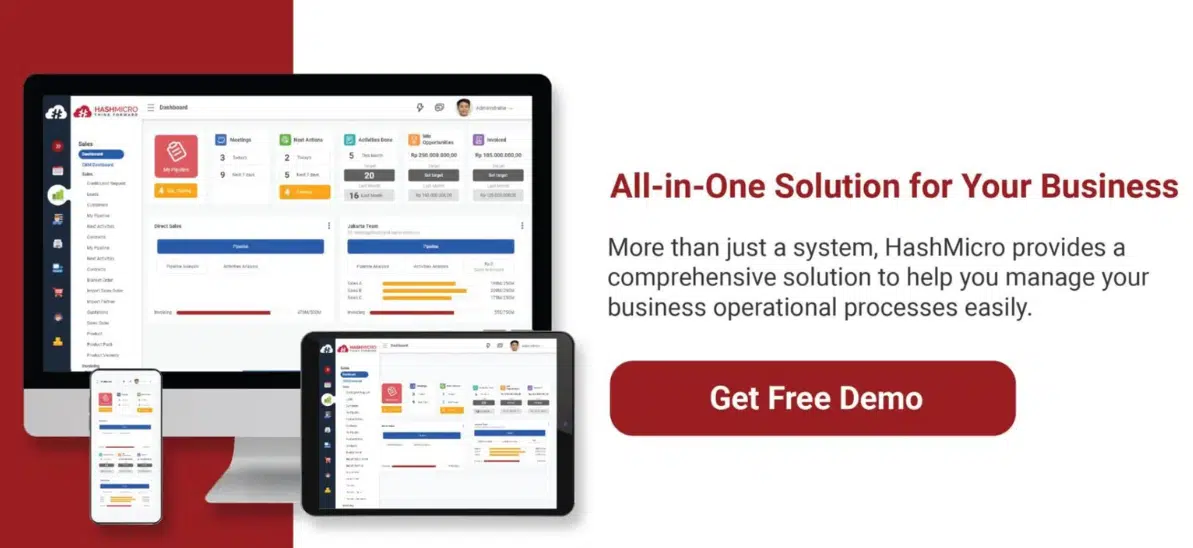 How can HashMicro's manufacturing application help?
The human error usually happens in manufacturing businesses that are still managed manually—for example, miscalculation of production and material costs. As a result, efficiency is brutal to improve. Manufacturing programs enable businesses to monitor production processes, automate material usage calculations, and minimize manufacturing machine downtime.
Choose the complete solution for your manufacturing business needs with various cutting-edge features. Starting from the procurement of inventory, the calculation of production cost reports to the analysis of machines and materials can be done automatically. The following are some examples of features of the HashMicro manufacture system:
Define the Bill of Materials for each material and calculate BoM in the finished goods bill automatically using the manufacturing system.
Integration with the Accounting System automatically calculates and reports the overall Work in Progress (WIP) cost.
This feature displays all the details of tasks scheduled to be completed each day. Monitor your production performance on one screen.
Manufacturing Kiosk for workers to manage production time and track employee performance
Manage production and resource planning, assemble, and monitor processes in real-time.
Apart from these features, companies can also integrate HashMicro's manufacturing application with other software to maximize business profits. One example is the Accounting system to simplify the company's financial management and generate reports automatically. Manufacturers can have a clear picture of the current state of finances, allowing you to develop more innovative strategies. In addition, inventory management monitors the availability and movement of materials and other supporting goods in real-time. Supports multiple locations and warehouses so that company can manage stock very precisely.
Why should HashMicro?
HashMicro's manufacturing program helps you manage production planning to make the manufacturing process more optimal and effective. Here are some comparisons of the advantages between our products and others.
Consultation with experts
HashMicro's professional team of business consultants and technology experts will help adapt the system to the company's operations until the implementation process is complete. Most ERP providers offer the system as is. Integration and customization are possible, but there is no mapping of business efficiency before payment. We provide a consultation before system implementation and ensure that users purchase not only the system purchase the system and the customized system for their business.
Localized
HashMicro's ERP system features have been localized by Indonesian government regulations and focus on each industry, such as e-Invoice creation and PPh 25 calculation.
Client-oriented
It is common to find that most ERP systems do not come with a user-friendly design, are difficult to operate, and can only be configured by IT experts. Our ERP manufacturing system has a user-friendly UI/UX design. Even for those using an ERP solution for the first time, it only takes a few training sessions. You can say that this software adapts to the user because they can configure it easily.
Clients will get maximum satisfaction, such as system operation training, 24/7 customer support, and consultants to optimize the use of the HashMicro ERP system. In addition, it can also be used by as many users as possible in the same company at no additional cost.
Can be integrated
Customization is easier because the system is developed in-house. As previously explained, users can integrate HashMicro's manufacturing software well with other modules, other systems you are currently using, and even different software. Increase business efficiency without losing all old software.
Conclusion
Manufacturing systems increase your productivity and reduce expenses in more ways than you can imagine. Therefore, it is essential to choose the best software that suits your company's needs. You can start HashMicro's Manufacturing Automation Software demo for free now.