Inventory management system are a very important part of retail, wholesale, service, and various other industries that hold inventory. Initially,  the conventional systems served as simple spreadsheets to track inventory in warehouses, but now the processes have become more complex to be recorded in simple spreadsheets.
Before getting to know more about inventory management software and its benefits and features, let's first find out what inventory management is.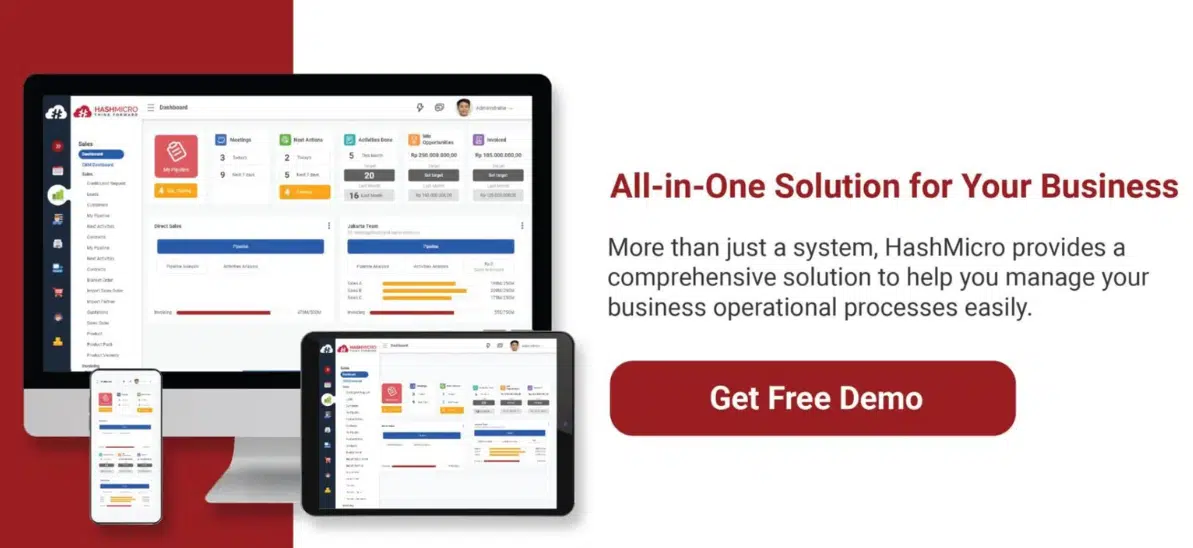 What is Inventory Management?
Inventory management is a complex process, especially for larger companies, but the basics are essentially the same regardless of the company's size or type.

In larger companies, goods are first placed in the receiving area of a warehouse in the form of raw materials or components, then put into stock areas or shelves. While in smaller companies, the goods may go directly to the stock area instead of a receiving location.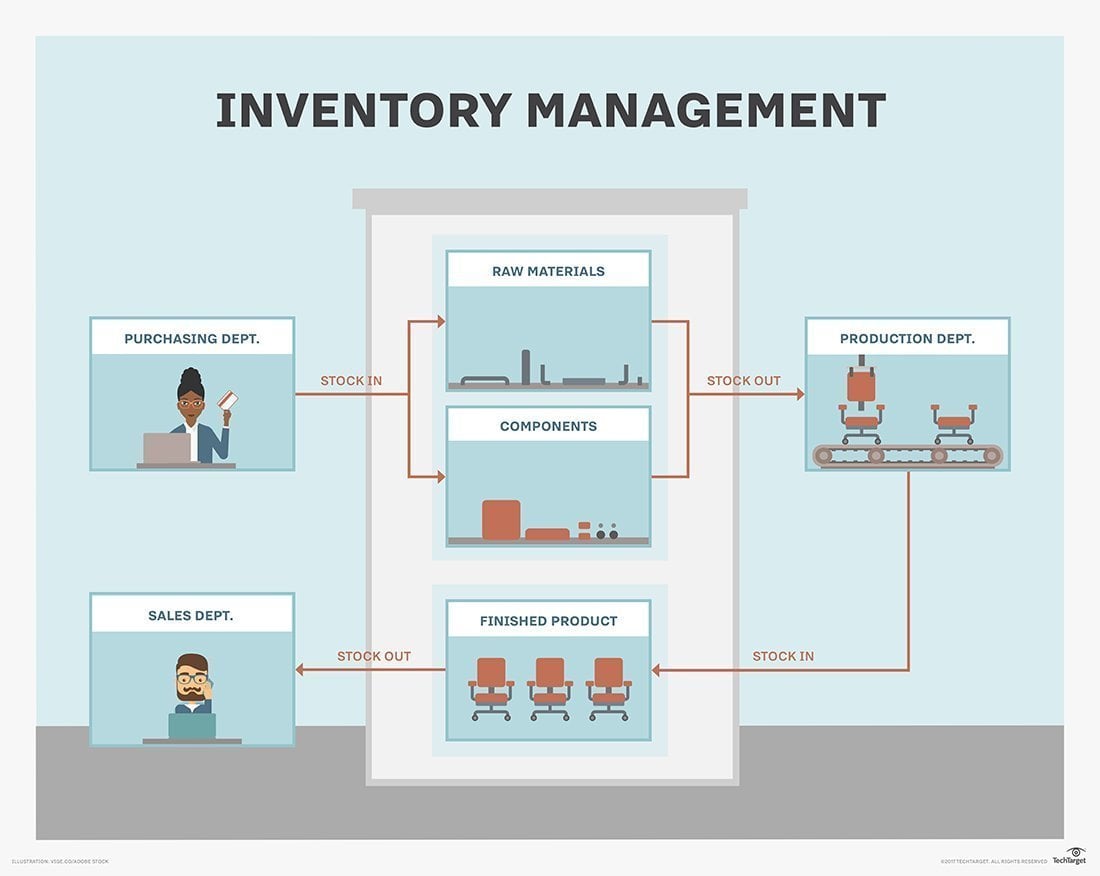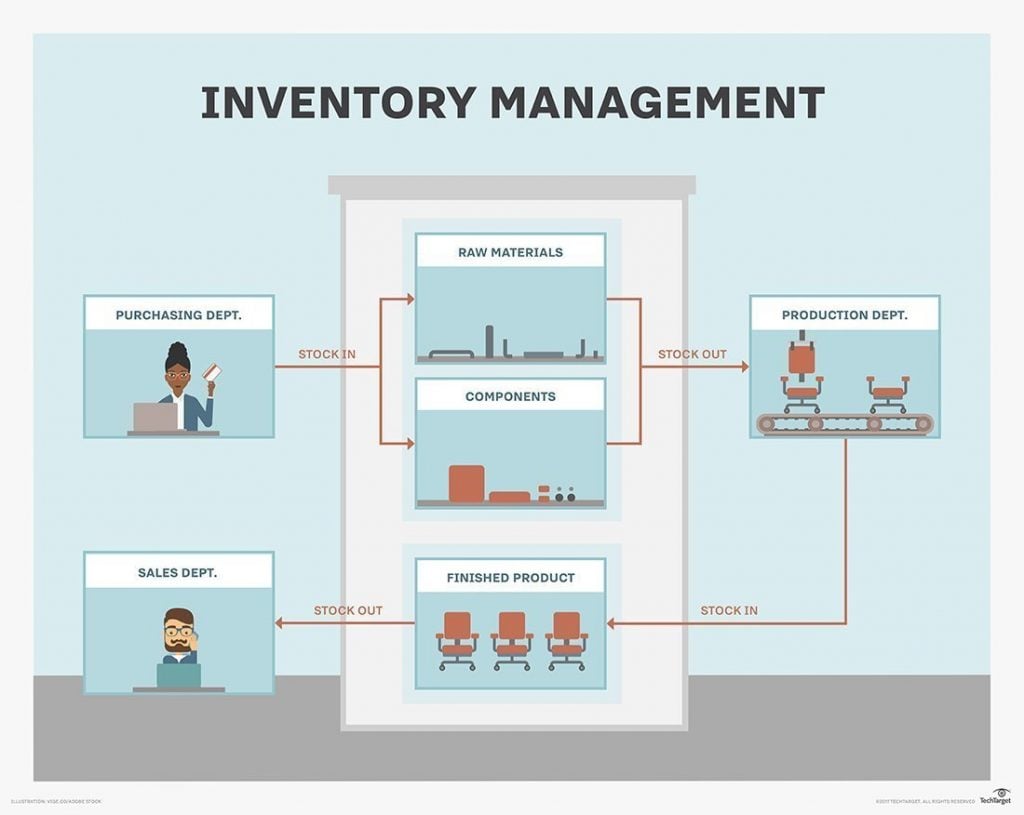 The raw materials are then taken from the stock area and transferred to production facilities, making them into finished goods. Furthermore, finished goods can be returned to the shelves first or sent directly to customers.
Also read the related article: What is ERP and Why is It Important for Businesses?
What is an Inventory Management System?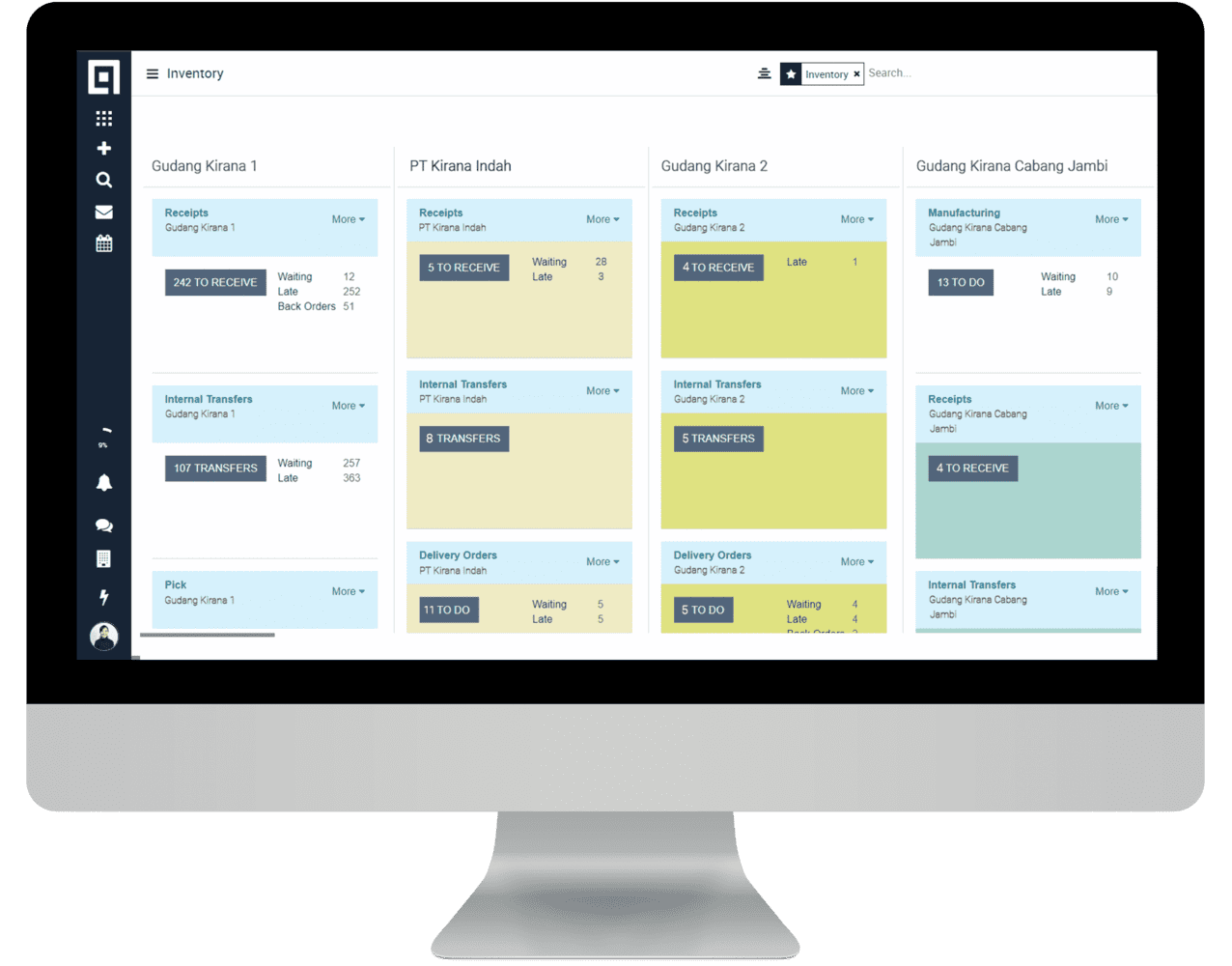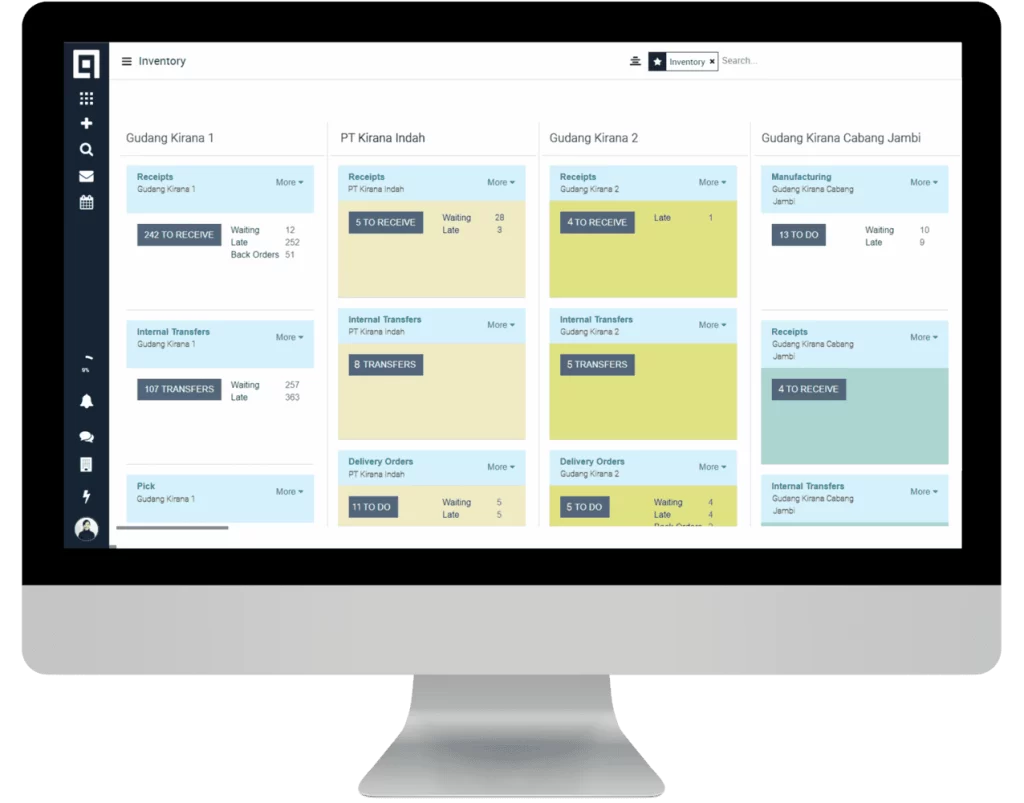 Inventory management system is a combination of hardware and software to process ordering, storing, monitoring, maintenance, and tracking your goods from purchase to sale of goods. This includes the management of raw materials, components, supplies, and finished products ready to be sent to vendors or end consumers.

Nowadays, most inventory management systems can be integrated with other systems, such as accounting and purchasing systems, and even become part of ERP software. In addition, good inventory management systems allow companies to manage their inventory across multiple warehouses in different locations.
What Are the Benefits of Inventory Management?
So, what made many companies choose to use inventory management software?
As previously explained, inventory management is a complex process, which takes a lot of time, effort, and costs when done manually. An inventory management system can simplify the inventory management process and warehouse operations. From inventory tracking, ordering, picking and packing, inventory valuation, demand forecasting, shipment tracking, and many more.
The following are the main benefits of an inventory management system and why many companies decided to switch to automated solutions.
1. Centralized Storage
The more stock locations you have to manage, the more difficult it becomes to manage orders and track stock availability.

With an inventory management system, you can find out the availability of your items and find their location in just seconds, even if they are put in different warehouses or stores. You can also process orders and track couriers through the same system.
2. Stock Control
Stock control (or inventory control) is an effort in providing stock items needed to meet consumer demand.

An inventory management system allows you to keep up with your stock availability and ensure it is always at an adequate level. In addition, the system gives a notification when the inventory is running low so you can immediately re-order.
Related article: 5 Common Problems in Stock Controlling and How to Solve Them
3. Increasing Efficiency
With an inventory management system, all the complex activities in inventory management are simpler. For example, this system can generate monthly to annual inventory reports in seconds. This is unlikely to be achieved if done manually.
4. Improving Productivity
s system automates various tasks, employees can focus more on other crucial tasks. They no longer need to be stuck in time-consuming tasks, such as stock-taking or reporting with spreadsheets.
5. Minimizing Costs
An inventory management system keeps your company away from financial losses due to human errors, excessive stock storage, unnecessary purchases, late deliveries, and so on. With a centralized and integrated system, you don't need to spend extra money on additional systems to manage your inventory.

In addition, you can also reduce the costs you might need to pay an inventory specialist since the inventory management system can automate most of the inventory operations. Besides, anyone can easily implement this system, even if they have no experience in inventory control.
6. Satisfied Customers
Inventory management software ensures the accurate fulfillment of all customer orders through real-time information related to your inventory levels. The system also allows you to track the shipments until customers receive them. So that in the end, this system helps increase customer satisfaction with your services.
7. Accurate Planning & Forecasting
An inventory management solution helps you become more proactive when planning and forecasting your inventory needs. For example, with complete and accurate inventory reports, you can find out which products are the most popular, and which consumers rarely order. You can also know how much inventory you should carry in the next few months. This system also informs us which suppliers are most profitable and any other important information that helps improve the productivity of your business.
Types of Inventory
Inventory may differ according to the industry. It is important to know what inventory you will need for your business. Now, we will go through the 12 types of inventory:
1. Raw materials
Raw materials inventory includes components used to make final goods. They are stocks that have not yet been put into use in production. Raw materials also can be categorized into two direct and indirect raw materials. Direct raw materials are part of the final goods like oil to make soap. While indirect materials are not part of the final product goods such as office supplies. 
2. Work in progress inventory 
WIP encompasses all materials that have been made available for early processing. In addition, it is included in the overall production process. This can be components, assemblies, subassemblies, and other important materials. When you run a car manufacturing business, wheels are considered the WIP inventory. 
3. Finished goods
As the name states, finished goods are complete items that are ready for the market. They are prepared for sale to clients after being produced from raw materials or acquired from a supplier. Retailers classify finished products that they have acquired as finished goods for sale as merchandise.
4. Maintenance, repair, and operation (MRO)
MRO inventory ensures that production or maintaining the products run seamlessly. This includes safety equipment, uniforms, or any items to repair or maintain products. MRO products account for a sizable portion of factory purchases because they are essential to maintaining operations.
5. Packing materials
Packing materials are the items that are used for packing and shipping the goods you are selling. There are three categories of packing materials inventory such as primary, secondary, and tertiary packing. Primary packing material covers the product like boxes or bags. Secondary packing materials mainly are the packaging for practical product storage. Tertiary packing material is every item for storage or transport of the product.
6. Safety stock
The number of goods you keep on hand, exceeding what your company needs to meet usual demand is called the safety stock. It is used for covering unforeseen circumstances. Despite having carrying expenses, safety stock promotes customer satisfaction. You can avoid stock-outs and backorders with safety stock. This also will prevent customers from waiting or going to another place to buy the product. 
7. Decoupling inventory
In one production phase, several items may run out faster than another. However, you still can maintain the process by keeping decoupling inventory. Decoupling inventory refers to the extra items or raw materials to keep production going and for preventing stockouts. While it's similar to safety stock, decoupling inventory is only applicable to businesses that produce things and is advantageous when different elements of the production line operate at different rates.
8. Cycle inventory
Businesses order cycle inventory in large quantities for one manufacturing phase to reduce machine setup costs. It is a byproduct of the economic order quantity theory. This inventory is available to meet regular demand during certain periods. Companies usually use it first to fulfill customers' orders. 
9. Service inventory
Service inventory is the management system of inventory in the production process that includes monitoring and maintenance. This also refers to how much service a company can offer in a specific time frame. Service inventory is important for business success hence having the best inventory management system is a must. 
10. Theoretical inventory
The bare minimum of stock that a business requires to accomplish a procedure immediately is known as theoretical inventory. Theoretical inventory makes an effort to balance the rates of input, processing, and output into one operational process. This type of inventory is mostly used in the production or food industry and can be used to schedule production lines and get ready for spikes in demand.
11. Transit inventory
Transit inventory can also be referred to as pipeline inventory. This inventory encompasses any stock that is currently being transported between the manufacturers, warehouses, retailers, distributors, or other locations. Moving transit inventory between sites could take days or even weeks.
12. Excess inventory
Excess inventory is unsold or unused goods that a company still has on hand after a period of sales. These inventory are no longer expected to sell and have lost the market value. It is usually caused by poor forecasting and managing inventory. Utilize a good inventory management system with automated forecast features to avoid excess inventory.
The Main Features of an Inventory Management System
Keep in mind that not all inventory management systems have the same features. For example, some allow users to manage inventory across multiple warehouses, while others only allow them to manage inventory in one location.

Regardless of the provider, here are some of the main features you should look for in inventory software.
1. Stock Management
This feature helps users to monitor stock movements from one location to another. For example, when the goods come out of a warehouse or store, this feature of warehouse management system will automatically reduce the amount of stock held (inventory on hand).
2. Procurement Management
Procurement automated data and document system will helps users to set the minimum amount of stock and turn on the notification that will notify if the inventory has reached the specified minimum level. They can then immediately re-order to the supplier.
3. Supplier Management
Supplier relationship management system can serves to store all complete information related to suppliers. As a result, users can easily find the supplier they want to contact and compare quotations from one supplier to another.
4. Barcode Scanning
This feature is one of the most desired features, especially by those engaged in retail and wholesale industries. Barcode tracking software allows users to create barcodes automatically, thus speeding up the labeling process. In addition, a good inventory management system provides integration with barcode scanners.
5. Shipment Tracking
With the shipment tracking tool, sellers can easily track items sent to customers. Some inventory management systems even allow customers to confirm receipt of goods directly on the spot via mobile apps.
6. Inventory Reporting
Good inventory management software provides sophisticated reporting tools. The tools show complete analytic data regarding stock movements, valuations, quantities, inventory turnover, and many more. For example, when you are selling on eBay and want to expand your business, you should consider eBay integration tools to easily control your inventory. With accurate data, stakeholders will be able to make better business decisions.
Conclusion
So, in a nutshell, an inventory management system is designed to help businesses automate their inventory management, whether the inventory is the company's assets or merchandise.

Inventory management systems are not only used by large companies but also by small and medium businesses. Cloud-based inventory management software is usually the preferred option for SMEs because of its more affordable price, easier implementation, and better flexibility.

HashMicro provides customizable inventory management software regarding the needs of each unique business. HashMicro also provides free consultation for those who plan to automate their inventory operations. Try the free demo now for an instant experience.