These days, the retail industry is becoming increasingly competitive. If all you do is open a retail store and expect buyers to come without formulating proper marketing strategies, your retail business won't last long. That's why many retail businesses market their products online. If it's done properly, there's a high possibility that your retail store will be crowded with visitors in no time. Boost your retail business efficiency using a web-based POS for retail from HashMicro.
The switch to e-commerce is just one of the marketing strategies for the retail industry. There are a lot of ways to grab the attention of potential customers and increase sales. We'll cover some of the best marketing strategies you can apply today.
Table of Contents
Create Shareable Content
Shareable content evokes strong emotional response, leaves a lasting impact, and taps into something that's already recognizable to the audience so it encourages positive associations. The content is not only entertaining or inspiring, but makes your audience like it enough to tell their network and is willing to have that content reflect their identity. In addition, shareable content creates authentic interactions as well as increases engagement and brand awareness. Additionally, you can schedule engaging social media posts that people love to share. For ease of scheduling, you can use RecurPost, which is a great social media management tool and the best of free Hootsuite alternatives. 
Related article: The Best Ways to Build Your Brand Awareness
Jonah Berger, a marketing professor at the Wharton School at the University of Pennsylvania, said that contents which elicit responses such as astonishment, excitement, or admiration are more likely to be shared than sadness. Therefore, create content that triggers the audience's positive emotions. Berger also said that before sharing content, they will ask themselves, is it going to make them look or feel better? If the answer is yes, then they will most likely share it. For that reason, it's better to create a content that makes the audience feel validated.
An example of shareable content is a short film titled "Turtle Journey" released by Greenpeace. The short film aims to raise new awareness of the dangers of ocean destruction, prompting people to share the message with their following and demonstrate their own beliefs around environmental protection. The film not only presents the problem in an entertaining way, but encourages people to sign the petition for a Global Ocean Treaty. What's more, the film managed to catch the attention of international media publications and channels. In the context of a retail business, you should create content that not only sells products, but also contains messages that will be remembered by the audience.
Think Out of The Box
You've undoubtedly heard that it's a good thing to think outside the box. But what exactly does that mean, why is it a good thing, and how can it benefit your business?
Thinking out of the box means considering various solutions and methods to achieve your desired outcome. Your starting point and destination are the same, but you don't necessarily need or want to take the tried and true route to get there. If you just accept things the way they are and view them as unchangeable, then nothing will ever change for the better. By thinking out of the box and questioning the status quo, you will constantly be considering how you could improve the quality of your products and services. It allows you to keep growing and can lead to forward-thinking decisions in business.
The world can become very small if you're close-minded. Thinking out of the box broadens your worldview, allowing you to have a wider perspective on problems. When you're willing to consider alternative points of view and ways of doing things, you will be more open to a variety of potential solutions. This method can also make your business stand out in a good way. Professional leaders and pioneering companies know this very well. In fact, one of Apple's keys to success is sticking to their "Think different" principle.
Striking Visual is Important
The human brain can process visuals up to 60,000 times faster than text. When it comes to marketing, content with good visual is naturally more engaging and interesting for users. For example, tweets with images have five times higher engagement that those without and articles with visuals have 94 percent more views. The right visual will complement your content and support the idea you want to convey. Don't choose images that are just there to fill the space, but use ones that can amplify the message you want to communicate.
Also read: Brand Imagery: Definition and Interesting Facts That You Should Know
Your visuals should align with your brand so that people can easily make a connection between the two. For instance, color schemes and language of the visuals can be valuable ways to personalize images and enhance their value. Images can help potential customers associate themselves with your brand. When they see pictures of real people using your products. It becomes easier for them to imagine themselves doing the same thing. Images are powerful motivators, encouraging the audience to engage with your content. All you have to do is properly edit these images, crop image batch, if needed, boost color brightness accordingly, and focus on other details. Understand what kind of visuals are suitable and how they can be useful in achieving marketing goals.
There are several types of visual representations that you can use to raise the quality of your contents. Including product photos, infographics, and lifestyle photos. From the technical side, try to have a high-quality visual representation. Such as high definition (HD) photos and videos with 4K quality.
Along with recognition, brand awareness and encouraging consumers to interact with your company, images are an important part of a good SEO strategy. If you label your images correctly with search-friendly metadata and descriptions then Google is more likely to find your website due to the extra indexable content available.
Embrace Technology
Technological development is the main reason behind the rapid digital transformation in the business world. Although it has its advantages and disadvantages, technology has become something that you can't avoid. Managing a business is definitely not a walk in the park. You're responsible for overseeing the day-to-day operations of an organization as well as ensuring employees and other office workers are completing their assigned tasks. Here is an example of applications of technology in one of the core business elements, marketing.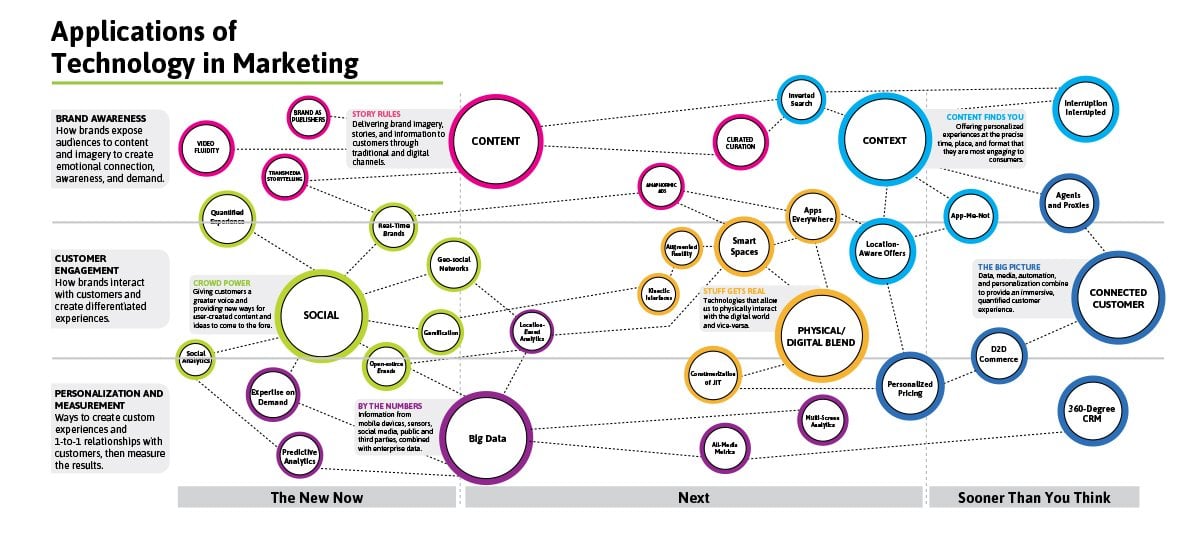 In the retail business, you can use technology in the form of ERP Software. This software is the right solution to automate various aspects of the business. Consisting of integrated essential modules, such as point of sale (POS), sales, and inventory, ERP software simplifies complex business processes, increases employee productivity, and optimizes company efficiency. Workflows become clearer and you can easily monitor them from a centralized platform.
Conclusion
Stable income with high profits is the dream of every retail business owner. There are many ways to make it happen, from creating shareable content so that your brand is known and highlighting good visuals so that the audience is interested in engaging with your content.
Make your brand stand out from competitors by thinking out of the box. Application of technology is also crucial, such as marketing automation system and POS implementation.