HR Payroll software is critical to any company. In other words, it simplifies the payroll process in an organization, ensuring accurate salary calculation as well as a timely salary payment. In fact, if you are looking for the most suitable payroll system for your business, you are on the right page!
Table of Content
Seven Best Payroll Software in Singapore & Indonesia
Rapid technological developments have made various payroll software Singapore and Indonesia providers appear. Payslips Singapore is one of the biggest obstacles for companies to increase their business. This is because the number of employees at the company makes it difficult for companies to manage their payslips.
That's why companies need Singapore payroll software to make it easier for them to manage payslips. HR Payroll app will also provide Singapore payslip templates that are widely used by the public and other companies.
HashMicro Payroll Software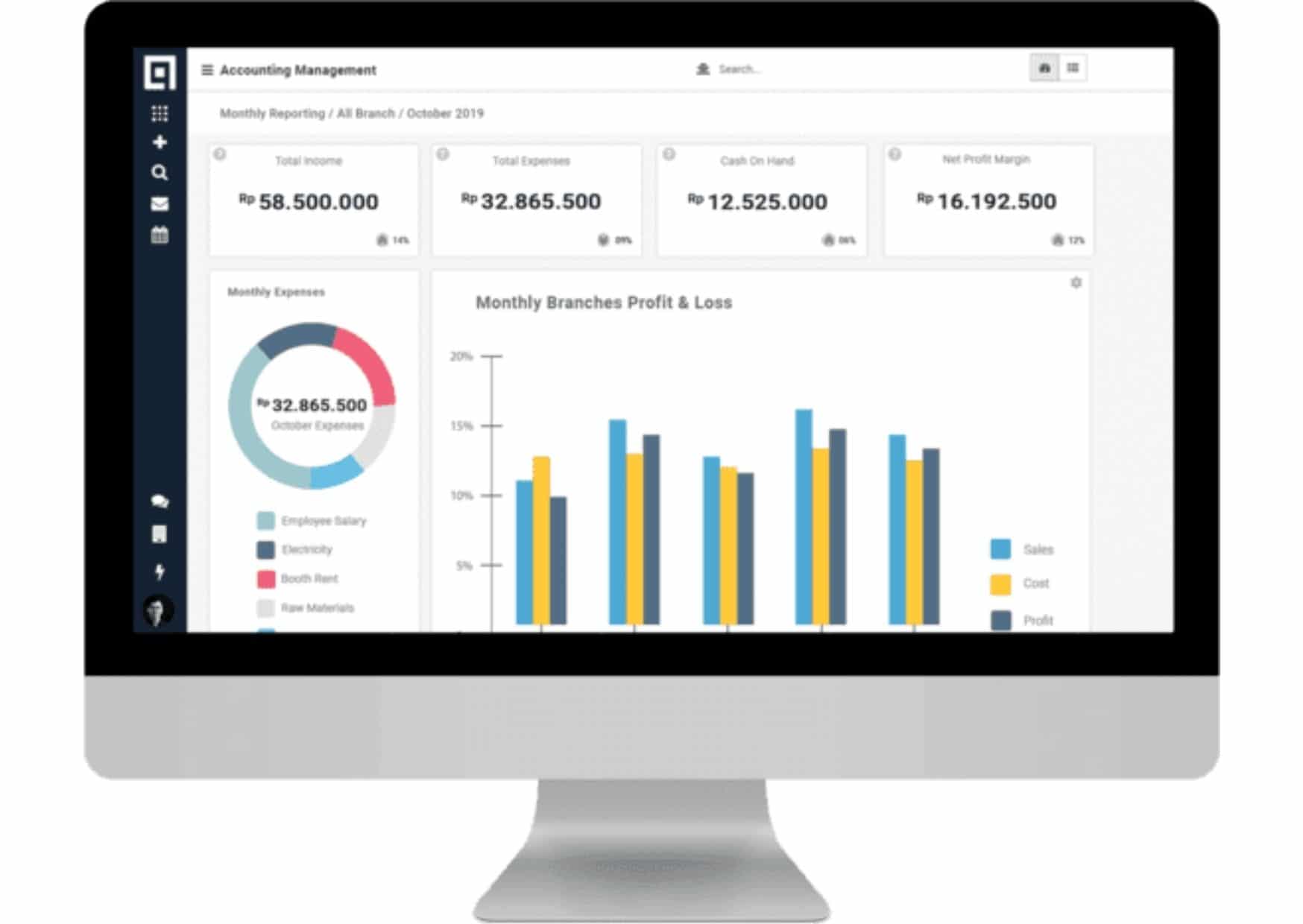 Firstly, HashMicro's HR Payroll Software is most suitable for enterprise-level companies with many employees. Some of its users include Danone, Hermès, Trans Corp, Yokohama, UOB, Bank of China, and The Face Shop. Complete with a modern and user-friendly interface, Payroll systems by HashMicro are very easy to understand and accessible for both HR managers and employees.
HashMicro payroll app has localized features such as tax calculation, insurance management, and bonus management. Developed in-house, HashMicro makes it easy for HR managers to calculate employee salaries based on their performance and working hours. In conclusion, HashMicro's payroll app also has other features that cover all HR operations such as timesheet management, including:
Approval Management

Access Right Management

Petty Cash Management

Claim & Reimbursement Management

Employee Database Management

Attendance & Timesheet Management

Leave Management

Payslip Management

Polling & Survey Management

Performance Management

Appraisal Management

Recruitment Management

Tax Calculation

Analytical Reporting
In addition, HashMicro HR payroll software can be used by as many users as possible without additional fees. Moreover, another advantage that you can get from implementing this system is a dedicated support team that can come directly to your place. For more optimal results, this payroll system can also be integrated with accounting software and competency management software.
Soltius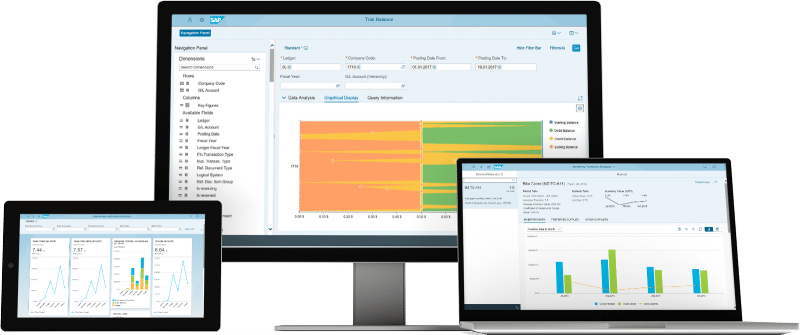 SAP HCM is an HR payroll program offered by Soltius to various companies in Indonesia. Just like HashMicro, Soltius is suitable for companies with lots of employees.
One of the main advantages that you can get by using SAP HCM is the ease of distributing salaries since it is connected with most banks in Indonesia. As a result, various reports relating to salaries, taxes, and attendance can be generated very easily.
Furthermore, just like HashMicro, SAP HCM also offers customer self-service which enables employees to request leaves and reimbursements or access data through their PCs. Above all, employee performance and achievements can also be monitored easily through the system.
Deskera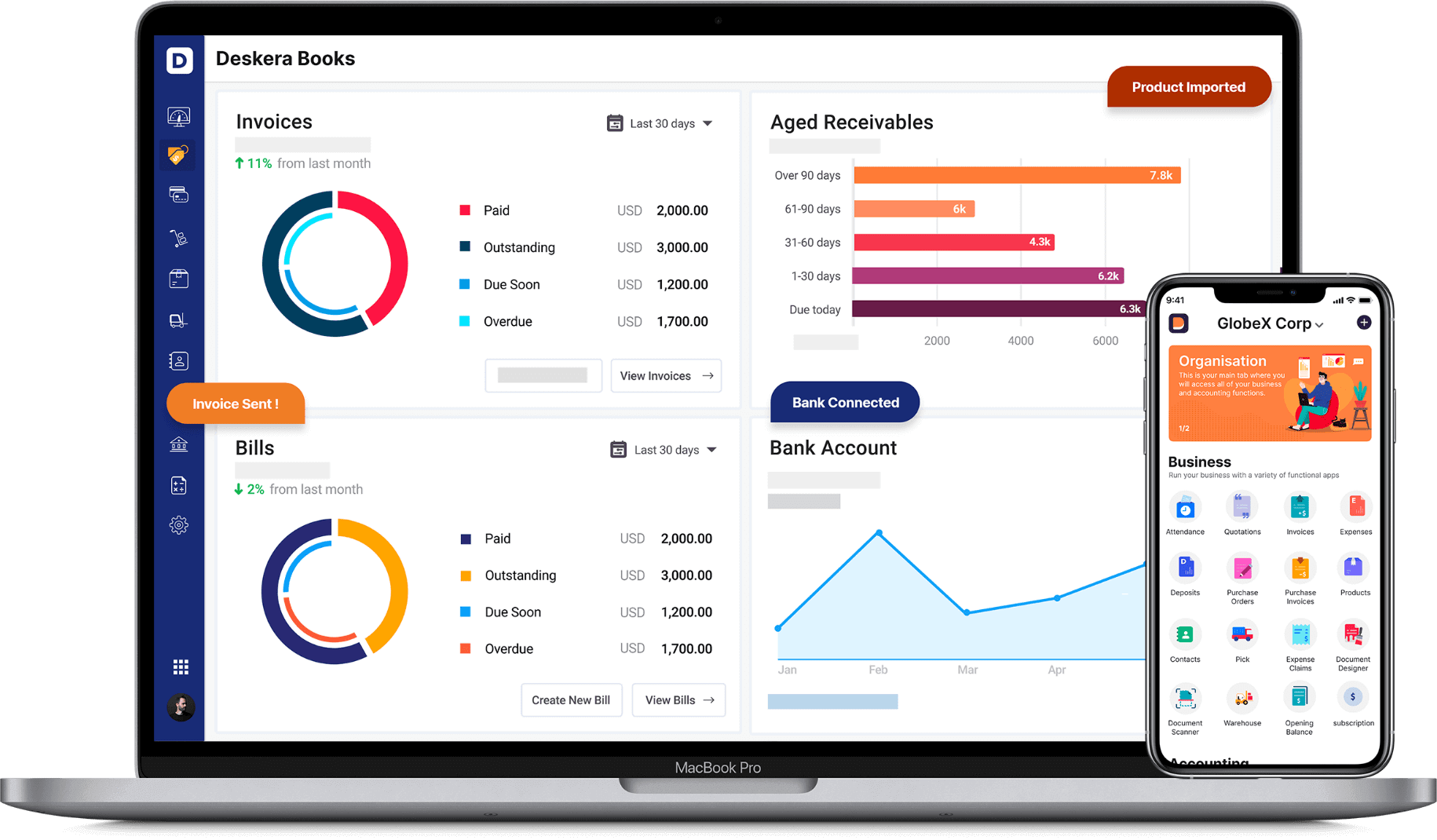 Deskera HRMS is another option that you should consider especially if you own a large-scale company. For instance, some of its clients are Pertamina, Telkomsel, Mitsubishi Electric, and Starbucks.
Furthermore, this software payroll program makes it easy for HR professionals to manage various insurance benefits, including work-related accidents, health, and pension insurance. Most importantly, other features offered by Deskera are tax management including Tax Withholding & Fiscal Residency.
Sleekr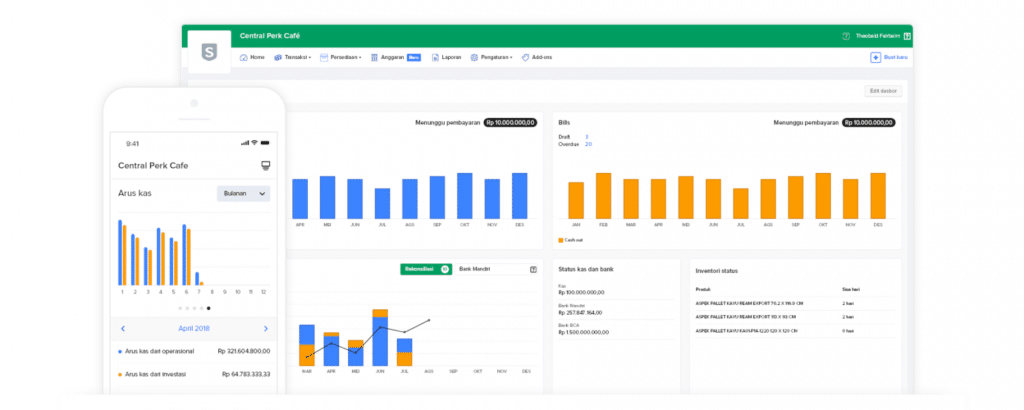 Sleekr is well-known among startups and SMEs. Some companies that have used it are Stock Sale, IDN Media, Miniso, and Mercure Hotels. Certainly, Sleekr offers complete, localized features like insurance and tax calculation.
In terms of price, Sleekr is affordable for small and medium-sized companies. The cost depends on the number of employees in a company. After that, by paying recurring monthly subscription fees, companies can enjoy various solutions which cover HR databases, business processes, office administration, and payroll.
However, Sleekr cannot serve Singapore payslip operations. This is because Sleekr has not served the payroll system for Singapore employees. That is why many Singaporean companies have switched to using the Hashmicro payroll software. Hashmicro serves Singapore payslip management as HR payroll software.
Hashmicro is the best HR payroll program provider in Indonesia and Singapore. This Company is able to manage various employee salaries and manage corporate and employee tax calculations. Hashmicro provides complete and integrated software with each other. That's why HashMicro's payroll system is trusted by many companies.
Talenta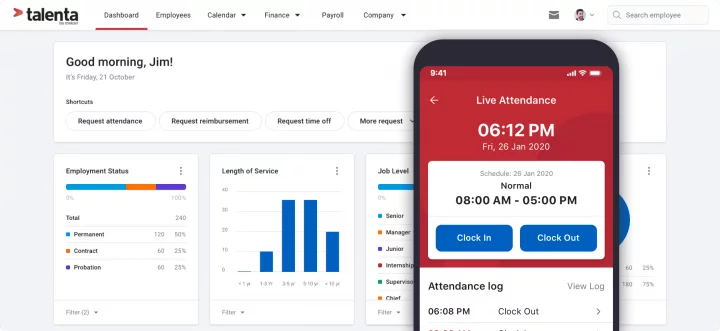 Just like Sleekr, Talenta is an alternative that should be considered an Indonesian startup. Some of his clients are Go-Jek, Sushi Tei, H&M Indonesia, and Matahari Mall. In addition, to offering local features, Talenta also offers integrated features that include loans, investments, insurance, job market, and health protection. In addition, Talenta also provides recruitment management and training & learning management features.
Talenta is a subsidiary of Mekari which is a payroll app vendor in Indonesia. However, the completeness of the features available in Talenta is not as complete as HashMicro. Hashmicro is one of the best payroll system providers in Indonesia and Singapore. This is because of HashMicro's very complete and integrated features. Hashmicro has a payroll feature that is automatically linked to company finances. It will also make it easier for accountants to calculate and distribute company finances for employee salaries.
In addition, Hashmicro also provides payroll software that HR can schedule salary distribution. That's what makes Hashmicro trusted by various world companies as the best payroll HR software provider in Indonesia and Singapore.
Singroll
Singroll is one of the most popular HR payroll software in Singapore. This software is a payroll software that many companies use. This is because of various features that can improve HR performance, especially in the payroll system.
Payroll systems Singroll has features for quick scheduling, distribution, and payroll calculations. This allows the company to not miss the salary of each employee. As a payroll software provider, this software also provides an employee data collection feature that is quick and easy for you to do. Employees only need to fill out a form and it will automatically input to the company. That's what causes the vendor to be one of the Payroll software Singapore.
However, HashMicro provides payroll software that is more complete and more effective to facilitate the calculation of employee salaries. Hashmicro payroll software also has features to make it easier for companies to calculate employee salaries, taxes, and attendance. That's why Hashmicro has been trusted by many companies in Indonesia and Singapore.
Ramco
Ramco is a multinational company that has served around 35 countries in the world as a payroll software provider. The features of its payroll program are different from other payroll systems in Singapore. That's what makes Ramco has expanded to various countries around the world such as Oracle.
One of the interesting features of Ramco is the payroll system that is up to date, making it easier for HR to track the payroll. The Payroll system Singapore from Ramco is also integrated with the company's accounting system which makes payroll reports always transparent. HR and Accountants can work together and see how much money they spend on employee salaries and know about payslips in Singapore.
Just like Ramco, HashMicro also provides integrated payroll software that can improve HR performance and manage employee payslips in Singapore. HashMicro payroll software can be integrated with company accounting. This makes employee payroll more transparent and timely. HashMicro also provides a payroll system that is easy for companies to use. The HashMicro payroll application has been trusted by companies in Indonesia and Singapore as an integrated payroll system to manage and control employee Singapore payslips.
Choosing the Best Payroll Software for Your Business
Before choosing a payroll system, you need to first understand your business needs. In short, write them down and then find out if some of the payroll systems that you are considering provide features that suit your business needs.
Secondly, if you own a large company, then you should narrow your choices by choosing a number of vendors who have experience in providing services for large-scale companies. Therefore, meet those that are in line with your company's budget.
Most importantly, you need to know your system developers well. In conclusion, we recommend that you choose an in-house developed software to facilitate the installation, customization, training, and maintenance processes. Importantly, make sure that the payroll software you are going to choose does not have additional costs.
HashMicro provides free consultations for those who are looking for payroll solutions for their businesses. Moreover, find out more about HashMicro HR payroll software or contact HashMicro directly by filling out the form below.